A Golfer's Playground: Get the Most Out of Your Next Trip to the Pebble Beach Golf Academy
We proudly unveiled the Pebble Beach Golf Academy in 2014, an eye-catching practice facility befitting of its iconic location.
A 350-yard double-sided driving range is dotted with wavy manicured greens and beautiful bunkering. Three different practice greens are just a few steps away. You can hone your chipping, pitching and bunker play, or dial in the green speeds all day long.
The Golf Academy is the perfect place to warm up for your round at Pebble Beach Resorts.
But it's also an ideal environment to improve your game. Here's a trio of tips that can help you take full advantage of the Pebble Beach Golf Academy:
YOU CAN LEARN HOW TO READ EVERY KIND OF PUTT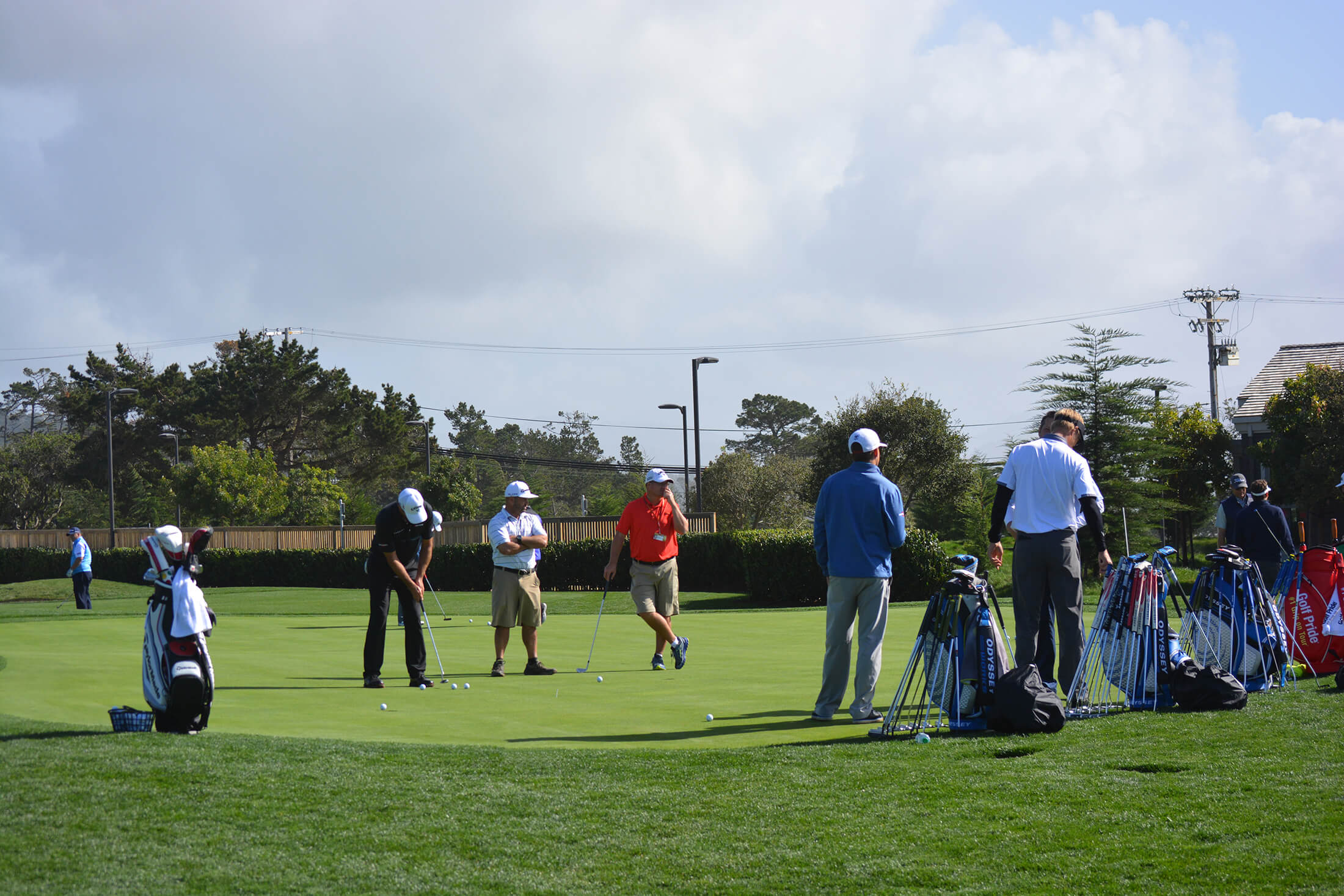 The 4,500-square foot practice putting surface (slightly larger than the average Pebble Beach Golf Links green) was built specifically to help you learn how to read greens.
"You'll encounter three types of greens when you play," says Pebble Beach Golf Academy Director of Instruction Laird Small. "There's a planer green, which is flat, but can be tilted. There's a green that's a saddle with two high points and a low point. And there's a crown. All these features are in this putting green. By having these types of design features in these greens, we can show people the proper methodology to reading greens, because there's a methodology."
So test your reading ability on the practice green. If you get stuck, you can call over the teaching staff to set you straight, or a cup out on the right…
YOU CAN REFINE YOUR PUTTING STROKE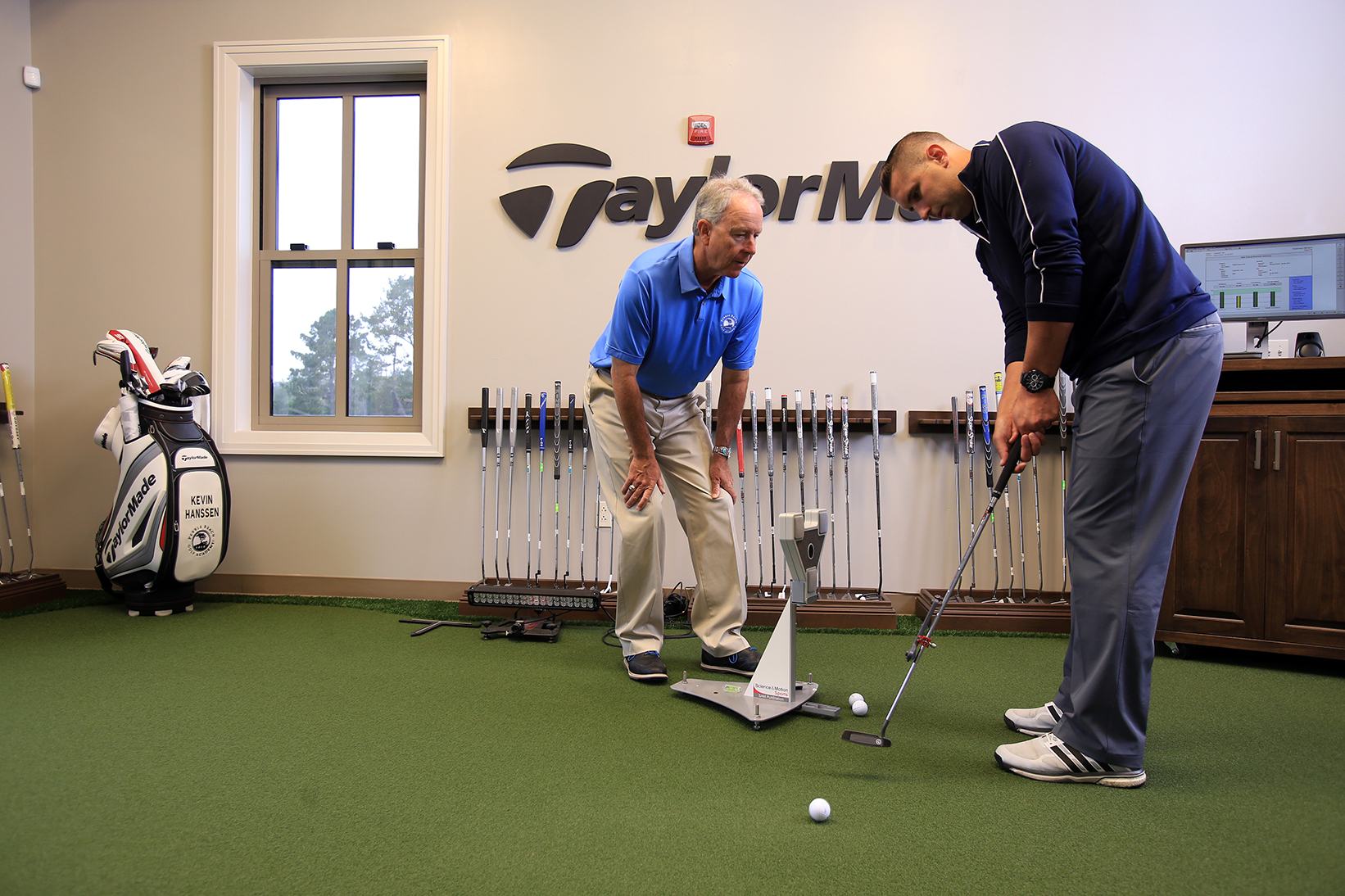 We might be more tempted to find our swing digging in the dirt next to a pyramid of range balls, but the putting stroke is a swing that needs work, too. The Pebble Beach Golf Academy has finely tuned technology that illuminates what's going on with your stroke, and can help you roll your putts optimally, and more consistently.
The Science and Motion (SAM) PuttLab analyzes 28 different data points.
"It helps us identify what you do well in your stroke, and where you can improve your efficiency," Small says. "Path direction, impact cluster — a consistent strike has a lot to do with how far you're able to hit the ball and control your distance. There's a lot of great information you can find out in just a few minutes. We can also bend the putter to fit it properly to your setup, and give you the right amount of loft."
You don't just have to rely on feel when you putt.
YOU CAN FEEL THE PERFECT GOLF SWING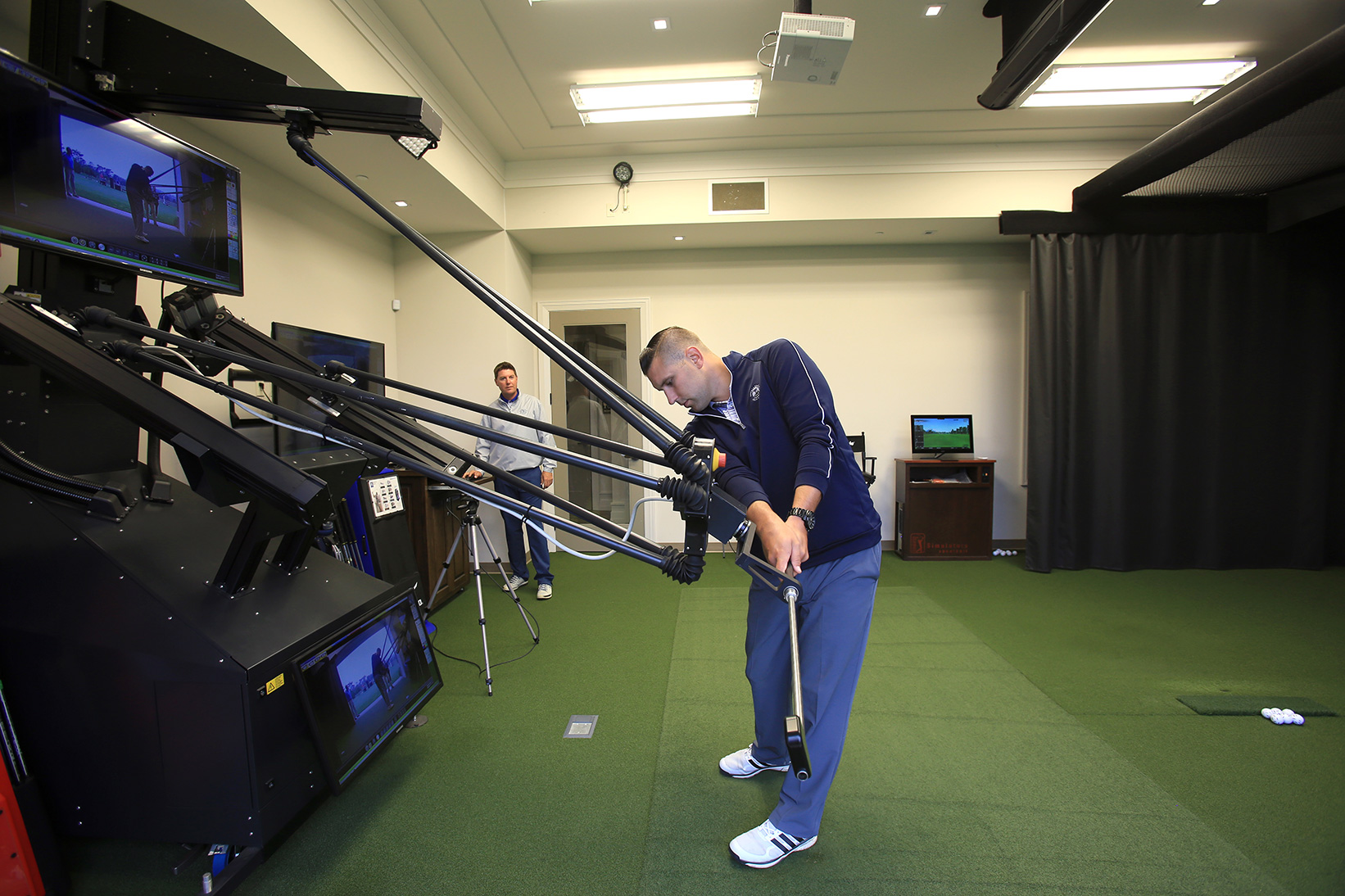 There are three technology studios at the Pebble Beach Golf Academy — one's for putting, another's for club fitting, and the third's for the really fun stuff: full-swing robotic analysis.
The simulator room includes an Advanced Motion Measurement (AMM) 3D Swing Analysis System, which uses wearable sensors to actually buzz you when your swing misbehaves.
"You can hear a tone that gives you feedback of where you are in your swing and where you need to be," Small says. "You can develop a feel for your golf swing. We can even go outside with it."
And then there's the RoboGolfPro, which guides you through the feeling of a perfect golf swing.
Imagine hanging onto a bat and feeling the power of a Barry Bonds swing, or grabbing a basketball and feeling the release of a Steph Curry jump shot. With the RoboGolfPro, you can feel the massive turn and incredible lag created by Tiger Woods, the flat wrists at the top of Jason Day's backswing, or hang on for the rollercoaster ride of Jim Furyk's downswing.
Adds Small,
"Mechanics are transferred through feel. With this technology, we are able to give you a feel for how your golf swing could or should feel. You can then transfer that from the learning area to the playing area."
Want to see more? You can fast forward to the 9:45 mark below to check out a tour of the technology at the Golf Academy:
Ready to visit us? Give us a call!
---
Facebook Conversations
A Golfer's Playground: Get the Most Out of Your Next Trip to the Pebble Beach Golf Academy