To celebrate the Pebble Beach Golf Links Centennial and Art Month at Pebble Beach Resorts, Lee Wybranski tells the story behind his iconic poster art for the 2019 U.S. Open and more:
Painting as I do for some of the greatest clubs, organizations and championships in the world of golf, I have been to many exceptional places. And then, of course, there's Pebble Beach and its magical confluence of mountain, sea and golf. Since starting as an artist working in golf I had promised myself that I would not visit this hallowed ground until my work brought me there. Being based on the East Coast for most of my early career it took a while, but after 15 years I finally got my chance, and it was on a pretty grand stage.
It was the fall of 2009 and I was onsite for the first time to do fieldwork for the 2010 U.S. Open poster. I created my first U.S. Open poster for Torrey Pines in 2008 and then a print for 2009 at Bethpage Black. And now here I was, wandering the famous links with a camera and a sketchbook, trying to find some original views of what is arguably the most iconic and well-known golf course in the world. All golfers worth their spikes know the Church Pews at Oakmont or the Road Hole at St Andrews, but Pebble Beach literally has four holes that almost every golfer in the world knows on sight. How is an artist to choose?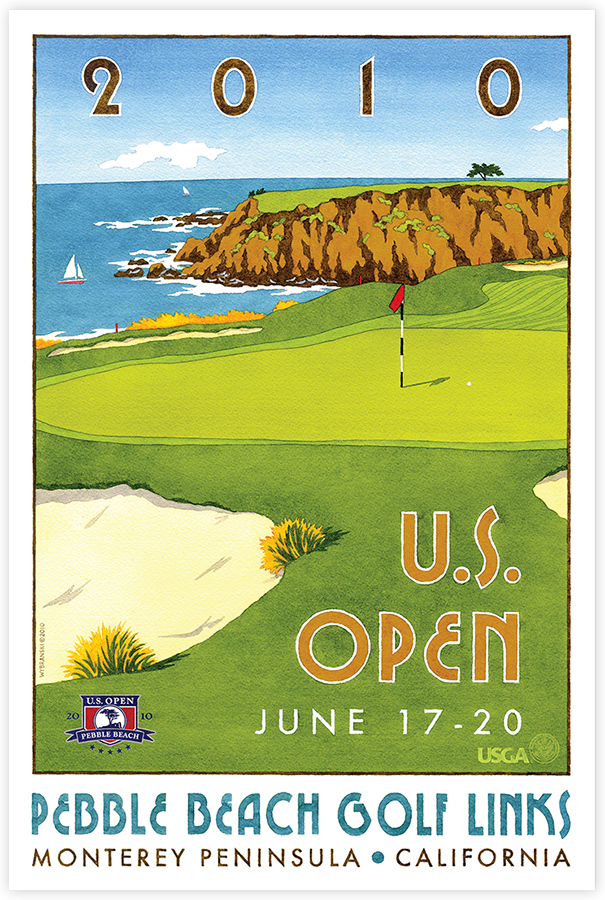 My final choice at the time was determined by my approach. In my Major Championship poster work, I always start by identifying 2-3 "main characters" for the piece with one of these characters being the golf course. At Pebble Beach, I decided that the ocean and the cliffs would be the other two characters, so I then found a view from behind the 8th green that afforded a view of all of these elements in a great composition. I could even hide a few seals in there. The poster was very well received and we continue to get requests for it to this day.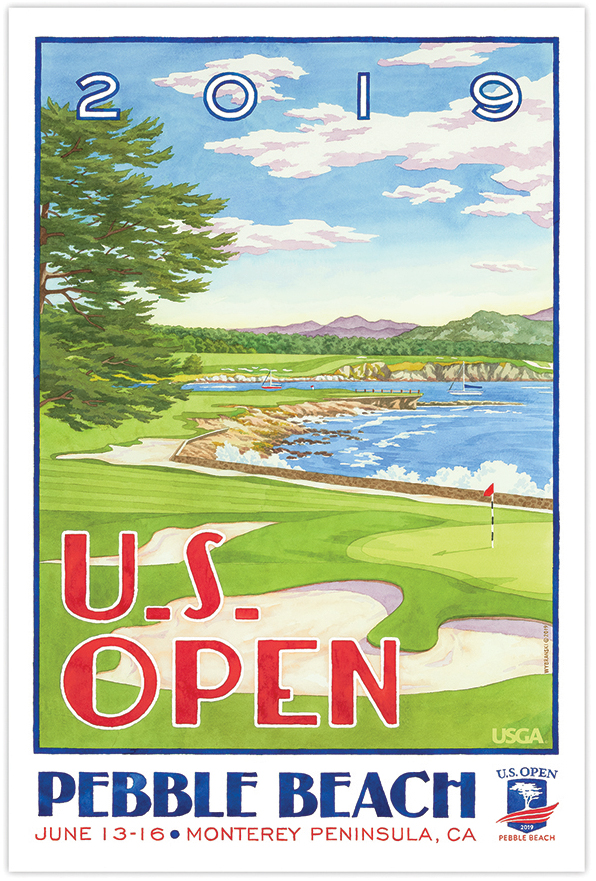 Unfortunately for me, it was 8 years before I made my way back to the Peninsula. Fortunately, it was the same assignment – the poster art for the return of the U.S. Open to Pebble Beach on the 100th Anniversary of the golf links. Painting the same venue the second time for the same event can often be challenging, but not so at Pebble, where there are paintings everywhere you look! For the 2019 Championship, we decided to work with the famous 18th, the greatest example of risk and reward design in golf. This perspective also includes views of the ocean, Stillwater Cove, and glimpses of the 17th and 6th holes in the distance.