Happy Trails: Tips to Hiking the Del Monte Forest in Pebble Beach
A labyrinth of equestrian and hiking trails crisscross mystical Pebble Beach. More than 27 miles of this amazing maze spiral through the enchanting Del Monte Forest, unveiling intimate hikes through nature, relaxing boardwalk strolls along the inspiring coast, and of course, long walks on some of the most beautiful beaches you will find.
While 17-Mile Drive is a spectacular way to explore Pebble Beach, the 27 miles of trails available offer an even closer commune with nature. Here are some of the many roads less traveled you should experience in Pebble Beach as we celebrate this marvelous setting during our Centennial year:
See a Full Tour of 17-Mile Drive
ASILOMAR STATE BEACH TO SEAL ROCK (3.5  MILES; 7,400 STEPS)
A soft and sandy beach trail emerges from behind the 14th hole at Spanish Bay, snaking through stunning sand dunes before evolving into a beautiful boardwalk overlooking Moss Beach.
Cruise along the boardwalk for 1.5 miles, where you'll curl around South Moss Beach, and connect to footpaths skirting the Dunes Course at Monterey Peninsula Country Club. You'll soon reach powerful Point Joe and the Restless Sea.
If you've got another 2 miles in you, soak in some of the most spectacular coastlines 17-Mile Drive offers. Wind past China Rock and follow the barking sea lions to the marine wildlife hub known as Bird Rock.
And if you're looking for a little more solitude, you'll find a quiet beach at Seal Rock, which neighbors the panoramic Fanshell Beach.
S.F.B. MORSE BOTANICAL RESERVE (1.8 MILES; 3,800 STEPS)
This 86-acre wooded oasis swerves through groves of coast live oak, Bishop pine, Monterey pine, Monterey cypress, a pygmy forest of Gowen cypress, and creekside redwoods.
A creekside hiking trail starts at Congress Road, connecting to trails and fire roads in the Huckleberry Hill Natural Habitat Area — which rises some 800 feet above sea level.
SPANISH BAY FIRE PITS TO MOSS BEACH (0.35 MILES; 750 STEPS)
Follow the sun and wander down a short boardwalk from the fire pits at Spanish Bay to the middle of Moss Beach. A right turn takes you to North Moss Beach, along the 17th hole at Spanish Bay, and out toward Asilomar State Beach. A left turn sets you free on South Moss Beach, and out to Point Joe and beyond, if you wish.
CASA PALMERO TO STILLWATER COVE (0.3 MILES; 630 STEPS)
A simple stroll around the third hole at Pebble Beach Golf Links leads you to the Stillwater Cove Yacht Harbor, and a sunken beach below the fourth and 17th greens. If the tide is low enough, you can even walk below the fifth hole, and enjoy a unique perspective of the mountainous sixth hole and Arrowhead Point.
CARMEL BAY TO SPANISH BAY TRAIL (6 MILES; 12,000 STEPS)
If you're itching to channel Lewis and Clark, there is the ambitious Carmel Bay to Spanish Bay trail — a 12-mile round-trip with some choose-your-own-adventure forks in the road.
Or you could adapt this creative 7-mile hike invented by a travel writer for the LA Times.
Here are the three main trails we've maintained for your enjoyment. All three launch from the Equestrian Center:
BLUE TRAIL LOOP (6.4 MILES; 12,750 STEPS)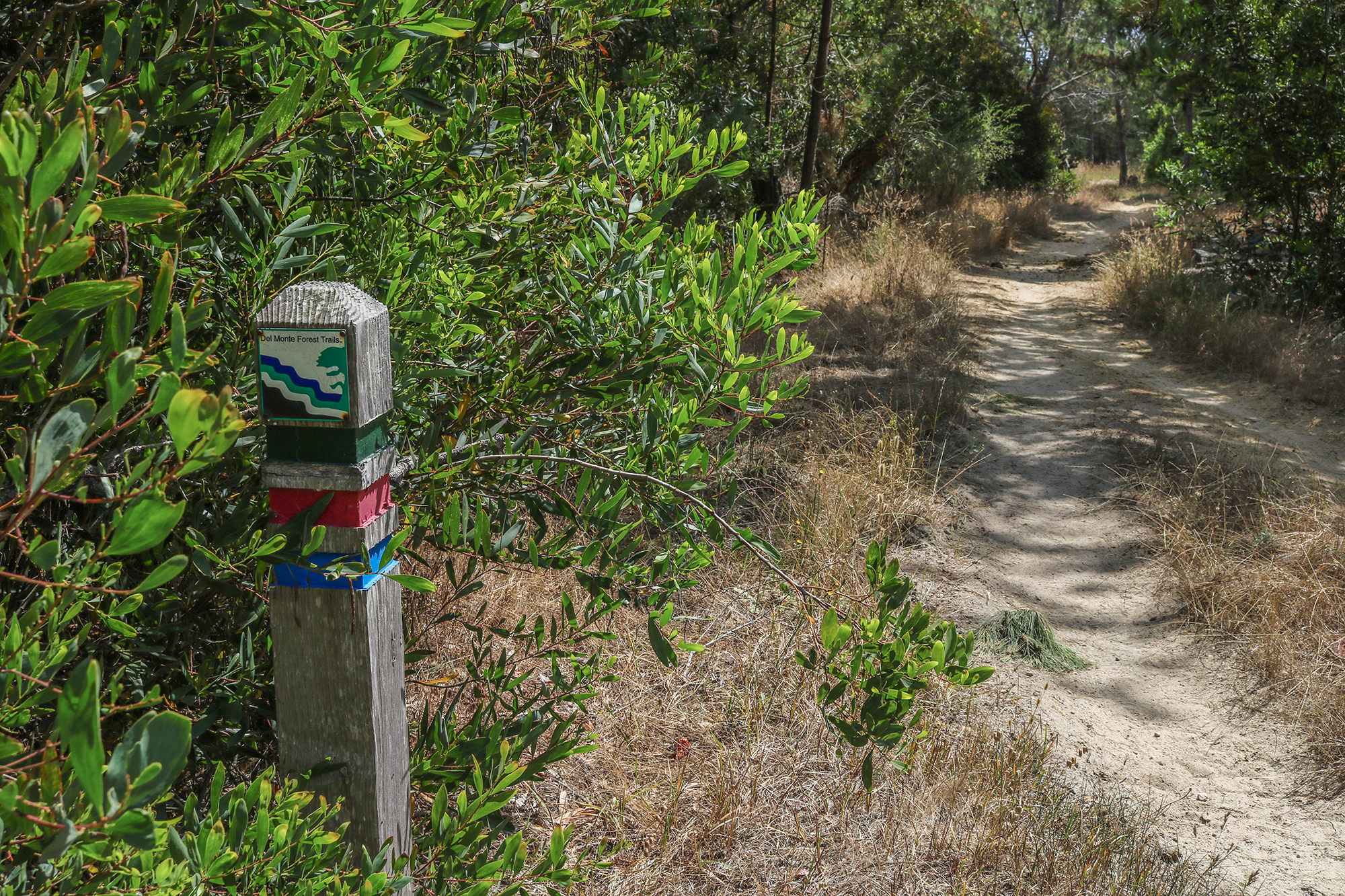 This loop actually follows the upper portion of the Pebble Beach Road Race circuit before skirting several fairways at Spyglass Hill and Poppy Hills, with elevation changes of 300 feet. It also meanders past the Gingerbread House and enters Indian Village, which is a great spot to stop for a secluded picnic.
GREEN TRAIL LOOP (10.7 MILES; 21,150 STEPS)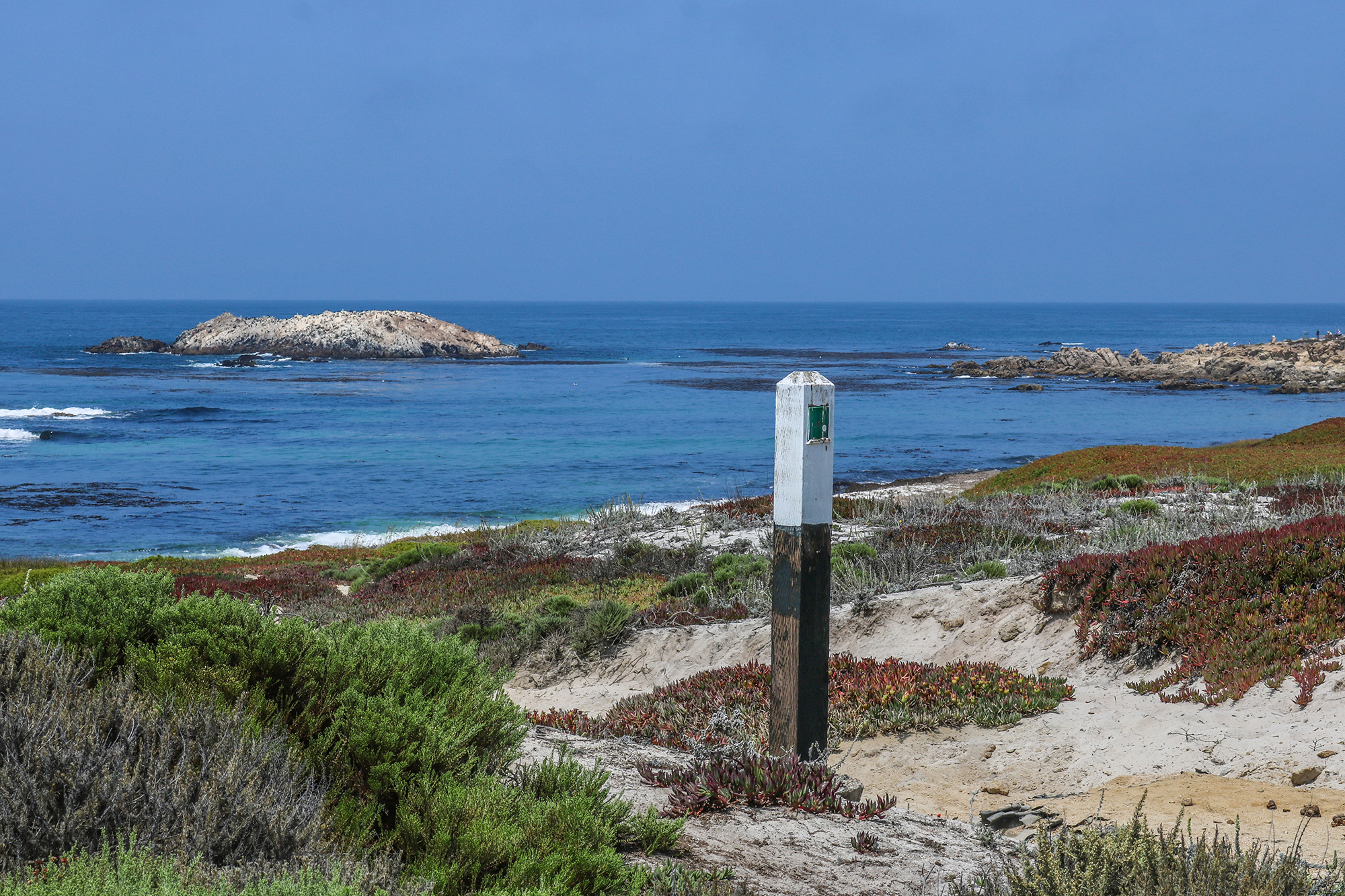 If you're looking for one trail to tease you with a little bit of everything, this is it. The Green Trail Loop starts at the Pebble Beach Equestrian Center and winds through pine forest and dunes before wandering along the coast. It eventually makes its way up to the S.F.B. Morse Botanical Reserve and Poppy Hills, climbs some 650 feet up Huckleberry Hill, before finally delivering you back to the Equestrian Center.
While you traverse Huckleberry Hill, enjoy the pygmy forest of Gowen cypress, which — like the Monterey Cypress — only grow natively here.
RED TRAIL LOOP (8.1 MILES; 17,000 STEPS)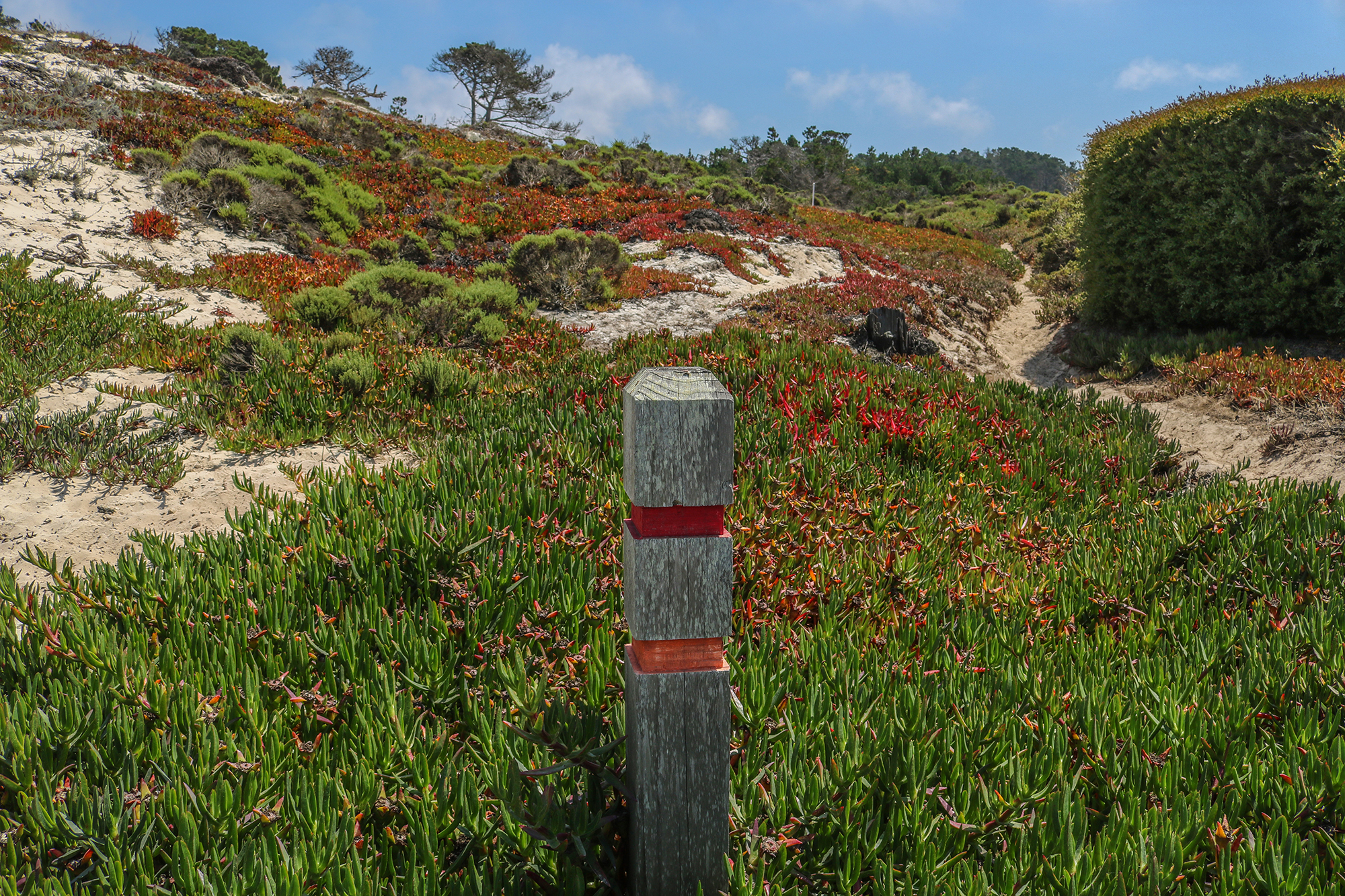 This trail starts by snaking through the woods next to the first hole of Spyglass Hill before diving over dunes and turning back inland to the Gingerbread House. Be on the lookout for Brush rabbits, Jack rabbits and Grey fox during your hike, as well as Scrub jays and Acorn woodpeckers.
Happy Trails!
---
Facebook Conversations
Happy Trails: Tips to Hiking the Del Monte Forest in Pebble Beach