History in Color: Famous Faces From the Pro-Am Archives
Imagine Bing Crosby in the 1930s – a dashing young star taking the world by storm with his singing, acting and comedy success. It was almost unfair that Crosby had yet another noteworthy talent: prowess on the golf course, with a two-handicap and an abiding love of the game. It is with Crosby that the worlds of golf and celebrity fame officially collided for the first time, resulting in the AT&T Pebble Beach Pro-Am (then known as the Crosby Clambake), which continues to this day. Here, historic black-and-white photos of famous AT&T Pebble Beach Pro-Am participants have been brought to life through the art of colorization.
1. Bing Crosby
How exactly did Crosby entice his famous friends and the golf stars of the day to join forces and create a revolutionary new kind of golf tournament? With prize money and good food. In 1937, Crosby invited his fellow stars of the day to Rancho Santa Fe Country Club in southern California to play side-by-side with golf pros. As first prize, Crosby offered $500 of his own money. And as a reward for all of the participants after a hard day of golf, he organized a beach-side clambake for all to enjoy. Thus, the famous Crosby Clambake was born. In 1947, Crosby relocated the tournament to Pebble Beach, where it was renamed the Bing Crosby National Pro-Am.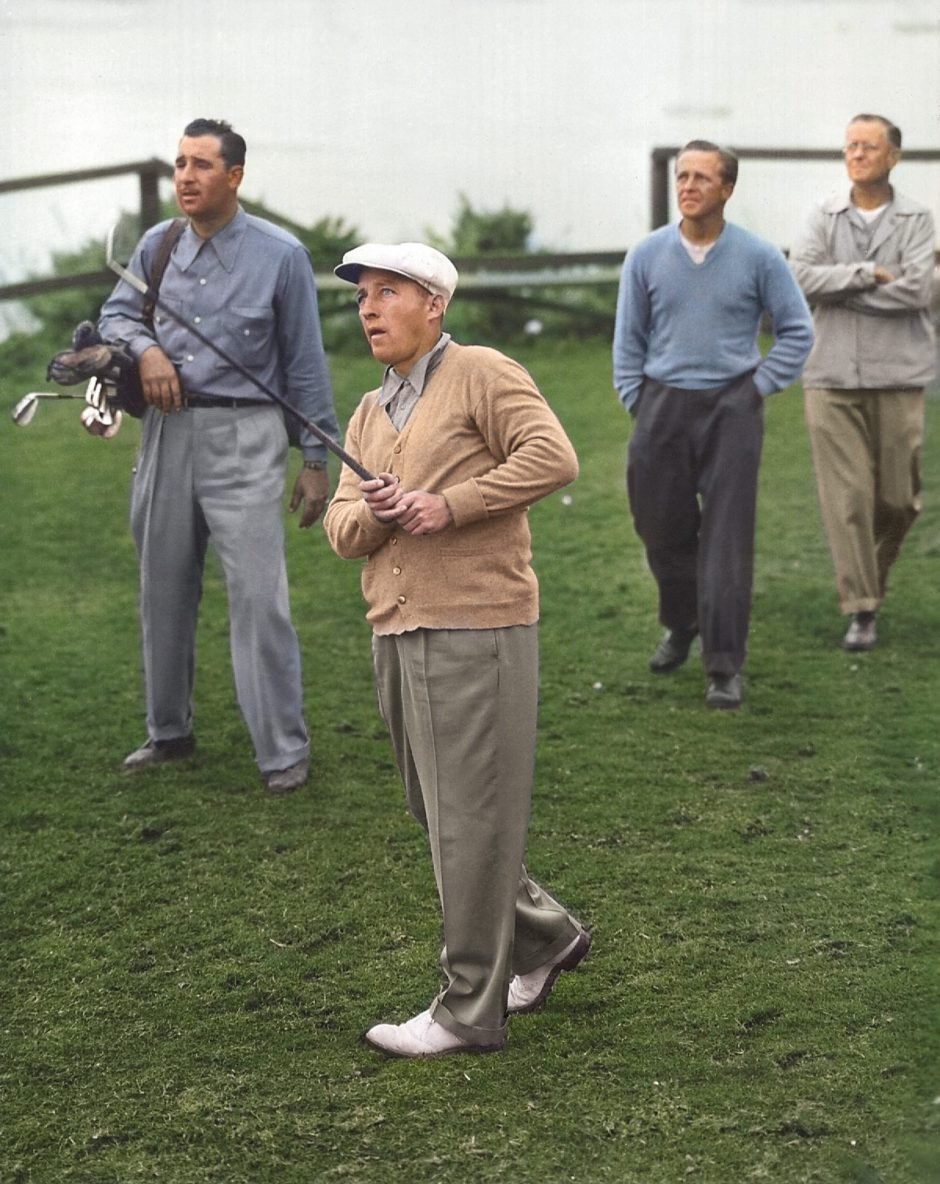 "
"If I were asked what single thing has given me the most gratification in my long and sometimes pedestrian career, I think I would have to say it is this tournament."
"
2. Clint Eastwood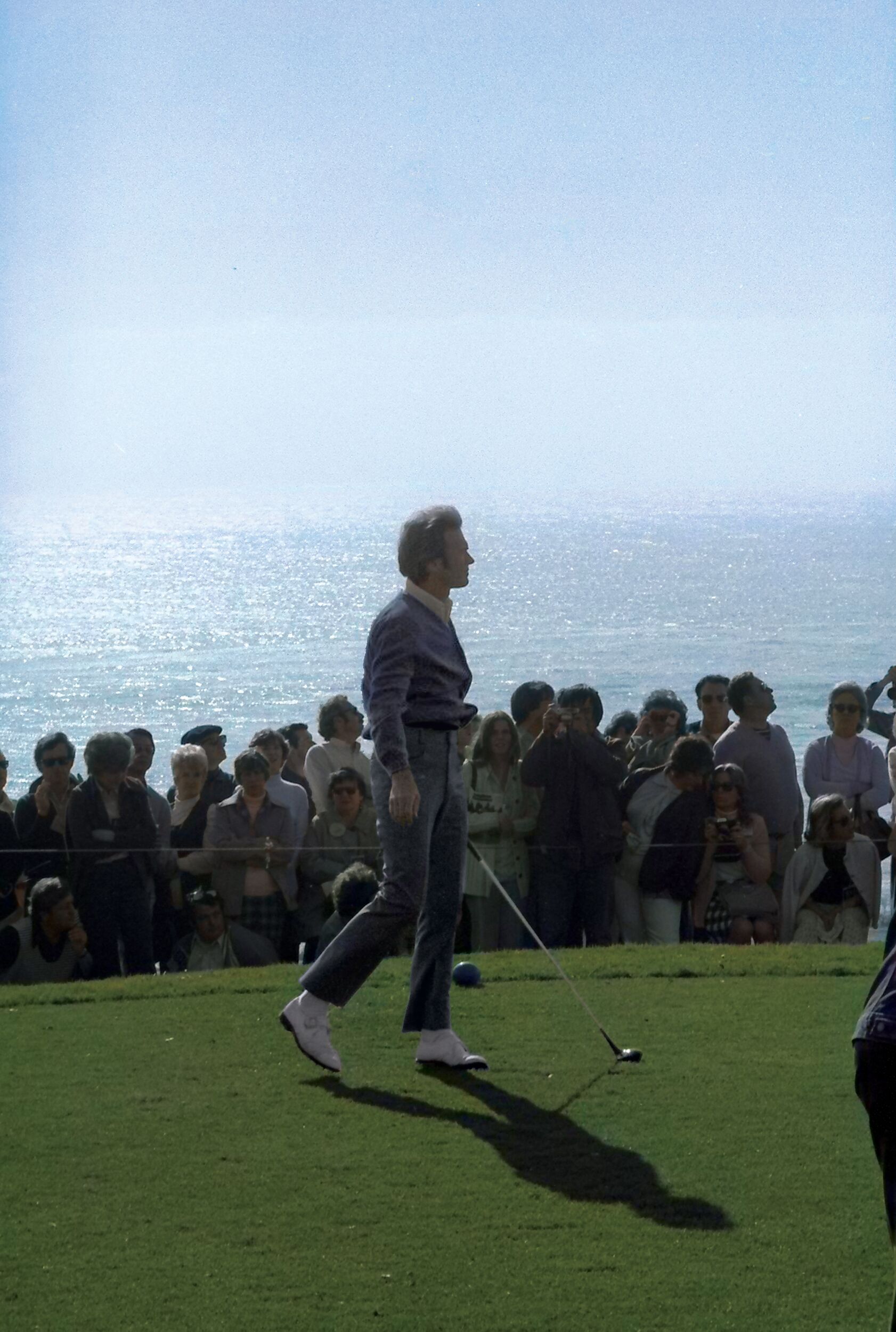 Even before he became one of Pebble Beach Company's key partners in 1999, Clint Eastwood called the Monterey Peninsula his home. Another star of the silver screen with a passion for golf, the courses of Pebble Beach were both Eastwood's backyard and his playground. A reported running joke between Eastwood and Crosby was the fact that Eastwood was not invited to play in the Pro-Am until 1963. Eastwood had jokingly commented in local circles that perhaps he wasn't involved because Crosby did not like cowboys. Shortly thereafter, he received a personal invitation from Crosby to play in the tournament, along with a note that read: "P.S. By the way, I do like cowboys." Eastwood was paired with Ray Floyd in the 1960s, and decades later would become a board member for the event.
A handsome new face joined the AT&T Pebble Beach Pro-Am in 1958, which just so happened to be the first year the tournament was broadcast on national television. Arnold Palmer was no movie star, but his comet of fame in the golf world would soon become legacy. In the 1960s Palmer was named "Athlete of the Decade," and by the end of his life he would have 92 professional championship wins to his name. During his initial Pro-Am years, Palmer enjoyed the company of friends such as Phil Harris and James Garner (pictured with Palmer, above). While he was arguably busy with other golf events and business ventures, it was the special nature of the AT&T Pebble Beach Pro-Am that kept Palmer returning year after year.
4. Phil Harris
Part of the allure in the early days of the AT&T Pebble Beach Pro-Am was that it took the inherent seriousness of golf and infused it with a festival-like atmosphere. While players were certainly focused on the game, the liquor ran freely and a sense of fun pervaded. Phil Harris, the comedic bandleader on Jack Benny's radio program and one of Crosby's close friends, was an event regular and could be counted on to add to the humor. Harris dubbed the fickle winter weather that often influenced tournament week "double-bourbon weather." In 1951 he won the tournament while paired with Dutch Harrison, thanks to an impressive 40-foot putt that he sank on the 17th green at Pebble Beach after Harrison put his tee shot in the water.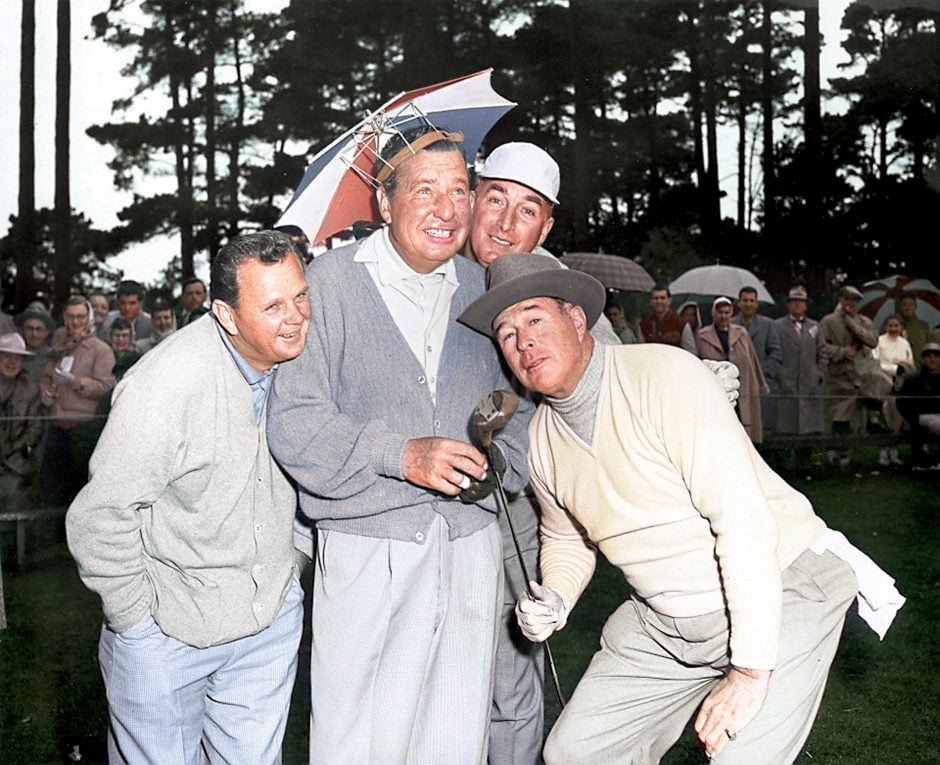 "
"...but I'm not a drunk. A drunk is someone with a rusty zipper and yellow sneakers."
"
Johnny Miller can boast many victories at Pebble Beach, and in fact is the only golfer to have won at Pebble Beach in four different decades. In 1974, Miller won the AT&T Pebble Beach Pro-Am during the prime of his career, having narrowly lost the 1972 Pro-Am in a playoff with Jack Nicklaus and winning the 1973 U.S. Open at Oakmont with a final round 63 – still the lowest score for 18 holes ever in a U.S. Open. During his 1974 Pro-Am win, Miller was paired with amateur partner Locke de Brettville and pulled off the rare double victory as both a team and individual.
Jack Lemmon was a perennial favorite at the AT&T Pebble Beach Pro-Am, mostly because spectators could relate to his struggles. Lemmon first played in the AT&T Pebble Beach Pro-Am in 1969 and missed only five tournaments over the following 31 years. He highlighted the fact that the tournament was really two events in one, a professional competition and a celebrity tournament. He and the gallery could have fun with his foibles as he demonstrated that success in golf is all relative. Lemmon seriously strived to make the cut, a feat he often said would equal winning an Oscar. While he won two Oscars in his successful career, he never made the cut at the AT&T Pebble Beach Pro-Am in 26 attempts. Paired with Peter Jacobsen from 1981 to 1999, they twice came within two strokes of the cut, and were an apparent lock in 1998, until the rain-shortened tournament resulted in cancellation of the team competition.
The heart of the AT&T Pebble Beach Pro-Am has always been about camaraderie. Whether participants have been actors, golfers (or in Bing Crosby's case, a bit of both), the past and present of the Pro-Am lives on in the players that return year after year and the stories they leave behind.