The Hay: A Par-3 Course You Can Play With Your Putter
If you can play mini-golf, then Tiger Woods thinks you can play The Hay.
Yes, there is a course at The Hay specifically designed for putting — a 100-yard-long green with an 18-hole routing that rotates daily.
But Woods and his TGR design firm also created the signature nine-hole par-3 course at The Hay so that golfers of any level can play it – simply by teeing off with a putter.
"My philosophy is playability," said Woods during course construction last year. "The ball can run, there's room to chase it into the green. I like to have options. I want to putt off every tee. I want to hit fancy shots and curve it around structures – especially bump and run it. That's what I love about playing overseas and links golf. I love using the ground, and all my short courses have that ability."
With holes at The Hay ranging from just 47 yards to a long of 106, eight of the nine greens feature fairways that flow directly to the putting surface.
The only exception is the second hole, which is an exact replica of the famed No. 7 at Pebble Beach – a picturesque par-3 surrounded by six bunkers.
Of course, you could still choose to tee off with a putter at No. 2 and skirt the sand. Sam Snead, the PGA Tour's all-time win leader, famously decided to do just that to keep his ball under the wind during one blustery day on No. 7 at Pebble Beach, and managed to salvage a par.
Putting is a more conventional option for the rest of the holes at The Hay, with fairways funneling to the front of every other green. While the second green floats in the middle of six bunkers, the other eight holes combine to include just four sand traps.
And that was by design. Woods sees The Hay as a fun and welcoming way for beginners and juniors to enjoy the game, a sentiment he brought from Long Beach to Pebble Beach.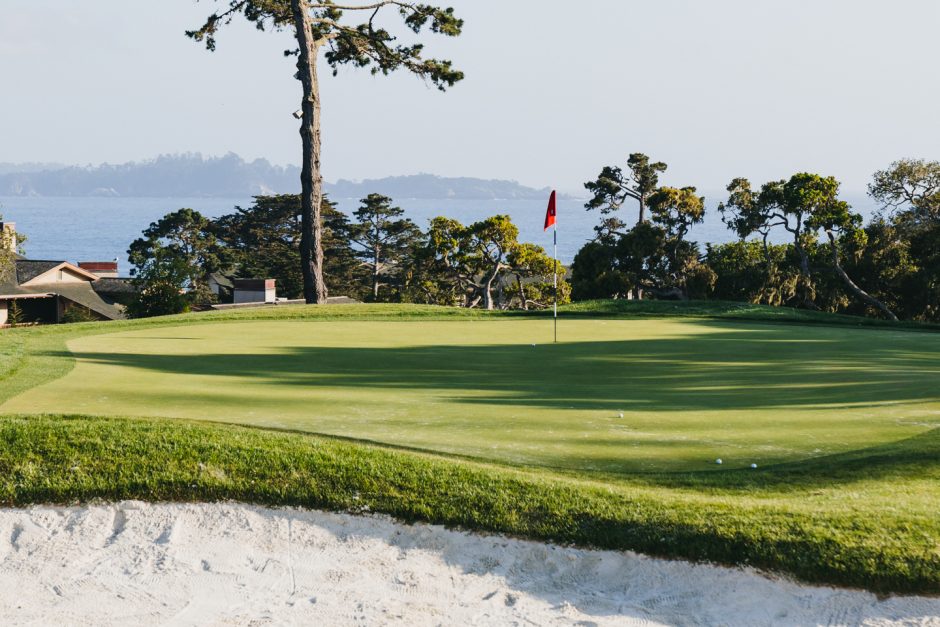 "
"Short courses - that's how I started."
"
Woods reflected, "I grew up playing a par-3 course in Long Beach. I always thought it's the easiest way to learn."
Ready to give The Hay – and golf – a try? You don't even need clubs. Wedges and putters are available at The Hay for your round.