Resolution Friendly Cocktails Inspired by a Stay at Pebble Beach
The new year often sparks new commitments and goals. Now that we're firmly settled into 2022, it's a good time to take stock of the resolutions that resonated and consider alternative ways to keep the momentum going.
Those looking for "better-for-you" libations to celebrate the year ahead will appreciate the insights of Pebble Beach Resorts' in-house mixologist Meg Nielson. She's combed the Resorts' top drinks menus to find her favorite three ways to toast to your health, which you can enjoy during your next visit or make at home.
Until the next trip to Pebble Beach Resorts, home mixologists can shake, stir and muddle their way to a healthier beverage celebration with these recipe suggestions:
SEAL THE DEAL, SIGNATURE MARGARITA — HAY'S PLACE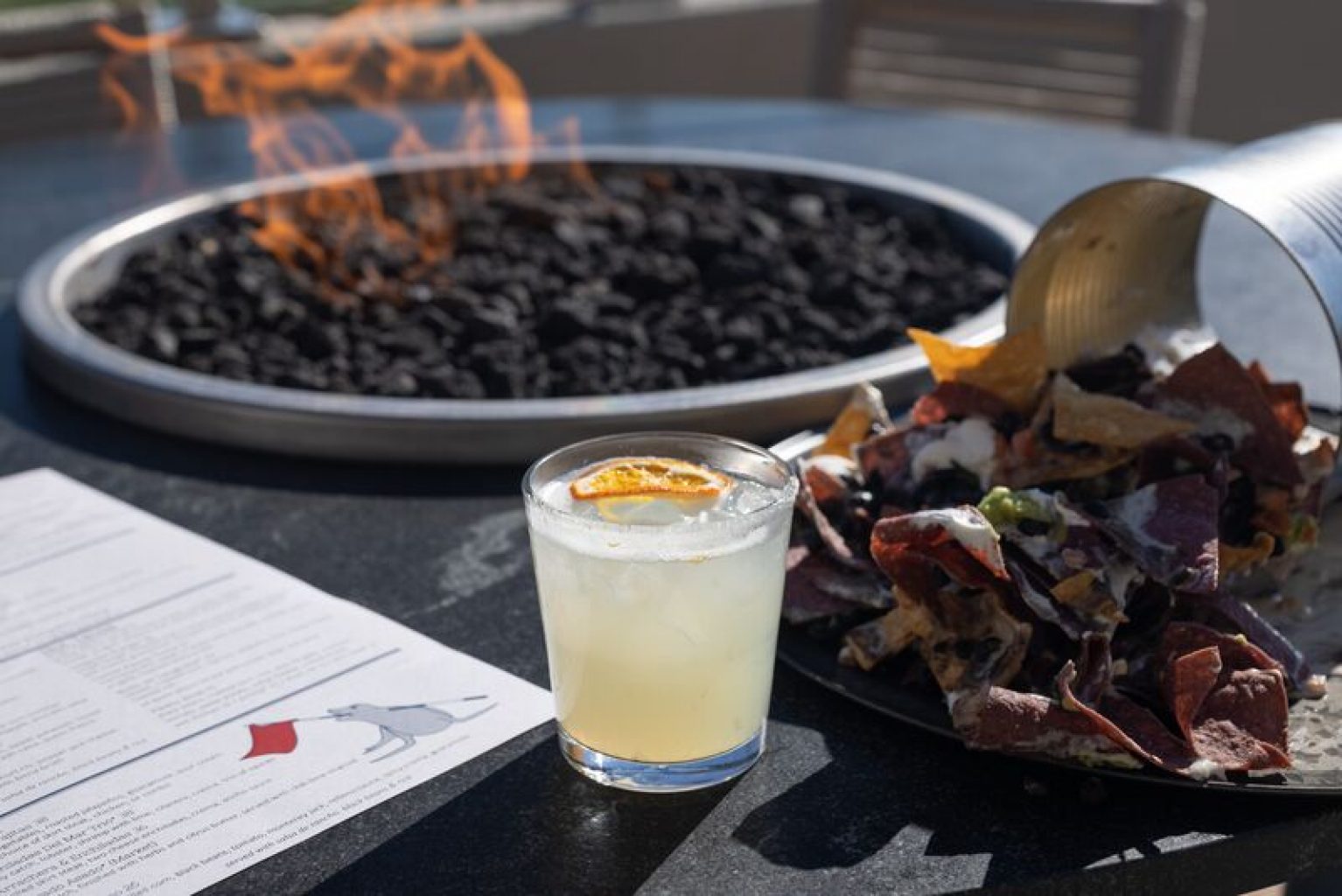 According to Nielson, minimizing sugar in a cocktail is a great way to feel good. The "Seal the Deal" signature margarita, featured at the brand-new Hay's Place restaurant, fits the bill. Skipping orange liqueur in favor of an orange oleo saccharum mixed with agave nectar makes this a skinny margarita that does not skimp on taste. And pairing it with an outdoor patio seat next to a toasty fire pit make for a perfect winter toast.
Ingredients:
2oz Espolon Reposado Tequila
1.5oz Fresh Juiced Lime (about 1.5 limes)
.5oz Orange Infused Agave*
½ Salt Rim (optional)
Method:
Prepare glass with salt rim if desired. Add all ingredients to a cocktail shaker. Fill with ice. Shake and strain into prepared glass. Top with fresh ice.
*Orange Infused Agave:
An oleo saccharum uses the dehydrating power of sugar to pull the flavor of orange oils from orange zest.  Prepare 1 day in advance.
1 cup Granulated White Sugar
1 cup agave nectar
1 cup boiling water.
1 orange zest only, pith removed
Method:  Zest orange completely, diligently trying to avoid the white pith. Add orange peel to cup of sugar in a non-reactive bowl with lid.  A medium sized plastic container is perfect for this application.  Seal the container and toss the sugar and orange zest together to really coat the citrus skin.  Refrigerate for 1 day to allow the sugar to pull the orange oil from the zest.  The sugar may look wet and clumpy when removed from the fridge, that is perfectly normal.  Add the boiling water and agave nectar to the sugar and zest mix.  Leave the orange skin in the mix and stir to dissolve the sugar.
POMEGRANATE SPRITZ — THE SPA JUICE BAR & CAFE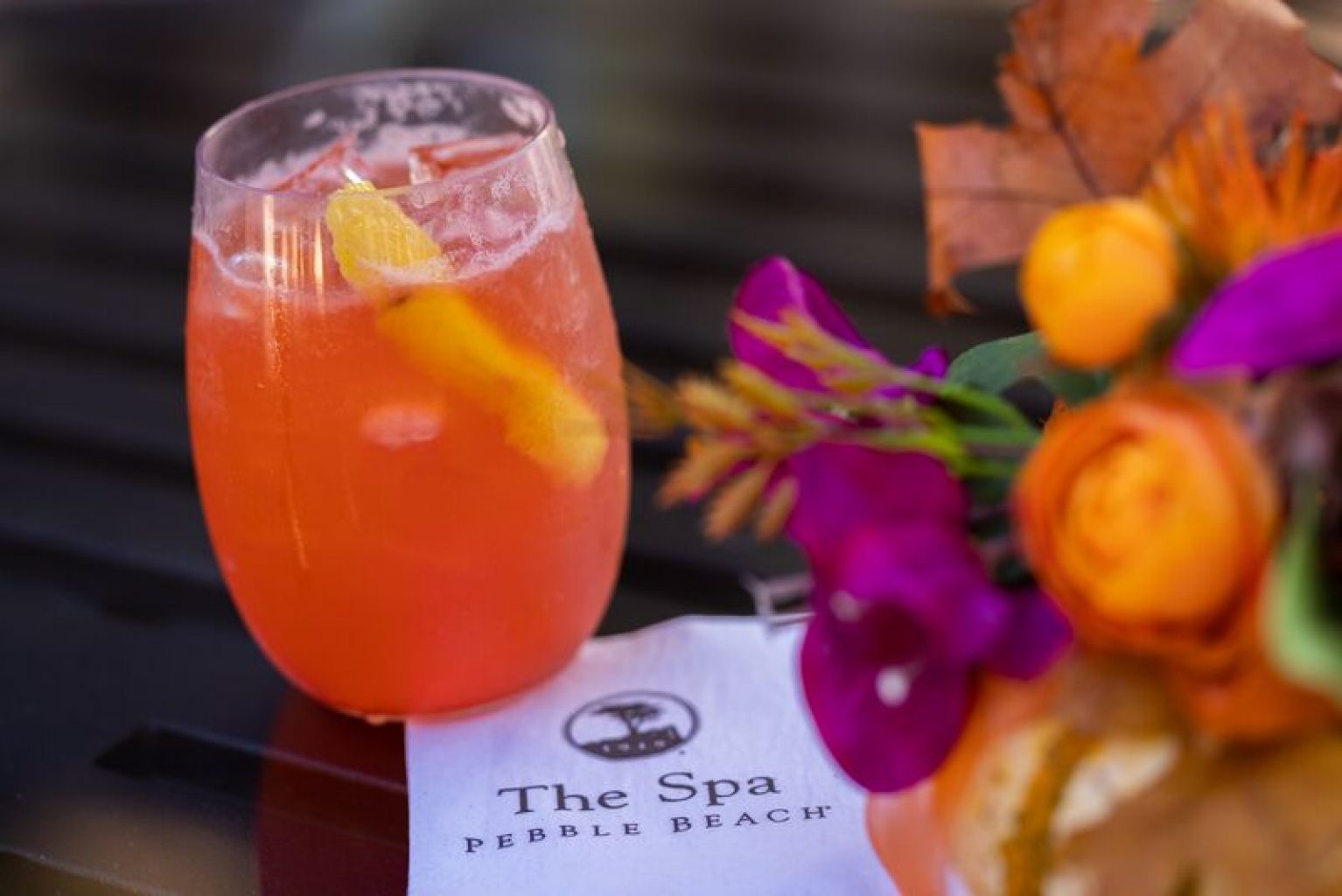 Next, she suggests low ABV cocktails are a smart way to indulge without the potency of a full-powered, spirit-based cocktail. Pebble Beach Resorts' take on the classic Aperol Spritz from the Spa Juice Bar & Cafe at the Forbes Five-Star rated Spa at Pebble Beach amps up the "good for you" vibes by featuring the antioxidant power of pomegranate.
Ingredients:
1oz Aperol
2oz Club Soda
4oz Prosecco
.75oz Pomegranate Puree (The Spa Juice Bar & Cafe uses Perfect Puree of Napa Valley)
Lemon Zest Twist (garnish)
Method:
Add all ingredients to a wine glass filled with ice. Stir to incorporate. Express lemon twist over the cocktail and drop in for a bright highlight to this spritz variation.
NO PROOF, MOCKTAIL — STILLWATER BAR & GRILL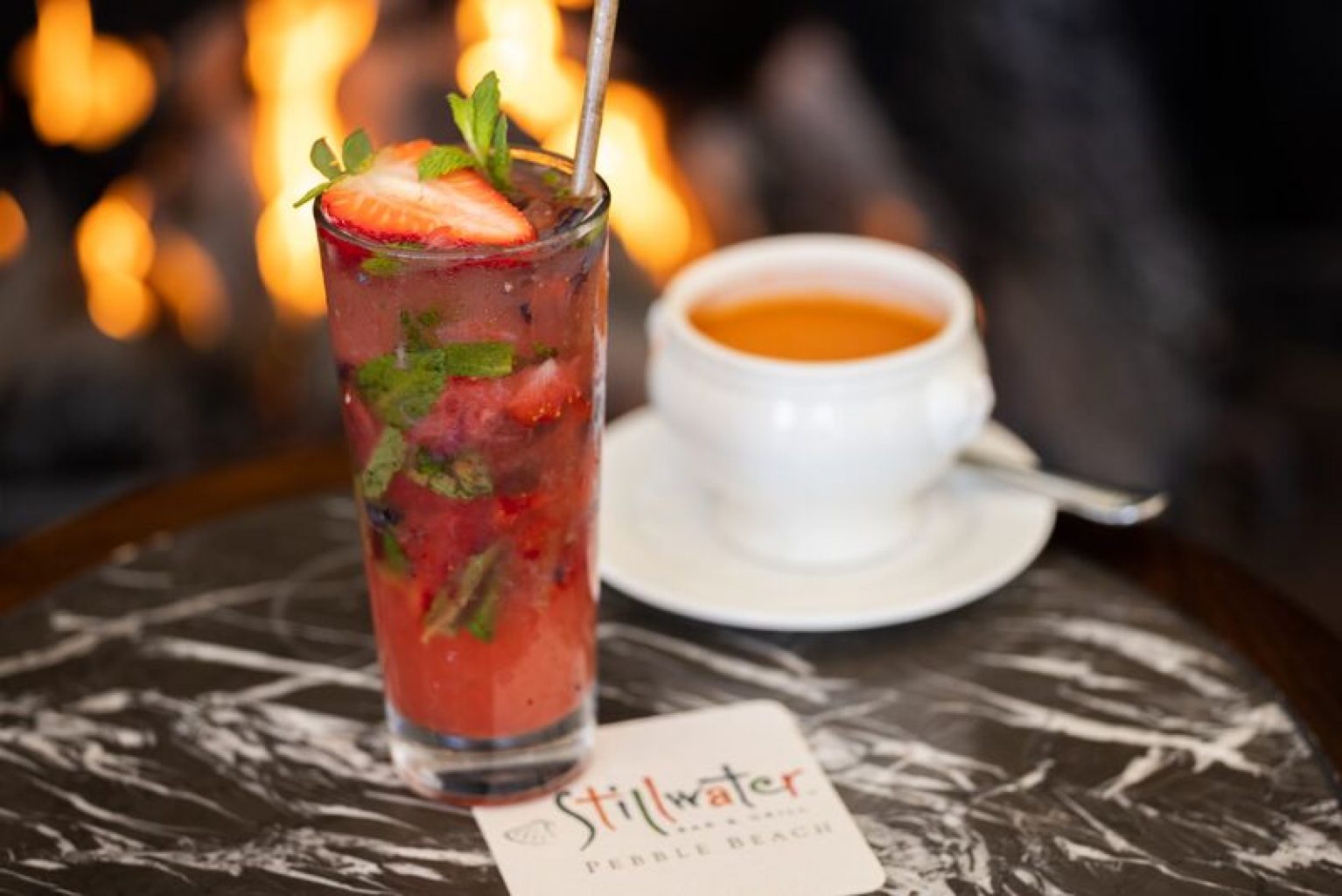 Finally, mocktails are fun and guilt-free, especially when they come with fresh berries, lime and mint. Pebble Beach Resorts "No Proof" mocktail at the Stillwater Bar & Grill at The Lodge at Pebble Beach supports goals without sacrificing flavor.
Ingredients:
1oz Lime Juice
1 Medium Strawberry + ½ Strawberry for garnish
8 Blueberries
10 Mint Leaves
4oz Club Soda
1oz Simple Syrup (1:1 granulated white sugar dissolved in hot water, cooled for use)
Method:
Build in a tall glass. Add fruit, mint and simple syrup to glass.  Muddle/smash to express fruit. Add lime juice and fill with ice. Add club soda and use an iced tea/long handled skinny spoon to stir and lift heavy fruit items through the bubbly water to the top of the mocktail. Garnish with the half strawberry floating on top of your mocktail for a bright color pop.
Cheers!
Resolution Friendly Cocktails Inspired by a Stay at Pebble Beach