Pebble Beach is very much a links-style design—a first 10 holes that head out, and a final eight that comes back in. To take advantages of the incredible coastline, course architects Jack Neville and Douglas Grant extended play along the cliffs above Carmel Beach to the 10th hole, before turning around and working their way back to Stillwater Cove.
While the ocean is only in play for Nos. 10, 17 and 18, it is rarely out of sight. Just the 12th and 15th holes are obstructed from the water (although each tee box still has an adjacent view), but those withdrawals last a mere 15 minutes.
Of course, when the ocean does come back into play (this time to your left) for Nos. 17 and 18, you are facing two of the most memorable holes in golf.
See: The Ocean Views from the Front Nine at Pebble Beach
10th Hole (446 Yards, Par-4)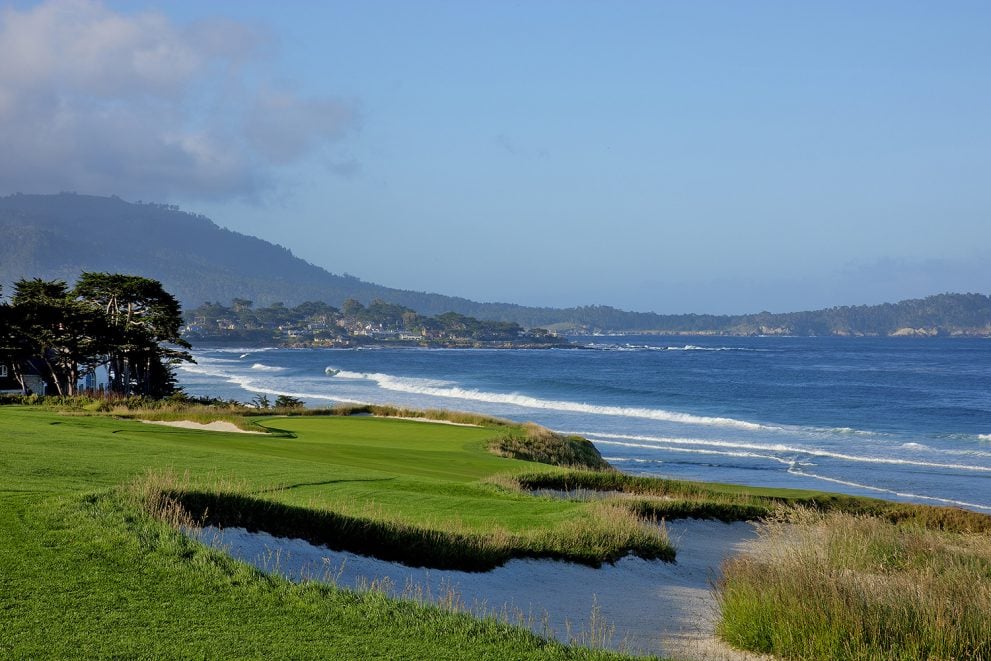 During tournaments with players teeing off both nines, this is one of the hardest starting holes in the world. And even if you've played nine holes to warm up, it's not much easier. No. 10 has ranked among the five toughest par-4s on the PGA TOUR. A sloping fairway feeds into Carmel Beach, and bail-outs left are punished by three fairway bunkers.
11th Hole (373 Yards, Par-4)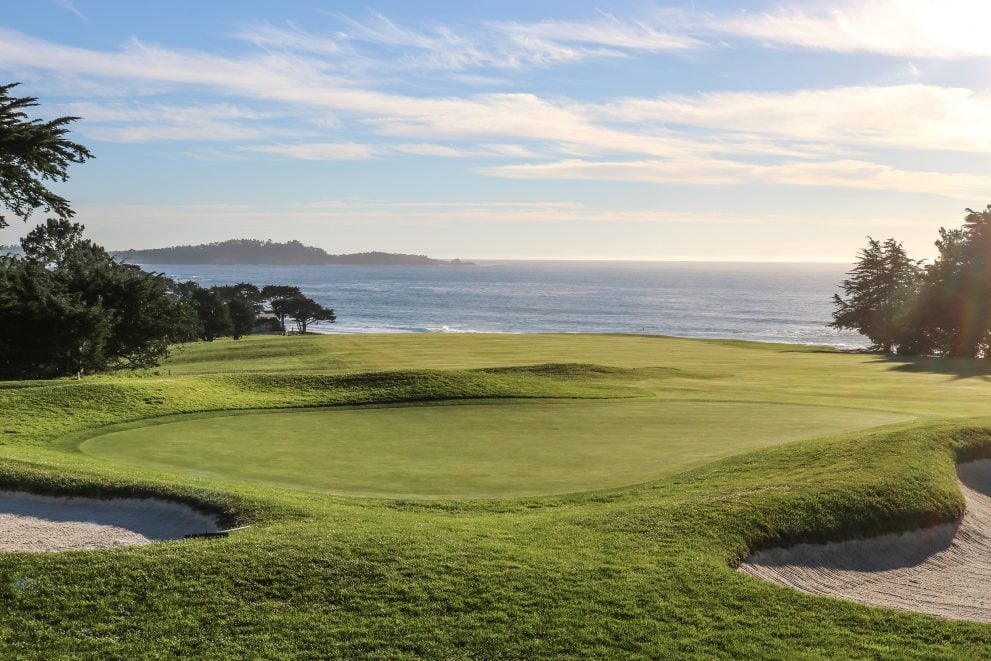 The blind and open tee shot is actually quite strategic. You want to hug the left edge of the fairway to give yourself a view and a manageable angle into the strongest sloping back-to-front green on the course. A downhill putt here is treacherous. Once you reach the green and the 12th tee box behind it, turn around for a gorgeous view of Point Lobos.
13th Hole (403 Yards, Par-4)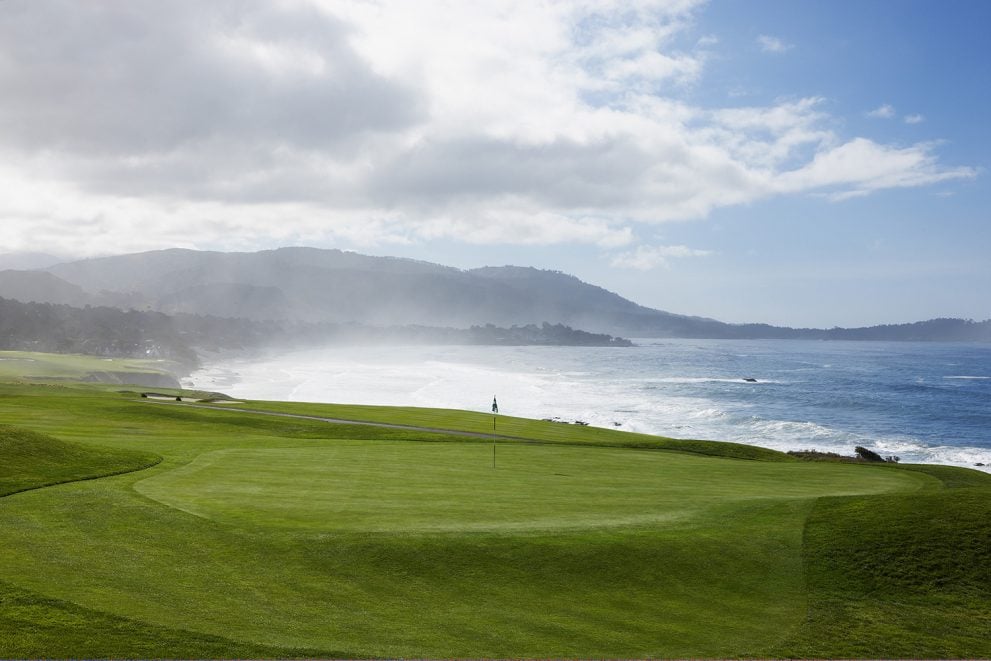 The second green that Alister MacKenzie rebuilt ahead of the 1929 U.S. Amateur was No. 13. (The other was No. 8.) It races from right to left toward the water. This hole was also the site of Bing Crosby's home. When you see the view, you understand why.
14th Hole (572 Yards, Par-5)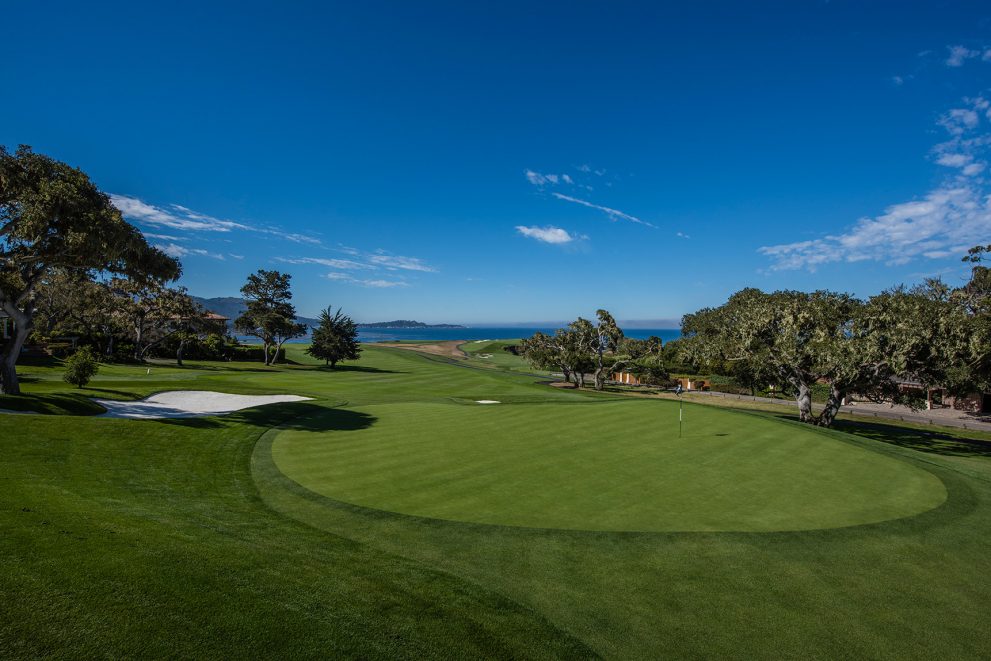 Paul Goydos described the act of hitting the 14th green as "trying to stop a pitching wedge on a moving school bus." Goydos was leading the 2010 AT&T Pebble Beach Pro-Am in the final round until he became the fourth player that day to score a quadruple-bogey 9 on the 14th.
Fortunately, the green was renovated last year to reduce its severity and produce more pin placements. A previously impossible right pin is now usable in tournaments, and the left side gained more than 400 square feet. Once you've hit this green, enjoy your hard-earned view looking across the sixth hole.
16th Hole (401 Yards, Par-4)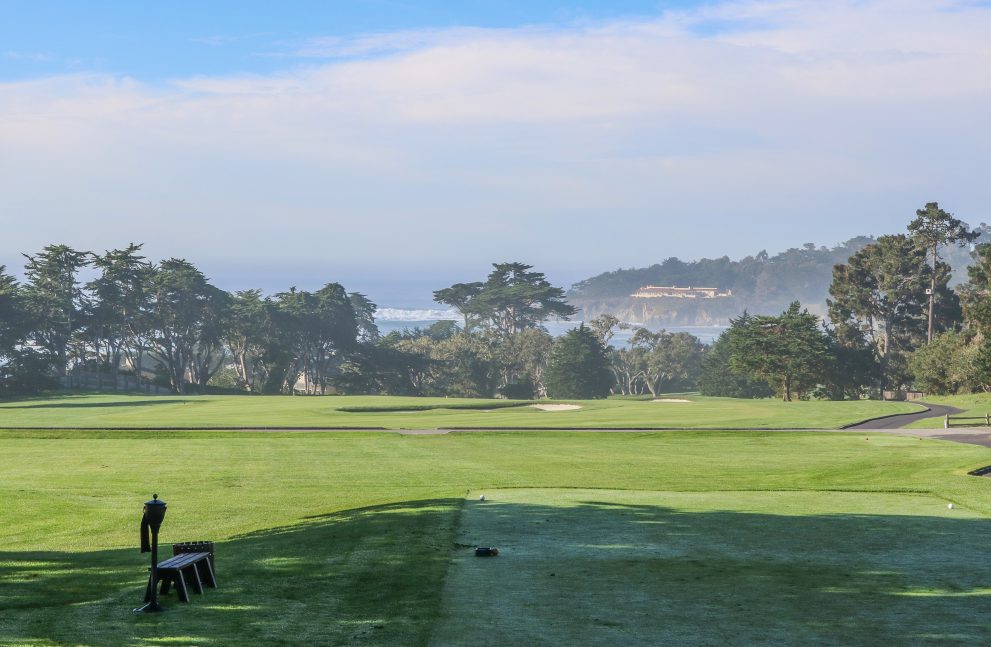 While you still have one more hole until the ocean is back in play, the view from the 16th tee box pointing at Pescadero Point is picturesque.
17th Hole (177 Yards, Par-3)
When the Los Angeles Times asked a then 25-year-old Tiger Woods where he thought the 2000 U.S. Open would be decided, he said, "The 17th on Sunday." Woods could have literally made a 17 at No. 17 on Sunday and still won (his 15-shot victory would have been reduced to one), but history suggested it was a great answer.
Jack Nicklaus clinched the 1972 U.S. Open by hitting the stick with a 1-iron there. Tom Watson fended off Nicklaus 10 years later with a chip-in birdie after narrowly missing the ocean with his tee shot — a moment now permanently celebrated with a plaque from the spot where "The Shot Around the World" was hit.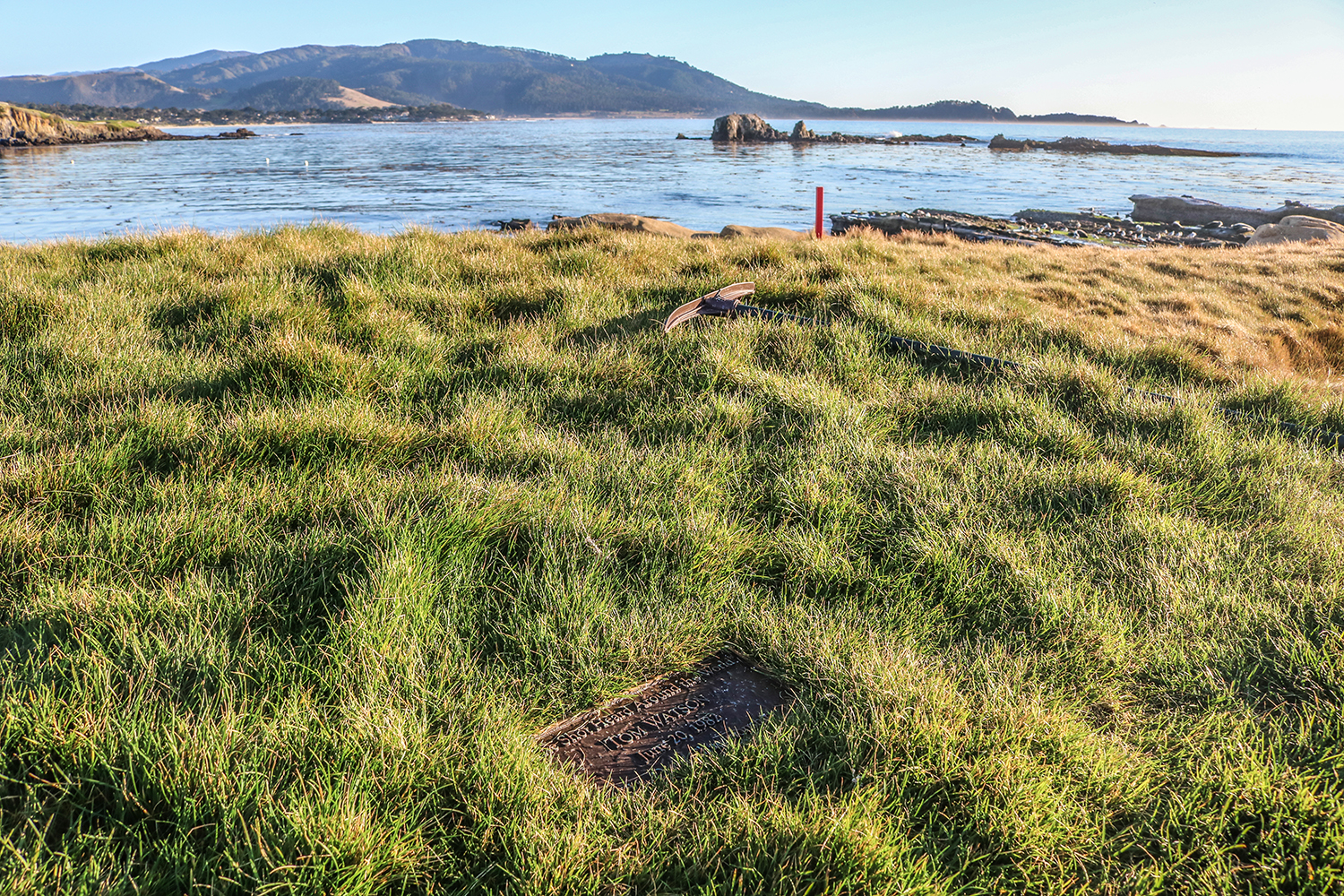 Recently, the famous hourglass green was slightly enlarged to reflect its original design. When you reach it, enjoy the views into the 4th, 6th and 7th holes to your left and No. 18 to your right.
18th Hole (543 Yards, Par-5)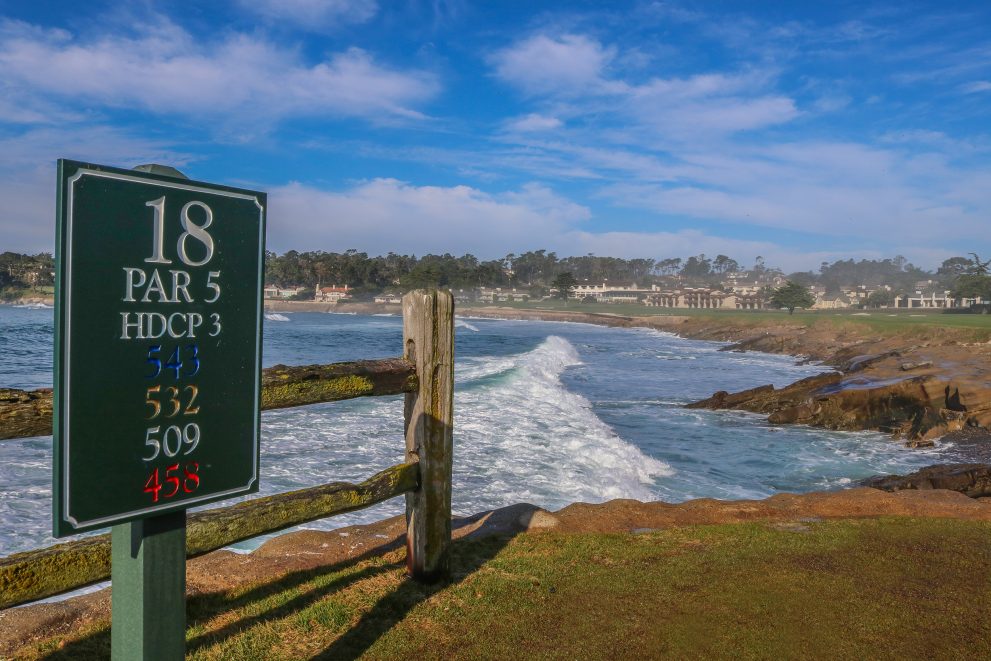 The greatest finishing hole in all of golf originally opened as a short par-4. But Herbert Fowler proposed just a year after Pebble Beach opened that No. 18 should be extended along Stillwater Cove, transforming it into the dramatic cape hole par-5 you play today. Thank you, Mr. Fowler!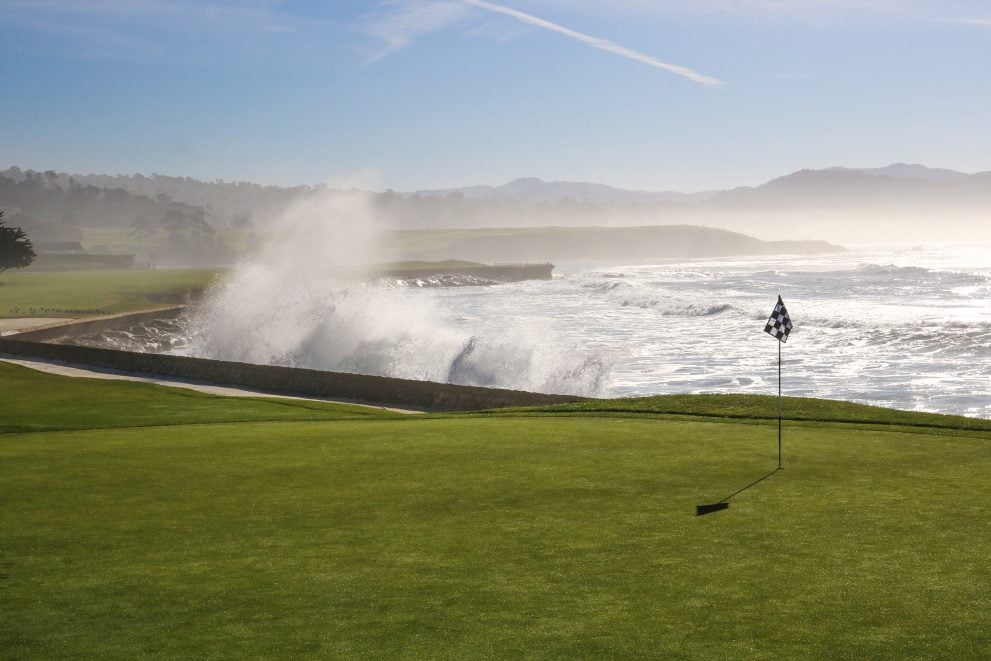 And if the swell is up, waves bouncing off the sea wall lining No. 18 produce unforgettable photos.
Also See: The Ocean Views on the Front Nine at Pebble Beach
The Ocean Views at Spyglass Hill
The Ocean Views at Spanish Bay
The Ocean Views at Del Monte and Peter Hay
---
Facebook Conversations