Paul Casey ranks 196th out of 216 players on the PGA TOUR in driving distance.
"Ultimately with my game, everybody's hitting it longer than I am these days, so I've got to cherry pick where I play," Casey admitted.
With three of the four shortest courses on the PGA TOUR in its rota, the AT&T Pebble Beach Pro-Am appears to be the perfect match. After going 5-under in his last four holes on Friday to shoot a 7-under 64 at Monterey Peninsula Country Club, Casey added six more birdies at Spyglass Hill during a 5-under 67 on Saturday to jump to 15-under, three ahead of four-time AT&T winner Phil Mickelson.
Casey showed off his finesse with a "chip" 9-iron from just 115 yards on No. 14 at Spyglass Hill that he deftly stuck to 8 feet, setting up a birdie.
"You have to be very aggressive, but you have to manage spin as much as you can," said Casey about a day that hovered in the 50s and saw scattered showers throughout his round. "It's very difficult to get close to some of these back pin locations."
Casey entered the third round in a four-way tie for the lead at 10-under, but now has a nice cushion. Among the 36-hole co-leaders, Mickelson was even on his round until he launched a 4-iron on No. 14 at Pebble Beach for a tap-in eagle:
The shot put Mickelson in position to go after a record-tying fifth AT&T.
"Anything under par, I thought was a good round," said Mickelson, who shot a 2-under 70. Mickelson would tie Prince of Pebble Beach Mark O'Meara with a win on Sunday.
Lucas Glover only managed a 1-under 70 at MPCC, which had been playing the easiest of the three courses this week, while Scott Langley shot a 1-over 73 at Pebble Beach to drop back to 9-under.
Jordan Spieth finished his second round early Saturday morning with a bogey on No. 9 at Spyglass to drop to 9-under. Spieth was still hanging around the top of the leaderboard until he shot a 4-over 40 on the back nine at Pebble Beach to slide to 7-under.
Jason Day began the day one shot back, but is now six behind after an even-par 72 at Pebble Beach.
Can't watch the drama unfold in person? Catch TV coverage beginning at 9 a.m. on The Golf Channel, and noon on CBS.
Here's what else caught our attention on Saturday at the 2019 AT&T Pebble Beach Pro-Am:
HOW CLOSE COULD YOU THROW IT TO THE 7TH HOLE?
Casey and Mickelson will be playing together in the final group. This is a fun story to remember when they reach the seventh hole on Sunday.
COMFORT KANGAROOS?
Two years ago we had a monkey with a diaper hanging out at Pebble Beach. This year, Bill Murray enjoyed his encounter with a couple of kangaroos.
MATTY ICE WORKS AS A GOLF NICKNAME, TOO
In case you are still fixing for football, here's a fun competition between MVP quarterbacks Matt Ryan and Aaron Rodgers. But Ryan can really play. The 2-handicap started his Pebble Beach round on Saturday birdie-eagle:
Ryan is tied for sixth in the amateur competition, and is attempting to become the second straight football player to capture the team title. Last year's winner Larry Fitzgerald missed the cut, but he did have this highlight:
PEBBLE BEACH IS ROUNDING INTO U.S. OPEN FORM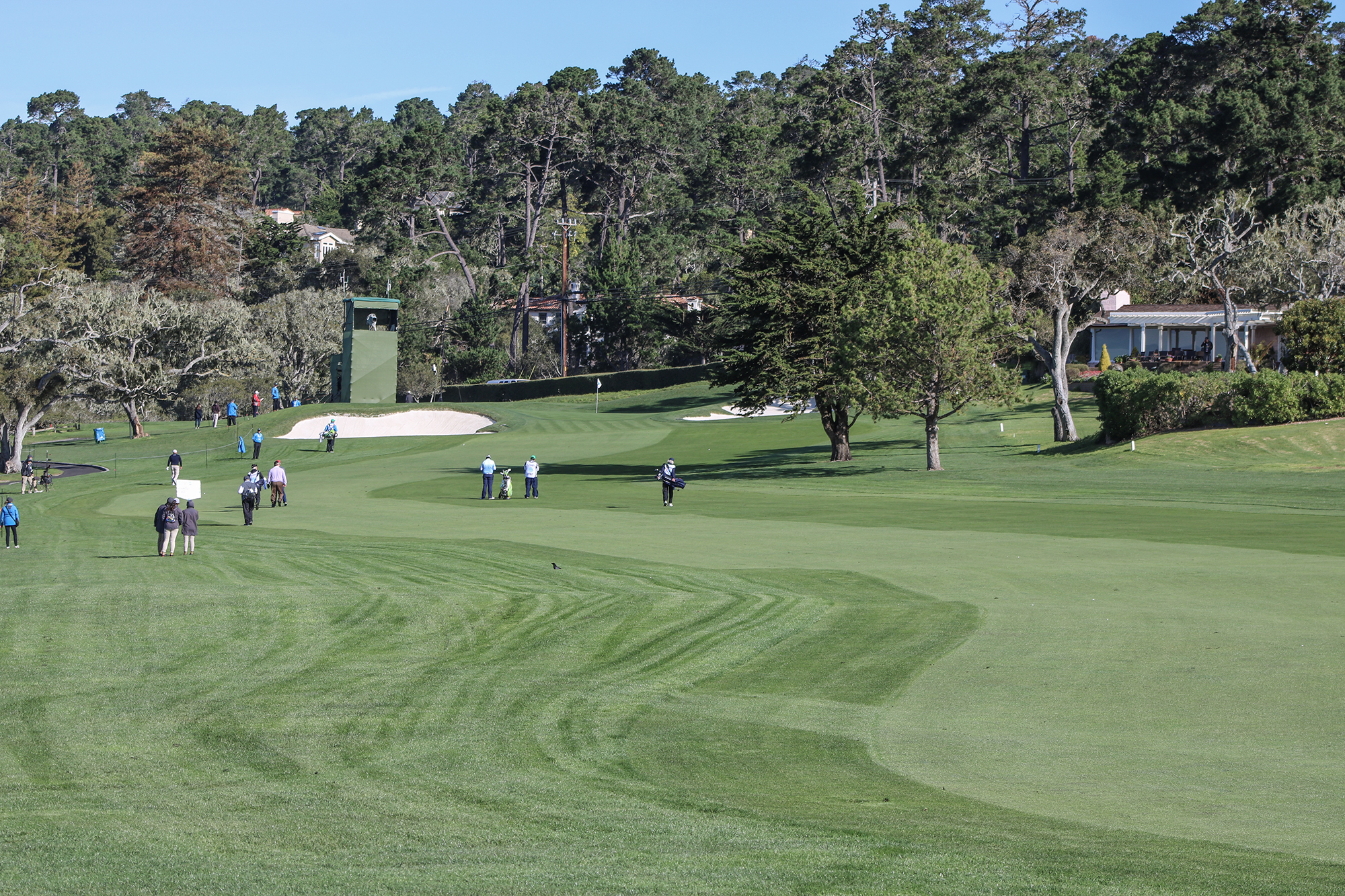 With narrowed fairways plus wet and windy conditions, Pebble Beach was easily the toughest test this week:
Pebble Beach (+0.531)
Spyglass Hill (-0.276)
MPCC (-0.339)
The toughest hole at Pebble Beach was No. 9 (+0.323), followed by No. 10 (+0.219). But the third toughest hole might surprise you: it was No. 1 (+0.213) with its significantly narrower tee shot.
As many guests will attest, No. 8 (+0.316) played the toughest at Spyglass, followed by No. 6 (+0.213) and No. 16 (+0.181).
---
Facebook Conversations