Spectator Guide: Everything You Need to Know to Attend The 2020 AT&T Pebble Beach Pro-Am
Unlike traditional sporting events that take place in a single stadium over the course of several hours, golf tournaments offer unique, all-day experiences. Often, tournaments span miles of terrain and are played from sunrise to sunset.
The AT&T Pebble Beach Pro-Am is hosted across three separate golf courses: Pebble Beach Golf Links, Spyglass Hill Golf Course and the Shore Course at Monterey Peninsula Country Club.
While the layout may seem overwhelming to a first-time attendee, knowing the basics of the tournament setup will ensure that you make the most of this special event – and may help you get up close and personal with your favorite golf pros and celebrities.
Essential Information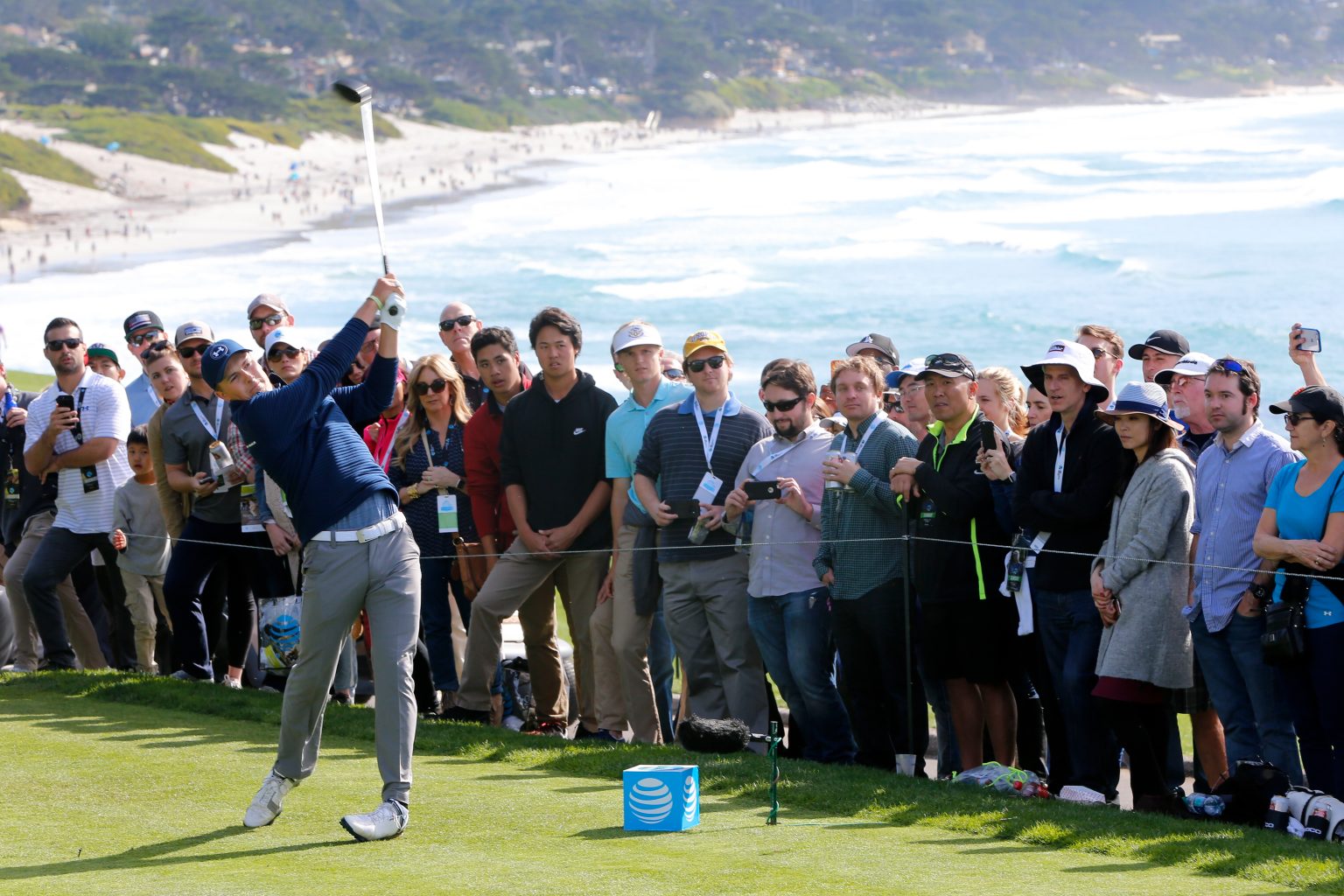 Monday Course Closure:
All courses will be closed to spectators on Monday, February 3. In previous years, spectators were allowed to watch the Monday practice rounds. This year, the players will use the day to practice privately.
Mobile Ticketing:
This year, your phone is your ticket! Digital Tickets will be used for the first time, and must be presented at the tournament gates via your mobile phone.
Getting Here:
Wednesday – Sunday, no spectator parking is available inside Pebble Beach without a pre-assigned permit. Free parking is located at California State University, Monterey Bay (CSUMB). Once on site, attendees will enter at a new location (the previous grand entrance near Peter Hay Golf Course is now under construction, and will ultimately be unveiled as a new short course created in partnership with Tiger Woods and his TGR Design firm). Complimentary shuttles run between the three tournament courses from 6:00 a.m.-5:00 p.m., Tuesday – Saturday.
Practice Rounds:
The Tuesday & Wednesday practice rounds are open to spectators. This is your best opportunity to watch the pros up close and take photos and videos of your favorite celebrities. Your next best bet for celebrity access will occur on Thursday and Friday, when CBS films a group of A-List stars as they play MPCC and Spyglass.
New Fan Experiences: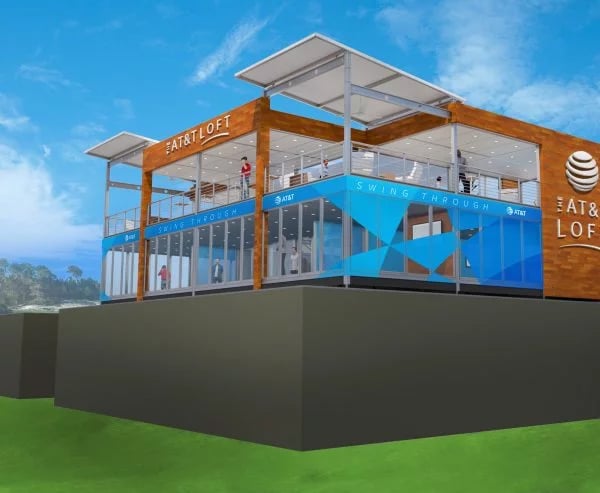 Chevron Fan Energy HQ – don't miss this new experience located on the 15th fairway. Open to spectators of all ages, this is a great spot to play high-tech games, test your golf knowledge with the Fan Exam, win prizes, learn your "fan type" and see how your fan energy stacks up against the competition.
The AT&T Loft – this incredible two-story lounge on the PBGL Triangle Plaza replaces the AT&T Fan Dome from previous years. In addition to stunning views of the course, this venue also offers cutting-edge technology and games to enjoy inside.
Tip-up Grandstand Seating – all grandstand locations will feature comfortable stadium-style, tip-up seats with backrests!  See the course map to find all eight public grandstand locations.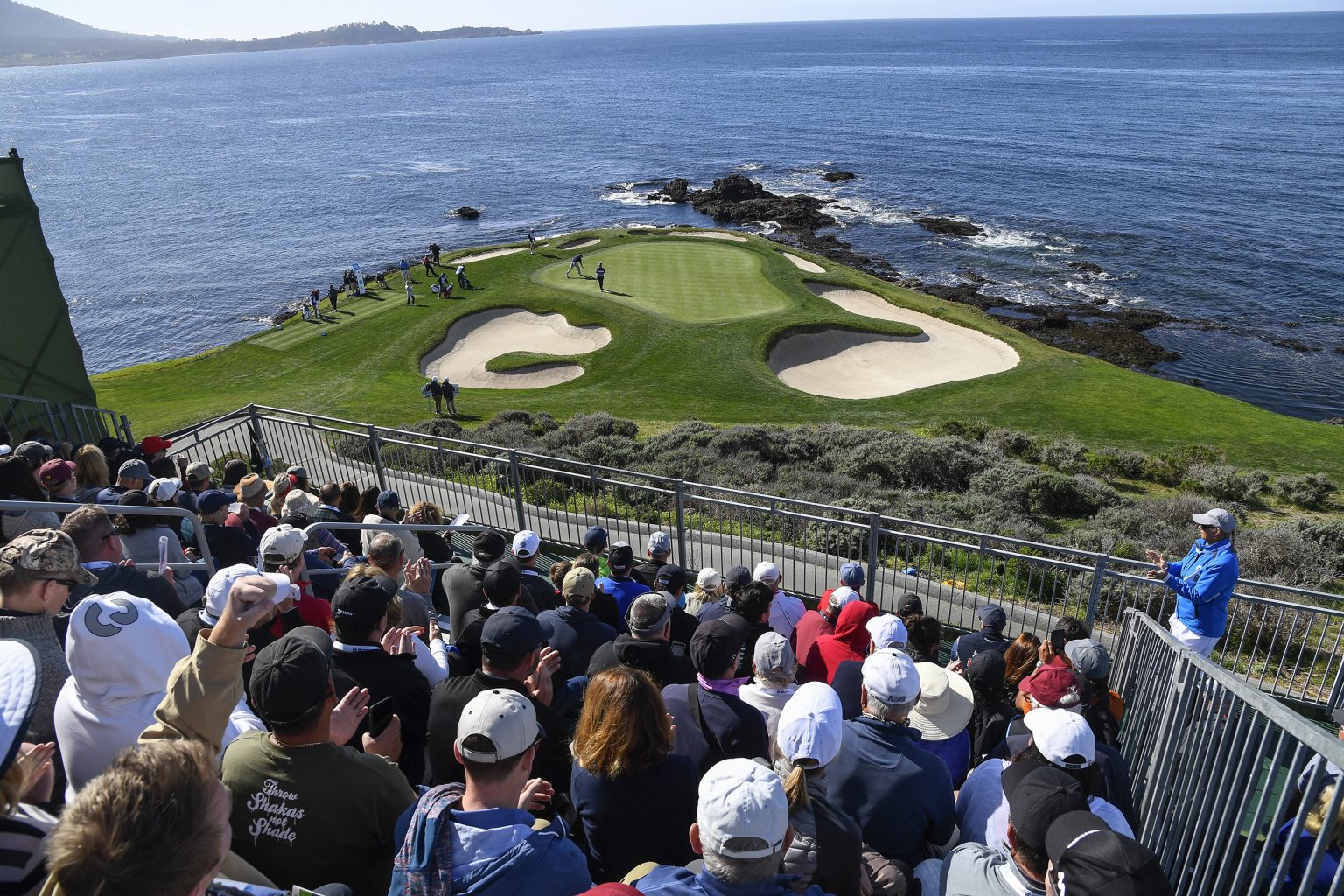 New Food & Beverage Offerings:
Meiomi Flavor Forward Wine Lounge – attendees can stop by to enjoy a glass of Meiomi Wine, the Official Wine of the PGA TOUR in this lounge, located at the PBGL Triangle Plaza.
Pebble Beach Golf Links 14th Fairway Concessions – need to grab and go? Stop by the Triangle Plaza for fantastic concessions, inspired by the successful snacking setup used during the 2019 US Open.
The Turn at 10 – previously known as the vineyard vines Deck on the Pebble Beach Golf Links 10th Fairway, this year the location will offer premium cocktails and snacks to be enjoyed around cozy fire pits.
The Three Courses
1. Pebble Beach Golf Links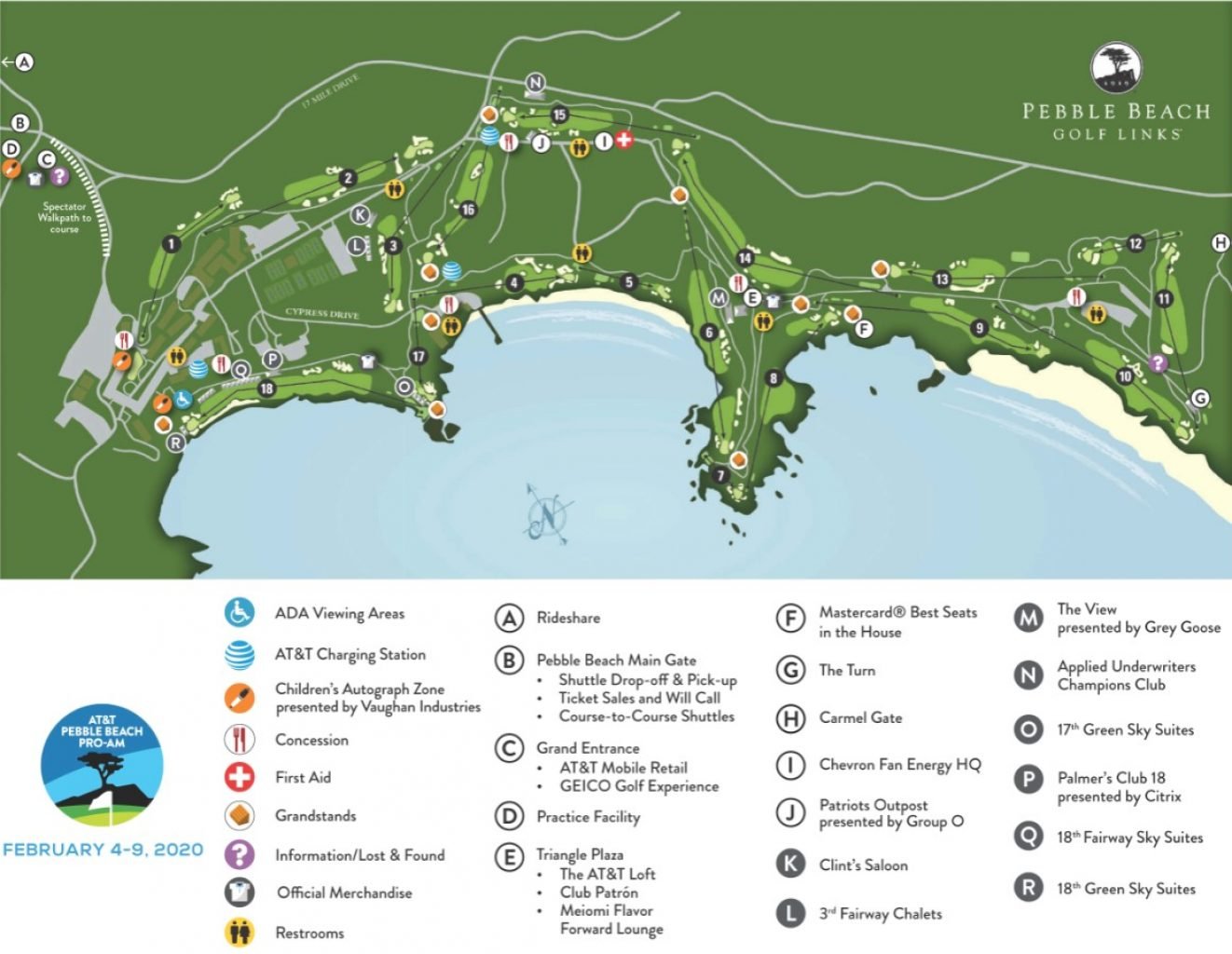 Begin your journey at No. 18 and walk the course backward, where you will encounter some of the most spectacular and famous holes in the word, set against the stunning backdrop of Stillwater Cove.
Where to Watch: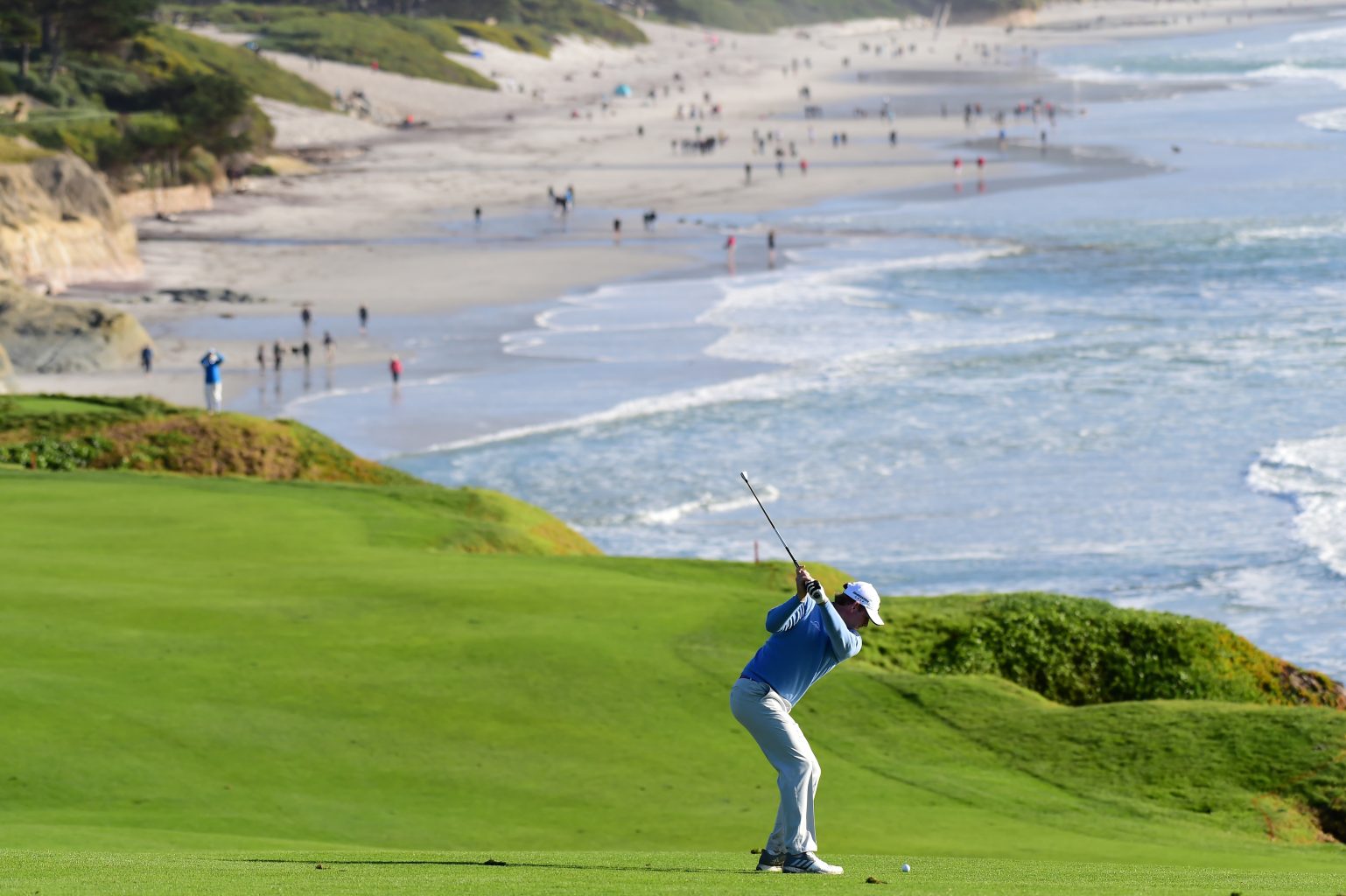 No. 7: Head to the grandstands and enjoy one of the most interesting shots in golf. If the wind's up on this 106-yard par-3, any score is in play. If it's calm, relax at one of golf's most picturesque corners of the world.
Nos. 8 and 9: Watch the famous second shot over an 80-foot cliff on No. 8, followed by pros letting it rip on the ninth tee of the 481-yard par-4. You can even turn around and catch players finishing No. 13 and teeing off No. 14. Mastercard® Cardholder Bonus: Have a Mastercard? Be sure to enjoy the grandstands located between Nos. 8 and 9. Your Mastercard will get you access to the "Best Seats in the House" – the premier first two rows of grandstand seating.
No. 15: This is the location of the new Chevron Fan Energy HQ. Traditionally lots of energy surrounds this hole, where goal of a set of humorous fans who have staked out this corner of the course is to provide "professional support to amateur golfers." Fans stationed here are purposefully reserved when the pros tee off, only to rev it up for every amateur — famous or not. Be prepared for anything!
Nos. 17 and 18: Two of the most famous finishing holes in the world are also two of the prettiest. And when the tournament is on the line, this is where you want to be. Enjoy play into the iconic 17th green, or watch players chase a closing birdie while fighting for the lead.
2. Spyglass Hill Golf Course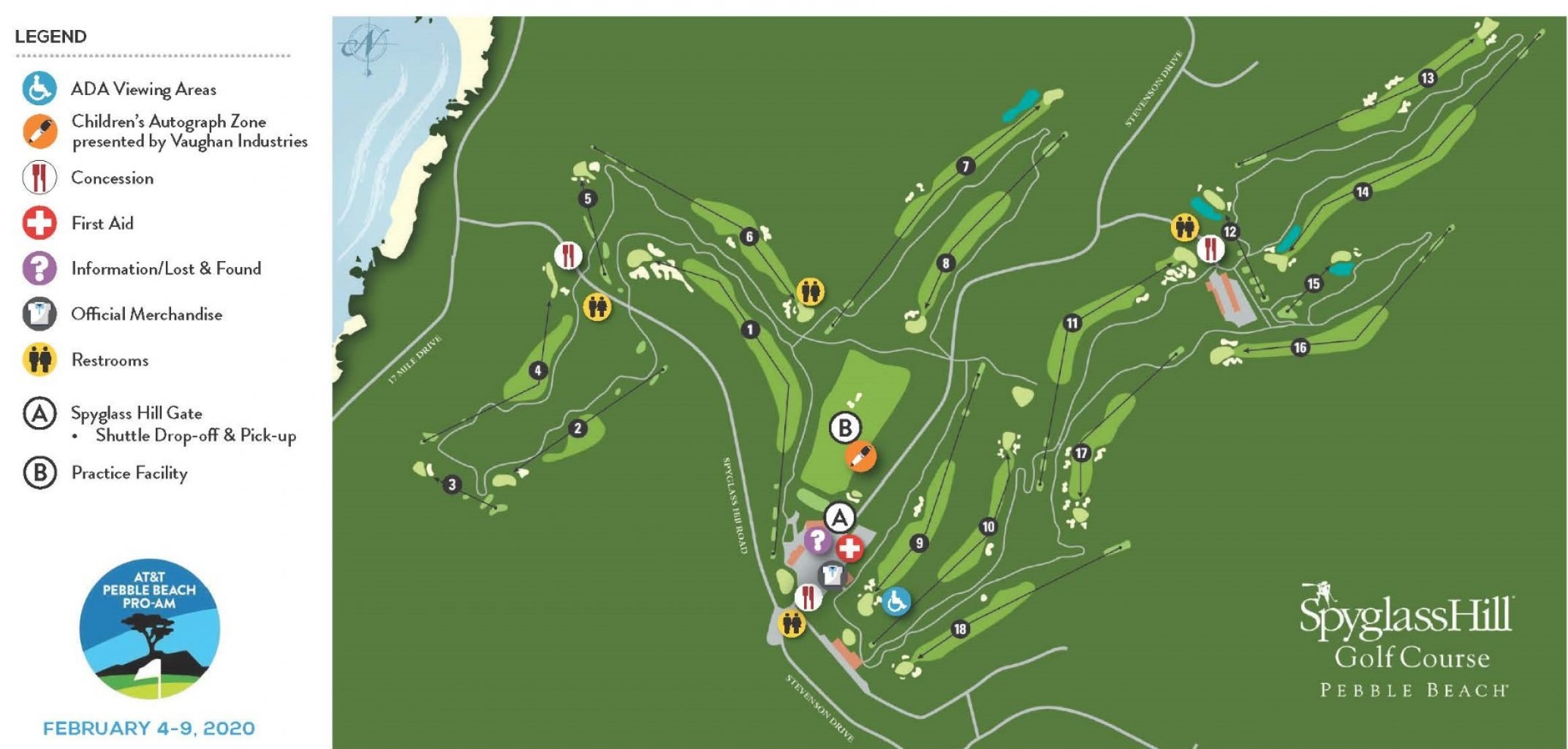 With no grandstands in sight, the beauty of this course comes from the breathtaking vistas. The best view can be found at the third tee box, where you see the first five holes below you, Cypress Point to your left and the MPCC Shore Course to your right. Enjoy the scenery while watching shots into the elevated second green, and downhill third hole.
Where to Watch: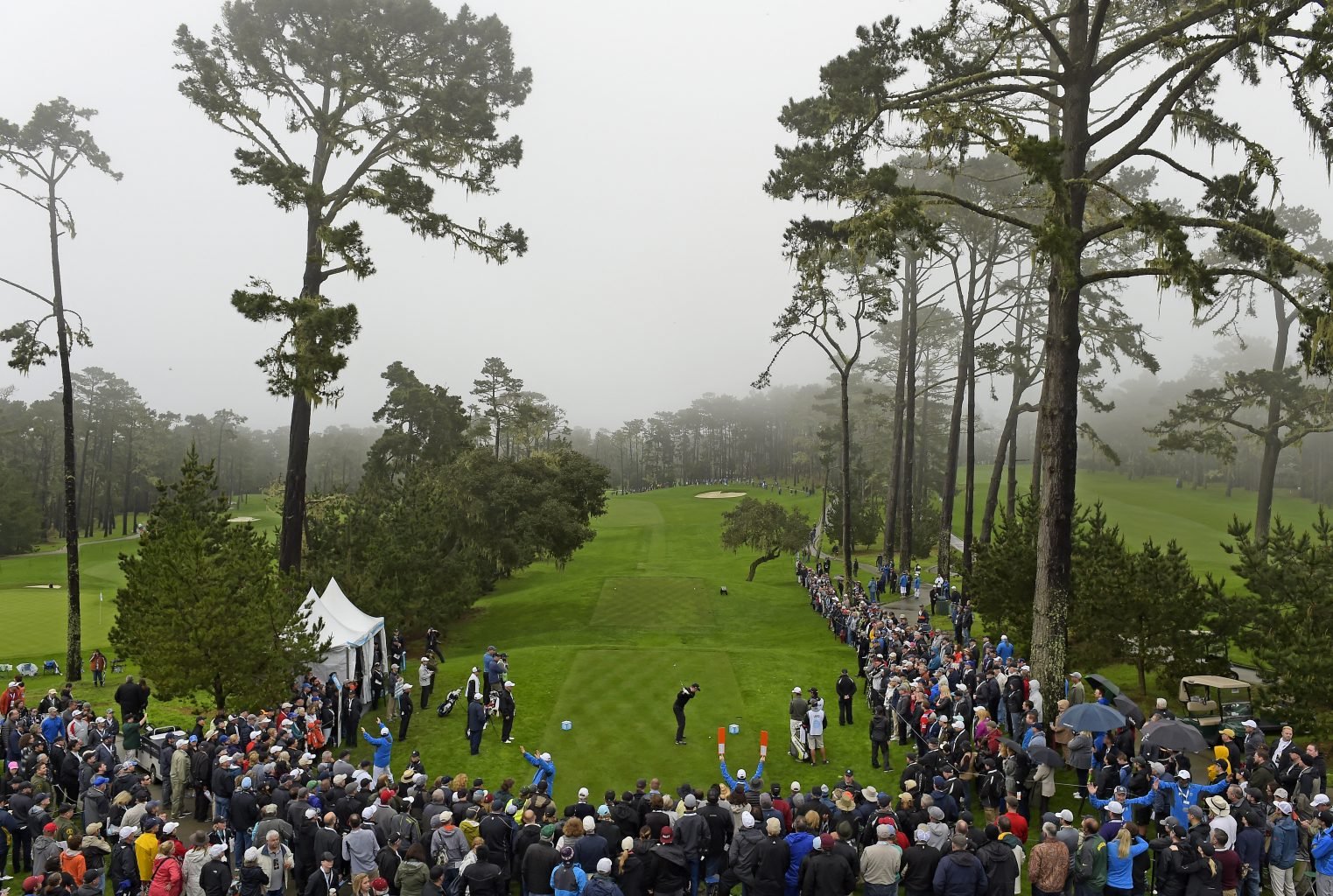 No. 4: It's one of the wildest greens on the PGA Tour, so it's fun to see how the pros handle it.
Nos. 11, 12, 14 and 15: For maximum golf-watching efficiency, post up near the 12th tee box and take in a pair of par-3s and par-5s. Nos. 12 and 15 shoot off downhill approaches 90 degrees apart, while the greens of Nos. 11 and 14 back up into this cozy intersection of golf. Scout out an hour's worth of tee times you're looking forward to watching, and let the action come to you.
No. 17: The best vantage point to enjoy a specific shot is behind No. 17. The pros all have wedges into this strongly pitched green, and you'll see varying strategies to attack this shot. The ninth green also offers a cozy amphitheater to watch half the field finish up its round.
3. MPCC Shore Course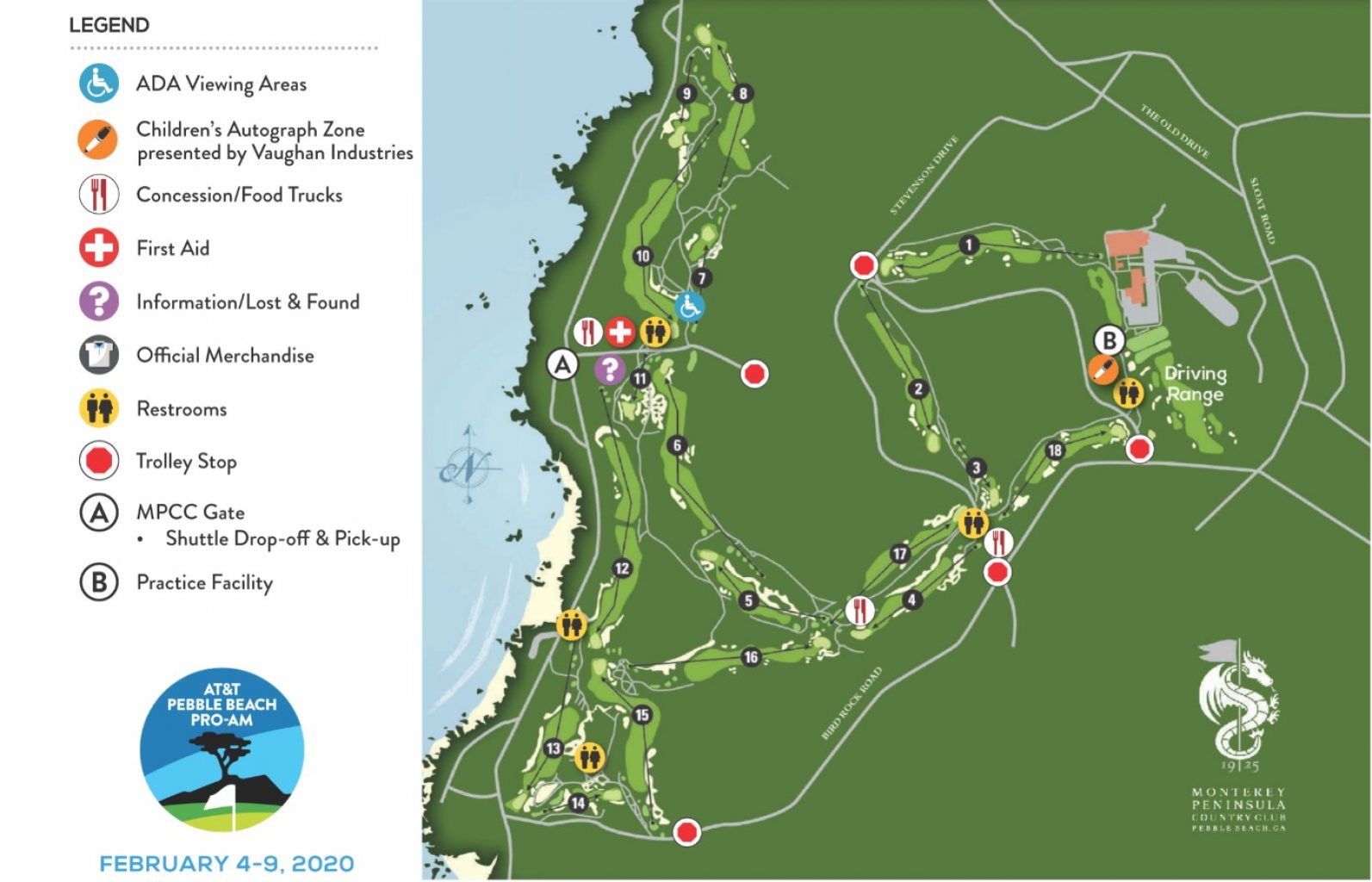 Where to Watch:
Nos. 6, 7, 10 and 11: The shuttle to MPCC drops you off right in the middle of the action, in front of the stunning rock outcropping that doubles as the gorgeous 11th tee. The distinct architecture of holes spiraling around the pile of boulders is captivating.
Since this spot is also the drop-off for shuttles, consider escaping the crowds and wandering the course and toward the intersection of Nos. 12, 13, 15 and 16, or back toward the exciting drivable No. 5 and par-5 No. 6. Whichever way you walk, it's a beautiful one. Just be aware that viewing is more restricted here than at Pebble Beach and Spyglass, with some gallery ropes stopping short of greens.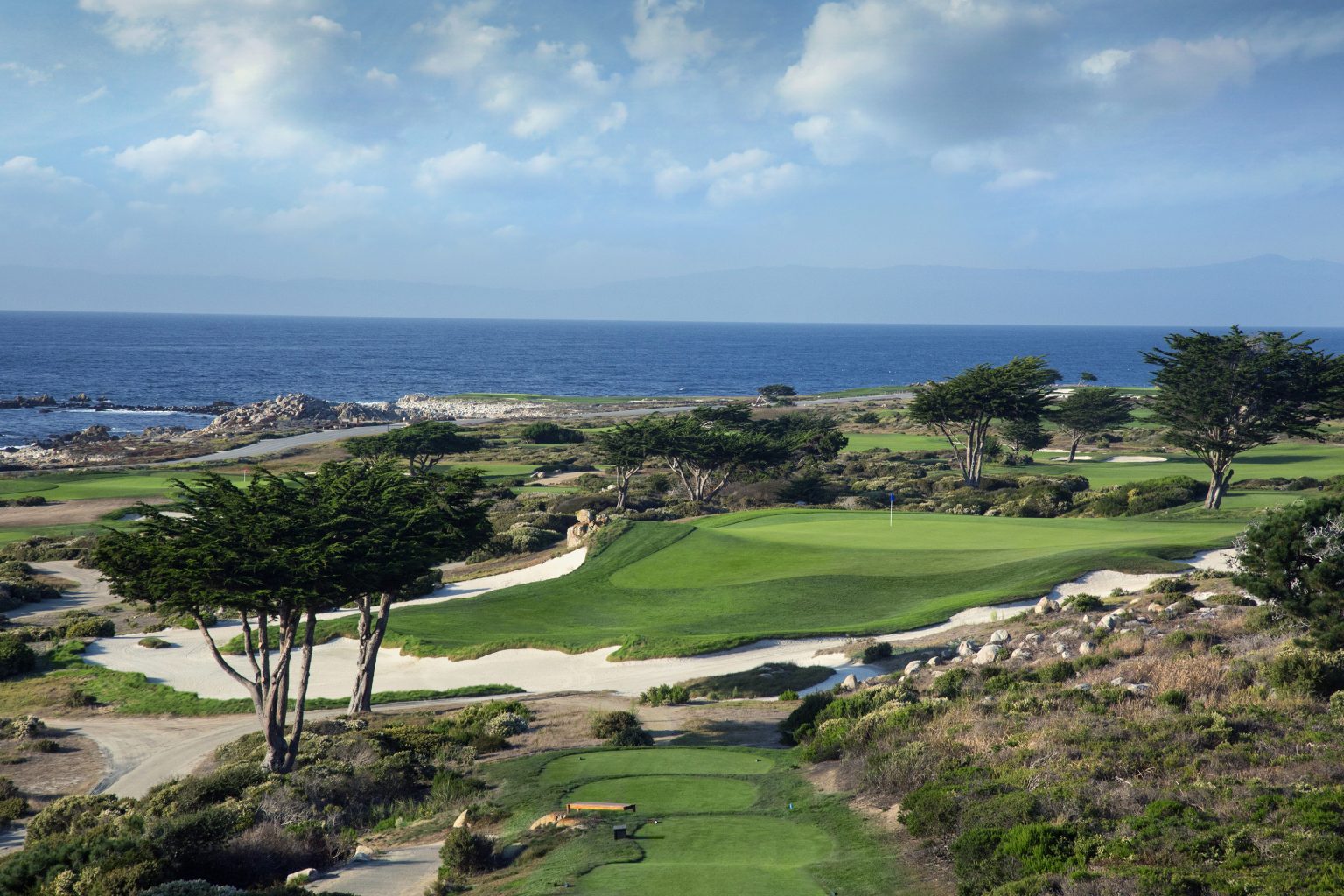 We look forward to seeing you this week!
Spectator Guide: Everything You Need to Know Before Attending The 2020 AT&T Pebble Beach Pro-Am