Spotlight on Spyglass: Your New Favorite Place to Watch the AT&T Pebble Beach Pro-Am
If you're planning to attend the 2020 AT&T Pebble Beach Pro-Am and camp out at Pebble Beach Golf Links for the duration of the event, think again! Whether you're attending for just one day or the entire week, you'll definitely want to make time to visit Spyglass Hill Golf Course. Here's why:
Mingle with A-List Celebrities on Thursday
If your goal in attending the 2020 AT&T Pebble Beach Pro-Am is to get up close and personal with the celebrity players, we are going to let you in on a little secret: go to Spyglass Hill Golf Course on Thursday, Feb. 6!
Thursday is the day that all celebrity participants will be teeing off in one spot: Spyglass. In past years, Friday was the day that celebrities played at Spyglass. This year, things have been switched up and Thursday is your lucky day. Everyone from Bill Murray to the Manning brothers will be in attendance, and fans can get closer than ever to celebrities at this particular course. Things in your favor: it's still early in the tournament, excitement is in the air, and celebrities will be feeling fresh. All of this means that they may be more than willing to grant you a few words and even join you for a special selfie.
Enjoy Fewer Crowds All Week Long
Spyglass offers a huge benefit to AT&T Pebble Beach Pro-Am spectators: smaller crowds. Yes, Pebble Beach Golf Links is the crown jewel of the tournament and it deserves some of your time. But if you want to escape the jostle of thousands of fans and the lines for food and beverage, Spyglass is your best bet.
At Spyglass, there are no grandstands to be seen. Instead, attendees can enjoy unobstructed views across the entire course. Take in the tournament the old-fashioned way as you walk the fairways and log your steps. You'll have plenty of room to roam and can focus more on the golf and less about whether someone is about to step on your toes.
Take in the Views – And the Shade
Forest and ocean collide at this special course. On a clear day, you can stand on this tee and see the Santa Cruz mountains, Monterey Bay and the canopy of the Del Monte Forest. The ocean is in sight for the first six holes, giving way to the gorgeous green of old growth forest for the remainder of the course.
With weather forecasted to be 60+ degrees and perfectly clear for the entire week, you may just work up a pleasant sweat while walking the course. All the more reason to appreciate the myriad options for shade that this forested course provides.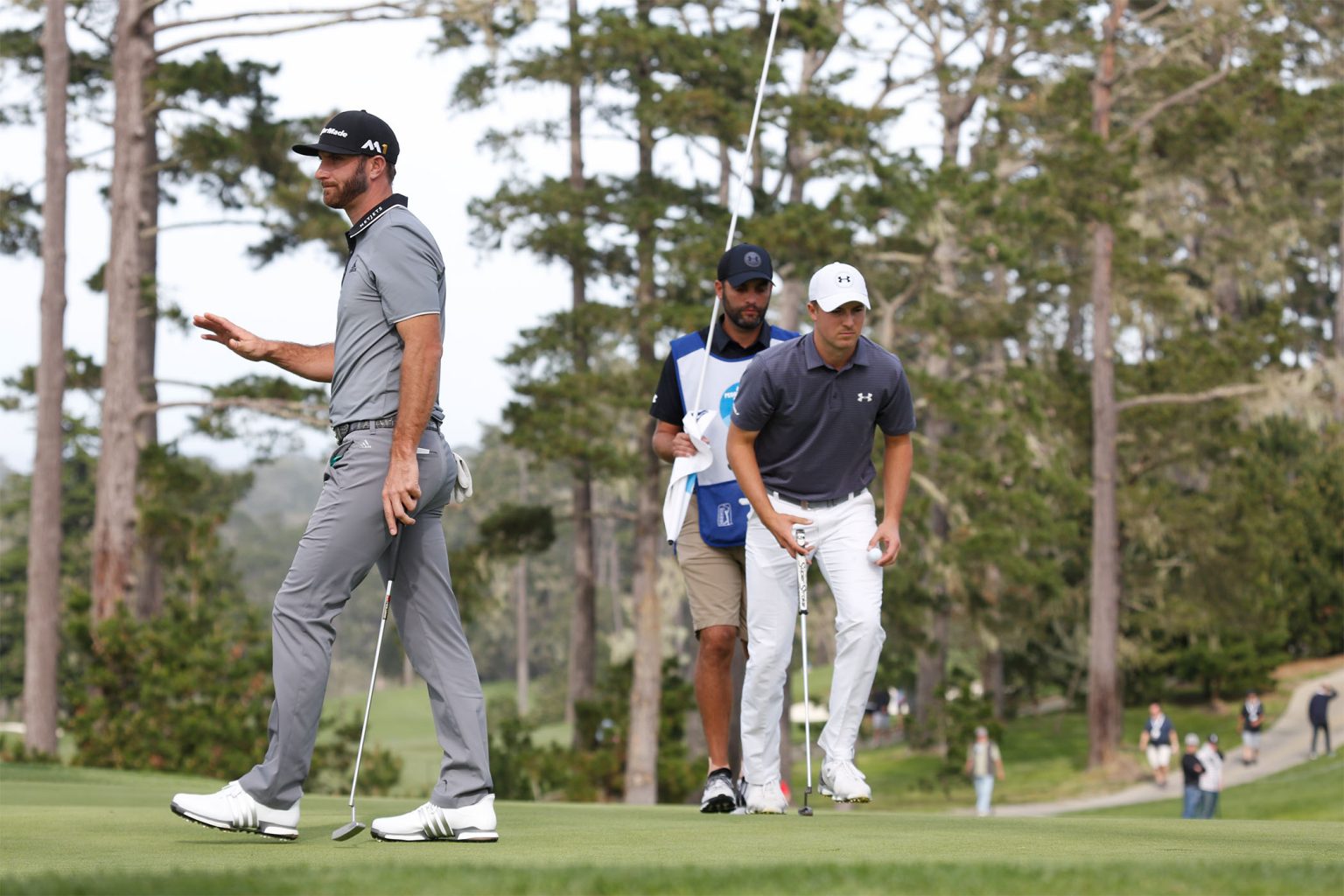 Explore the Course
If you've never played Spyglass Hill Golf Course, this is an ideal time to see why you should add it to your bucket list. Scope out the four par 5 holes and imagine how you would play them. Get inspiration from the pros as they line up tricky shots during the tournament. Feel the ocean breeze in your hair, and imagine spending a day with your own golf clubs in hand.
There may just be a reason that the hole names on this course are inspired by Robert Louis Stevenson's book Treasure Island – it is an absolute treasure in its own right.
Spotlight on Spyglass: Your New Favorite Place to Watch the AT&T Pebble Beach Pro-Am