You can't visit Pebble Beach without going to a beach, right?
While the temperature hovers between 60-70 degrees year-round, we've got six spectacular beaches circling 17-Mile Drive, each waiting for long walks, picnics, sunset gazing, new profile pics — and whole lot more.
Here's a scouting report on the beautiful beaches of Pebble Beach:
SPANISH BAY BEACH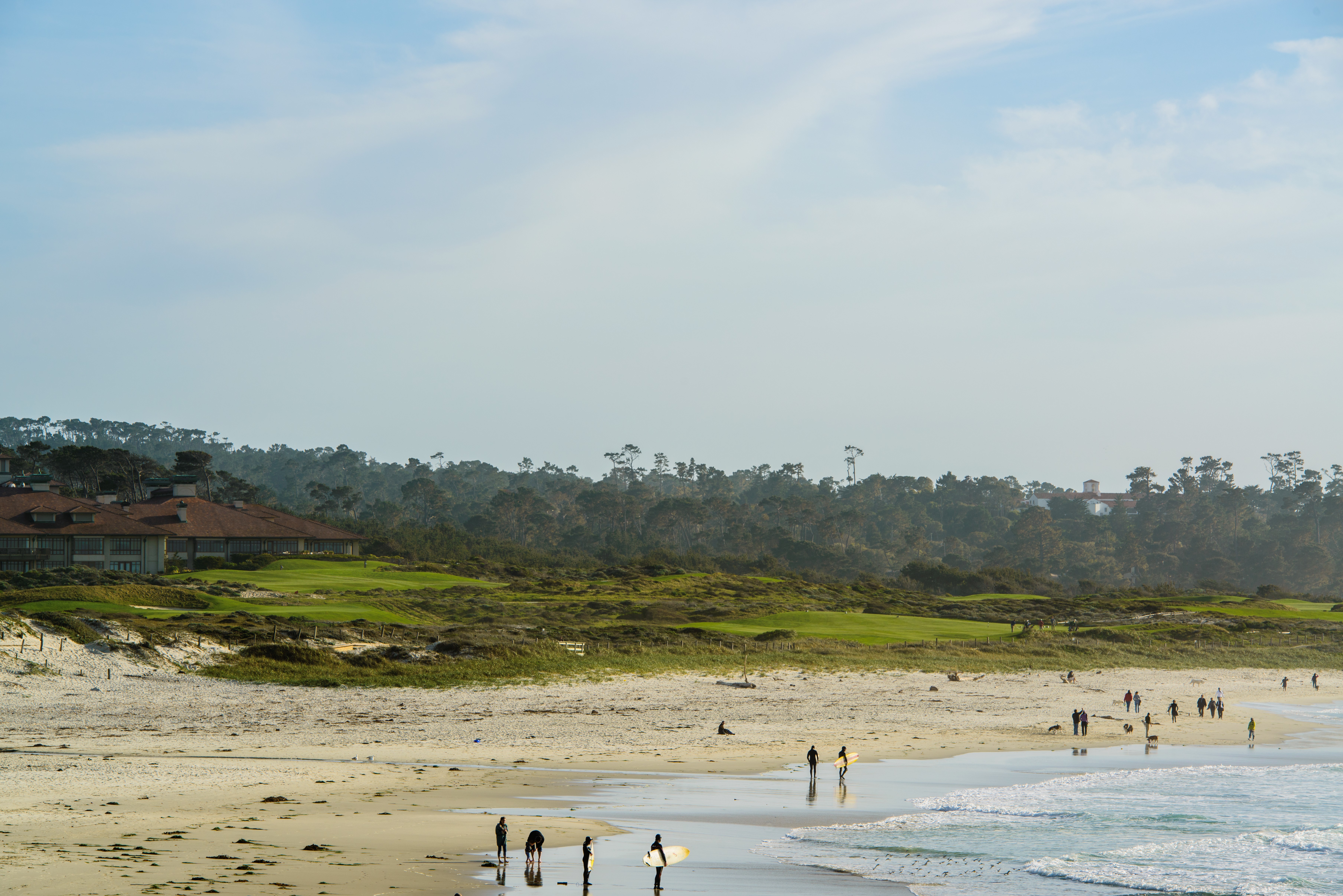 Take a leisurely boardwalk stroll from back patio at The Inn at Spanish Bay, or park in a lot behind the 8th tee box at The Links at Spanish Bay, to enjoy a sprawling beach with soft, white sand.
Fun fact: the sand here is so beautiful it was once used to help restore the pristine beaches of Waikiki in Hawaii after a devastating storm.
MOSS BEACH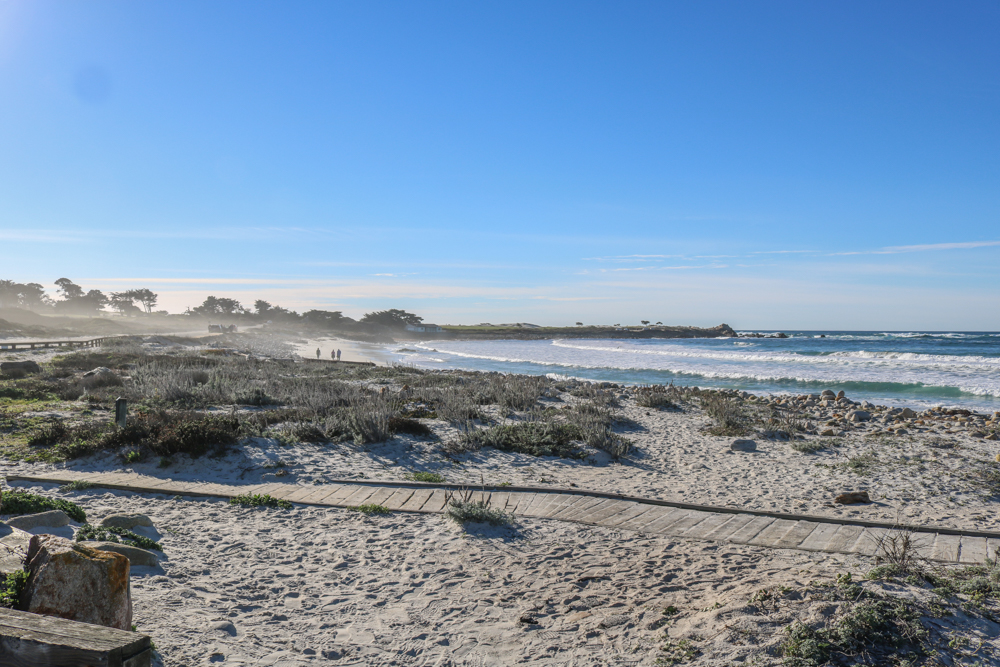 Spanish Bay Beach dissolves into Pacific Grove's Asilomar State Beach to the north, and Moss Beach to the south. Moss Beach is a popular surf spot that also boasts a photogenic stone-stacking scene for tourists, since the beach is brimming with big guys like these:

BIRD ROCK BEACH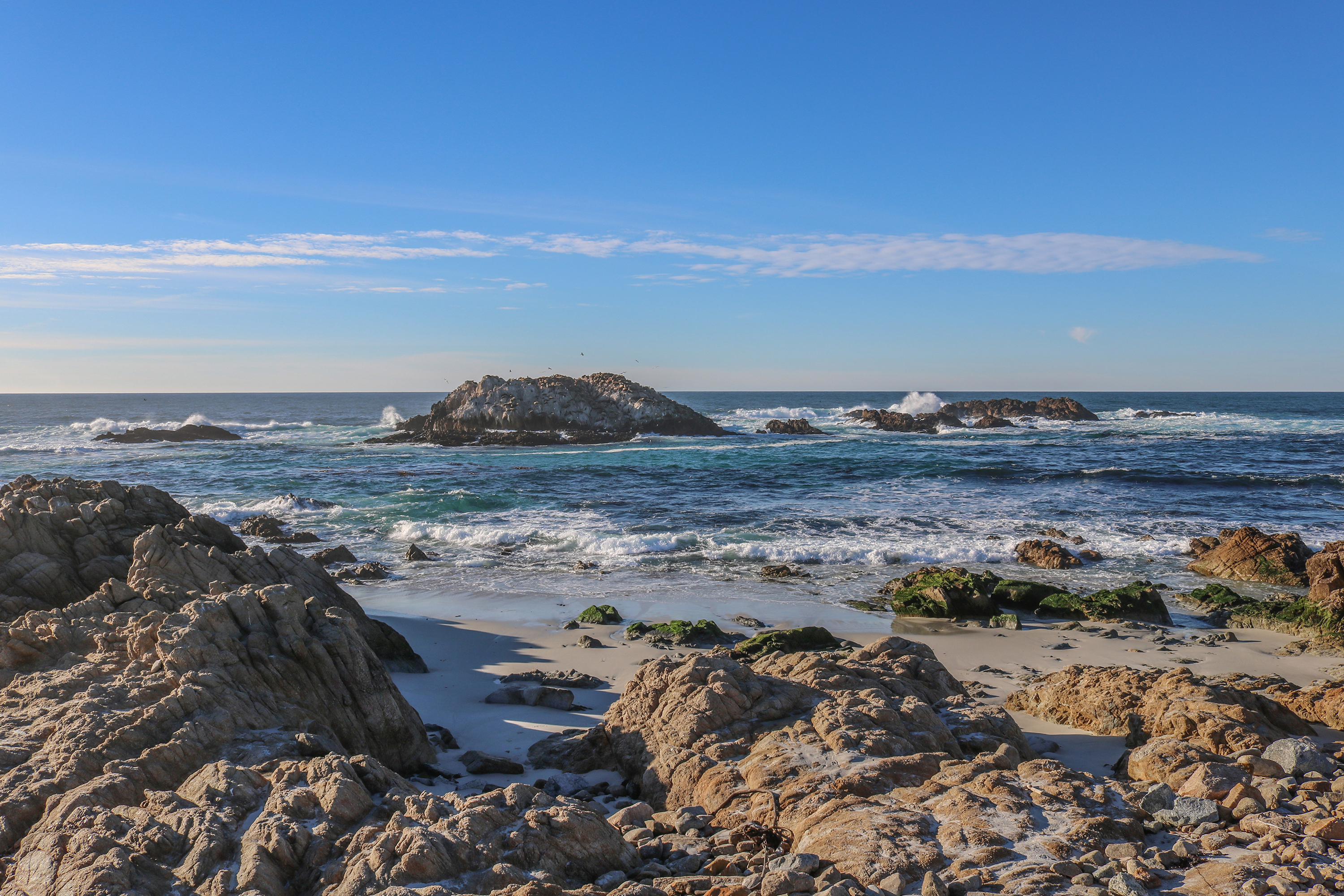 Work your way south and you'll hear Bird Rock before you see it. This wildlife hub is swarming with birds, harbor seals, seal lions and more. One of the most popular stops along 17-Mile Drive also sports convenient picnic tables, as well as an easy-going trail along the bluff.
SEAL ROCK CREEK BEACH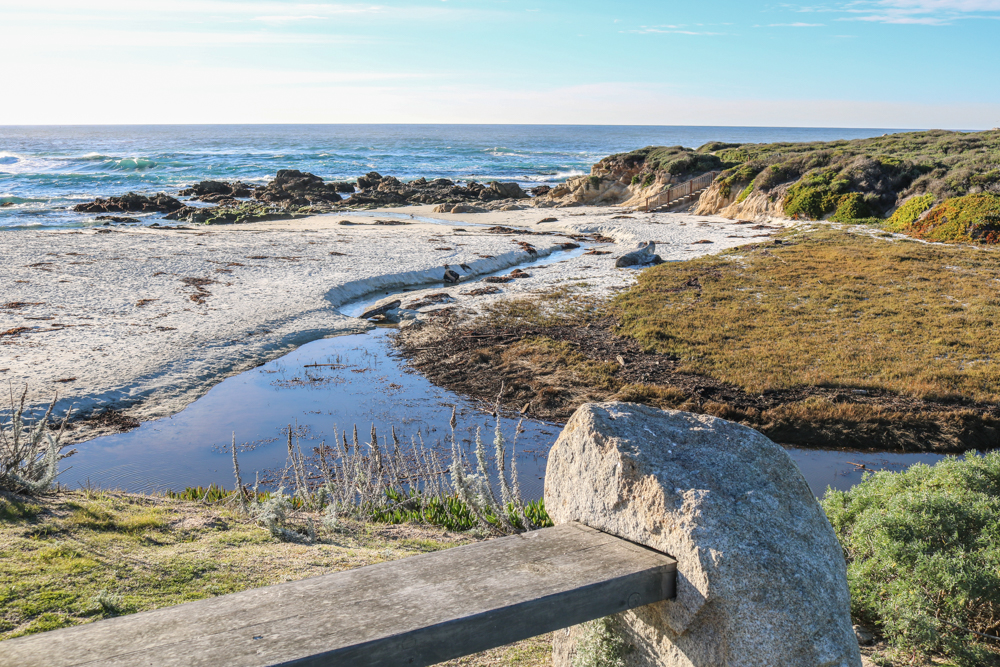 Tucked away just beyond Bird Rock, Seal Rock has a hidden, local's feel to it.
It's perfect for picnicking, or catching a spectacular sunset. You can also find a fun trail through the sand dunes toward the colorful Gingerbread House.
FANSHELL BEACH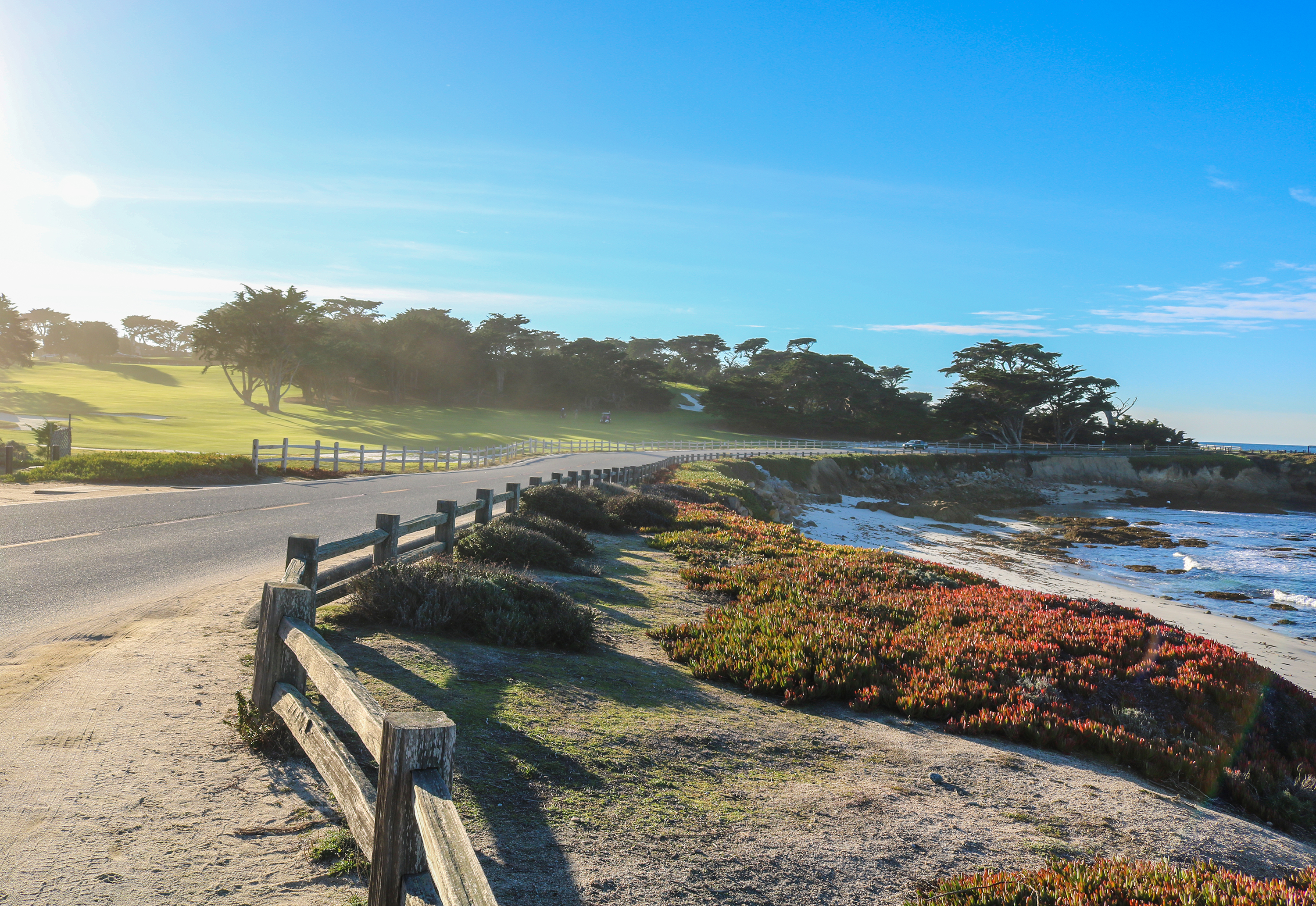 This captivating crescent-shaped cove nuzzles up to Signal Hill and Cypress Point Club. Fanshell Beach is closed from April 1 to June 1 for harbor seal pupping, but the sensational setting is all yours the rest of the year.
STILLWATER COVE BEACH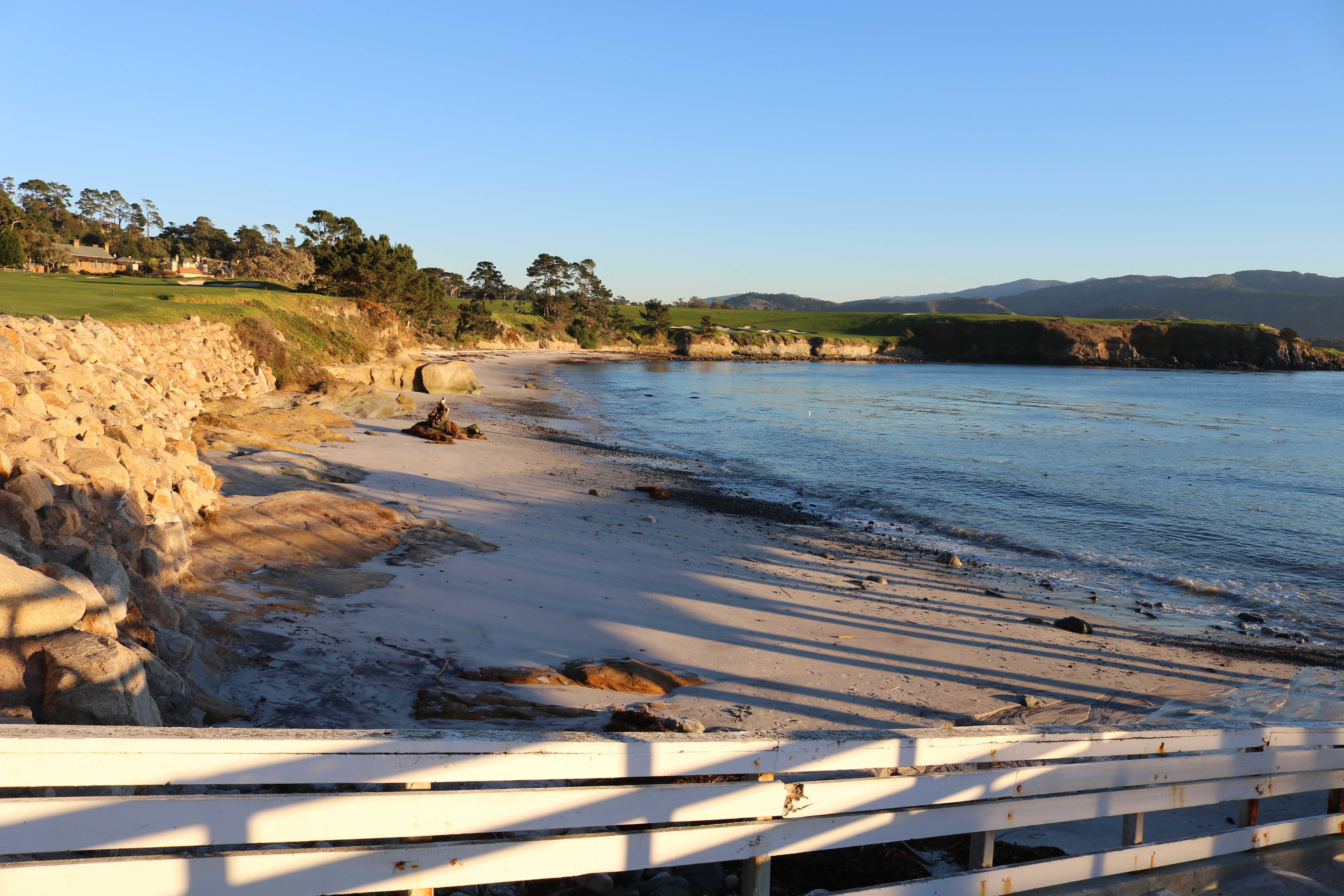 Just below The Beach & Tennis Club at Pebble Beach sits an undisturbed strand of sand that meanders alongside the fourth and fifth holes at Pebble Beach.
Yachts dock around the pier, and you can arrange kayak and paddle board lessons from here. Or you can simply keep walking and enjoy a unique view of Arrowhead Point and the mountainous sixth hole.
Bonus Beaches
CYPRESS POINT LOOKOUT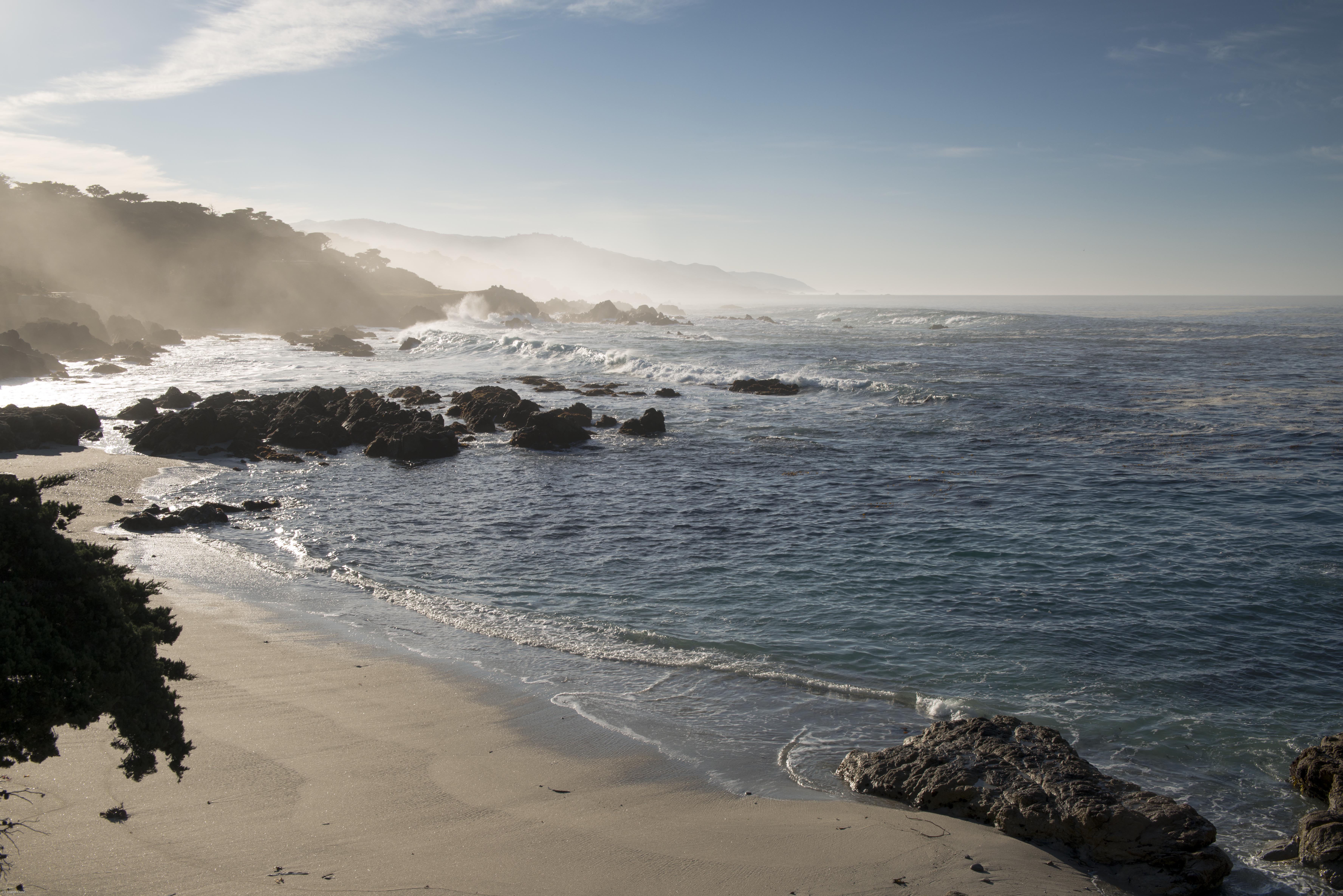 You can't reach this private beach, but you can sneak a peek of it from the Cypress Point Lookout stop along 17-Mile Drive. You'll also catch the most brillant sunsets in all of Pebble Beach here — earning it the nickname Sunset Point.
CARMEL BEACH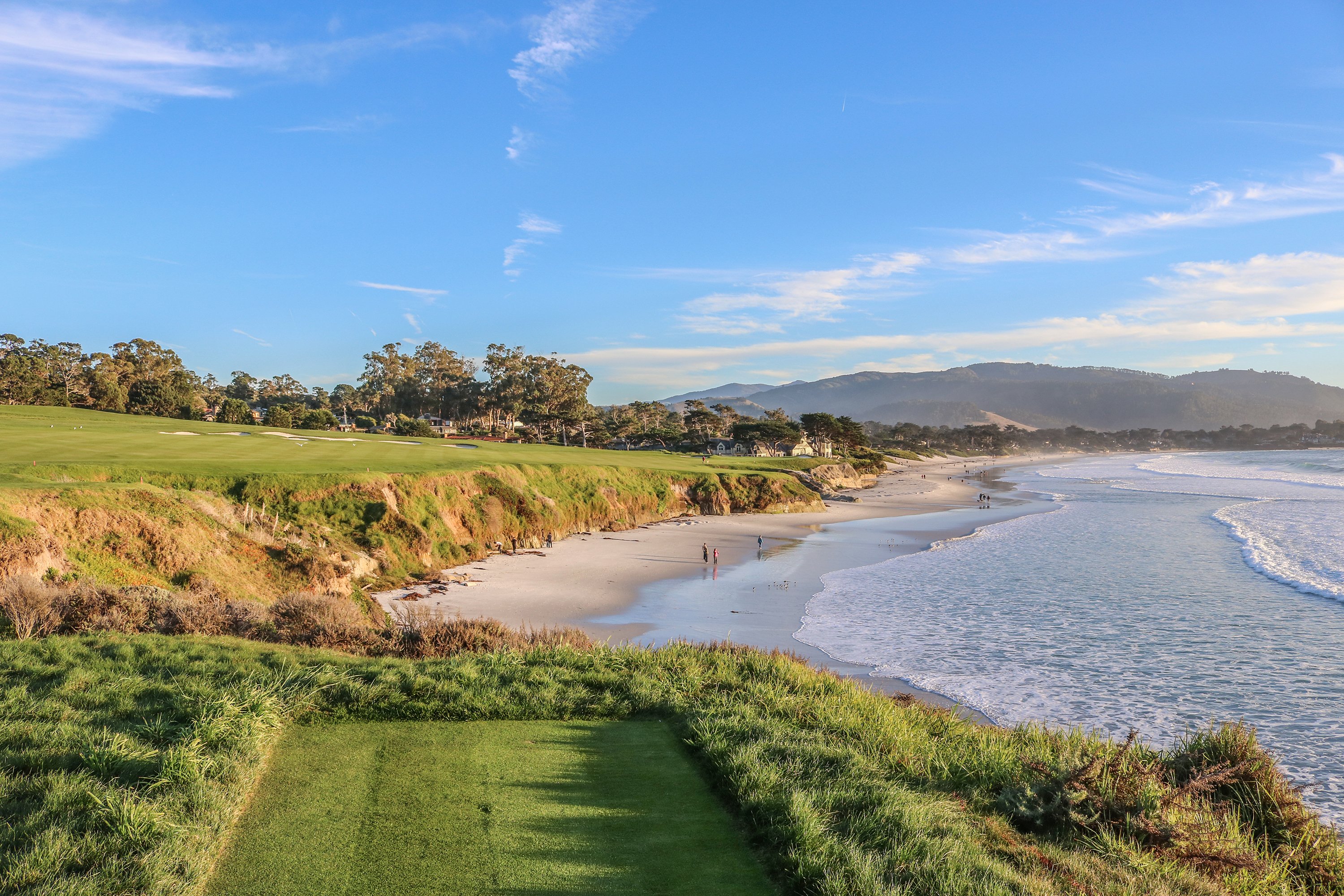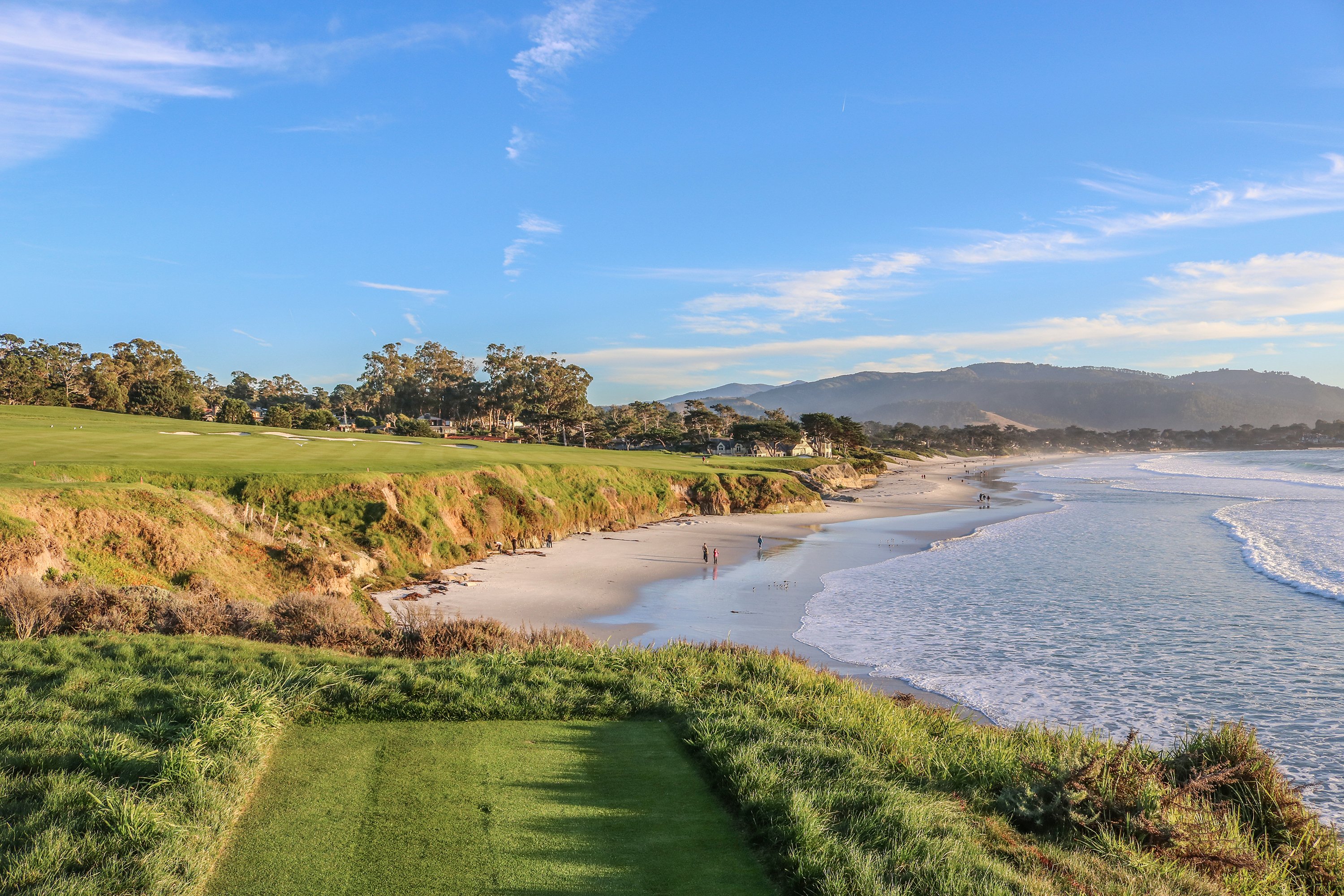 Admire the views from the crest of the ninth fairway and the 10th hole at Pebble Beach. National Geographic calls neighboring Carmel Beach one of the 21 Best Beaches in the World:
"It's hard to say who gets more pleasure on Carmel's beach: the pooches that can romp off leash, or their 'pawrents,' who can gawk at world-famous Pebble Beach to the north and Point Lobos to the south," says Kelly E. Carter, author of National Geographic's The Dog Lover's Guide to Travel.
PEBBLE BEACH
Is there an actual Pebble Beach? There was at one time. Here's a famous shot of eventual 1929 U.S. Amateur winner Harrison Johnston playing from it during the final 36-hole match: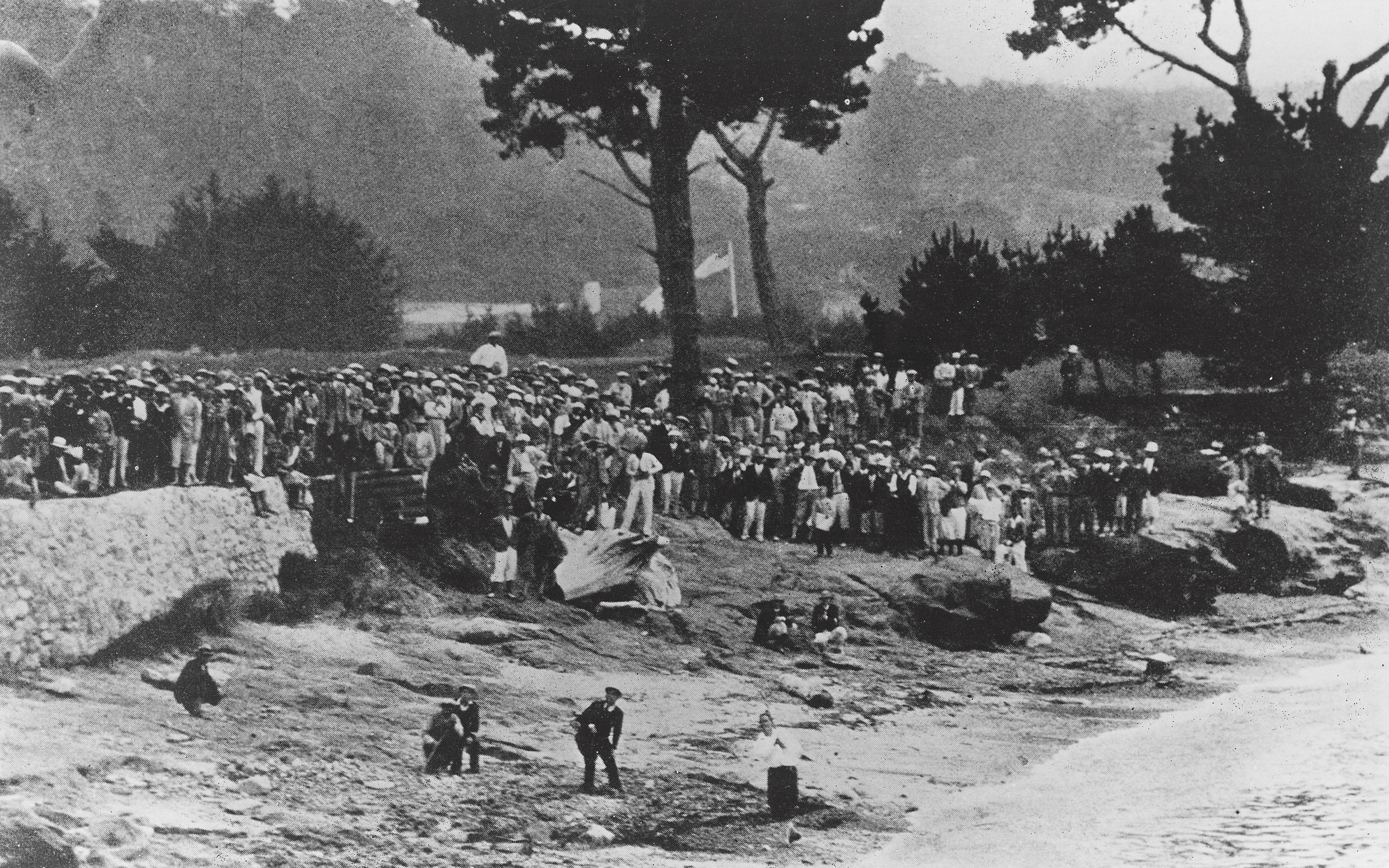 The rocky shoreline that fronts the world-famous 18th hole at Pebble Beach Golf Links is where the course and the area got its name. The actual Pebble Beach was much more visible— and even in play — when the course opened in 1919, and The Lodge was designed to overlook it.
But over the next 80 years, some 20 feet of coastline eroded away, and a new seawall was built to protect the 17th and 18th holes, which hang over Pebble Beach.
You won't see many golfers playing from Pebble Beach today, but on a rare low-tide day like we saw during Monday of the 2017 AT&T Pebble Beach Pro-Am, you can spot gravelly patches of pebbles hidden along the beach: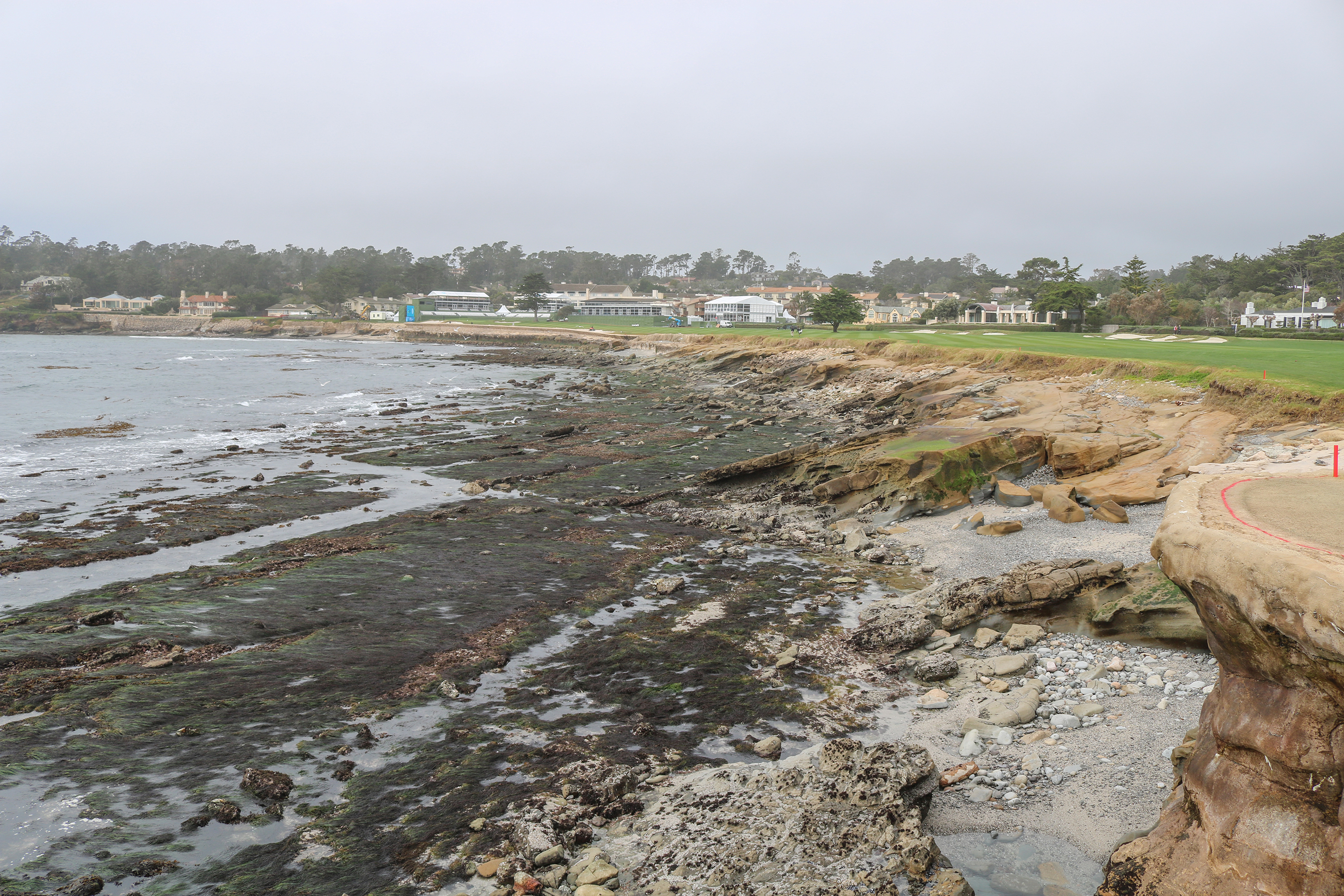 Jason Day even made a crazy par save from the beach behind the 18th green during the final round on Sunday:
What's your favorite beach in Pebble Beach?
---
Facebook Conversations