The Beach & Tennis Club: The Best Kept Secret in Pebble Beach
Between the bucket-list golf, the spectacular sight-seeing around 17-Mile Drive, and exploring the rest of the Monterey Peninsula, your itinerary can fill up pretty quickly on a trip to Pebble Beach. But as a guest of Pebble Beach Resorts, there's something else you'll want to save time for: The Beach & Tennis Club.
During your stay at Pebble Beach Resorts, you have unique access to the private Beach & Tennis Club. This exclusive social and recreational club owns court-side seating on top of the sparkling Stillwater Cove, with an expansive view of Arrowhead Point, as well as a rare glimpse into the 17th green at Pebble Beach.
It's an incredible vantage point that rivals the best you'll find anywhere in Pebble Beach. Here's a peek at what you can see and do at The Beach & Tennis Club during your stay at Pebble Beach Resorts:
START YOUR DAY OFF WITH A MORNING WORKOUT
What an inspiring and peaceful setting. The Beach & Tennis Club offers 30 group exercise classes a week, from yoga and zumba to barre and aqua aerobics. You can also book a personal trainer, log some laps in our heated pool, or simply relax in the hot tub while soaking in an unbeatable ocean view.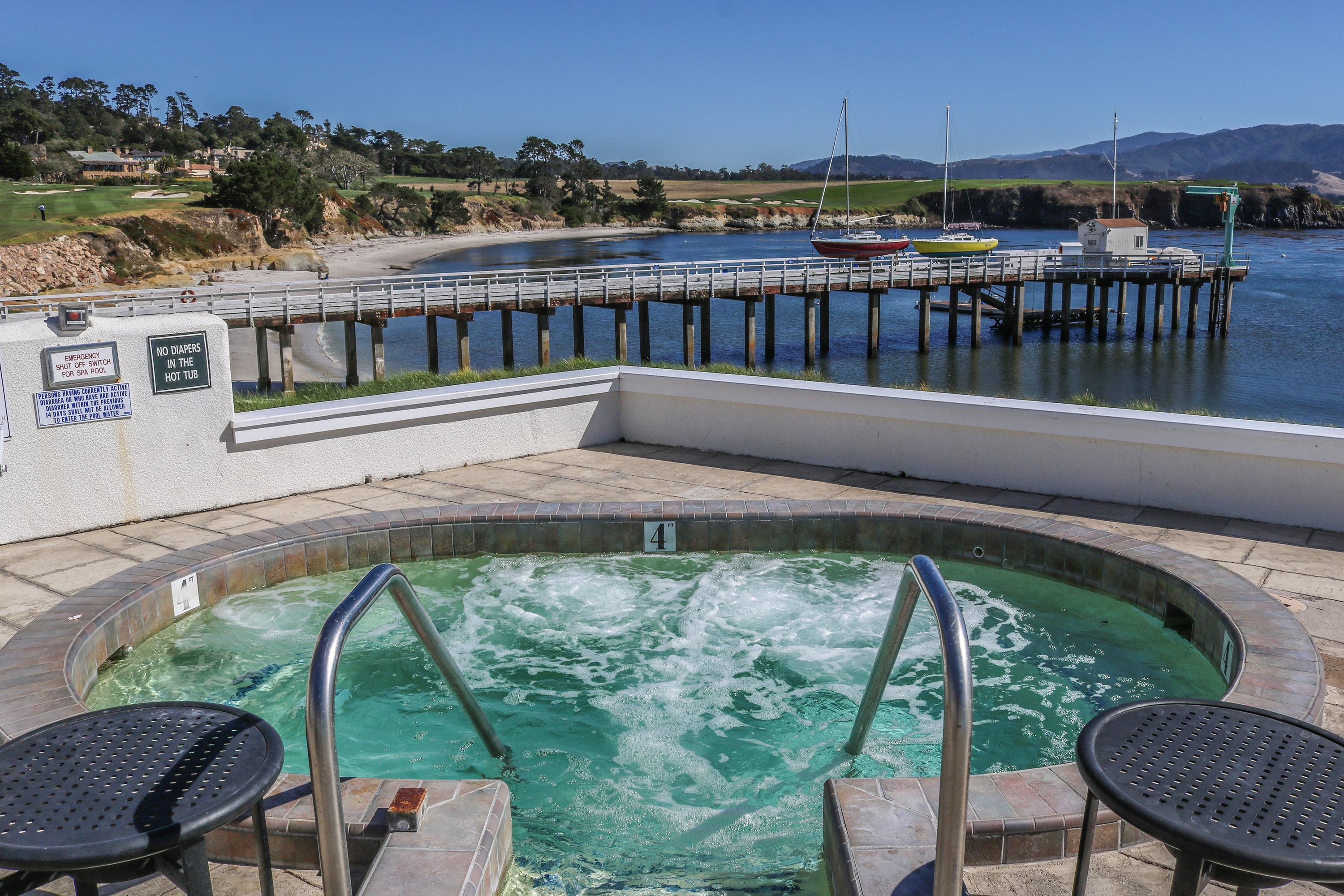 The treadmill doesn't have a bad view, either:
Sometimes our equipment even moves outside:
And if you get here early enough, you can catch a fiery sunrise:
GRAB SOME LUNCH AND ENJOY ONE (OR TWO) OF THE BEST VIEWS IN GOLF
Pebble Beach Resorts guests are welcome to dine for lunch at The Beach & Tennis Club every day.
But tougher than deciding what to order might be choosing where to sit: facing Nos. 6 and 7? Or gazing into No. 17?
PLAY AT ONE OF THE TOP 50 TENNIS RESORTS IN THE U.S.
We don't just swing golf clubs around here. Just beyond the mesmerizing intersection of the fourth and 17th tees at Pebble Beach are eight hard courts and two clay courts, plus a dramatic sunken center court. Work up a sweat, then cool off back at the pool.
Interested in spending more time at The Beach & Tennis Club? Learn more about membership opportunities here.
---
Facebook Conversations
The Beach & Tennis Club: The Best Kept Secret in Pebble Beach