How to Plan a Pebble Beach Day-Trip Itinerary
Monterey County is a bountiful bucket-list destination, attracting more than 3 million visitors annually.
From Monterey's historic Cannery Row and celebrated aquarium, to Carmel's quaint European charm and oasis-like beach, to Big Sur's seminal Bixby Bridge and grandiose beauty, to Carmel Valley's rapid rise as a coveted winery locale, we know that a trip here can get booked up pretty quickly.
But no visit to Monterey County is complete without spinning around 17-Mile Drive, grabbing a bite overlooking Stillwater Cove and the fabled 18th hole at Pebble Beach Golf Links, pondering the inspiring beauty of The Lone Cypress, and savoring a sunset bagpipe performance at The Inn at Spanish Bay.
Here's how to do Pebble Beach in one day:
FIRST, DOWNLOAD THE OFFICIAL PEBBLE BEACH APP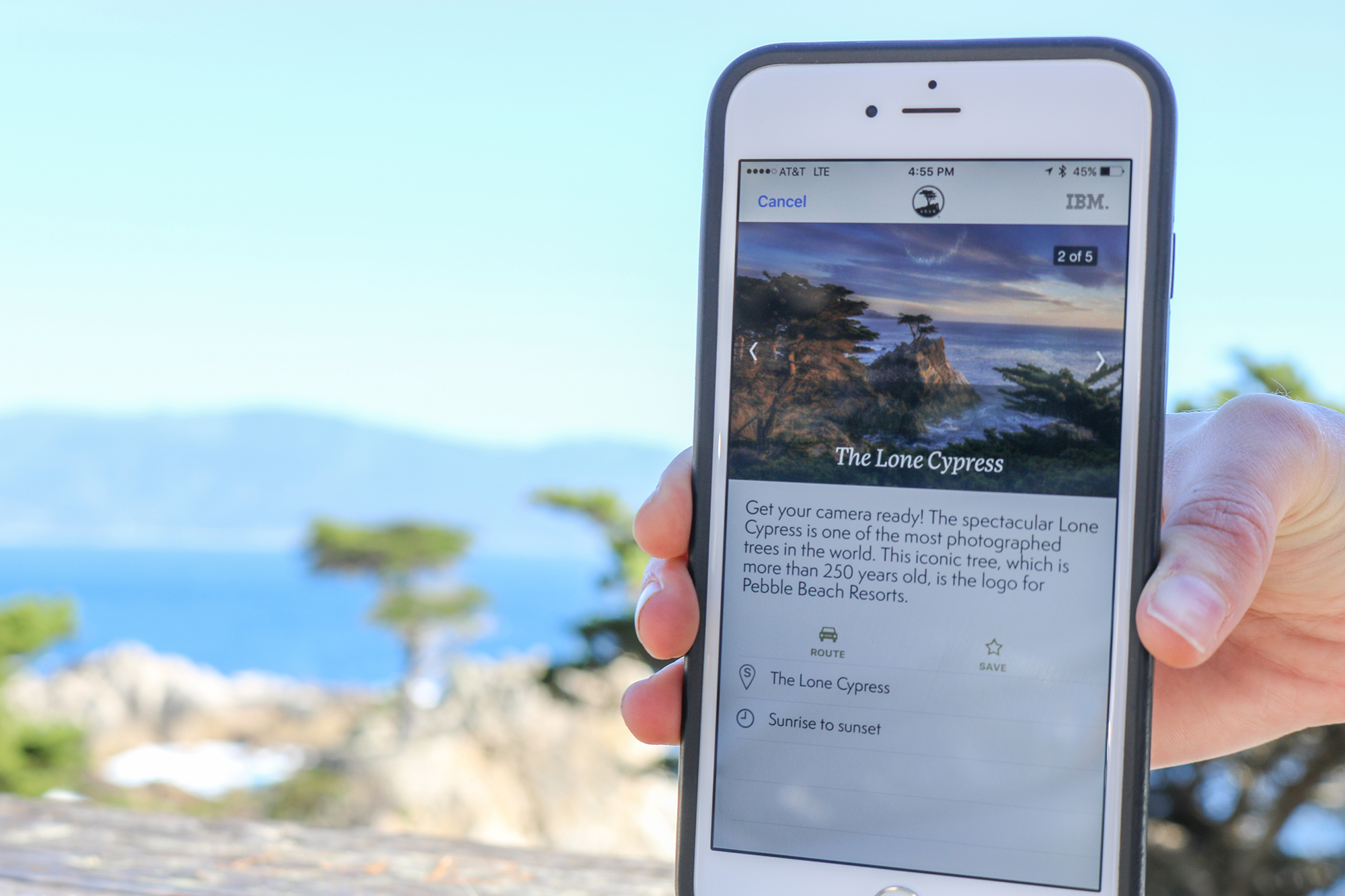 Get a feel for the stunningly scenic but sprawling 5,200-acre Del Monte Forest by downloading our free Pebble Beach App. Browse photos and fun facts from each tour stop along 17-Mile Drive, and outline your trip in advance. You can also learn more about our restaurants and shops, as well as ask questions to our Virtual Concierge. Once you're here, enjoy an audio tour around 17-Mile Drive, and share your day with a custom video you can build through the Create My Story feature.
TAKE A LONG WALK ALONG THE BEACH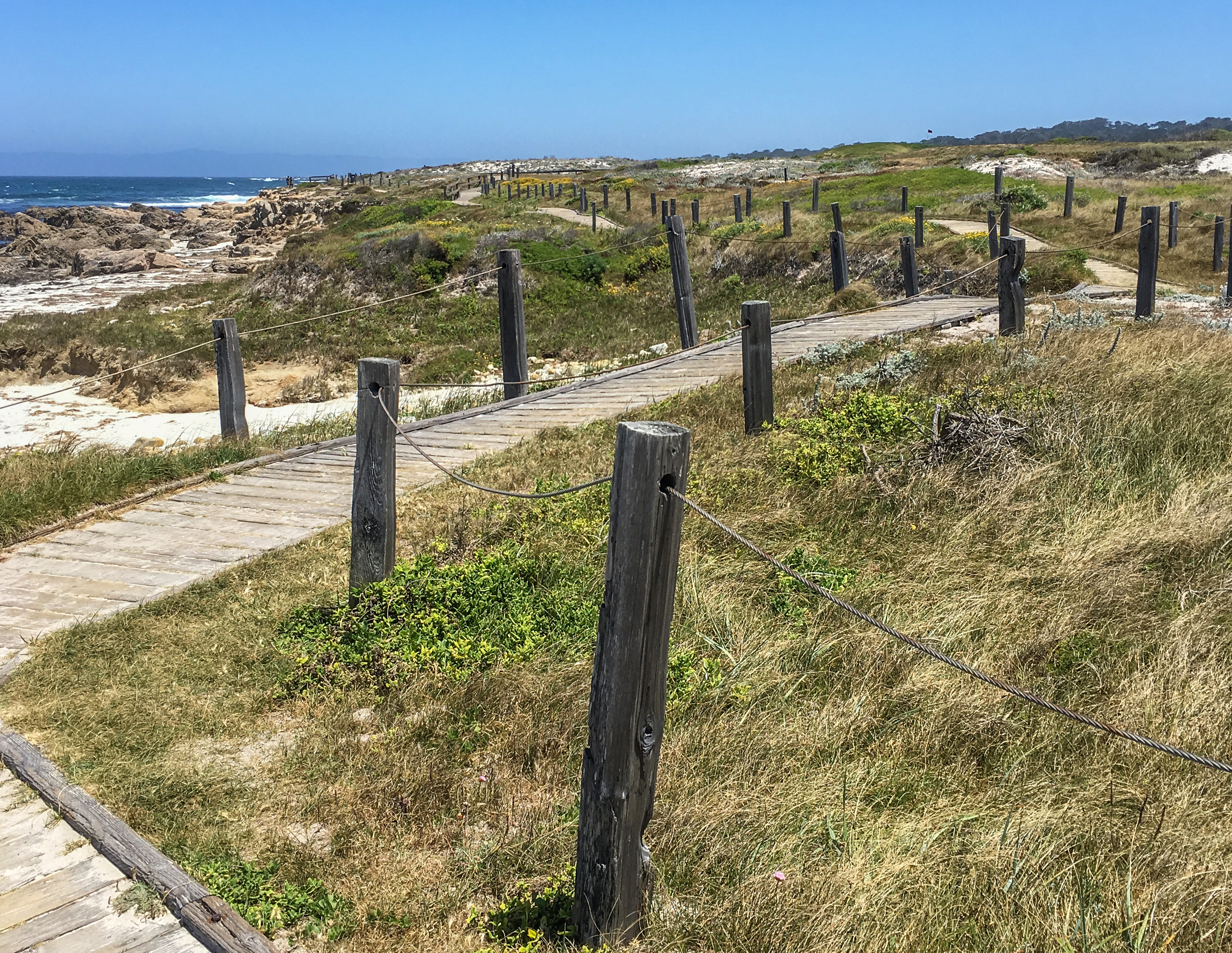 Start your morning here with a easy-going stroll along the boardwalk above Spanish Bay Beach. You can make it as long or short as you want.
A soft beach trail emerges from behind the 14th hole at Spanish Bay, snaking through stunning sand dunes before evolving into a beautiful boardwalk overlooking Moss Beach.
Or you can wander down a short boardwalk from the fire pits behind The Inn at Spanish Bay to the middle of Moss Beach. A right turn takes you to North Moss Beach, along the 17th hole at Spanish Bay, and out toward Asilomar State Beach. A left turn sets you free on South Moss Beach, and out to Point Joe and beyond.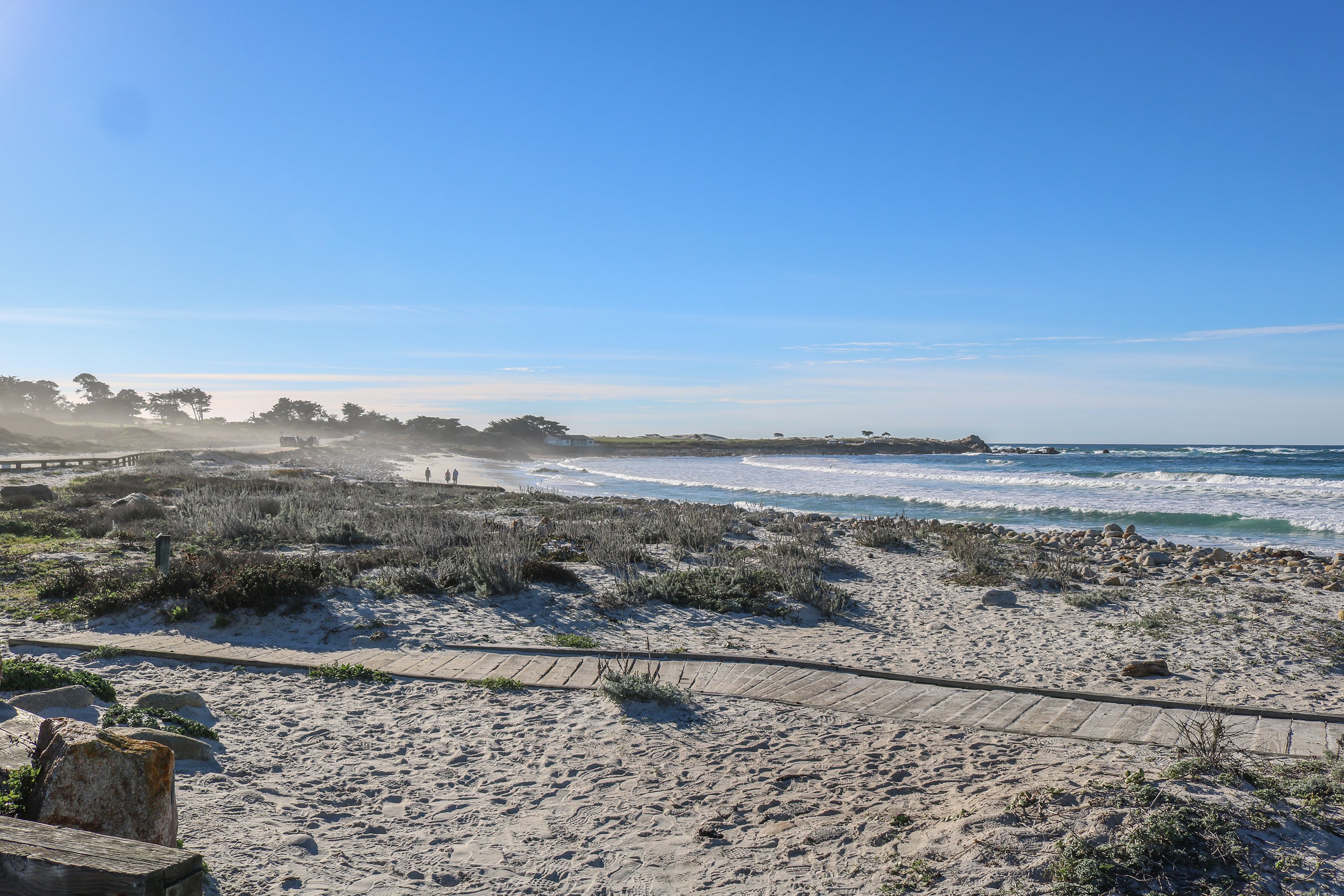 You can also park at Spanish Bay Beach, just beyond the eighth tee box on The Links at Spanish Bay, and begin your adventure there.
SADDLE OR PADDLE?
Some of the best views around Pebble Beach can't be seen by car. Have some time before lunch? Daily guided horseback rides leave the Equestrian Center starting at 10 a.m. Call ahead to reserve your spot and catch incredible views from more than 27 miles of scenic trails that wander romantically through the forest, sand dunes and along the beach.
Is the sea calling you? There are days when the heart-shaped Stillwater Cove barely has a pulse. The glassy waters are a sanctuary for paddleboarders and kayakers, who glide between enchanting kelp forests, cute sea otters and playful seals and dolphins. Just be sure to call ahead. We've partnered with Adventures By The Sea for lessons, tours and more.
The surf is also alluring enough that it has been known to distract Big Wave legend Kelly Slater during his rounds at the AT&T Pebble Beach Pro-Am.
BREAK FOR LUNCH AT THE BENCH
Gaze at the greatest finishing hole in golf while taking in the shimmering Stillwater Cove from our comfy patio at The Bench. Relax at our most popular restaurant, which prides itself on its creative wood-fired specialties, including the bread balloon and an array of flatbread pizzas. Walk off lunch by wandering behind the 18th green at Pebble Beach Golf Links for an envy-inducing selfie, before poking your head inside golf's favorite 19th hole — The Tap Room.
After you check out the century's worth of golf memorabilia draped all over the walls at The Tap Room, step outside to catch a glimpse of the plush practice putting green and first tee at Pebble Beach. There's also an arcade of shops where you can scoop up nearly any souvenir you can imagine.
DRIVE 17-MILE DRIVE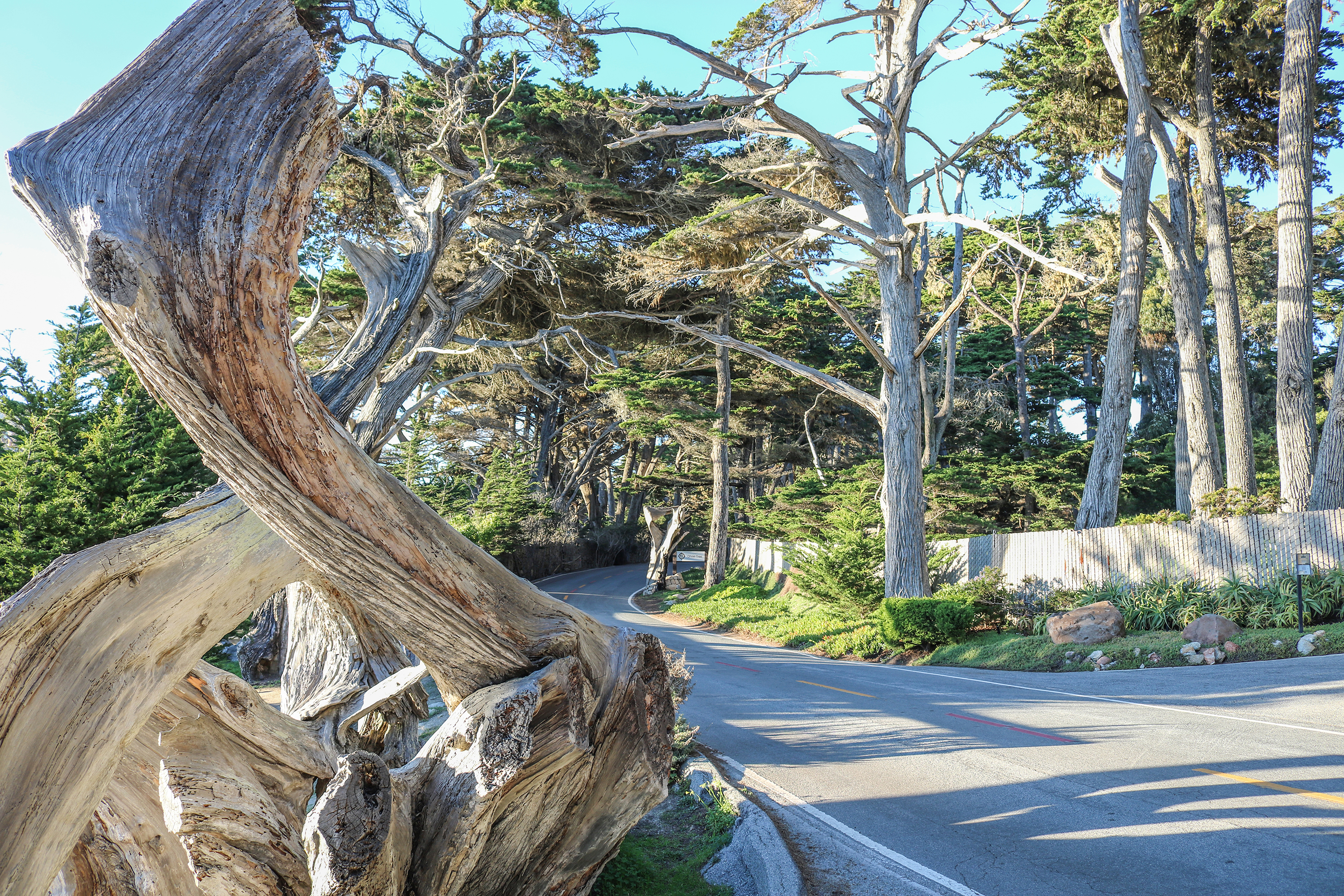 Just follow the red-dotted line! From The Lodge you'll start with a climatic bang — your first stop will be the spooky ghost trees at Pecadero Point, followed by the majestic Lone Cypress. As The Los Angeles Times writes,
(The Lone Cypress) stands along famously scenic 17-Mile Drive, raked by wind, swaddled in fog, clinging to its wave-lashed granite pedestal like God's own advertisement for rugged individualism. … This tree is to (Pebble Beach) what the pyramids are to Egypt, what the Eiffel Tower is to Paris.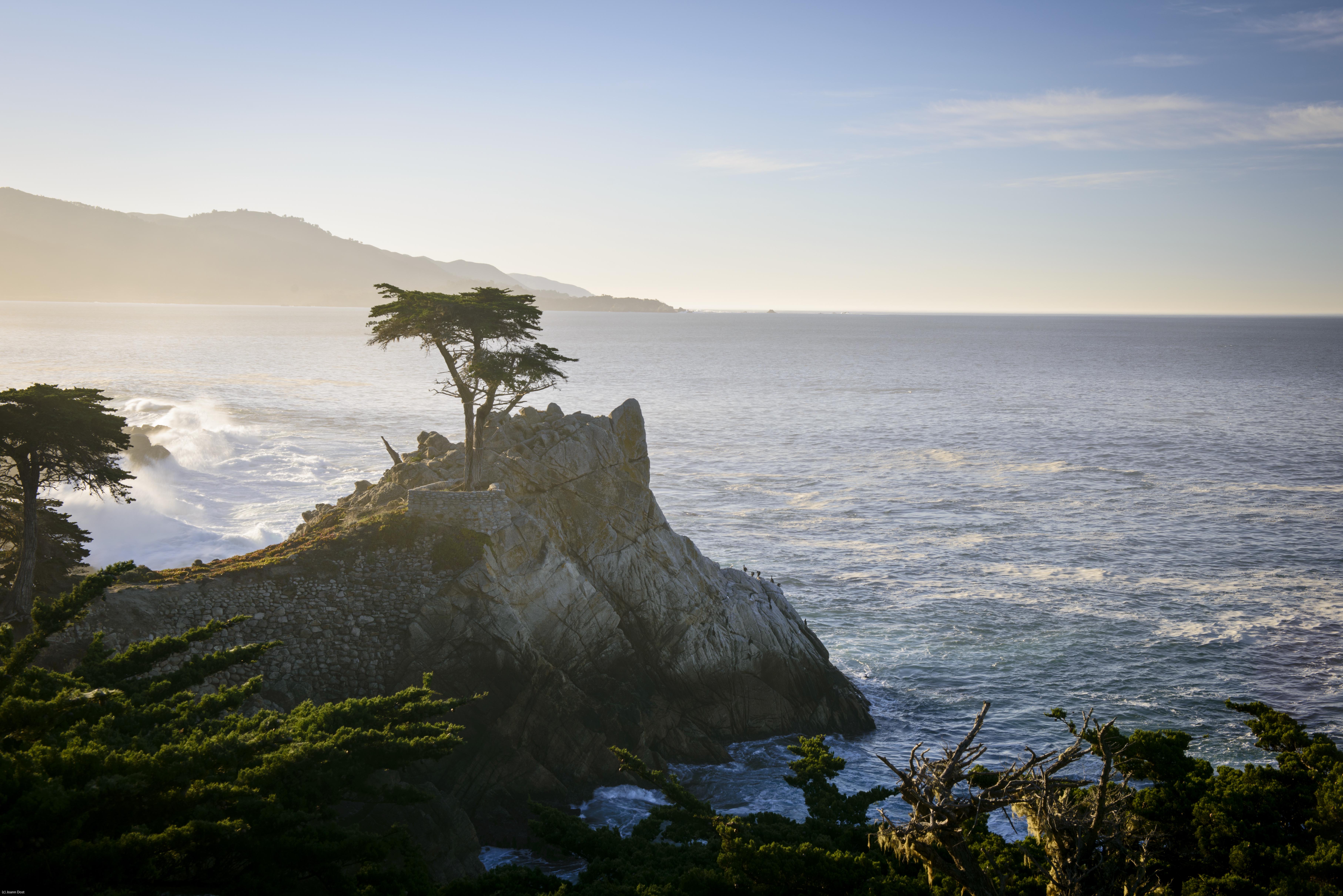 Snap a pic here — you won't be alone; it's one of the most photographed trees in the world. Continue through this astonishing nook of 17-Mile Drive — one of only two locations in the world where the wind-shaped Monterey Cypress grow natively. Crane your neck up at the towering trees of Crocker Grove, and peel off to the picturesque Cypress Point Lookout.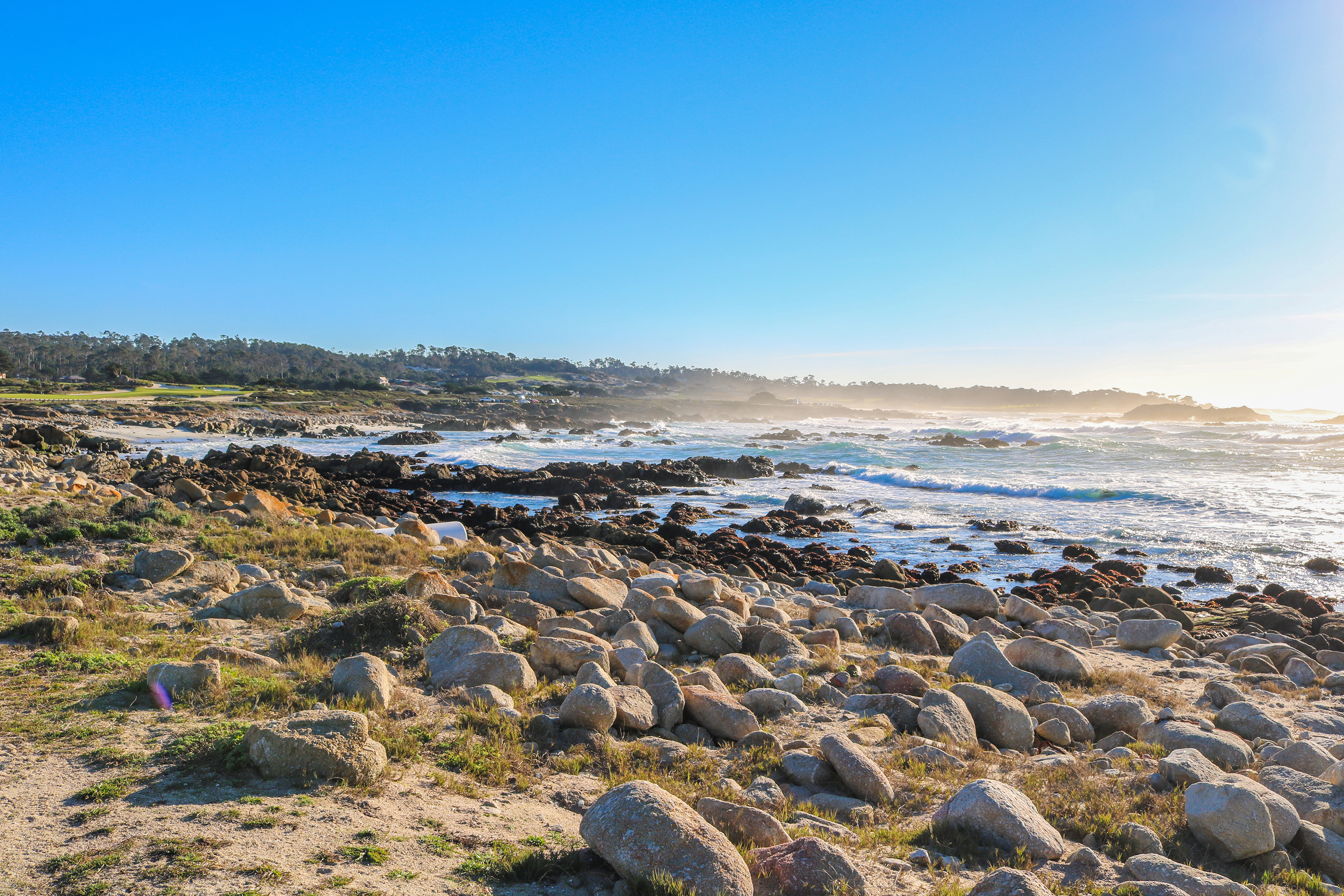 Let your eyes lead you from here — pull over whenever you're inspired or fall in love. There's the panoramic Fanshell Beach, the picnic-perfect Seal Rock, the wildlife-loving Bird Rock, the roaring Restless Sea at Point Joe, and a spellbinding stretch of coastline in between.
You can also return to the forest for an inland loop of 17-Mile Drive that produces unique ocean views from 800 feet high.
Click here for a complete tour of 17-Mile Drive
LET THE SPANISH BAY BAGPIPER SERENADE YOU AT SUNSET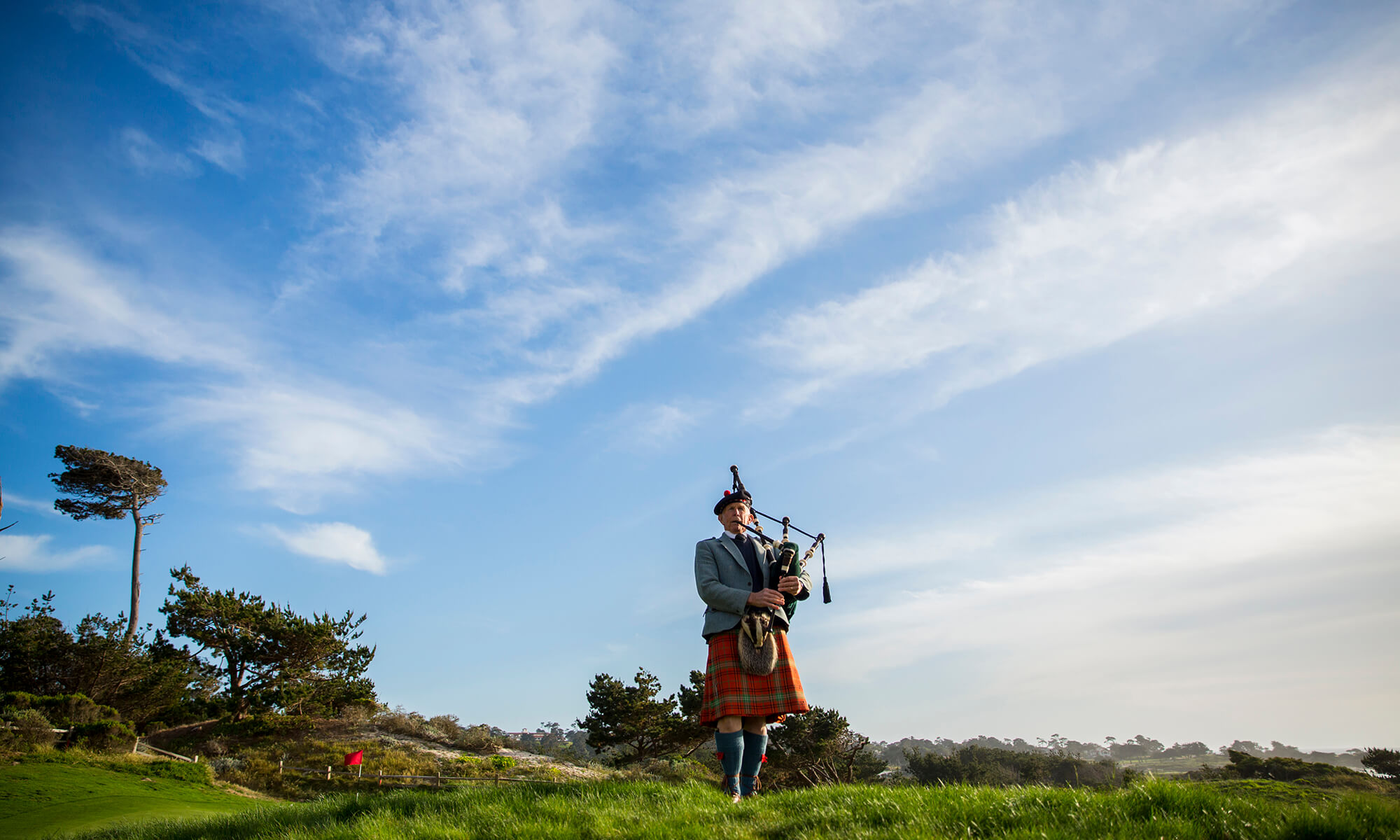 The silhouetted bagpiper against a brilliant sunset-splashed sky is an unmistakable Spanish Bay image. It's the scene that inspired its logo.
Clad in the vibrant garb and regalia of a Scottish Highlander — accented by that colorful tartan kilt — the bagpiper plays every day at The Inn at Spanish Bay, starting around 5:45 p.m. during Daylight Savings, and a half hour before sunset during the winter months.
The tradition started when The Links at Spanish Bay co-designer Tom Watson observed,
"Spanish Bay is so much like Scotland, you can almost hear the bagpipes."
The relaxing and nostalgic performance is now a standalone attraction for guests, visitors and locals alike. You can catch the bagpiper:
During an opening 10-minute session outside the fire pits at STICKS on the first tee of Spanish Bay
Marching down the first fairway serenading golfers finishing their afternoon rounds
Or above the second green by the fire pits outside the lobby at The Inn at Spanish Bay
So grab a drink and unwind by the fire pits at STICKS or the lobby patio. Or enjoy the bagpiper before a dinner reservation at STICKS, Roy's at Pebble Beach or Pèppoli.
The bagpiper is a special Spanish Bay experience that is the perfect way to cap off a delightful day in Pebble Beach.
What activities do you recommend during a day in Pebble Beach?
---
Facebook Conversations