The Best Celebrities to Ever Play in the AT&T Pebble Beach Pro-Am
When Bing Crosby brought his Clambake to Pebble Beach in 1947, he told the PGA TOUR that the event's final round must include his celebrity friends. That mandate has continued through today.
Crosby's early friends included the likes of Bob Hope, Phil Harris and Johnny Weissmuller. Over the years, celebrities have ranged from Presidents Gerald Ford, George H.W. Bush and Donald Trump, to baseball greats Joe DiMaggio, Willie Mays and Ken Griffey, Jr., to quarterbacks Tom Brady, Peyton Manning and Aaron Rodgers, to actors Clint Eastwood, Kevin Costner and Mark Walberg, to father-son teams featuring the Jack Nicklaus, Johnny Miller and Rory McIllroy, among many more.
Celebrities who have captured the Pro-Am team title include 2018 winner Larry Fitzgerald, plus Carson Daly, Billy Murray, Kenny G, Andy Garcia, Dan Marino and George Brett.
But that isn't what this post is about. We wanted to track down the biggest celebrity draws to ever play in the AT&T. Here is our list:
TOM BRADY
Who is the greatest quarterback of all time? No matter what your criteria, he played in the AT&T. Tom Brady will compete in a record ninth Super Bowl on Sunday, but if you hold those three losses against him, the perfect Joe Montana also played at Pebble Beach. So did the man who commandeered the Comeback Kid's job — Steve Young. If you admire the way to the position was played, perfectionists Peyton Manning and Aaron Rodgers are AT&T regulars. And if you're looking for the best golfing quarterback, that honor belongs to another 49er. John Brodie won the pro-am as a 1-handicap in 1970, before competing on the PGA TOUR Champions and winning a tournament in 1991 via a sudden-death playoff over Chi-Chi Rodriguez and George Archer.
JIM BROWN
View this post on Instagram
Speaking of football royalty, the Mount Rushmore of running backs includes Cleveland Browns great Jim Brown, who led the league in rushing for eight of his nine seasons, and retired with his attached to nearly every important record. By the time Brown played at Pebble Beach in 1970, he was also a headlining box-office draw.
SEAN CONNERY
View this post on Instagram
The Spy Who Loved Spyglass. The original James Bond, People's Sexiest Man of the Century and knighted Oscar-winning actor Sean Connery was a magnetic draw at Pebble Beach in 1970. While most would imagine golf was pulsing through the Scottish icon's veins, it wasn't until Connery was preparing for Bond's role in Goldfinger that he became hooked on the game. Connery once said: "Over the years golf has taught me much, and its implicit codes of conduct have provided me with the nearest I have ever come to religion."
JOE DIMAGGIO
In Crosby's early years hosting his Clambake in Rancho Santa Fe, Babe Ruth — the Sultan of Swat, the King of Crash, the Colossus of Clout, the Great Bambino — played in the celebrity event. When it moved to Pebble Beach after World War II, Joltin' Joe — who won nine World Series in his 13 seasons with the Yankees and grew up in San Francisco — was a headlining attraction, along with the likes of Bob Hope, Mickey Rooney, Van Johnson and 1949 Pro-Am winner Lefty O'Doul.
CLINT EASTWOOD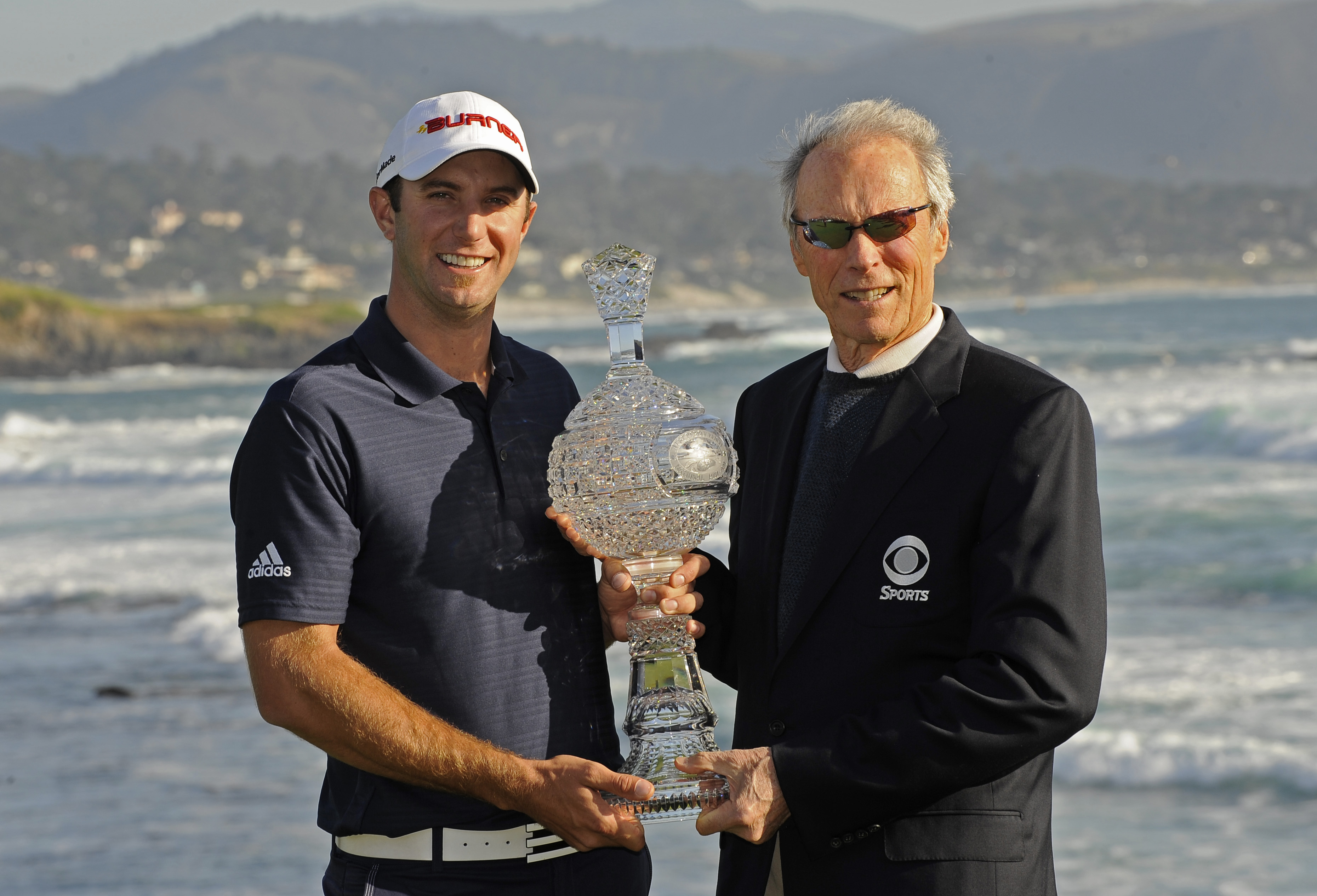 Carmel Cowboy Clint Eastwood made his debut in the 1963 Pro-Am. Eastwood joked it took him so long to get an invite because Crosby might not like cowboys. But Eastwood's invitation that year included a note from Crosby that read: "P.S. By the way, I do like cowboys." Eastwood is an institution around here, once serving as Mayor of Carmel and popularly repealing the town's ban on ice cream parlors. In many ways, Eastwood inherited the celebrity hosting duties from Crosby, and he still remains intimately involved in the tournament to this day. Eastwood is the Chair of the Monterey Peninsula Foundation Board of Directors.
JULIUS ERVING
View this post on Instagram
Dr. J didn't pick up golf until he retired from free-throw dunking at the age of 37. He learned the game while playing with Michael Jordan's high-stakes betting crowds, but enjoys a more casual match. "When the match is on the line, dropping a putt is just as exciting as dunking on someone," Erving says. In case you were wondering, the 6-foot-7 Erving was still dunking at the age of 64.
WAYNE GRETZKY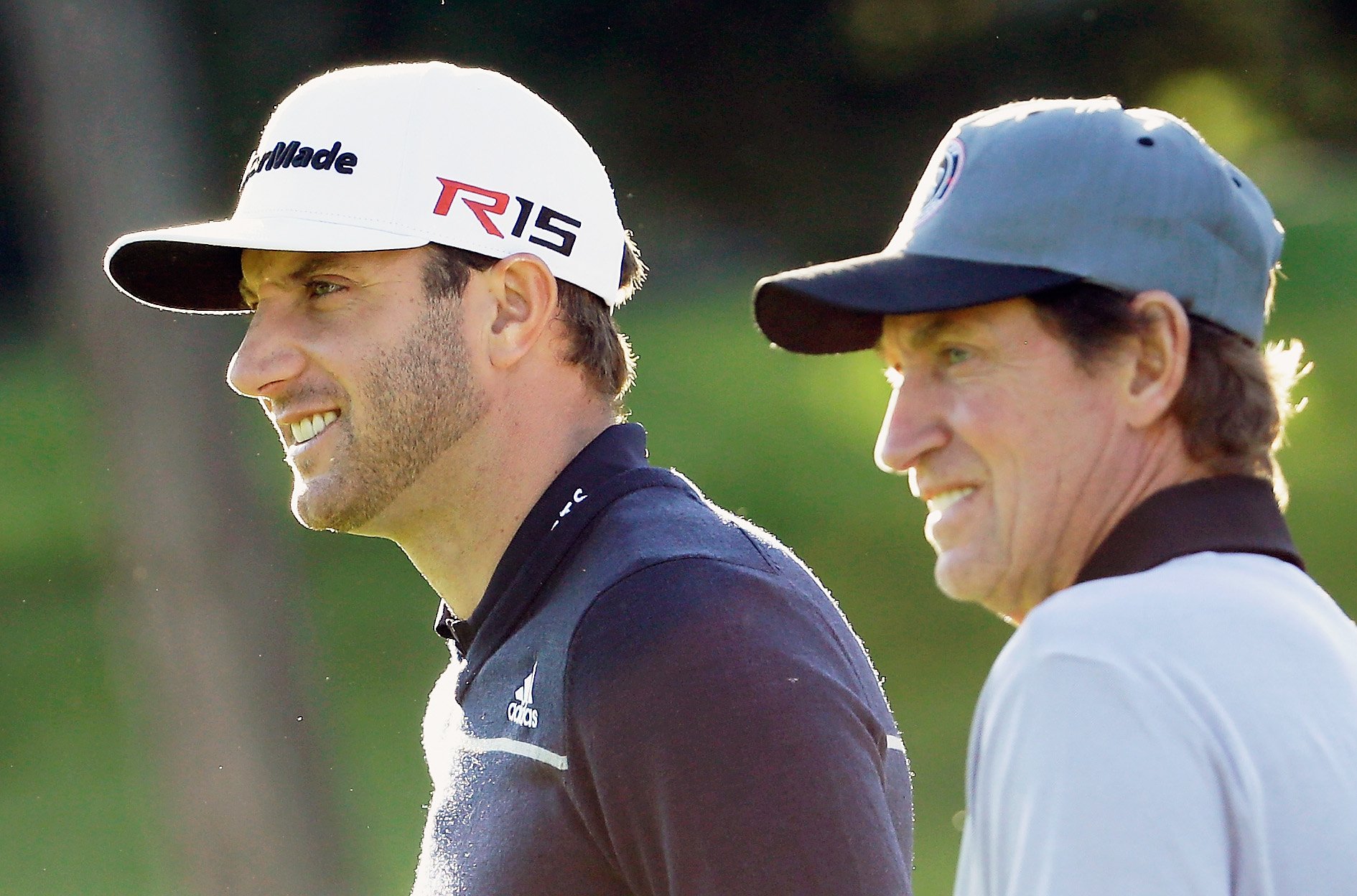 The Great One plays in family games with Major champion Dustin Johnson, and has been a staple at the AT&T. But the NHL's greatest goal scorer admits that he'll never be a scratch golfer. "I'm not trying to become a 2-handicap," Gretzky says. "I know my flaws and what I can and can't do. When I go to a golf course, I want to go play. I don't want to stand on a range and get lessons for two hours."
BOB HOPE
As Bing's partner in crime, the two had a zinger-filled relationship for decades at Pebble Beach. Bing's celebrity tournament came first, but Bob Hope followed suit by creating his own version in Palm Springs. Joked Crosby, "His event attracts an older group." But the two had a tight bond. Hope filled in as host for Crosby in 1973, even after his own tournament had gotten off the ground. The two popularized celebrities hosting PGA TOUR events, with Andy Williams, Frank Sinatra and Dean Martin all attaching their names to tournaments at one time or another.
SANDY KOUFAX 
Sandy Koufax won four World Series and tossed four no-hitters for the Los Angeles Dodgers in his brilliant but short career. But no murderer's row stacked up to Spyglass Hill for the newly retired Koufax, who left the game due to debilitating arthritis at the age of 30. Shortly after playing the recently built Spyglass Hill in 1968, Koufax quipped, "It is a great place. I hope they build a golf course here someday." In his defense, Koufax had just spent one excruciating stretch losing seven balls in seven holes.
Sign Up For Special Offers About Upcoming Events!

JACK LEMMON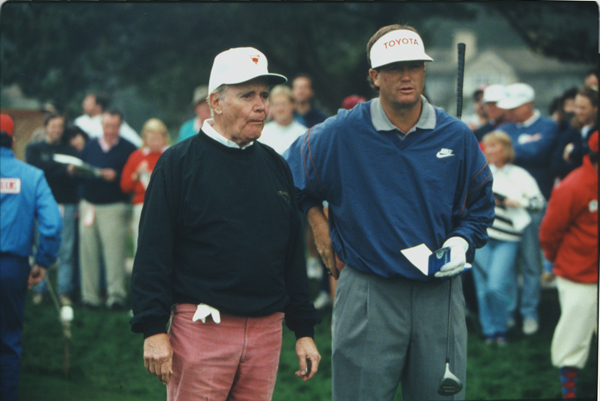 For decades, an amusing storyline was following the plight of actor Jack Lemmon, an enthusiastic golfer who desperately wanted to make the three-day amateur cut with long-time partner Peter Jacobsen. "I would trade my two Oscars to make the cut and play on Sunday at Pebble Beach," Lemmon once said. Lemmon never made it, even though he tried more than 25 times. The cruelest break was in 1998, when Lemmon and Jacobsen were just four shots off the lead after two rounds. Torrential rains wiped out the third round and canceled the amateur competition. "It was like the search for the Holy Grail for Jack Lemmon," Jacobsen said.
DEAN MARTIN AND FRANK SINATRA
The Rat Pack had a prominent presence at Pebble Beach, with Dean Martin and Frank Sinatra entertaining during the day, and letting loose at night. One rowdy evening earned Sinatra a lifetime ban from The Lodge after he punched the son-in-law of Pebble Beach Founder Samuel F.B. Morse. One headline read, "Sinatra Wants Snack, Settles for Smack." As two-time U.S. Open winner Andy North said, "Whatever stories you heard are true."
WILLIE MAYS

The Say Hey Kid could play. He owned a 4-handicap and could smash drives 300 yards. Asked if he ever thought about pursuing golf professionally after his Hall of Fame baseball career, Mays admitted he was set straight pretty quickly while playing alongside the likes of Jack Nicklaus, Arnold Palmer and Lee Trevino at Pebble Beach. "No, those guys are good. I could shoot maybe 75, 77. They'd shoot in the 60s. Trevino, when I played with him, he'd just laugh his way to a 65, 66."
BILL MURRAY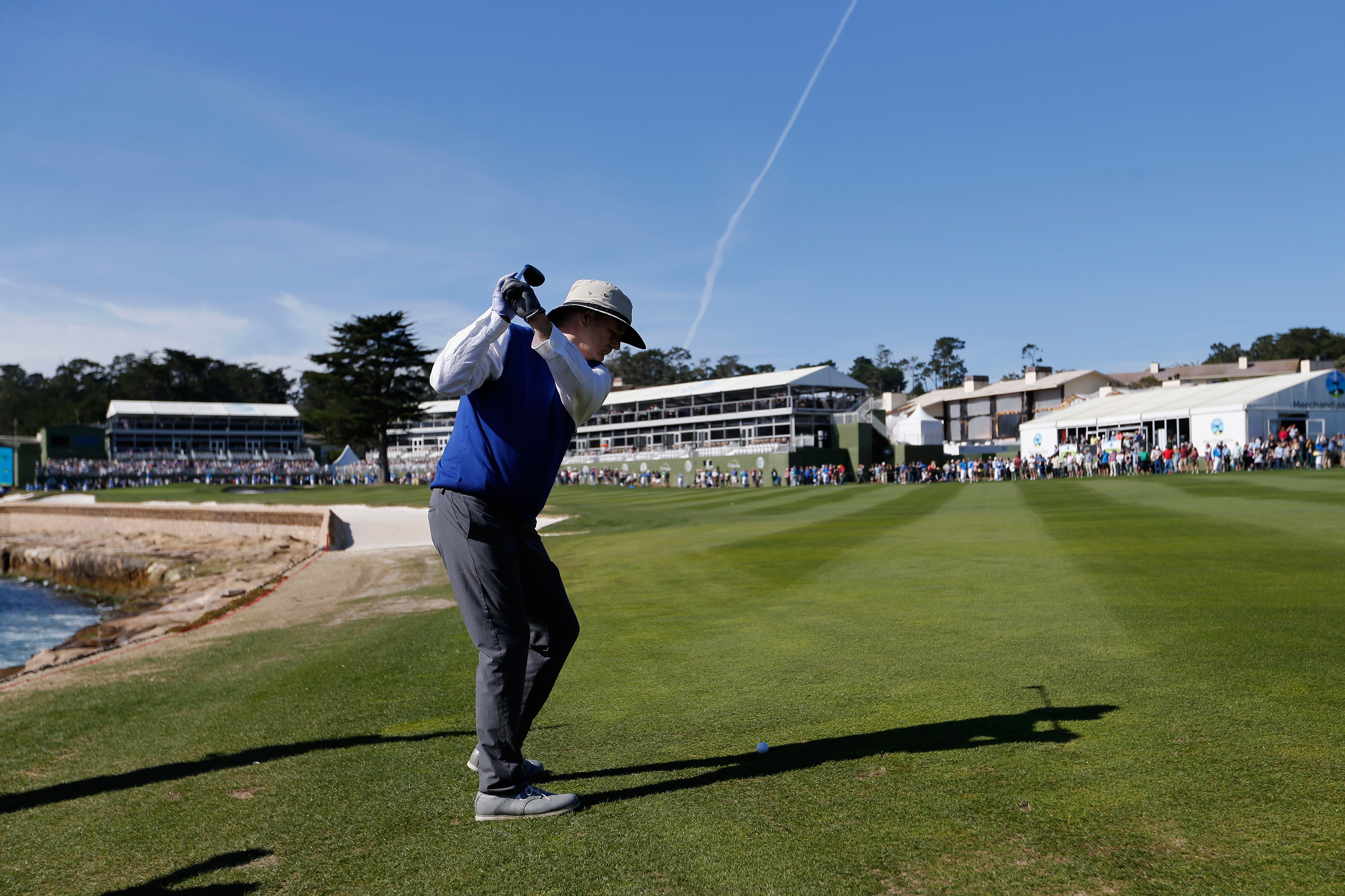 It's a sight to behold — five hours of stand-up and slapstick comedy performed every day between and during golf shots. In a sense, he is the modern-day Bing, putting entertainment and charity above and beyond any golf exploits. But the Caddyshack star also had his own Cinderella moment in 2011 when he teamed up with D.A. Points to win the AT&T team title. "I never hit the ball that well in my entire life," Murray said. "And I just thought, 'Holy cow. I don't know how you can play this long and get something that late that can work.'"
JERRY RICE
View this post on Instagram
The greatest wide receiver of all time once took on professional golf, playing in four Web.com Tour events. But even though he's old enough to play on the PGA TOUR Champions, he knows the competition out there is too stiff: "No, way; out of my league!" Rice conceded. "You know, I think we all dream about that, and I would love to get on that stage and play with the seniors. But those guys are still good golfers. I mean, they can really go low. I love watching them. The Nationwide Tour was a great experience for me because I wanted to get inside the ropes and feel what those guys went through. And after I played in a couple tournaments, I wanted to get outside of ropes."
JUSTIN TIMBERLAKE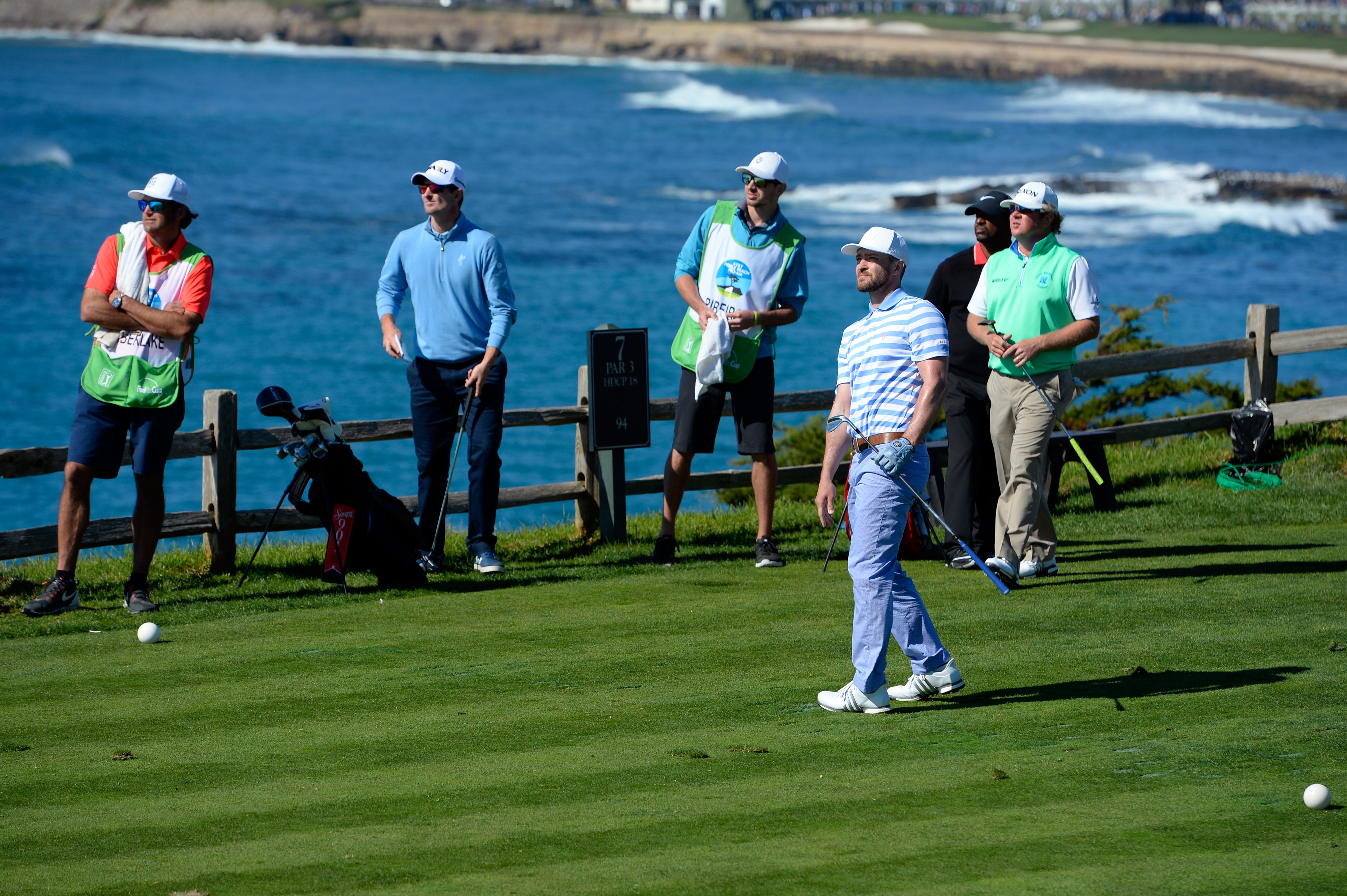 JT loves golf. The pop idol hosted a PGA TOUR event for five years (the Shriners Hospitals for Children Open in Las Vegas), and even bought the golf course he grew up on outside Memphis. He plays to a 2-handicap, and takes his game very seriously when he shows up to Pebble Beach. He nearly aced No. 7 while playing alongside Justin Rose in 2017. "He's always clutch in the moment," Rose said. "He seems to step up to the moment when he's needed. A hole like No. 7 at Pebble, it's a moment you kind of like to step up on. And he did. That would have been insane if he'd made a 1 there. A SportsCenter moment."
Who is your favorite celebrity you have ever seen at the AT&T Pebble Beach Pro-Am?
---
Facebook Conversations
The Best Celebrities to Ever Play in the AT&T Pebble Beach Pro-Am