The Most Memorable Shots From Every U.S. Open at Pebble Beach
A round at Pebble Beach is like playing golf in the world's most beautiful museum.
You can stand on the fourth tee and dream of driving that tiny green like Dustin Johnson. You can stare at the gaping cliff on No. 6 and fantasize about muscling a 7-iron onto the green like Tiger Woods. You can take in the breathless view at No. 7 and imagine needing to punch a 6-iron under a howling wind like Tom Kite. You can study the 14th green and shake your head while thinking about Gary Woodland planting a 3-wood on it with the U.S. Open on the line. And you can choose your own adventure at No. 17 – hit the stick like Jack Nicklaus, chip-in like Tom Watson or make an impossible up-and-down from the wrong side of the green like Woodland.
And with the U.S. Open returning four times in the next two decades (2027, 2032, 2037 and 2044), there will certainly be more iconic shots to recreate in the coming years. Here are the best that have been hit in each U.S. Open so far:
1972 U.S. OPEN
June 15-18, 1972
The scoring average during the final round was a staggering 78.8 — the highest since World War II. Nicklaus led wire-to-wire, but in howling conditions that dried out the greens, his three-shot lead wasn't secure until he hit one of the most famous shots in golf — a 1-iron on No. 17 that short-hopped the flagstick for a tap-in birdie.
"The shot I performed, I don't think I could ever do again," remembers Nicklaus. "I had a shot where the wind was howling from left to right and into my face. I didn't know if I could get it there or not. I laced a 1-iron and I was quite content to be in the front bunker."
The win was his 11th professional Major (tying Water Hagen), and 13th including his two U.S. Amateur titles (tying Bobby Jones).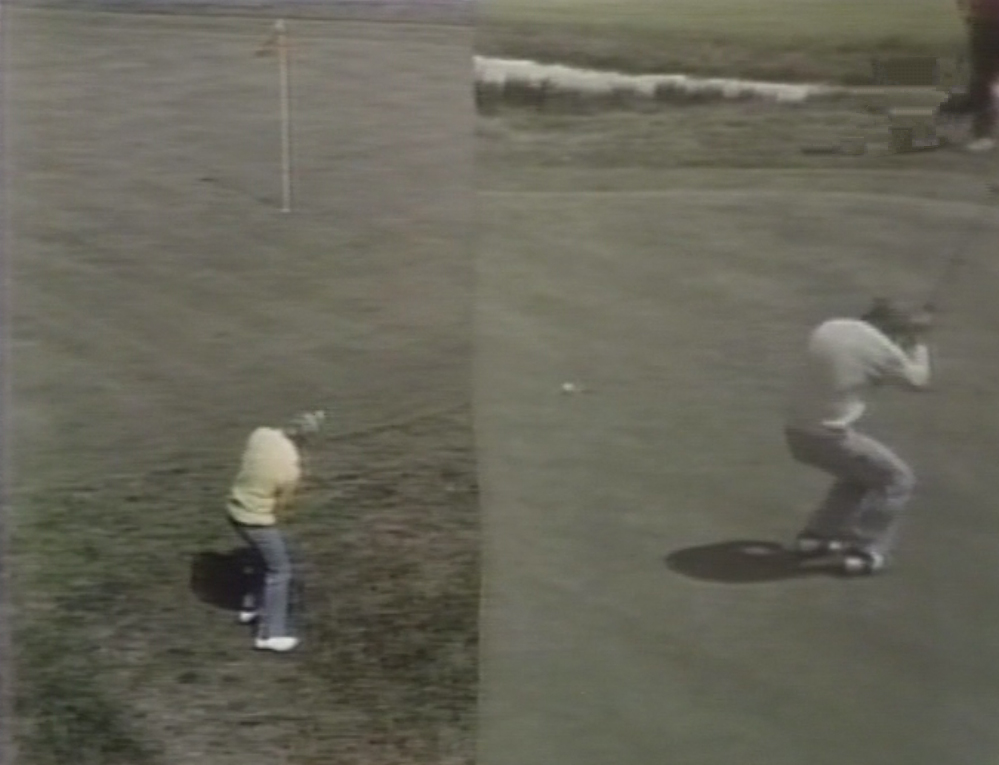 1982 U.S. OPEN
June 17-20, 1982
Tom Watson was tied for the final-round lead with Nicklaus as he stood over a chip-shot on No. 17 in bushy Kikuyu rough. Caddie Bruce Edwards encouraged Watson to get it close. Watson fired back, "I'm going to sink it." Watson did, and burst into an impromptu victory lap around the green.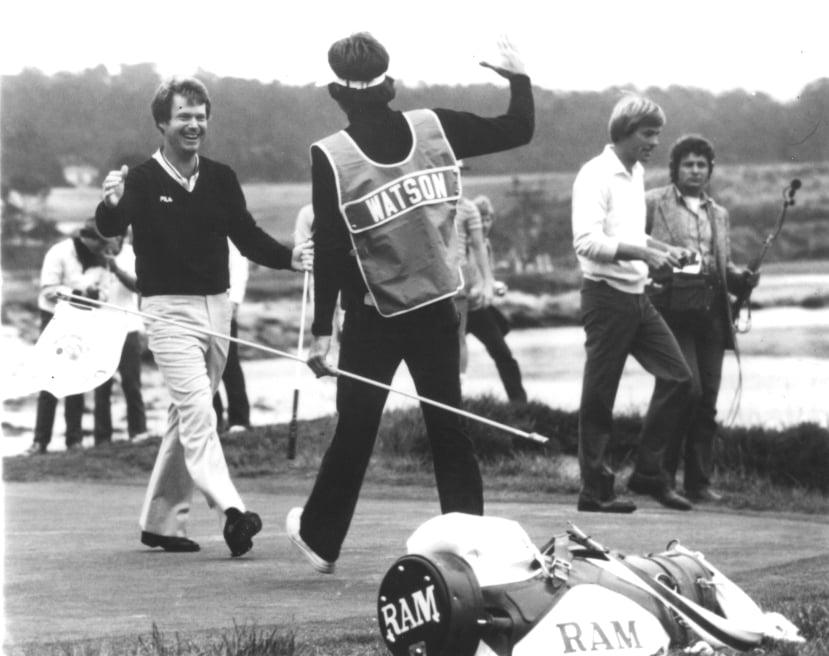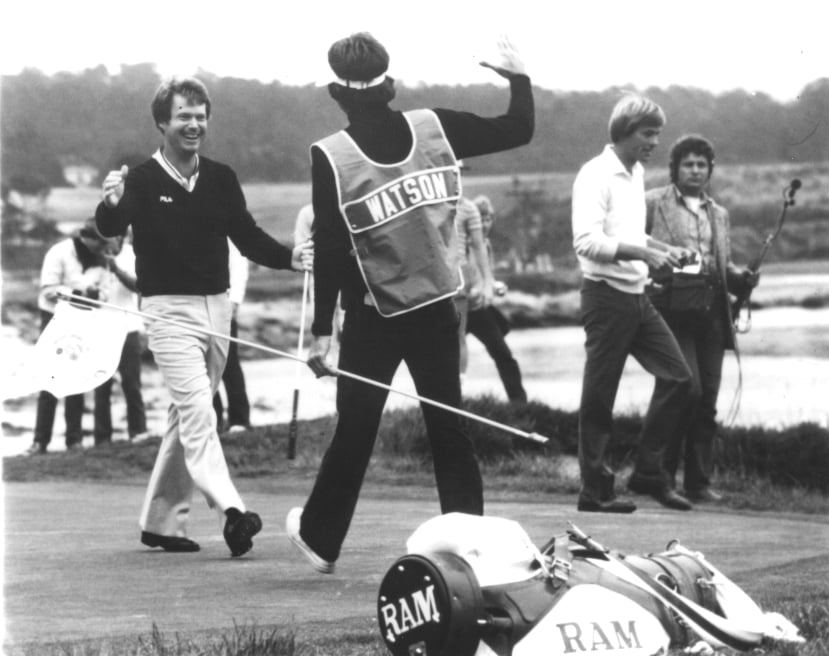 With Nicklaus already in the clubhouse, Watson only needed a par to clinch victory. But for good measure, Watson poured in a 20-foot birdie to win by two. "You're something else," Nicklaus told Watson behind the 18th green. "I'm really proud of you."
It was Watson's first U.S. Open title, robbing Nicklaus of a record fifth victory.
1992 U.S. OPEN
June 18-21, 1992
Before there was Tiger Woods at Pebble Beach, there was Gil Morgan. Through two rounds, Morgan sat at an unbelievable 9-under. "If Gil continues this level of play," said Raymond Floyd, "all records are going to be broken. But it's not likely."
Morgan reached a U.S. Open-record 12-under after three birdies in the first seven holes of his third round to take an incredible seven-shot lead, but then the wheels fell off. Morgan went 5-over his next three holes, and shot a third-round 77 to cling to a one-shot lead. Morgan was then belted by 30 mph winds in the final round and shot a closing 81.
The scoring average for the final round was 77.3, the third-highest since World War II. That made Tom Kite's even-par 72, highlighted by a wind-shaped chip-in birdie on No. 7, all the more impressive. Kite's steady play gave him a four-shot lead with four holes to go, and he held on for a two-stroke windy win to capture his first Major.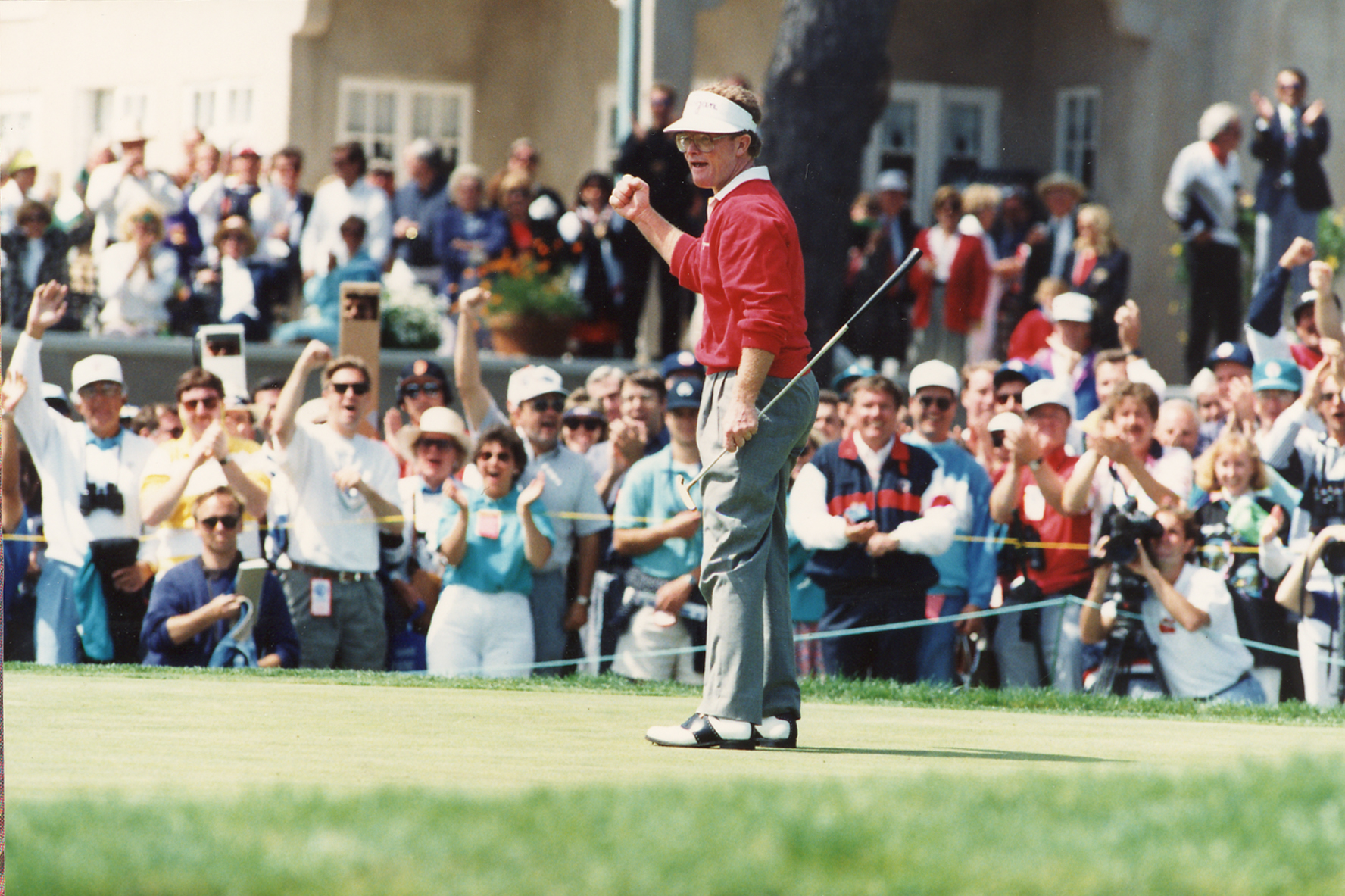 2000 U.S. OPEN
June 15-18, 2000

Woods was ruthlessly dominant, tying or setting nine U.S. Open records – including the biggest lead after two rounds (six shots), three rounds (10 shots) and four rounds (15 shots). His play transcended eras, as the previous record for margin-of-victory at any Major was set during the American Civil War.
Woods did not three-putt all week, while one-putting 34 of the 72 greens. He played the first 22 holes without a bogey, as well as the final 26. He tied the all-time scoring record at a U.S. Open when nobody else in the field broke par. He also opened the tournament with a 65, the lowest score ever shot at Pebble Beach during a U.S. Open.
If one swing summed up Tiger's alpha display of brute force that week, it was his second shot at the par-5 sixth on Friday. Tiger whacked a 7-iron from 205 yards out of 4-inch rough onto the front of the green, prompting announcer Roger Maltbie to throw in the towel for the rest of the field. "It's just not a fair fight!" exclaimed Maltbie.
2010 U.S. OPEN
June 17-20, 2010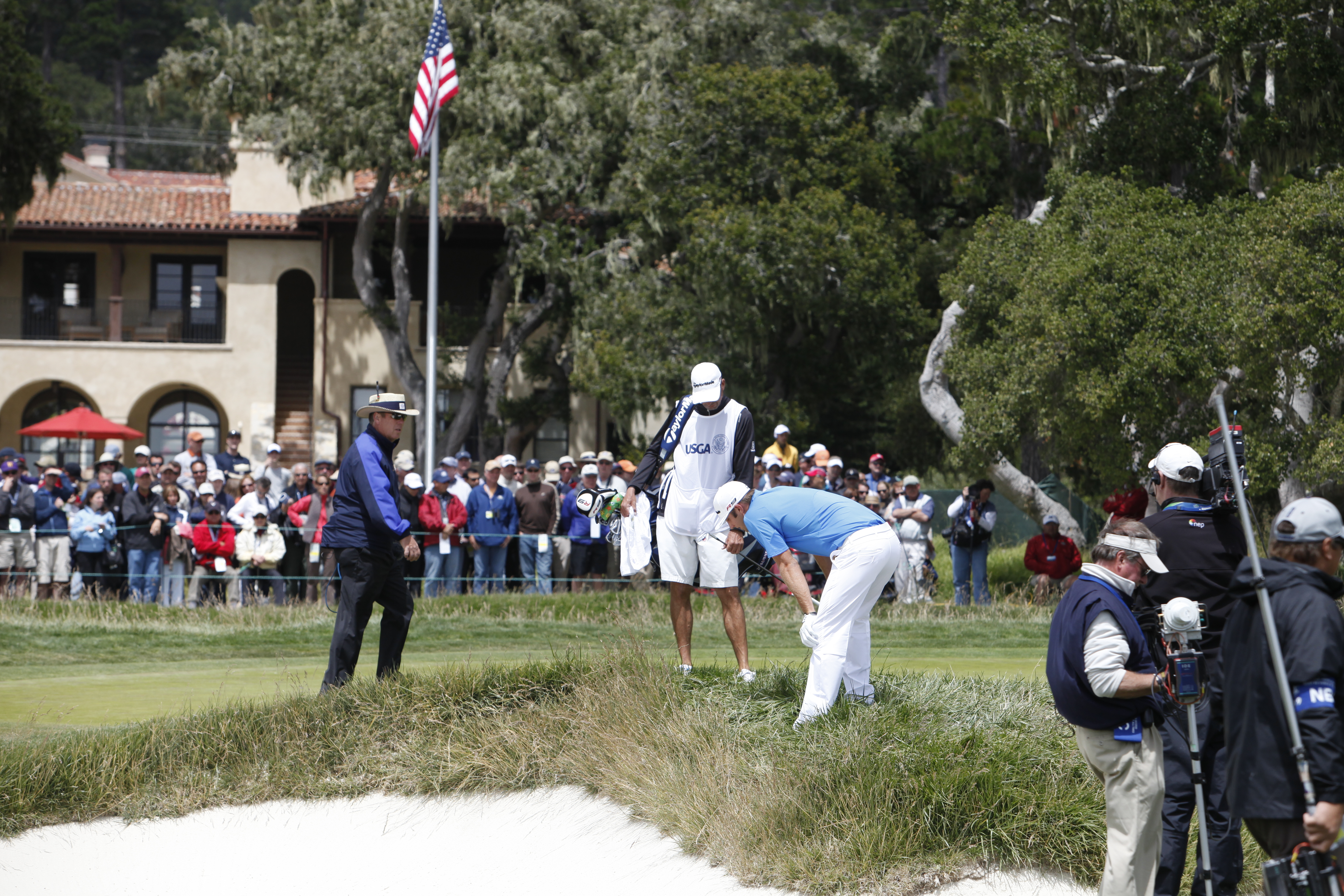 As the two-time defending champion of the AT&T Pebble Beach Pro-Am, a Dustin Johnson win seemed inevitable after three rounds of the U.S. Open. The stoic Johnson showed off his comfort level with Pebble Beach during a third-round 66 that included an eagle on No. 4, which he turned into a drivable par-4.
But Johnson's three-shot lead was completely erased just two holes into the final round when he carded a triple-bogey 7 on No. 2, low-lighted by a fanned left-handed chip. Johnson then double-bogeyed No. 3, hit his drive over the cliff on No. 4 for a bogey, and carded another bogey on No. 7. Johnson's free fall resulted in a final-round 82, the highest score by a 54-hole leader since 1911 — and one shot worse than Gil Morgan's fate in 1992. "I felt sorry for him," said eventual champion Graeme McDowell.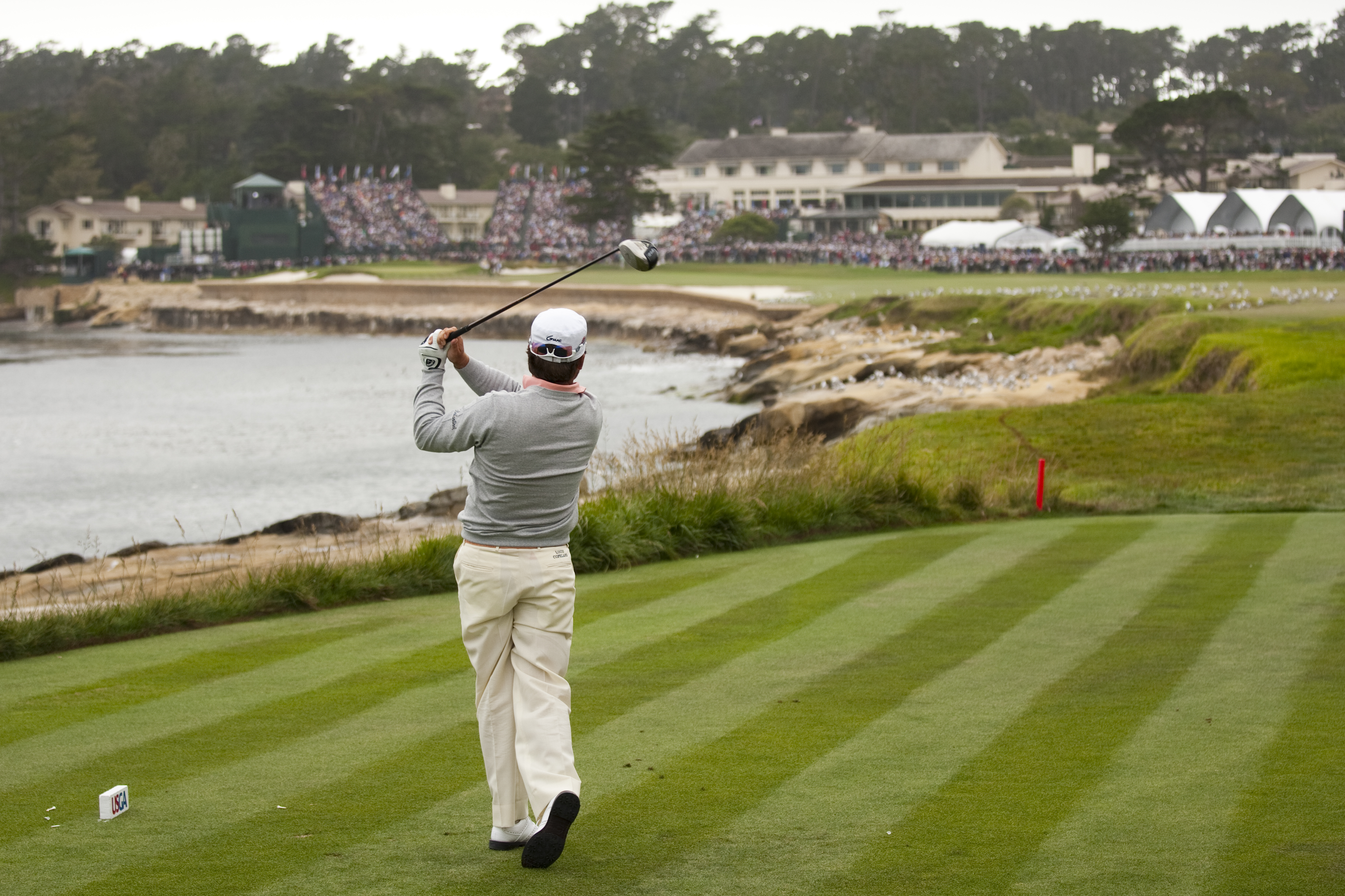 With Johnson gone, the star-studded leaderboard included Woods, Ernie Els and Phil Mickelson. But none of them could keep up with McDowell, who shot a 3-over 74 to finish at even-par, one ahead of unheralded Frenchman Gregory Havret.
2019 U.S. Open
June 13-16, 2019
Brooks Koepka, golf's Major championship terminator, was zeroing in on leader Gary Woodland. Koepka, winner of the last two U.S. Opens and four of his last eight Majors, had whittled a four-shot deficit down to one as Woodland played the 14th hole.
After his tee shot on the perilous par-5 left him with 263 yards to get home, Woodland smashed the shot of his life, carrying the gaping bunker in front of the green and somehow stopping his ball just past hole-high – no easy feat with a lob wedge, let alone a 3-wood. Woodland got up and down from 16 feet to clean up his birdie and double his lead.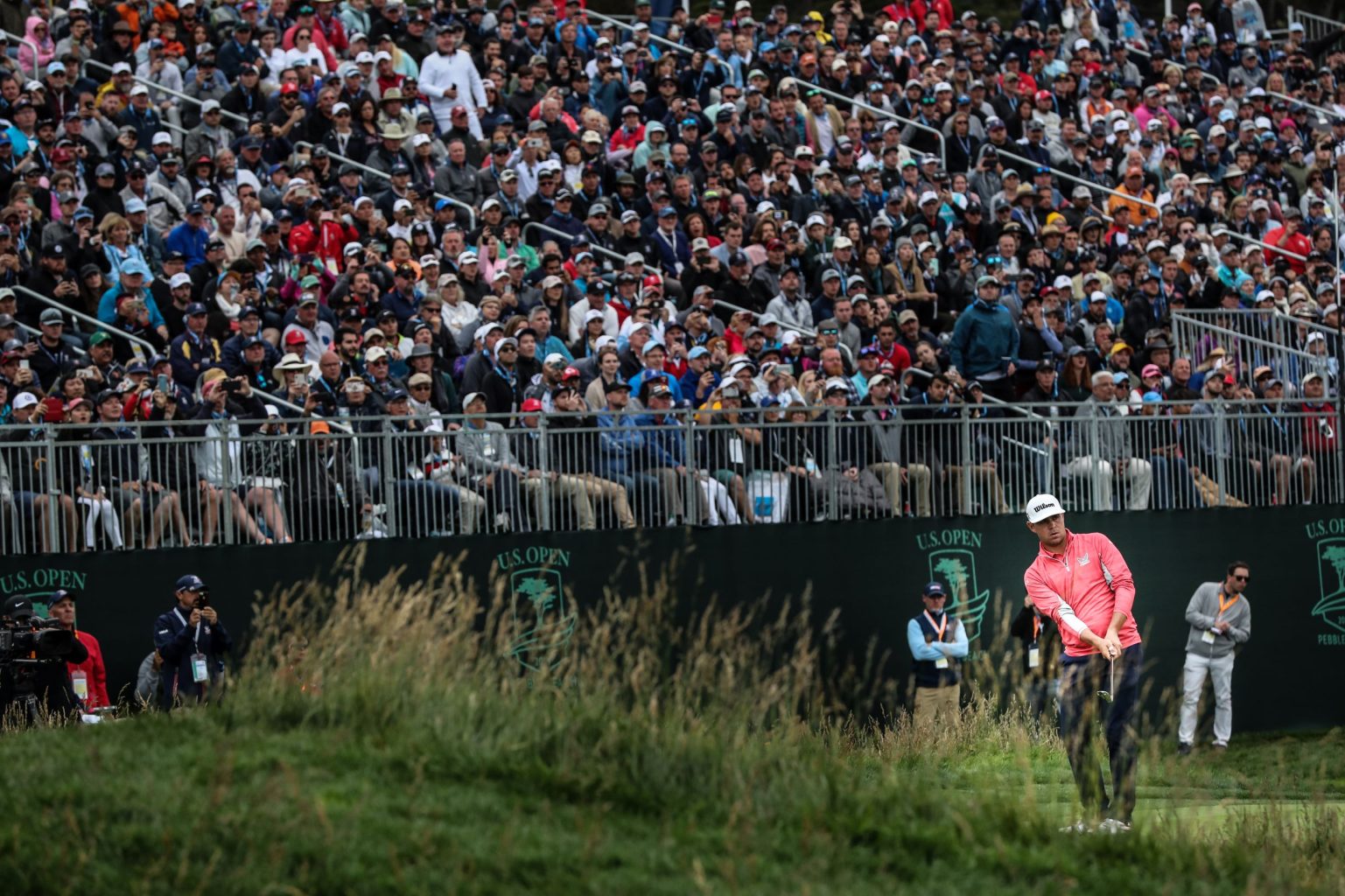 "To execute that shot under pressure, in that situation, it gave me the confidence I needed," Woodland reflected. "I felt better after hitting that shot than I had in a long, long time."
While that 3-wood changed the shape of Sunday, Woodland also delivered fireworks on the final two holes, nearly chipping in from the other side of the 17th green to salvage par, before burying a 30-footer for birdie at the last to win by three.
With great moments already cemented in history, who will be next? The U.S. Women's Open Presented by ProMedica tees off for the first time in history at Pebble Beach Golf Links July 5-9, 2023 for its 78th playing. Tickets go on sale June 2022. To be the first to know when tickets become available, visit the USGA website and witness the next championship moment.
The Most Memorable Shots From Every U.S. Open at Pebble Beach