Tracking Tiger: The 5 Most Memorable Shots Woods Hit in the 2000 U.S. Open
The iconic moments of the first three U.S. Opens hosted at Pebble Beach are a trio of career-defining shots:
But what is the shot that defined Tiger Woods' 15-shot rampage over the field in 2000? A shot of the scoreboard – with Woods' red numbers climbing into double digits, while the rest of the field's scores were painted black?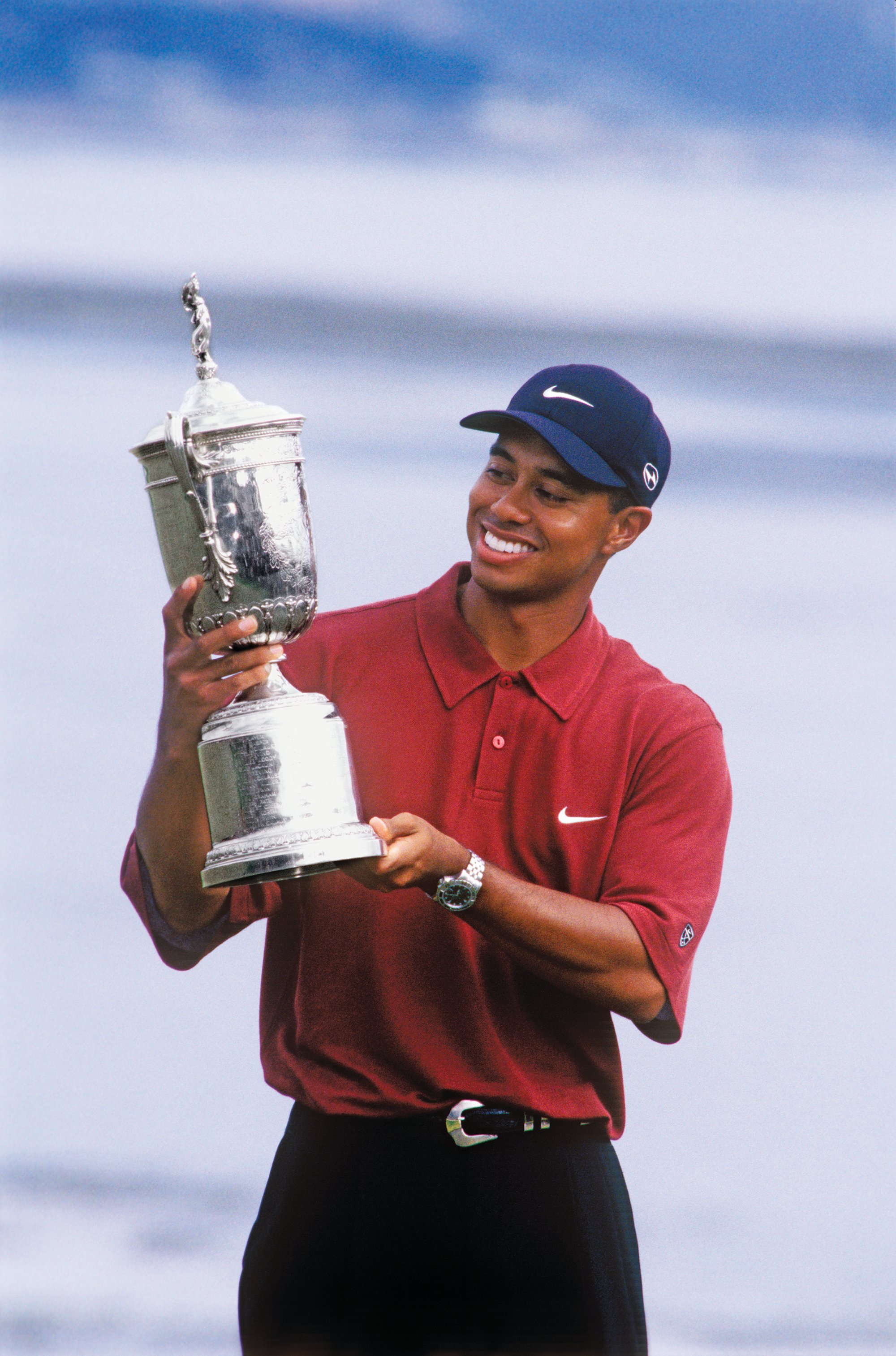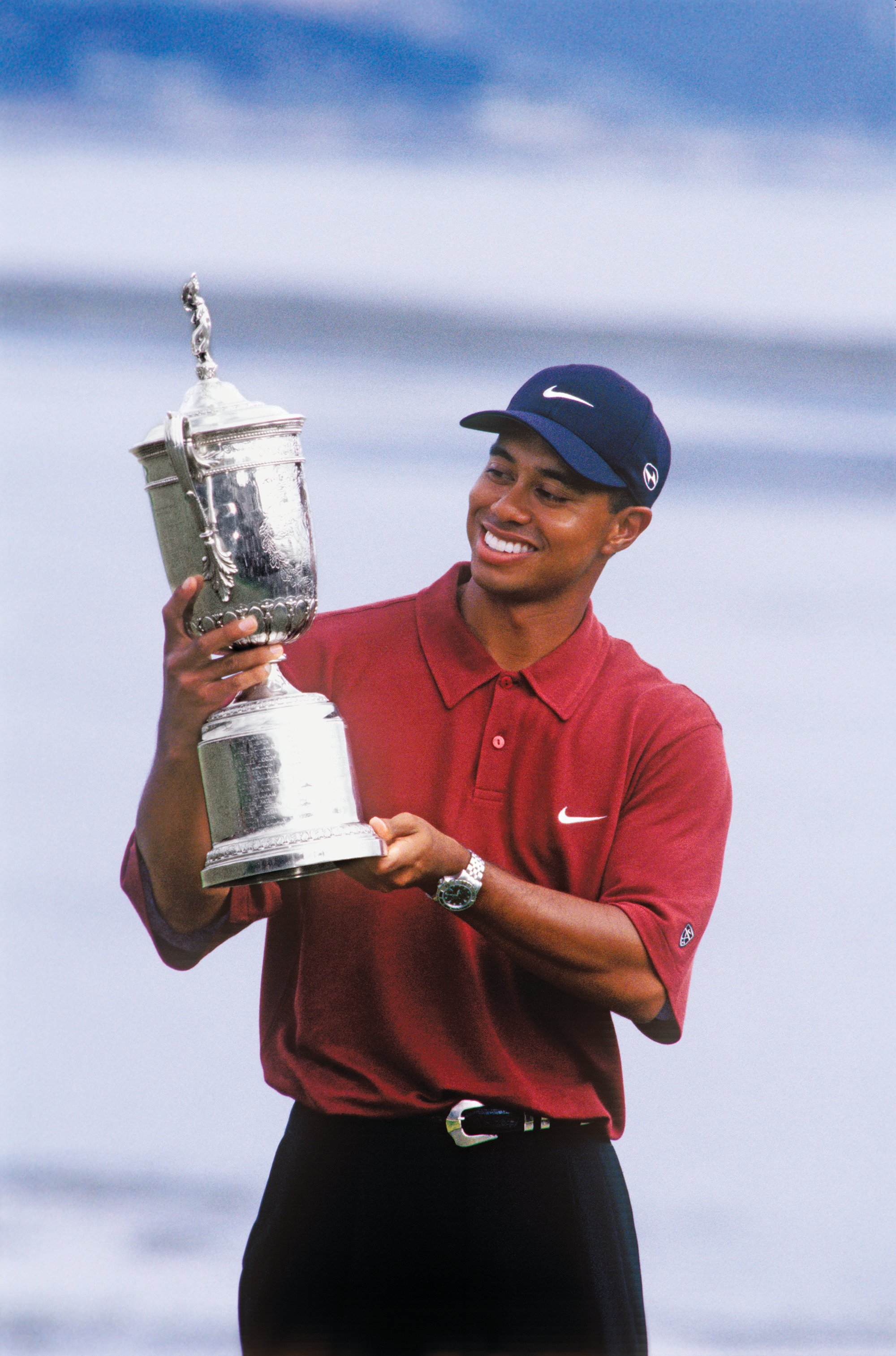 Woods was ruthlessly dominant, tying or setting nine U.S. Open records – including the biggest lead after two rounds (six shots), three rounds (10 shots) and four rounds (15 shots). His play transcended eras, as the previous record for margin-of-victory at any major was set during the American Civil War. Old Tom Morris used a gutta-percha ball, hickory-shafted clubs and played a 12-hole Prestwick course three times to beat just seven other players by 13 shots in the 1862 British Open – the third championship ever contested.
This performance had no rival. Woods did not three-putt all week, while one-putting 34 of the 72 greens. He played the first 22 holes without a bogey, as well as the final 26. He tied the all-time scoring record at a U.S. Open when nobody else in the field broke par. He also opened the tournament with a 65, the lowest score ever shot at Pebble Beach during a U.S. Open.
Woods didn't get to have that tournament-clinching shot like the three previous champions at Pebble Beach, but these were his most memorable moments:
1. "It's Just Not a Fair Fight!"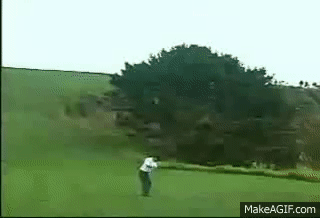 This shot on No. 6 isn't really replicable anymore – the fairway now pours over the cliff, and the tree staring at Woods was lost to Mother Nature – but even if you could theoretically hit this shot, you definitely couldn't. Woods smashed a 7-iron from 205 yards out of 4-inch rough, up and over that tree, up and over the mountainous second fairway, and somehow found the green, prompting NBC announcer Roger Maltbie to proclaim, "It's just not a fair fight!"
If any one shot magnified the difference between Woods and the mere mortals he was competing against, this strike in the second round was it.
2. "Good-Night!"
Woods didn't tee off until 4:40 p.m. on Friday because of a weather delay, and a horn suspending play for darkness sounded when he was on just the 12th hole. The dialed-in Woods chose to finish the hole anyway, pouring in a 30-foot birdie putt from across the green. Woods unleashed his trademark uppercut fist-pump, and ESPN announcer Mike Tirico signed off the round with an appropriately emphatic "Good-Night!"
3. Woods Almost Runs Out of Golf Balls

Woods was audibly, shall we say, unhappy, when he sniped his drive left on No. 18 and into the ocean at the end of his second round. The cameras caught some colorful language from Woods, prompting Johnny Miller to bashfully say, "Well, that made my commentary look pretty mild."
Woods collected himself and piped his next drive down the fairway, making a birdie-4 on his second ball to salvage a bogey-6 after the penalty. But what Woods didn't know was that the second ball he hit was literally the last one in his bag. Woods was finishing up his disjointed second round Saturday morning, and he and his caddie Stevie Williams hadn't properly restocked the bag.
Imagine the colorful language we might have heard if Woods ran out of balls? Williams even suggested that Woods should back off and hit an iron off the tee instead. If worse came to worst, Williams was planning to run up to the pro shop and buy more golf balls. Wouldn't that have been wild?
4. Woods Gives the Field Hope – For One Hole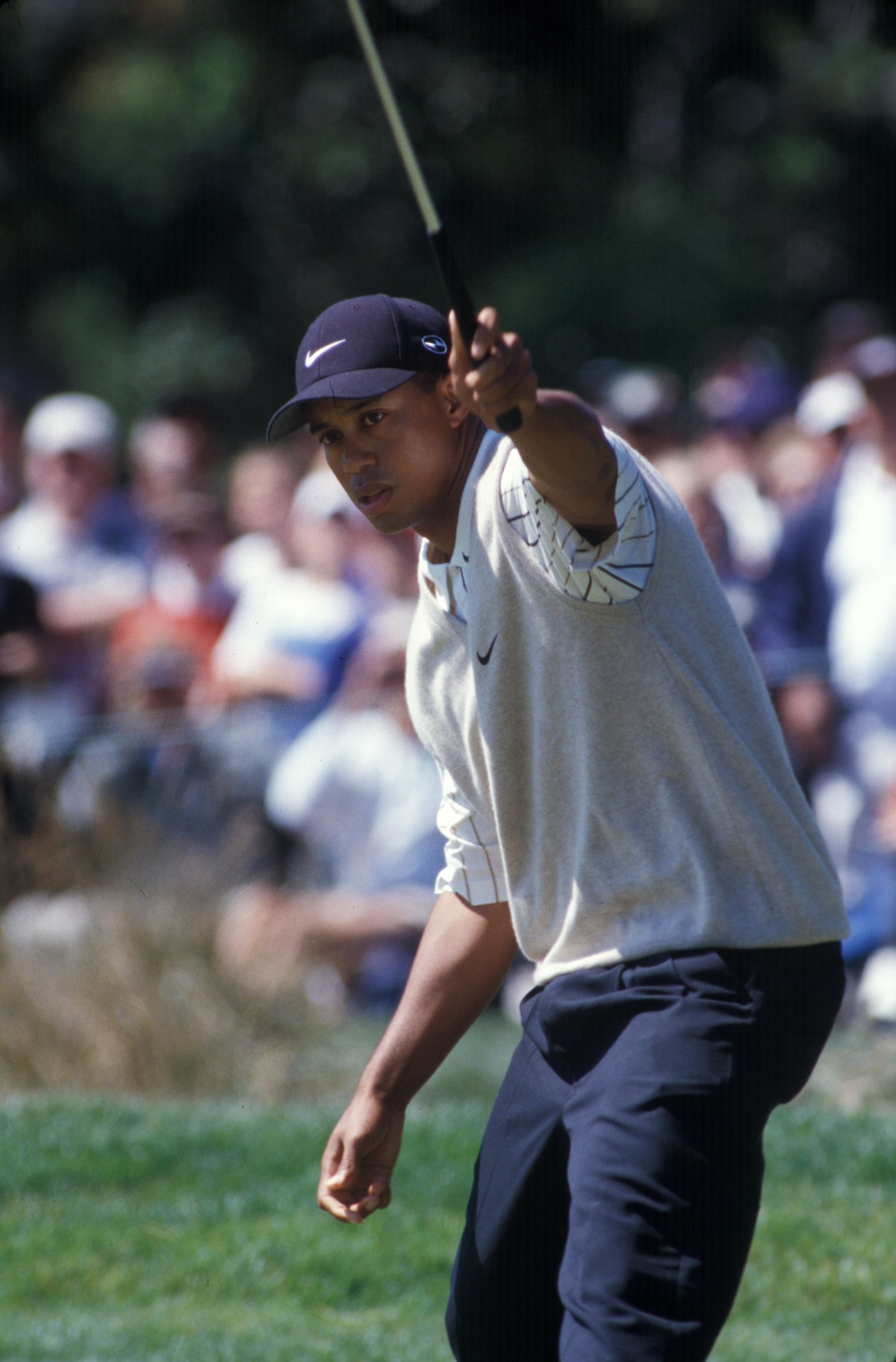 Cruising at 9-under through 38 holes, Woods tumbled with a triple-bogey 7 on the third hole of the third round. He dumped his approach short-right, but it didn't quite make the bunker, and he needed two shots to hack out of some seriously heavy hay.
But just four holes later after a birdie at No. 7, Woods was already back to even-par for the round. He then bounced back from a bogey on No. 8 with a birdie on No. 9 – the toughest hole of the championship.
Ultimately, on a day when just one player broke par, Woods shot even, despite his triple-bogey on No. 3. His lead grew from six to a staggering 10.
5. No Bogeys

With a 10-shot lead going into the final round, Woods knew he needed a goal to stay focused. So he set an ambitious one – no bogeys, which was something he managed to do in the first round.
Woods pumped out nine straight pars on the front nine of his find round, before birdies on four of the next five holes pushed him all the way to 12-under. With a lead that was approaching 15 shots, Woods was visibly disappointed when he airmailed the 16th green, setting up a delicate up-and-down. He was left with a 12-foot par putt, which he rattled home and celebrated with an emotional fist-pump.
Even leading by a mile, Woods was grinding like he was chasing the lead by one. That demonstration of tenacity and mental fortitude defines his U.S. Open triumph as much as anything else.
Bonus Shots
The next time you are playing Pebble Beach, imagine facing this trio of Woods scenarios:
1. 7 Down with 7 to Go
The unstoppable Woods trailed by seven shots with seven holes to go at the 2000 AT&T Pebble Beach Pro-Am, but miraculously rallied to win his sixth straight PGA TOUR event, fueled by a final-round 64. His most brilliant shot came on the 15th hole, when he blasted his drive to 97 yards out (there's now a pot bunker guarding his landing area), and dramatically backed up a sand wedge into the hole for an eagle-2, halving his deficit from four to just two.
The on-fire Woods nearly holed a second straight shot from the fairway on No. 16 when his wedge lipped out, leading to a tap-in birdie. Woods then birdied No. 18 to capture a remarkable sixth straight PGA TOUR win, which tied him with Ben Hogan for the second-longest streak ever. Four months later, Woods returned to light up Pebble Beach with his historic 15-shot win at the 2000 U.S. Open.
2. A 273-Yard Slice Over the Ocean
Sitting 273 yards away and squarely behind a pair of Cypress trees in the 18th fairway, Woods was feeling it during the end of the third round at the 2010 U.S. Open. Coming off two straight birdies, as well as six for the round, Woods hit a wild slice around a Cypress tree, sending his shot soaring over the Pacific Ocean before bending it back to safety and up the throat of the green.
The courageous shot was capped by his seventh birdie of the day for a 5-under 66, one shot shy of the Pebble Beach U.S. Open record he set during the first round in 2000.
3. Woods Closes 63-64
That heroic 3-wood slice over the ocean in 2010 wasn't the first time Woods hit the 18th green in two. In his first professional event at Pebble Beach — just two months before his epic 1997 Masters performance — a 21-year-old Woods shot 17-under his final two rounds at Pebble Beach. After opening with a 2-under 70 at Spyglass Hill and an even-par 72 at Poppy Hills, Woods went nuts, shooting 63-64 at Pebble Beach over the weekend – the lowest closing 36 holes in tournament history.
In that final-round 64, Woods birdied Nos. 16 and 17 to pull to within one shot of the lead, but Mark O'Meara answered with a chip-in birdie on No. 16 and another birdie on No. 17. Needing an eagle on No. 18 to catch O'Meara, Woods planted a 3-wood onto the middle of the green, setting up a 30-foot tying try. With O'Meara anxiously watching from the fairway, Woods' putt missed wide right, allowing the Prince of Pebble Beach to play for a par to clinch a record fifth tournament victory.
But with Woods pushing him, it took a tournament record 20-under — four straight 67s — to do it.
What's your favorite Tiger moment at Pebble Beach?
---
Facebook Conversations
Tracking Tiger: The 5 Most Memorable Shots Woods Hit in the 2000 U.S. Open