Viktor Hovland has been hammering his competition, winning back-to-back matches 7-and-6.
Next up: co-medalist Cole Hammer.
The two hottest players at Pebble Beach square off at 8:20 a.m. on Saturday morning in the semifinals of the U.S. Amateur.
The Norwegian Hovland won seven straight holes during a front-nine 4-under 31 in his dismantling of No. 14-seed Austin Squires. When Hovland, ranked No. 5 in the world, poured in a cross-country birdie putt on No. 8 to go 7-up, it marked the 15th hole he had won in his previous 24.
"The last two matches I've been really hot on the greens," says Hovland, who helped Oklahoma State win the national title this year by winning all three of his matches. "I felt like I've felt like I've hit it better. But I've been playing pretty aggressively, just teeing it up with the driver and hitting it hard. I'm just hoping it lasts."
Hammer birdied Nos. 3-5 during an impressive 3-under 32 of his own on his way to a 3-and-2 win over Englishman Alex Fitzpatrick, the brother of 2013 U.S. Amateur champion Matthew. Hammer is 14-under in his six rounds so far, and closed Fitzgerald out with this impressive birdie:
But even Hammer has noticed Hovland's hot streak.
"I know he's gotten a lot more rest than me the last couple days," joked Hammer, who moved to a remarkable 17-1 in match play this year.
Hammer had never played Poa annua greens before his trip to Pebble Beach this year. But he has a secret weapon in Pebble Beach caddie Lincoln Lyles.
"Lincoln was a great help for me in the practice rounds," said Hammer, an incoming freshman at Texas. "I've been able to figure them out pretty well after that."
CALIFORNIA KIDS TO DUEL FOR SPOT IN FINALS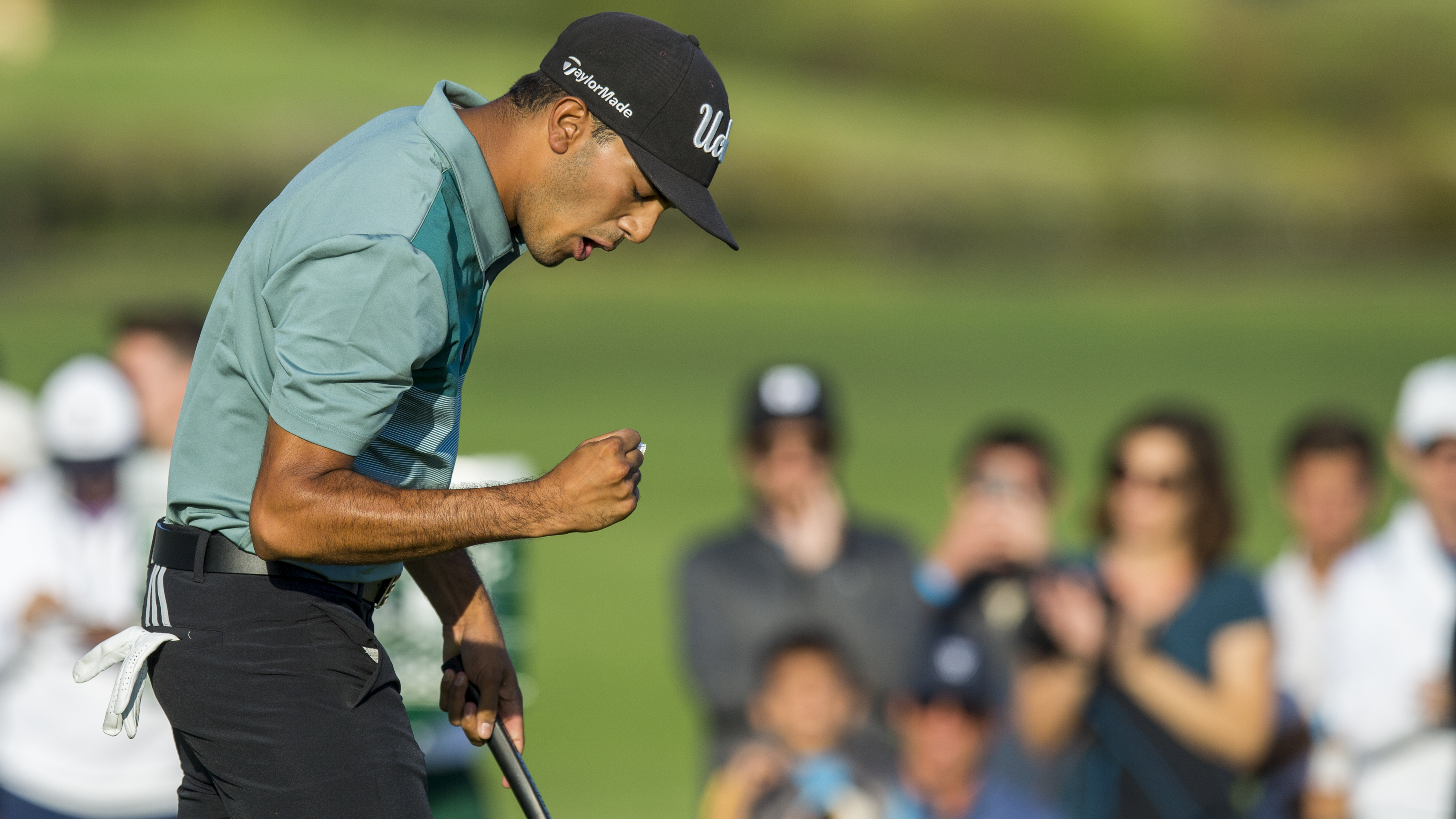 It's a Pac-12 showdown on the other side of the bracket between UCLA's Devon Bling and Stanford's Isaiah Salinda. All that's at stake for the winner of each semifinals match?
An invitation to the 2019 Masters, and an exemption into next year's U.S. Open, right back here at Pebble Beach.
If Bling wins, he'll be a little more prepared than he was for this year's trip to Pebble Beach.
"I must say I did prep for this," said Bling, a sophomore at UCLA. "I played a little Tiger Woods PGA TOUR on the PlayStation. I played Pebble a couple times just to see how the course was. Looks a little different in person, but just to see the layout. But yeah, this is amazing, knowing that it's a U.S. Open venue, and I couldn't be happier to be here."
Bling looked like the legends who have won at Pebble Beach before him, getting up and down from the greenside bunker on No. 18 for a winning birdie to beat No. 32 seed David Riley, 1-up.
"I got it to the 18th hole all square, which is where I wanted to be," said Bling. "But that putt on No. 18 felt a little longer than 3-and-a-half feet."
Salinda seized control of of his match against No. 5 seed Will Gordon early, taking a 4-up lead after just five holes. Gordon birdied Nos. 7 and 9 to make the turn just 1-down, but Salinda never let him square up the match.
"This last month I'm playing as well as I ever have," said Salinda, who is playing his first USGA event after falling short as an alternate a handful of times. "I'm mentally as strong as I've ever been. I'm very excited. I've never been in this position. The atmosphere has been very fun."
---
Facebook Conversations