Materials Programs at Pebble Beach Resorts
The materials we use and throw away can have a lasting impact on our environment. At Pebble Beach Resorts, we are making a concerted effort to reduce the use of potentially harmful materials, reuse materials where we can and recycle materials that have exhausted their usefulness.
Reduce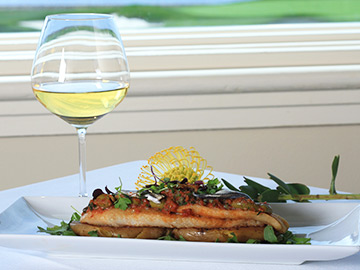 The use of Styrofoam containers has been eliminated resort-wide.
Recyclable and/or biodegradable to-go containers are used at all resort restaurants.
Employee newsletters are printed on recycled paper with vegetable ink.
Eliminated the use of food trays in employee dining rooms to save on energy and water consumption.
Employees are encouraged to use reusable stainless steel bottles and coffee mugs to reduce the use of disposable cups.
Employees are encouraged to return dry cleaning hangers for reuse.
Company "SWAP" program allows employees to post office supplies for reuse in other areas of the resorts.
Non-toxic chemicals are used in housekeeping.
All paints used by Pebble Beach Company (PBC) are low in Volatile Organic Chemicals.
PBC restaurants promote the use of local, organic produce and source seafood from sustainable sources.
---
Recycle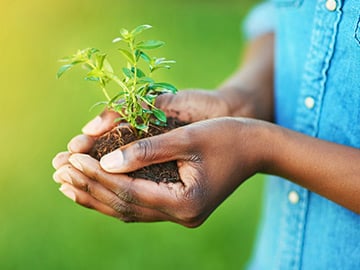 Solid Waste Recycling/Composting: Recognizing that resource efficiency and waste reduction are essential components of wise-use environmental management, Pebble Beach Company has developed a number of programs to reduce, reuse and recycle waste in all operations—from offices and retail to the golf courses, special events, 17-Mile Drive scenic turnouts and post-guest room recycling.
These efforts annually divert over 6.46 million pounds of green waste, plastic, glass, metal, cardboard, paper, batteries, tires, paints, paint thinners, used carpets, oil filters, oil, chemicals and more from area landfills.
In addition, damaged linens and older products from guest rooms are donated to local non-profits, sold to employees or recycled. Wine corks from the our restaurants are reused through donation to the Monterey County Youth Museum, and partially used amenities are donated to the Salvation Army and local homeless shelters.
Furthermore, PBC composts food scraps year-round at the resorts and at special events, like the AT&T Pebble Beach Pro-Am. In an average year, approximately 125 tons of food scraps are composted for re-use locally.
This is a nice addition to an already very successful green waste-recycling program, which produces over 2,500 tons of compost annually from golf course clippings, forest debris and landscape green waste.
All of the high-quality compost produced is used on Pebble Beach Company properties in landscaping, restoration projects and the golf courses, rather than being sent to our local landfill for disposal as waste.
---
Notable Examples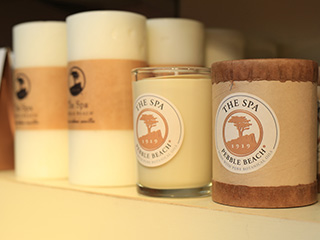 The Spa at Pebble Beach is a member of the Green Spa Network. The Spa offers an array of "green" products, including organic facial products, organic massage oils and essential oils. Additionally, recycled paper, paper towels and tissue paper, biodegradable cups and green cleaning products are used throughout the facility.
Some more subtle efforts are present behind the scenes. Motion sensors plus a timer system in the back room maximize the energy use efficiency of the lighting system. And to top it off, the old carpet was reused offsite.
Pebble Beach Resorts: Green On & Off the Course