Water Programs at Pebble Beach Resorts
Water has a starring role at Pebble Beach Resorts. In addition to enjoying magnificent ocean views, we have the need to keep our greens, well, green. That's why we go to great lengths to conserve and protect our water.
Water Conservation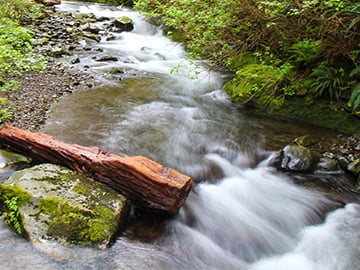 Pebble Beach Company (PBC) is the sole fiscal sponsor of a $67M Wastewater Reclamation Project, which converts locally generated wastewater to high-quality recycled water suitable for irrigating the world-renowned golf courses of the Del Monte Forest.
The Project provides reclaimed water to meet 100% of the irrigation needs of all of the golf courses in the Del Monte Forest (Pebble Beach Golf Links, Spyglass Hill Golf Course, The Links at Spanish Bay, Peter Hay Golf Course, Cypress Point, Monterey Peninsula Country Club and Poppy Hills), thus eliminating potable water usage—saving more than 7 billion gallons of potable water for our community to date!
In addition to using reclaimed water, our golf courses employ state-of-the-art Rain Bird Cirrus irrigation systems. The irrigation systems are equipped with computers and hand-held radio control. Watering is scheduled based on current evapotranspiration rates, soil probing and visual analysis, as well as current weather conditions.
These systems allow the maintenance crews to monitor course conditions in real-time and water on an as-needed basis, maximizing the efficiency of our irrigation program.
Guest rooms are equipped with low-flow showerheads, and guests have the option of participating in a linen change program that saves on water and energy.
---
Water Pollution Protection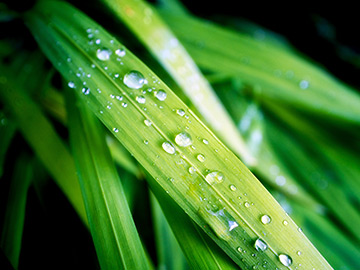 Pebble Beach Company maintains a robust storm water pollution prevention program and voluntarily participates as a cooperative entity under the Monterey Regional Stormwater Management Program.
We implement the same best management practices required of our neighboring cities, attending all meetings/workshops, conducting in-house training programs and contributing funds to the regional program. Storm drains are labeled with stainless steel signs, "No Dumping, Drains to Ocean."
PBC promotes proper chemical storage, handling and disposal practices to enhance safety and minimize the potential for any contamination. All of the golf facilities are equipped with state-of-the-art advanced Spill Containment Systems and Chemical Storage Buildings.
All pesticides, herbicides and fertilizers are mixed and loaded and all containers/applicators are washed in the "ESD Waste 2 Water" fully self-contained wash rack area, preventing runoff and protecting all storm drains. Wash water is recycled for continual use.
Pebble Beach Resorts: Green On & Off the Course