100 Fun Facts About the Last 100 Years at Pebble Beach (Part 1)
Did you know:
That no one wanted to buy the land where the current seventh or 18th holes at Pebble Beach are today?
That Jack Nicklaus had more painful moments than joyous ones in Majors on the 17th hole at Pebble Beach?
That the predecessor to The Tap Room was a jungle-themed bar with art of debaucherous drunken monkeys?
That there once was a high-speed road race on 17-Mile Drive?
That Pebble Beach also hosted a dog show?
The history of Pebble Beach is utterly fascinating and entertaining. In celebration of Pebble Beach's Centennial, we will be sharing 100 fun facts that have shaped Pebble Beach over the last 100 (or so) years.
Here are fun facts Nos. 1-25:
Part 2 (Nos. 26-50) | Part 3 (Nos. 51-75) | Part 4 (Nos. 76-100)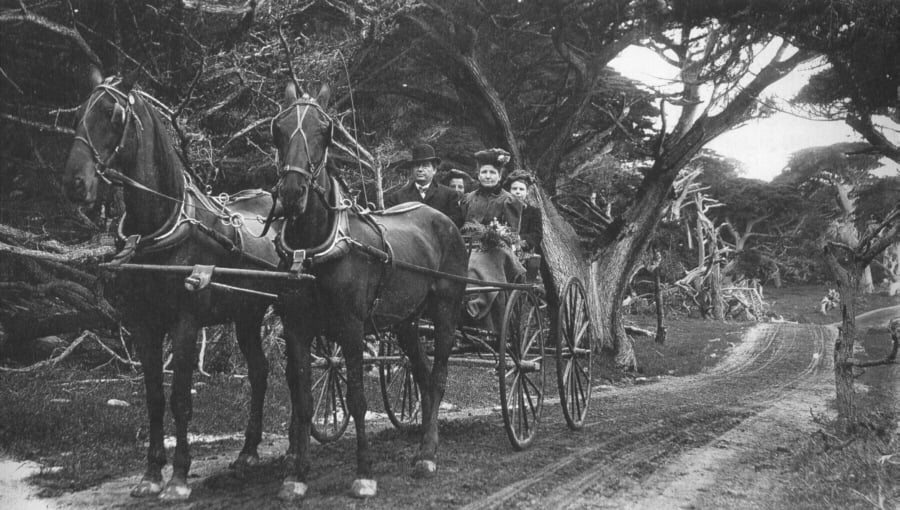 1. A MAN NAMED DAVID JACKS ONCE OWNED NEARLY EVERY PARCEL OF LAND ON THE MONTEREY PENINSULA. BUT THAT'S NOT WHY YOU MIGHT RECOGNIZE HIM. Ever ordered Monterey Jack cheese? While David Jacks didn't invent the cheese, he used his 14 dairy ranches and some clever marketing to attach his name to it. Soon customers were requesting the cheese that came from "Monterey Jack" — and the name stuck.
2. GOLF CAME TO MONTEREY AS AN AMENITY OF THE LUXURIOUS HOTEL DEL MONTE. Golf was just one of the many things to do for the rich and famous who rode the Del Monte Express to Monterey from San Francisco. Activities ranged from billiards and bowling to stables, a race track and a polo field. Del Monte Golf Course opened as another activity in 1897. Activities eventually expanded to hunting camps in Carmel Valley, and a lavish bathhouse on the shores of the Monterey Bay. A casino was even planned, but it was never built.
3.THE DEL MONTE FOODS BRAND WAS NAMED AFTER HOTEL DEL MONTE. Since Del Monte was associated with luxury, the name was licensed for a premium blend of coffee. Today, Del Monte Foods generates $1.8 billion in annual sales.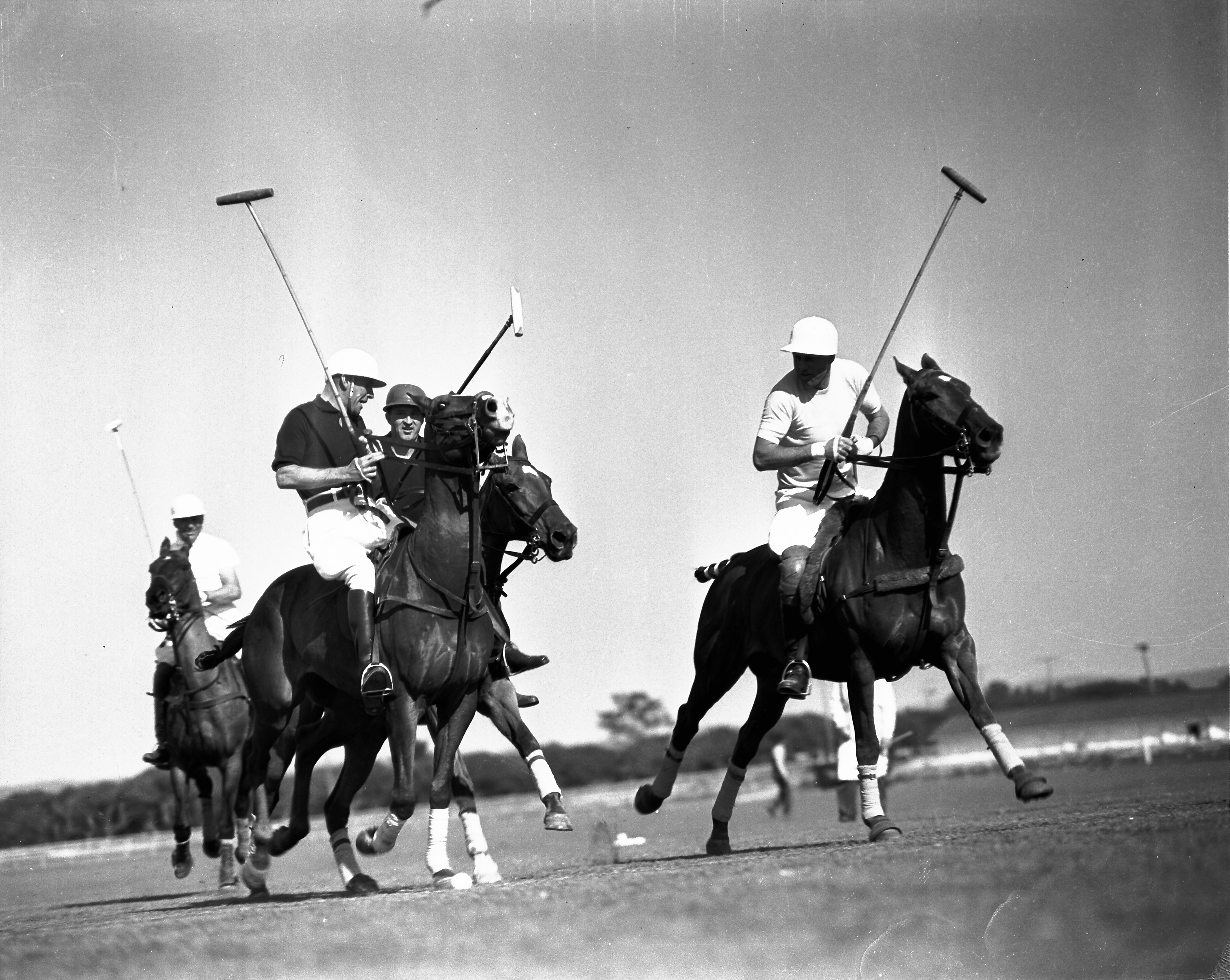 4. PEBBLE BEACH FOUNDER SAMUEL F.B. MORSE PREFERRED POLO TO GOLF. The former All-American football player at Yale — as well as the grand-nephew of the telegraph inventor — ran the Del Monte Polo club in 1915 before establishing the Pebble Beach Equestrian Center in 1924. A polo field that doubled as an early airfield was also located where the current Pebble Beach Golf Academy and Practice Facility resides.
5. HOTEL DEL MONTE BEGAN ATTRACTING CELEBRITIES TO MONTEREY AS SOON AS IT OPENED IN 1880. U.S. Presidents vacationed at the luxurious Hotel Del Monte in Monterey beginning in the late 19th Century. While still President, Roosevelt wrote to his family about the marvels of riding 17-Mile Drive by horseback in 1903. More than a dozen Presidents have visited Pebble Beach over the years.
6. 17-MILE DRIVE HAS ALWAYS BEEN 17 MILES. The scenic drive through Pebble Beach opened in 1881 as a 17-mile tour around the Monterey Peninsula in 1881. It launched from Hotel Del Monte, circled the coastline of Pacific Grove, Pebble Beach and Carmel, before returning to Monterey. While the route has changed — it is now entirely inside the Del Monte Forest — the scenic tour is still a 17-mile drive today.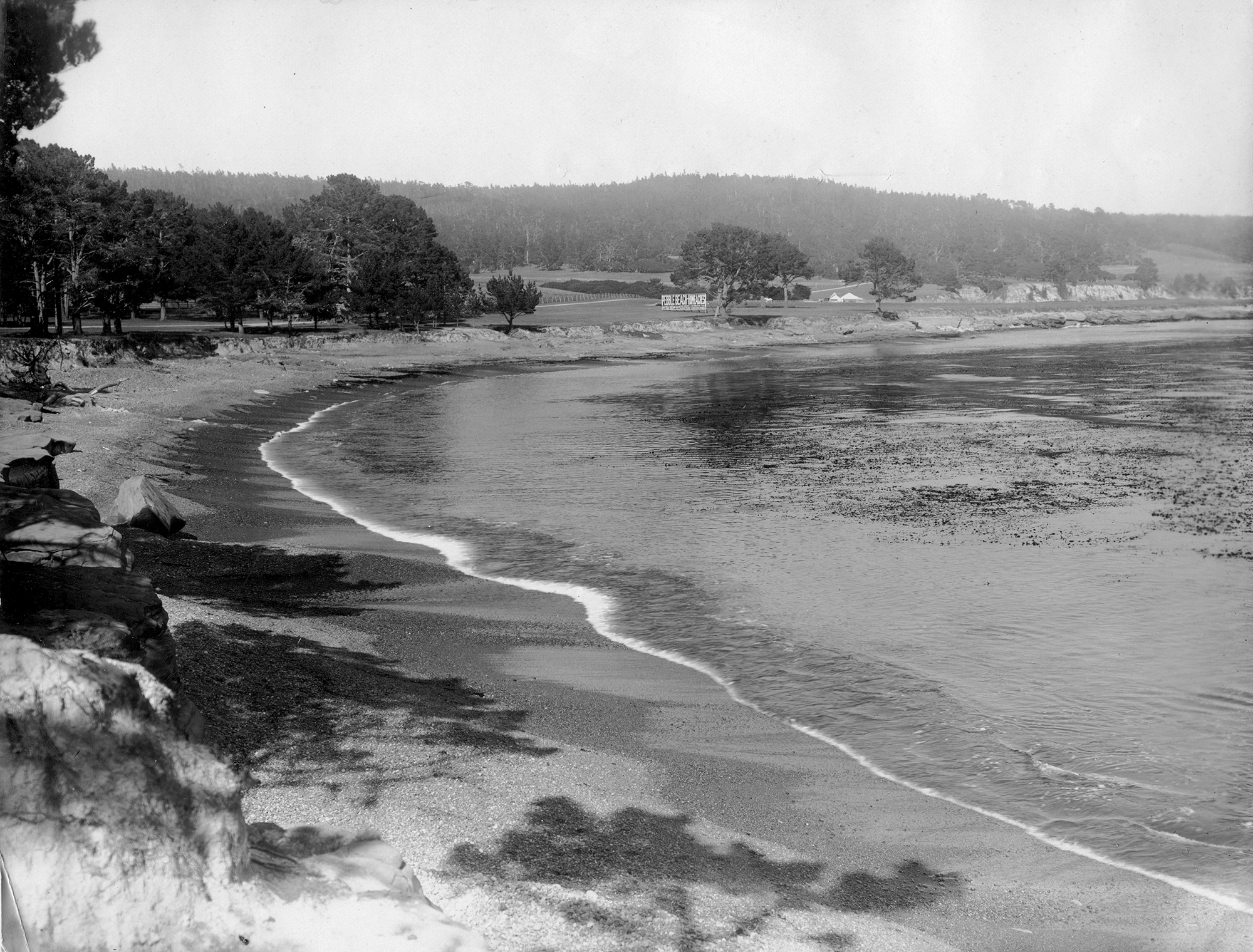 7. THIS WAS PEBBLE BEACH BEFORE IT WAS A GOLF COURSE. The area and the golf course earned the name Pebble Beach from this rocky, pebbly beach. Today it is the location of the 18th hole, although some 20 feet of shoreline has eroded in the last 100 years. A seawall constructed ahead of the 2000 U.S. Open now combats the threat of erosion.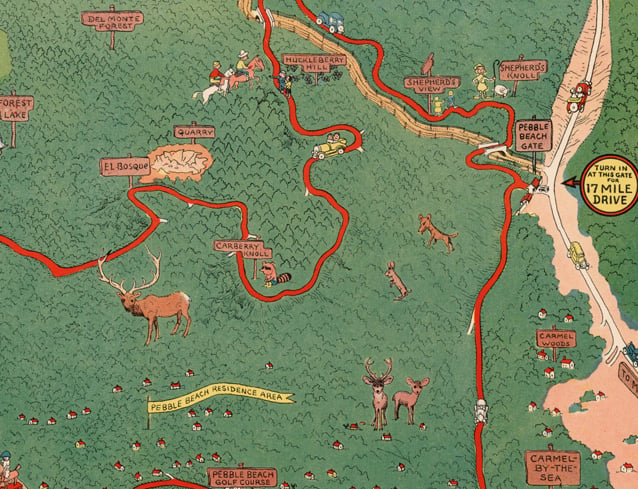 8. THERE AREN'T ANY SHEEP AT SHEPHERD'S KNOLL. A typo on a 1929 map — complete with an illustrated sheep — turned this stop from Shepard's Knoll to Shepherd's Knoll. This unique elevated view looking down on the Monterey Bay was named after railroad man Abraham D. Shepard, who also built the upper scenic route on 17-Mile Drive in the forest.
9. HUCKLEBERRY HILL WAS A HAVEN FOR NOVELISTS. The huckleberry-filled hills, which have been set aside as permanently preserved forest, were rumored to have been frequented by writers Robert Louis Stevenson and John Steinbeck.
10. SPANISH BAY BEACH WAS FOUND BY LOST EXPLORERS. Spanish Explorers camped out here in 1769, trying to find the Monterey Bay — based on a description made in 1602. It took the Explorers a year to find the Monterey Bay, but this beautiful beach was named after their early visit.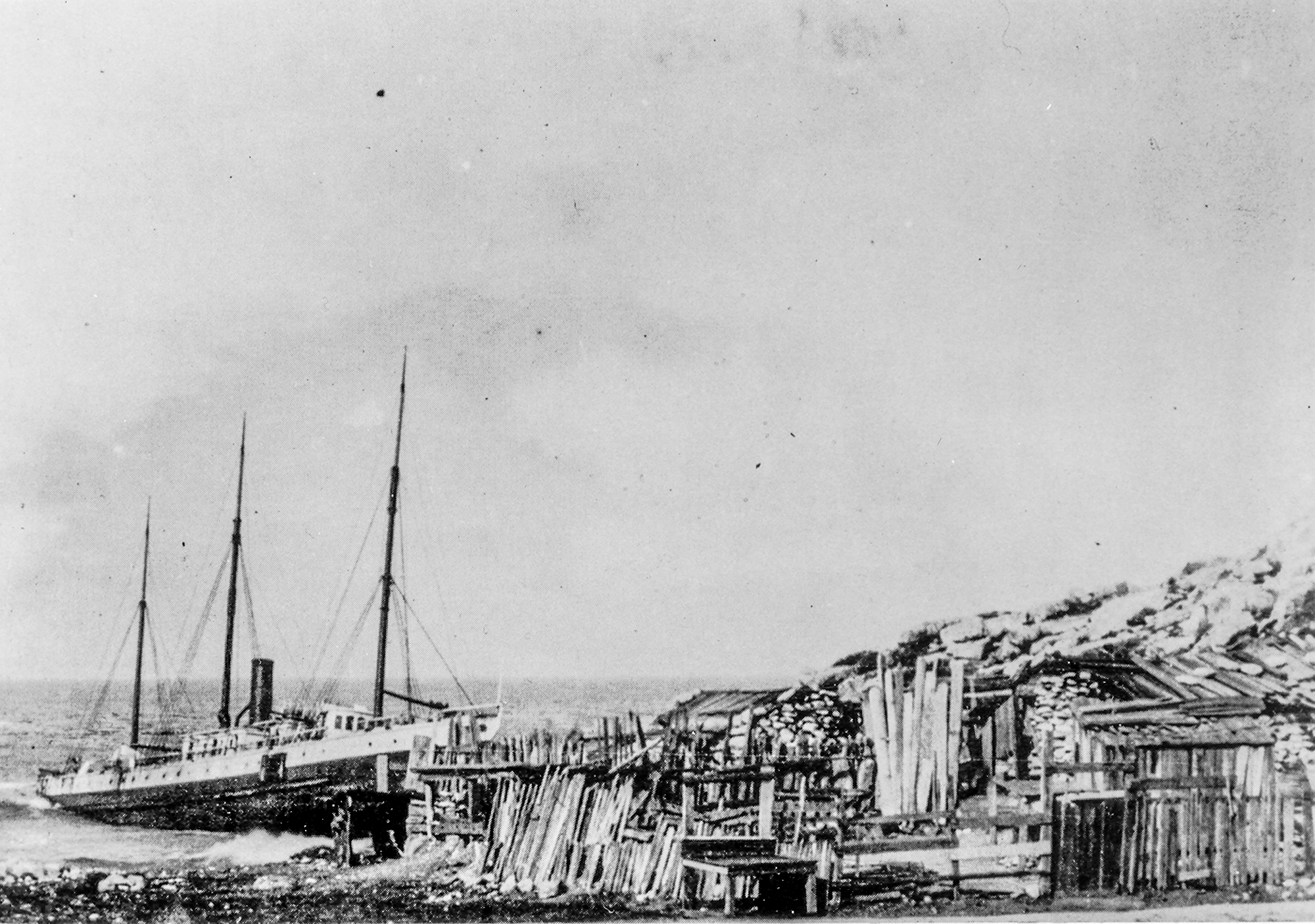 11. PYRAMID POINT WAS RENAMED AFTER A MAN WHO LIVED IN A DRIFTWOOD HUT. Early mariners mistook Pyramid Point as the entrance to Monterey Bay, making it the site of many shipwrecks. Don't recognize the name? A man named Joe lived in a driftwood hut here during the early 1900s, selling trinkets to tourists and tending goats. His presence was so well known that the area was renamed from Pyramid Point to Point Joe.
12. SEA LIONS TOOK OVER BIRD ROCK. Bird Rock was actually covered in 4 to 5 feet of pelican and cormorant guano until 1930, when it was harvested as a fertilizer. Sea lions took advantage of the cleaned-off perch, and have been sun-bathing there ever since.
13. FANSHELL BEACH IS THE FIRST HOME OF HARBOR SEALS. Fanshell Beach is one of the primary pupping habitats for Harbor Seals on the Central Coast. Sections of the coastline are closed from April to June to protect the young families.
14. CROCKER GROVE IS HOME TO THE LARGEST AND OLDEST MONTEREY CYPRESS IN EXISTENCE. It is named after Charles Crocker, the railroad baron responsible for building the luxurious Hotel Del Monte in Monterey, as well as the original 17-Mile Drive in 1881.
15. PEBBLE BEACH CONTAINS ONE OF ONLY TWO NATIVE MONTEREY CYPRESS FORESTS IN THE WORLD. The other is across Carmel Bay at Point Lobos State Park.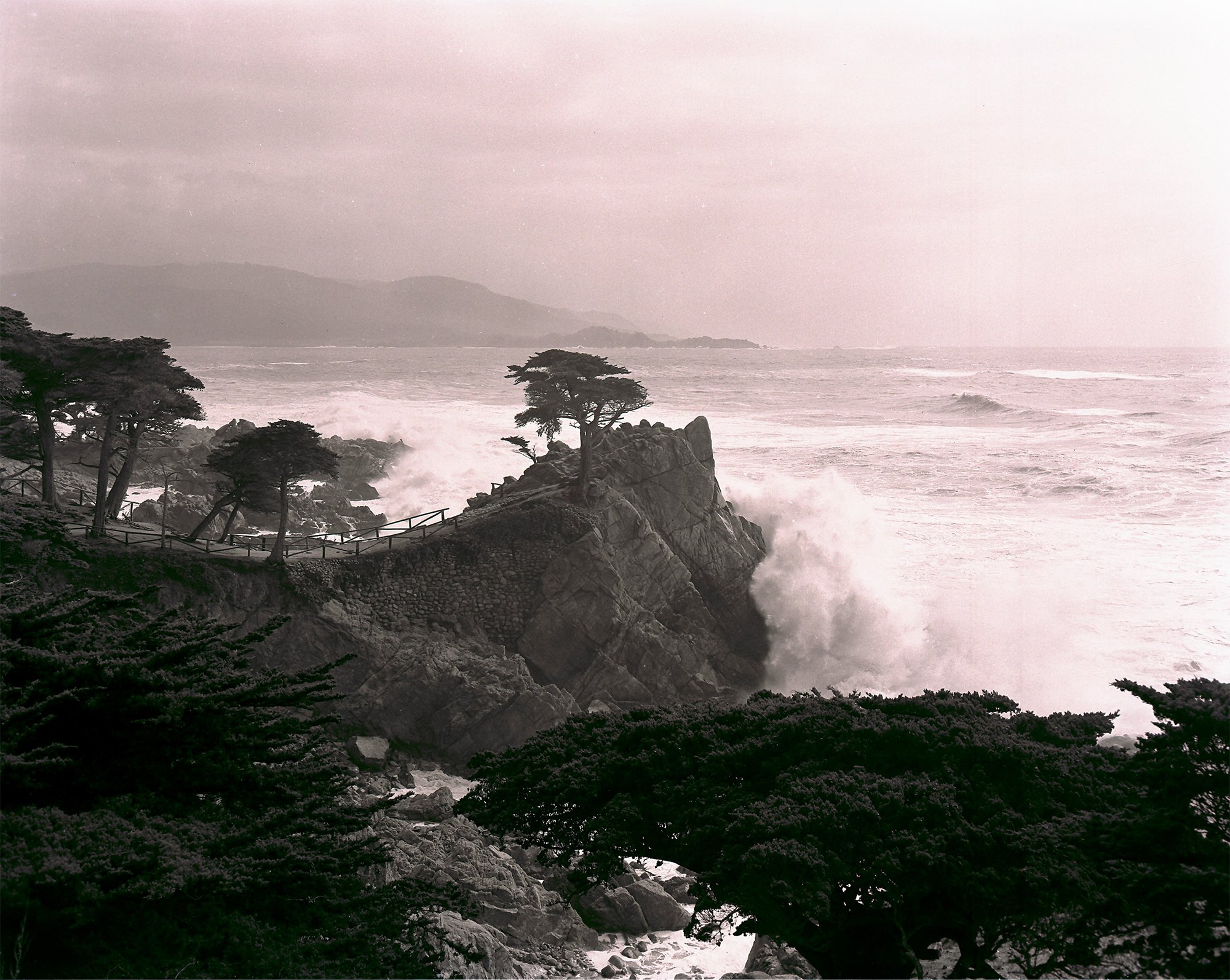 16. THE LONE CYPRESS HAS BEEN A LANDMARK FOR CENTURIES. Known as Midway Point on the original 17-Mile Drive, this iconic tree has been the logo for Pebble Beach Resorts since its founding in 1919. While it has been visited by travelers via 17-Mile Drive for the last 130 years, it is estimated to be twice as old.
17. GHOST TREES AT PESCADERO POINT IS SPOOKY SURF SPOT.  Aside from harboring some spooky ghost trees — including the original Ghost Tree next to the tour-stop sign — this location is also a legendary Big Wave surf spot, with swells approaching 50 feet in the right winter conditions.
18. GHOST TREES AT PESCADERO POINT IS ALSO SPOOKY AT NIGHT: Legend has it that a "Lady in Lace" walks down the center of the 17-Mile Drive near Ghost Trees at Pescadero Point. She then floats over the boulders along the cliff and disappears into the Pacific Ocean. A couple was so unnerved by a 1997 nighttime sighting that they drove straight to Monterey to file a police report.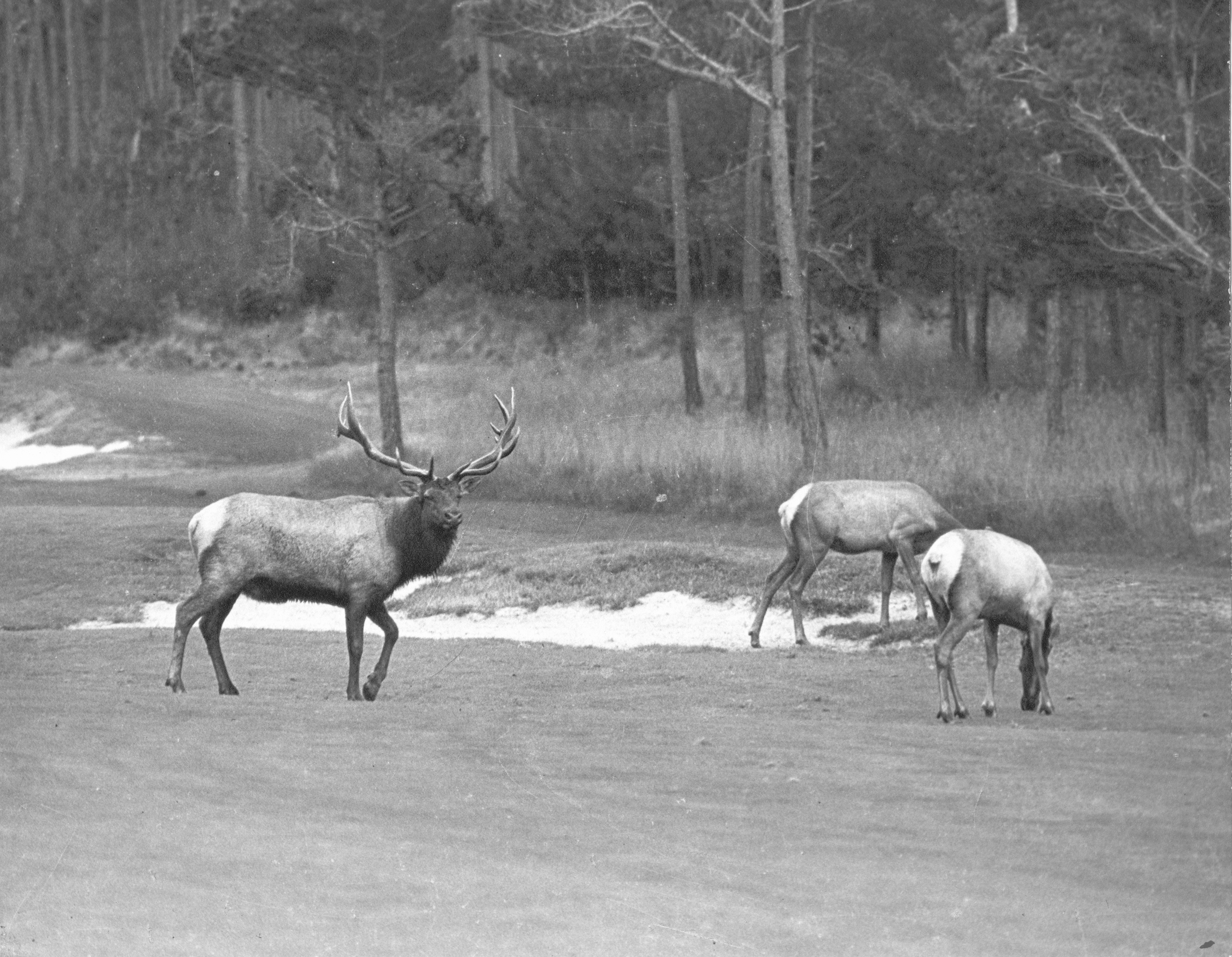 19. THERE WERE ELK IN PEBBLE BEACH: A herd of Tule Elk once roamed Del Monte Forest, as this photo from 1935 shows. Many were sent to William Randolph Hearst's San Simeon ranch, while a few more moved to Golden Gate Park.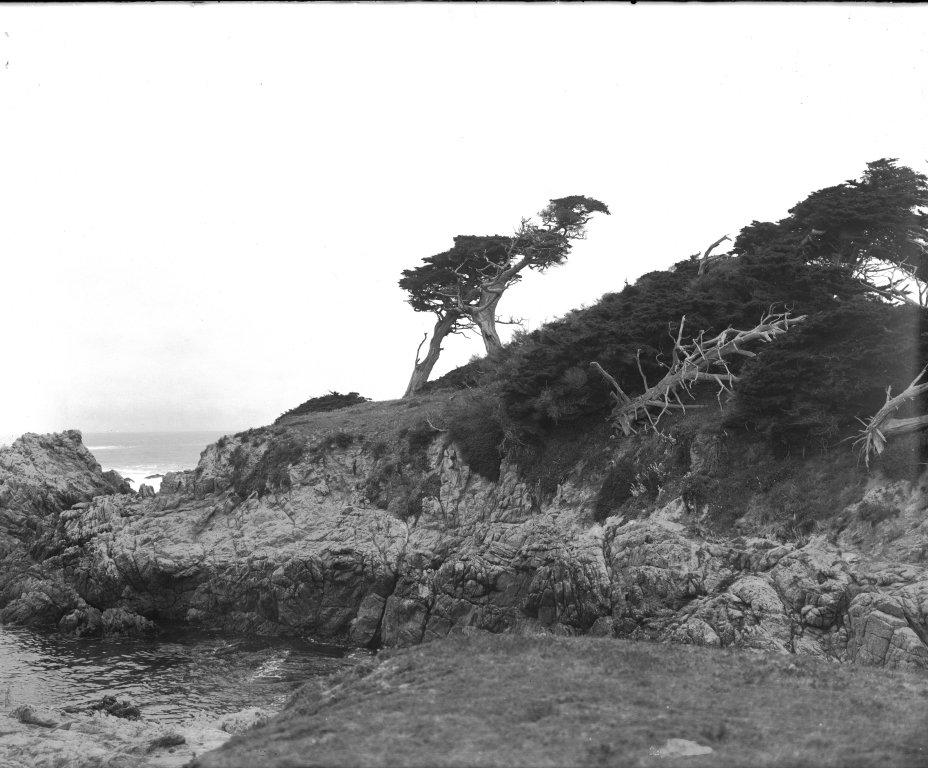 20. THERE ALSO WAS AN OSTRICH…TREE. A 1906 storm sadly blew over this unique pairing of Monterey Cypress that grew together near Cypress Point.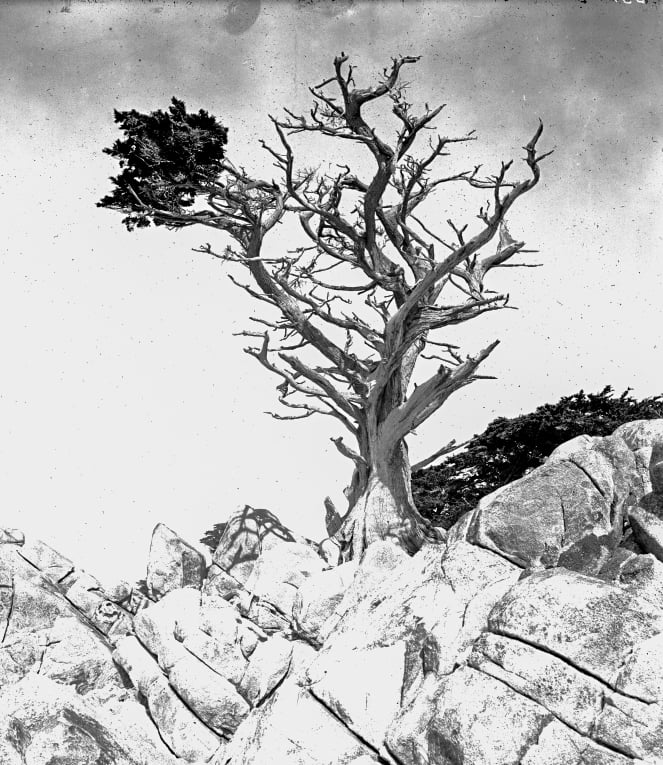 21. GHOST TREES HAD A WITCH TREE, TOO. From the right angle, the final bit of green growth resembled a witch riding a broom, earning the tree its nickname along Pescadero Point. The Witch Tree was lost to a storm in 1964.
22. THE MONTEREY BAY IS A HOTBED FOR WHALE WATCHING. With a unique and cavernous 2-mile deep underwater canyon that is ripe with plankton and algae, the Monterey Bay attracts whales throughout the year. December through March is prime time for California Gray Whales, while April to December is peak season for Humpback Whales and Blue Whales. You can often spot them migrating beyond Bird Rock, and occasionally near Stillwater Cove.
23. THERE WERE ONCE JUST 50 CALIFORNIA SEA OTTERS. The endangered California Sea Otter hangs out off the 18th hole of Pebble Beach Golf Links in Stillwater Cove. There were just 50 California Sea Otters in 1938, but today the population has rebounded to nearly 3,000.
24. THE PEBBLE BEACH EQUESTRIAN CENTER WAS GROUND ZERO FOR U.S. OLYMPIANS. The Pebble Beach Equestrian Center, which opened just five years after Pebble Beach Golf Links, hosted the U.S. team trials ahead of the 1960 Olympics.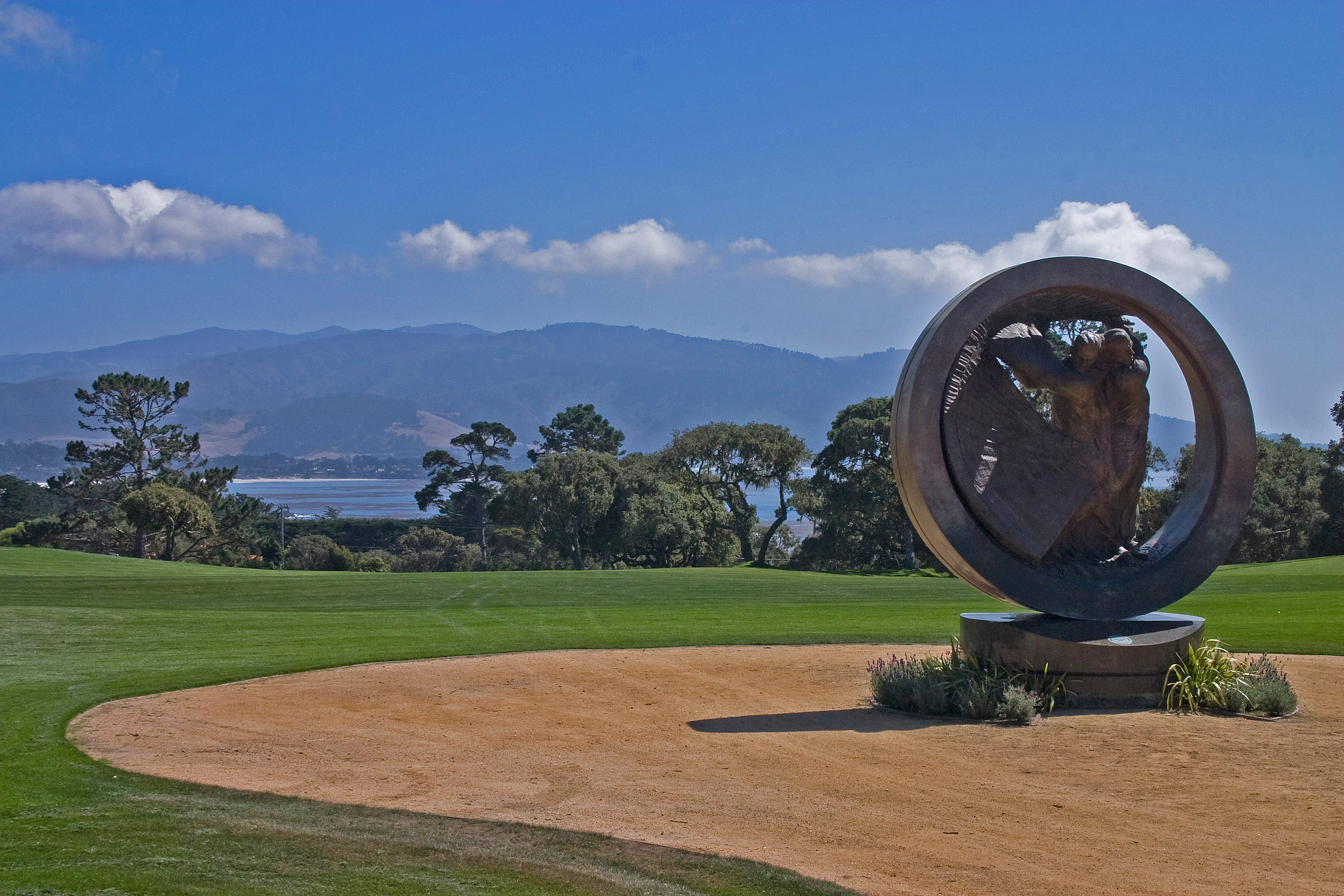 25. THE BRONZE STATUE COMMEMORATING THE 100TH U.S. OPEN WAS MODELED AFTER THE SWING OF FRANK LICKLITER. The Richard MacDonald statue, a 15-ton work of art capturing the perfect golf swing, was installed at the top of Peter Hay Golf Course for the 2000 U.S. Open. MacDonald also consulted with Pebble Beach Golf Academy Master Instructor Laird Small.
Part 2 (Nos. 26-50) | Part 3 (Nos. 51-75) | Part 4 (Nos. 76-100)
---
Facebook Conversations
100 Fun Facts About the Last 100 Years at Pebble Beach (Part 1)