Pebble Beach Golf Links hosted its sixth U.S. Open this year, but that's not the only Major championship that has been staged here. As we celebrate the history of tournament golf this September during our Centennial Year, we're remembering the 1977 PGA Championship, a historic event that cemented Pebble Beach's pedigree as a worthy Major venue.
The 1977 PGA Championship came right on the heels of Pebble Beach's first professional Major — the 1972 U.S. Open. And just like that one, Pebble Beach delivered the drama. Here's a look back at five fun facts about the 1977 PGA Championship:
1. It Was the First Sudden-Death Playoff in Major Championship History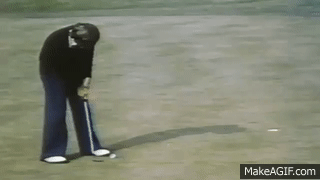 Lanny Wadkins was fresh off a birdie on No. 18 to take the clubhouse lead at 6-under. As he waited to see whether wire-to-wire leader and future World Golf Hall of Famer Gene Littler would birdie the last hole to win, or par it to force a playoff, Wadkins grabbed a beer.
"Well I'm about halfway through a beer and they tell me, 'If there's a playoff it happens right now,'" Wadkins recalled. "So I had to get focused in a hurry."
Littler made par to force the first sudden-death playoff in Major championship history. (The format switched from an 18-hole playoff to sudden death that year. The PGA Championship is now a three-hole aggregate playoff, but the Masters uses sudden death.)