What to Know About Each Major Hosted at Pebble Beach
Just 10 years after Pebble Beach Golf Links was shaped along the breath-taking bluffs above Stillwater Cove and Carmel Bay, it hosted its first Major Championship — the 1929 U.S. Amateur.
As of 2019, Pebble Beach Golf Links Centennial Year, the course has hosted 12 Major Championships:
6 U.S. Opens (1972, 1982, 1992, 2000, 2010, 2019)
3 U.S. Amateurs (1929, 1947, 1961)
2 U.S. Women's Amateurs (1940, 1948)
1 PGA Championship (1977)
Here's a fun summary highlighting the 12 championships that have been hosted at Pebble Beach so far:
1929 U.S. Amateur
Fresh off winning the U.S. Open at Winged Foot, Bobby Jones was attempting to capture a record third straight U.S. Amateur when he came to Pebble Beach in 1929. After shooting 70-75 to tie for medalist honors, Jones was upset in the first round of match-play, 1-up, by Johnny Goodman, a caddie from Omaha who shot just 77-80 to qualify. (Jones also shot the better score that day, 75 to Goodman's 76.)
While the upset was historic, Goodman was no slouch. He remains the last amateur to win the U.S. Open, capturing the title in 1933. Goodman would also win the U.S. Amateur in 1937, but it was Harrison Johnston who was crowned champion at Pebble Beach in 1929.
1940 U.S. Women's Amateur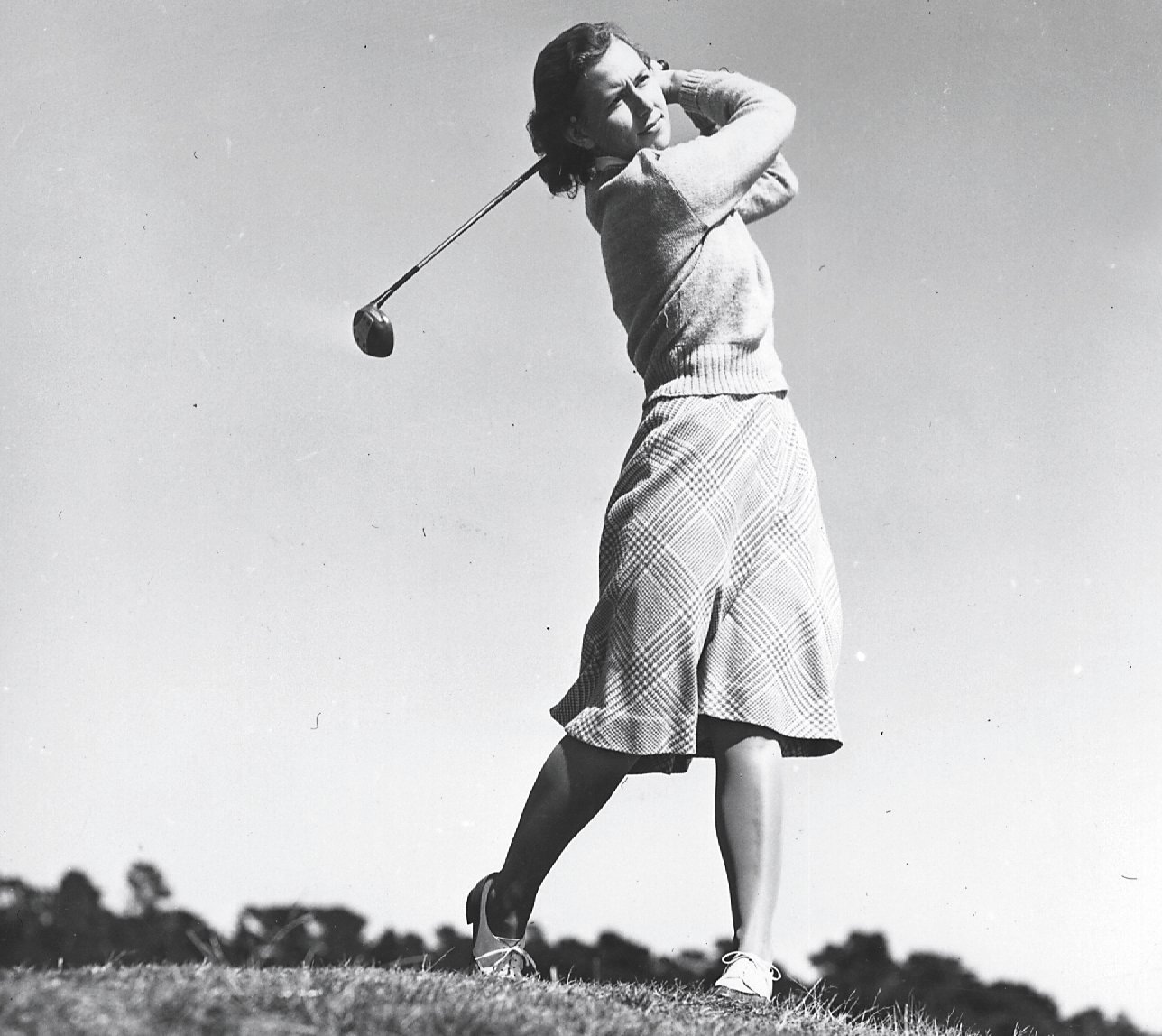 This time, the defending champion won. Betty Jameson played her final match in just 5-over through 31 holes, clinching her second straight U.S. Women's Amateur with a 6-and-5 victory. Jameson became one of the 13 founding members of the LPGA Tour and went on to win three Majors, including the 1947 U.S. Women's Open.
1947 U.S. Amateur
The USGA was originally scheduled to return to Pebble Beach in 1942, but the championship was postponed from 1942-1945 during World War II. When the tournament returned to Pebble Beach, there was no medal play — just a brawny 210-player match play bracket.
A 32-year-old named Skee Riegel ultimately emerged victorious, even though he hadn't picked up golf until the age of 23. The championship was so successful, USGA President Charles Littlefield proclaimed, "If I was going to be president of the USGA any longer, I'd hold them all here. This is the grandest place to hold a golf tournament I've ever seen."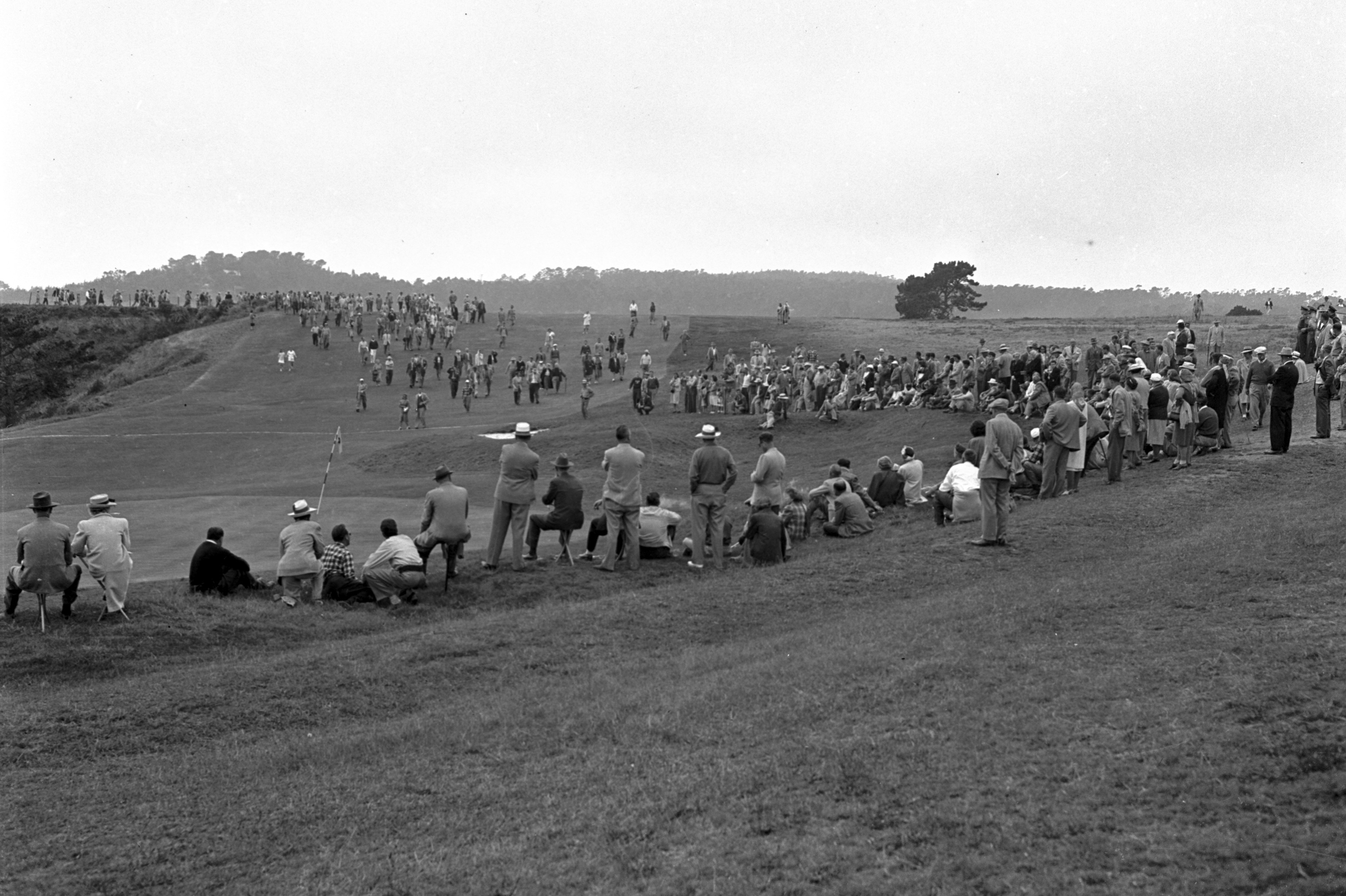 "
If I was going to be president of the USGA any longer, I'd hold them all here. This is the grandest place to hold a golf tournament I've ever seen.
"
Just two years earlier, the USGA created the U.S. Women's Open, prompting a wave of players to turn pro, including previous U.S. Women's Amateur champions and LPGA Tour founders Babe Zaharias, Patty Berg, Louise Suggs and Jameson.
Warning
: Division by zero in
/htdocs_20190130/content/themes/verb-base/acf-flexible-templates/large_image_block.php
on line
55
With only two past champions in the field, a 21-year-old junior from John B. Stetson University named Grace Lenczyk capped an incredible year by capturing the U.S. Women's Amateur. Lenczyk also claimed the Canadian Women's Amateur, National Collegiate Women's Championship, and played for the winning Curtis Cup team in 1948.
1961 U.S. Amateur
"I fell in love with Pebble Beach the moment I set foot there to prepare for the 1961 U.S. Amateur," says Jack Nicklaus.
Those feelings led to inspired play, as Nicklaus steamrolled the field, winning his semifinals match 9-and-8, and the finals 8-and-6. Nicklaus was 20-under through 136 holes in the seven matches he played, sinking 34 birdies and an eagle against just 16 bogeys. It was the first of five wins Nicklaus would claim at Pebble Beach (1967, 1972, 1973 Bing Crosby Pro-Ams; 1972 U.S. Open).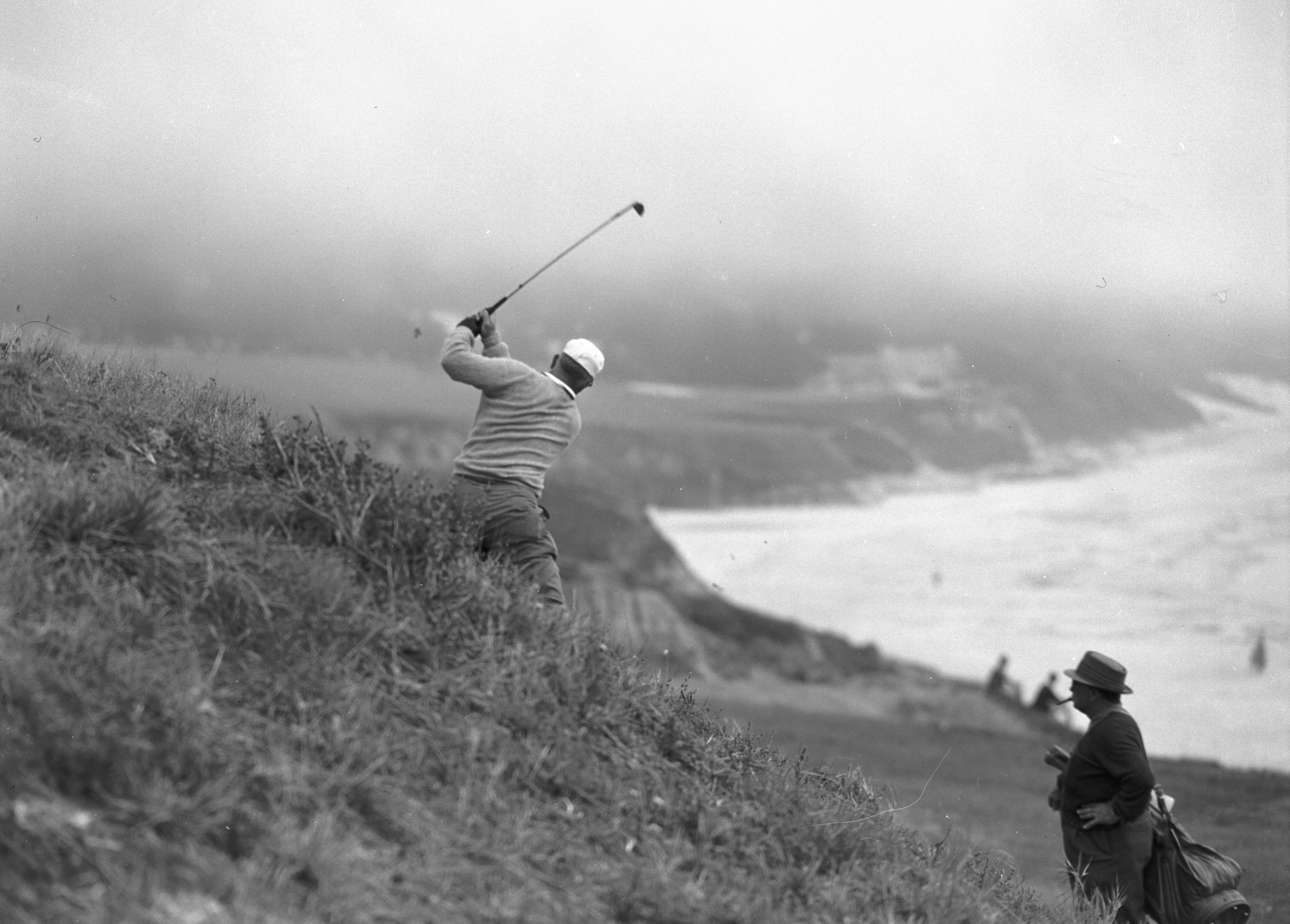 "
I fell in love with Pebble Beach the moment I set foot there to prepare for the 1961 U.S. Amateur.
"
1972 U.S. Open
The scoring average during the final round was a staggering 78.8 — the highest since World War II. Nicklaus led wire-to-wire, but in howling conditions that dried out the greens, his three-shot lead wasn't secure until he hit one of the most famous shots in golf — a 1-iron on No. 17 that short-hopped the flagstick for a tap-in birdie.
"The shot I performed, I don't think I could ever do again,"
remembers Nicklaus
. "I had a shot where the wind was howling from left to right and into my face. I didn't know if I could get it there or not. I laced a 1-iron and I was quite content to be in the front bunker."
The win was his 11th professional Major (tying Water Hagen), and 13th including his two U.S. Amateur titles (tying Bobby Jones).
1977 PGA Championship
For the first time in Major championship history, the winner was decided by a sudden-death playoff. Nicklaus had a chance to be a part of it but bogeyed the 17th hole to miss out by a shot. Lanny Wadkins began the final round six strokes off the lead but shot a 2-under 70 to catch Gene Littler, who closed with a 76.
The two both made pars on No. 1, and matching birdies on No. 2. Each then missed the green on No. 3, but only Wadkins was able to get up-and-down, holing a slick 4-footer to clinch the championship.
1982 U.S. Open
Tom Watson was tied for the final-round lead with Nicklaus as he stood over a chip-shot on No. 17 in bushy Kikuyu rough. Caddie Bruce Edwards encouraged Watson to get it close. Watson fired back, "I'm going to sink it." Watson did, and burst into an impromptu victory lap around the green.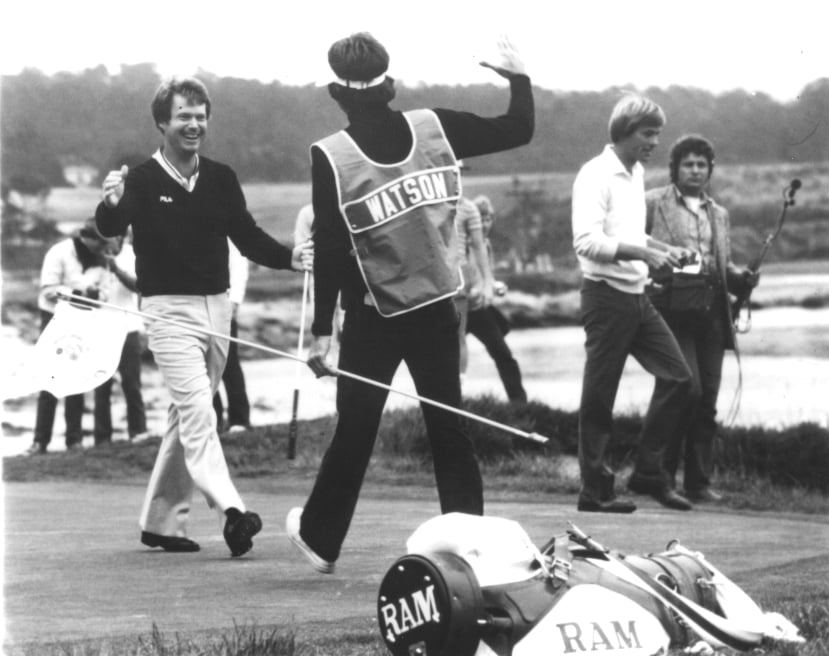 "
I'm going to sink it.
"
With Nicklaus already in the clubhouse, Watson only needed a par to clinch victory. But for good measure, Watson poured in a 20-foot birdie to win by two. "You're something else," Nicklaus told Watson behind the 18th green. "I'm really proud of you."
It was Watson's first U.S. Open title, robbing Nicklaus of a record fifth victory.
1992 U.S. Open
Before there was Tiger Woods at Pebble Beach, there was Gil Morgan. Through two rounds, Morgan sat at an unbelievable 9-under. "If Gil continues this level of play," said Raymond Floyd, "all records are going to be broken. But it's not likely."
Morgan reached a U.S. Open-record 12-under after three birdies in the first seven holes of his third round to take an incredible seven-shot lead, but then the wheels fell off. Morgan went 5-over his next three holes and shot a third-round 77 to cling to a one-shot lead. Morgan was then belted by 30 mph winds in the final round and shot a closing 81.
The scoring average for the final round was 77.3, the third-highest since World War II. That made Tom Kite's even-par 72, highlighted by a wind-shaped chip-in birdie on No. 7, all the more impressive. Kite's steady play gave him a four-shot lead with four holes to go, and he held on for a two-stroke windy win to capture his first Major.
2000 U.S. Open
Woods was ruthlessly dominant, tying or setting nine U.S. Open records – including the biggest lead after two rounds (six shots), three rounds (10 shots) and four rounds (15 shots). His play transcended eras, as the previous record for margin-of-victory at any Major was set during the American Civil War.
Woods did not three-putt all week, while one-putting 34 of the 72 greens. He played the first 22 holes without a bogey, as well as the final 26. He tied the all-time scoring record at a U.S. Open when nobody else in the field broke par. He also opened the tournament with a 65, the lowest score ever shot at Pebble Beach during a U.S. Open.
2010 U.S. Open
As the two-time defending champion of the AT&T Pebble Beach Pro-Am, a Dustin Johnson win seemed inevitable after three rounds of the U.S. Open. The stoic Johnson showed off his comfort level with Pebble Beach during a third-round 66 that included an eagle on No. 4, which he turned into a drivable par-4.
But Johnson's three-shot lead was completely erased just two holes into the final round when he carded a triple-bogey 7 on No. 2. He then double-bogeyed No. 3, hit his drive over the cliff on No. 4 for a bogey, and carded another bogey on No. 7. Johnson's free fall resulted in a final-round 82, the highest score by a 54-hole leader since 1911. "I felt sorry for him," said eventual champion Graeme McDowell.
With Johnson gone, the star-studded leaderboard included Woods, Ernie Els and Phil Mickelson. But none of them could keep up with McDowell, who shot a 3-over 74 to finish at even-par, one ahead of unheralded Frenchman Gregory Havret.
2019 U.S. Open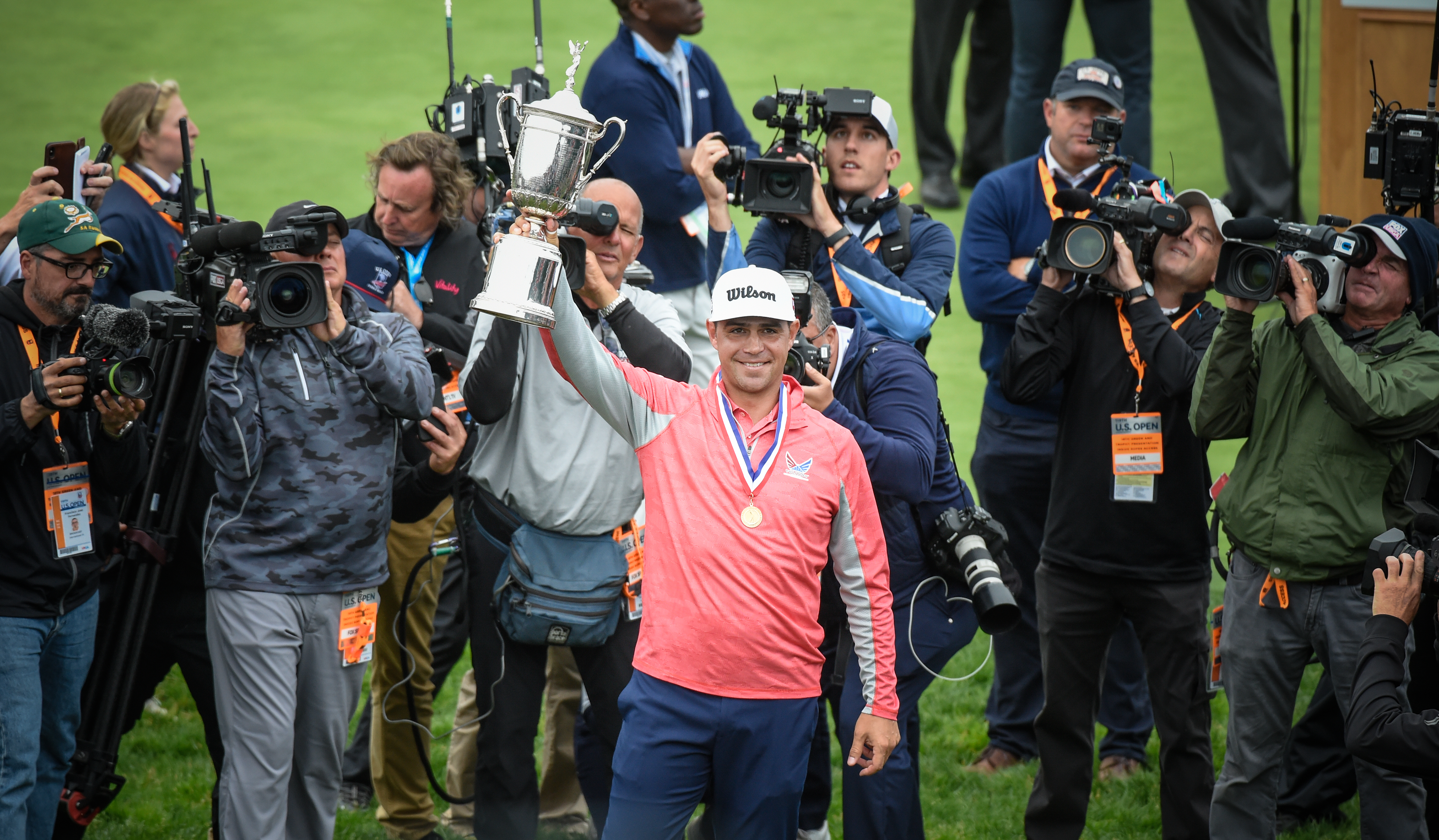 Gary Woodland delivers a memorable Sunday performance, including a daring 3-wood to set up a birdie on the 14th and an incredible par-saving pitch from the putting surface on the 17th, to hold off two-time defending champion Brooks Koepka and claim his first major. His birdie at the 18th to reach 13-under breaks the previous Pebble Beach U.S. Open scoring record set by Tiger Woods.
What's your favorite Pebble Beach Major memory?