It's been 40 years since pioneering celebrity chef Roy Yamaguchi birthed Hawaiian Fusion at his first restaurant in Honolulu.
"When I started Roy's I turned to the flavors I experienced as a kid, like teriyaki sauce," Roy says. "It was what my dad made at home that gave me the fundamentals for what I wanted to achieve. I was just cooking from my heart. I always enjoyed coming up with these different concoctions that brought together Asian and French elements, and our guests enjoyed eating them. I never thought this fusion was creating a movement."
One of Roy's signature dishes lives on at his Pebble Beach location: the Wood-Smoked Szechwan-Style Baby Back Pork Ribs.
"Baby back ribs are something I ate all my life. I always want them. My father used to marinate them with vinegar, butter, garlic powder, and salt, and I know it's what made me want to develop the wood-smoked, Szechuan-style ribs at Roy's."
Here's how you can make them at home!
View this post on Instagram
INGREDIENTS:
Szechuan Marinade
5 Tablespoons white miso (shiro miso)
2/3 cups hoisin sauce
1 ½ tablespoons minced ginger
1 ½ tablespoons minced garlic
1 ½ tablespoons sake
1 ½ tablespoons soy sauce
2 teaspoons sugar
1 tablespoon chile paste with garlic (preferably Lan Chi brand)
Ribs
2 ½ pounds baby back pork ribs
3 quarts Chicken Stock
1 tablespoon minced ginger
2 teaspoons minced garlic
2 tablespoons minced fresh parsley
2 tablespoons minced fresh cilantro
INSTRUCTIONS: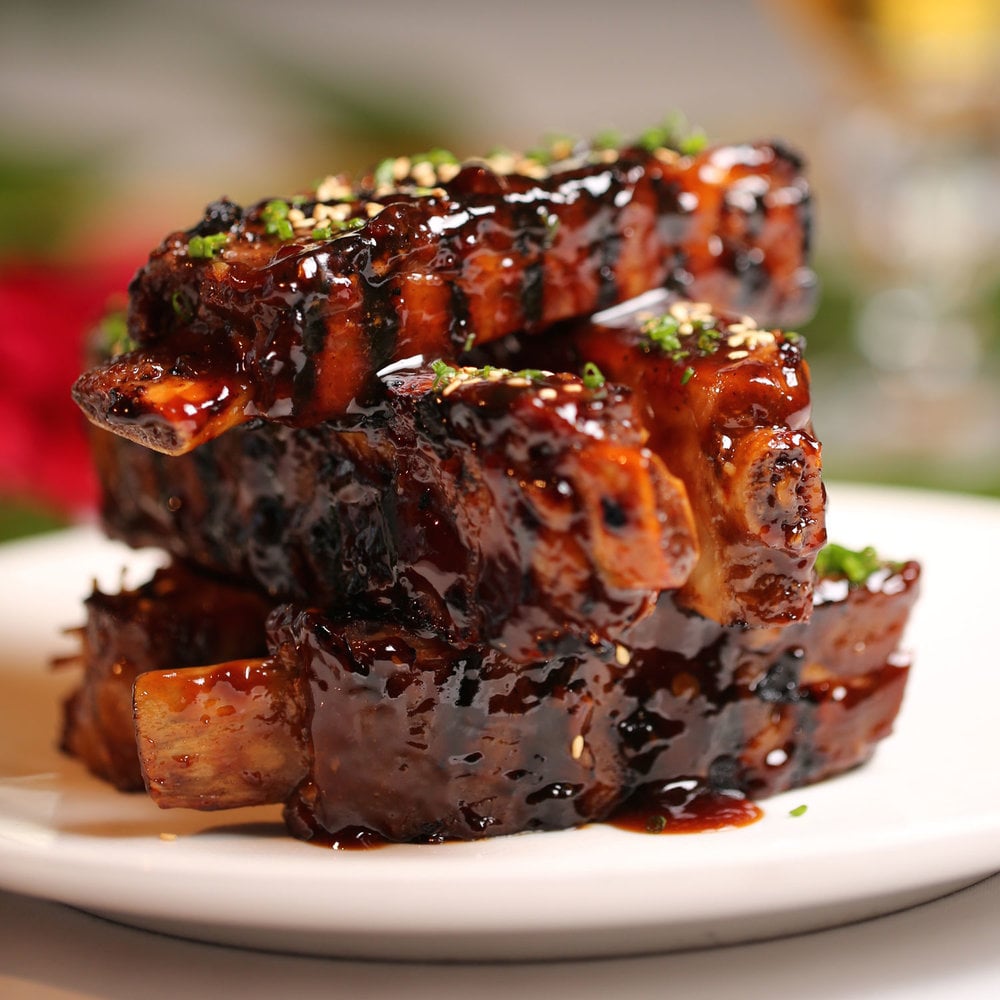 Combine the marinade ingredients together in a bowl and refrigerate overnight.
Place the pork ribs in a large saucepan with the Chicken Stock, ginger, garlic, parsley, and cilantro, and simmer for about 30 minutes, or until tender.
Remove the ribs, and reserve the broth for soup or freeze for another time. Immediately brush the ribs with the Szechwan marinade, and let cool. Meanwhile, prepare the grill and soak some kiawe or mesquite wood chips in water in preparation for smoking the ribs.
Brush the ribs again with the marinade before roasting, and slowly cook the ribs over the woods chips on a covered grill until nicely browned and smoky (about 15 to 20 minutes).
Serve with extra Szechwan marinade on the side.
Looking for more recipes from Roy? You can order his cookbook today, or meet Roy in person and pick one up on Sept. 30 at the annual Roy's Hawaiian Luau Brunch at Pebble Beach.
---
Facebook Conversations