Bring Out Your Inner Glow
From age-defying scrubs to blissful flotation wraps, The Spa at Pebble Beach features body treatments sure to revitalize, relax and rejuvenate.
*Pricing for Friday, Saturday, and Sunday.
Body Treatments
Papaya Pineapple Scrub
Invigorate and exfoliate with natural papaya and pineapple enzymes and finely crushed grape seeds that gently smooth your skin.
Sea Salt Scrub
Our most invigorating scrub combines mineral-rich sea salts with aromatherapy oils to deeply cleanse, exfoliate and soften the skin.
Cafe Menthe Scrub
Antioxidant-rich coffee beans, hydrating brown sugar and mineral-rich sea salt are blended with avocado and apricot kernel oils to detoxify and replenish the skin.  The scrub is blended with peppermint oil to awaken the senses and soothe sore muscles.
Wild Rose Scrub
Relax with a gentle exfoliation using clay, cornmeal, oats, and an application of Rose Body Oil.
Ocean Elements
Ocean-inspired relaxation begins with an invigorating dry brush followed by a seaweed body polish. Enjoy a soothing scalp or foot massage while wrapped in a detoxifying seaweed mud. To complete your treatment, indulge in an application of coconut oil and almond oil scented with the essence of coastal herbs and flowers.
The Palmero
Tropical relaxation begins with a coconut scrub to buff and soften your skin. Then, while wrapped in a nourishing, hydrating propolis wrap, warm oil is massaged deeply into your scalp. An application of kukui coconut moisturizer completes your total relaxation.
Wellness (Head to Toe)
Wellness starts with the skin, the largest organ of the body.  Exfoliation, circulation and hydration are the cornerstones of your skin's health.  Begin with a buff of your skin with a polishing sea salt scrub.  Purify and cleanse the back with a thermal clay mask and hydrate with a massage using a CBD, arnica and ginger shea butter cream.  Complete head to toe wellness with a hydrating facial sheet mask.
Flotation Wraps
Couples, friends or family can enjoy these services together. Our dry flotation beds allow the body to float freely in heated bliss. Perfect before a massage or after a scrub.
*Pricing for Friday, Saturday, and Sunday.
$205 | $215* for one person  •  $315 | $335* for two people  •  45 minutes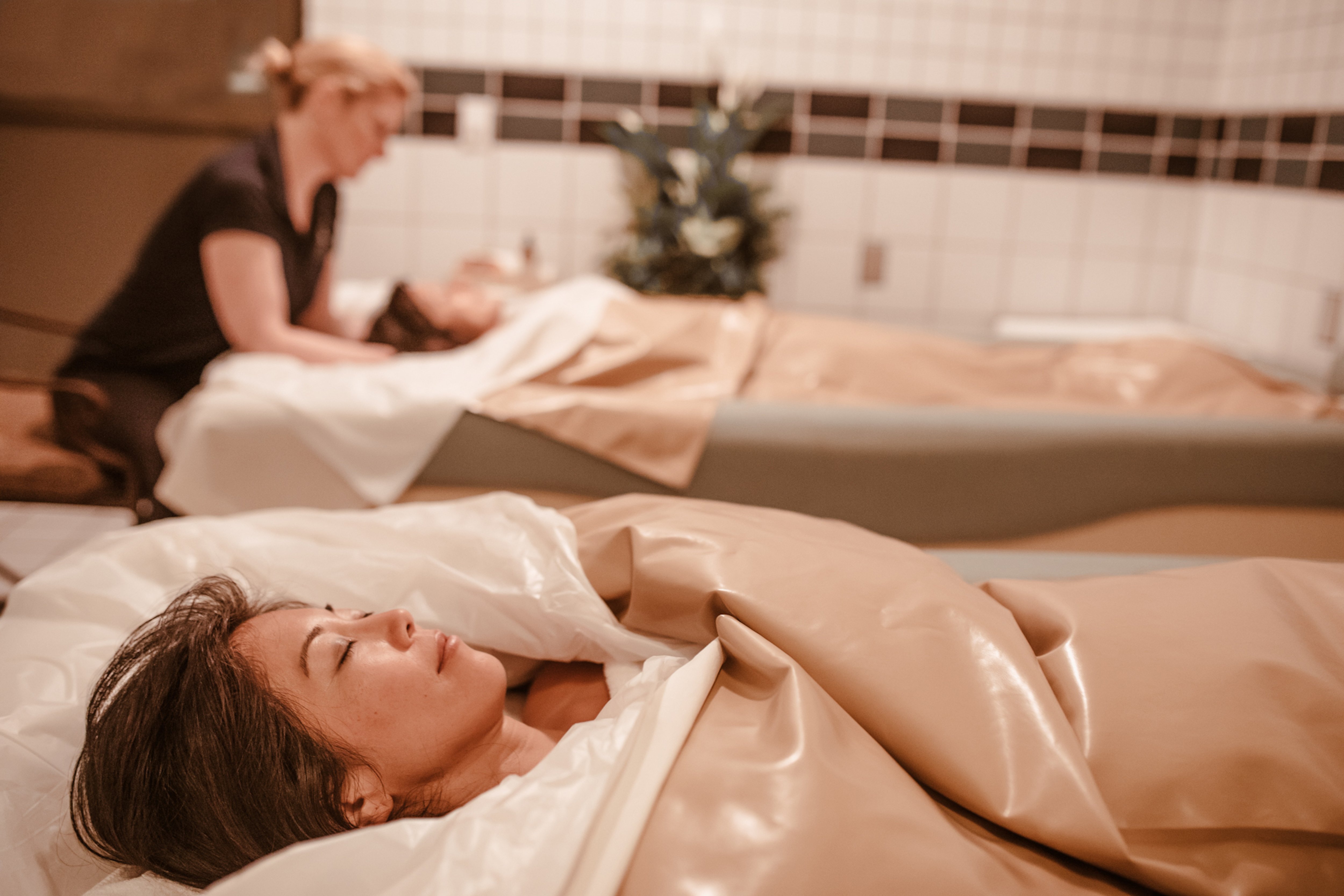 Cloud Nineteen Wrap
This wrap is heaven-on-earth for your skin—a seemingly magical formula that infuses your skin with moisture.
Espresso Limón Slimming Wrap
Enjoy a relaxing foot massage while wrapped in a blend of South American coffee oil, Italian lemons and Madagascan cinnamon. This treatment is both detoxifying and relaxing.
Restorative Nap or Guided Meditation
Rejuvenate your body and spirit with a restorative nap or guided meditation.  Must be booked in conjunction with a flotation wrap.
Experience The Spa at Pebble Beach
Located adjacent to Casa Palmero
1518 Cypress Drive, Pebble Beach, CA 93953