A Legacy of Champions
The Monterey Open Championship has a rich and storied history dating back to 1926, when it was won by "Light Horse" Harry Cooper in an event that included most of the top golfers in the nation—including the reigning U.S. Amateur George Von Elm, and 1927 Ryder Cup team members "Wild" Bill Melhorn, Joe Turnesa, Johnny Golden, Al Watrous, Johnny Farrell, Leo Diegel, and Al Espinosa.
The tournament missed a few years during the Great Depression, and again during WWII, but otherwise remained a popular annual event on the Del Monte Golf Course calendar. Following the WWII death of popular Monterey golfer Bud Brownell, the Bud Brownell Memorial Trophy was created by Jo Mora for engraving the names of future winners.
After a brief hiatus (the tournament was not played from 1997-2003), Del Monte Golf Course resumed the event in 2004.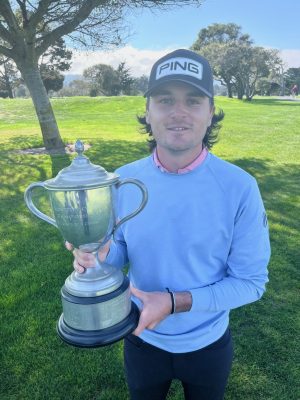 2022 Monterey Open Results
Congratulations to Kevin Velo of Danville, California, and the winner of the 2022 Monterey Open! It was an exciting final round and it came down to the final two holes for Velo to secure the win. Velo set a new three-day tournament scoring record of 195 (-21 under) defeating runner-up Tim Widing of Cambria, California, by one stroke. Velo claimed a check for $5,000 and earned a spot for the 2022 Pebble Beach TaylorMade Invitational in November.
Previous Championship Results