The U.S. Open is back! The U.S. Open returns to Pebble Beach for a sixth time in 2019 — the most of any course over the last 50 years — when we celebrate our Centennial.
As is tradition, the final round will once again be played on Father's Day, but thanks to a scheduling twist, the U.S. Open is now the third Major of the year. The PGA Championship — at New York's Bethpage Black — will be contested in May, setting up Majors in four straight months from April through July.
Here's what we're already thinking about after watching Brooks Koepka capture his second straight U.S. Open title, and then stare down Tiger Woods to win the PGA Championship.
5. WILL THERE BE A THREE-PEAT AT PEBBLE BEACH?
The defending U.S. Open champ was able to fly under the radar for the first half of 2018. Back-to-back last-place finishes in the Bahamas and Hawaii forced Koepka to confront a worsening left wrist injury. The remedy included treatment that kept Koepka away from tournament golf for nearly four months, forcing him to skip the Masters. A pair of 63s in May hinted that Koepka was close to regaining last year's form, but after opening his U.S. Open title defense with a 5-over 75, Koepka didn't even make the Notables page of The Golf Channel leaderboard.
Safe to say Koepka won't be discounted at Pebble Beach in 2019. Koepka became just the seventh player to defend his U.S. Open title, and could join a list even shorter next year. Only Willie Anderson (1903-05) has won three straight U.S. Opens, and that record is nearly as old as the championship itself.
Koepka has played here just once on the PGA TOUR, when he tied for eighth in the 2016 AT&T Pebble Beach Pro-Am.
4. HOW LOW CAN THEY GO?
There have now been six rounds of 63 shot in the U.S. Open. And after Tommy Fleetwood's heroics fell one-stroke shy of Koepka at Shinnecock, a 63 has been shot in each of the last two U.S. Opens. Could Pebble Beach be due for a 63 in 2019?
Tiger Woods established the Pebble Beach U.S. Open record with a first-round 6-under 65 in 2000 to set the pace during his historic 15-shot victory. Woods, Phil Mickelson and Dustin Johnson all exchanged 66s in 2010. The AT&T Pebble Beach Pro-Am record is a 62. Texas Tech golfer Hurly Long has everyone beat with an 11-under 61 during a college event in 2017.
3. WHAT WILL DJ DO?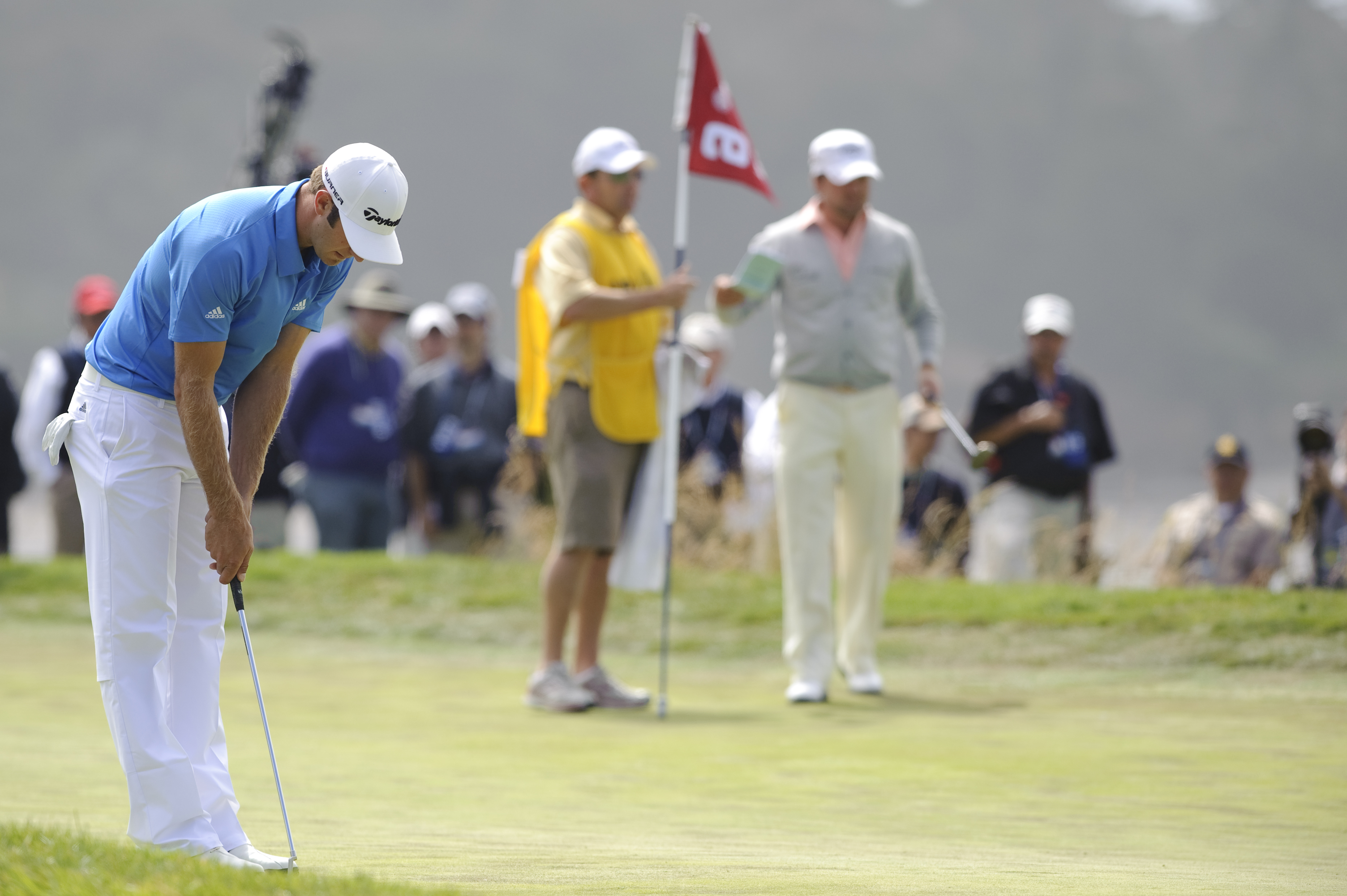 For three days in 2010, Johnson played brilliantly at Pebble Beach, building a three-shot lead while cruising to 6-under for the championship. The two-time AT&T Pebble Beach Pro-Am champion was on the verge of a career-boosting win. But then Johnson unraveled. His nightmarish final-round was symbolized by a cartoonish left-handed whiffed chip that led to a triple-bogey on the second hole, effectively throwing his lead into the ocean. Johnson closed with an 11-over 82, the highest score shot by a third-round leader since 1911.
Johnson will return to the site of the one that got away — he only needed a 5-over 76 to win — fresh off another one that got away. Johnson owned a four-shot lead after 36 holes at Shinnecock, and was still tied for first after three rounds, before ultimately losing by two. Will Johnson be doubly motivated to avenge both defeats at Pebble Beach? Johnson did impressively win his first U.S. Open at Oakmont in 2016, a year after three-putting the 72nd hole to lose by one at Chambers Bay.
In case you're curious, Johnson is the early betting favorite at 11-1.
2. WHAT WILL TIGER AND PHIL DO?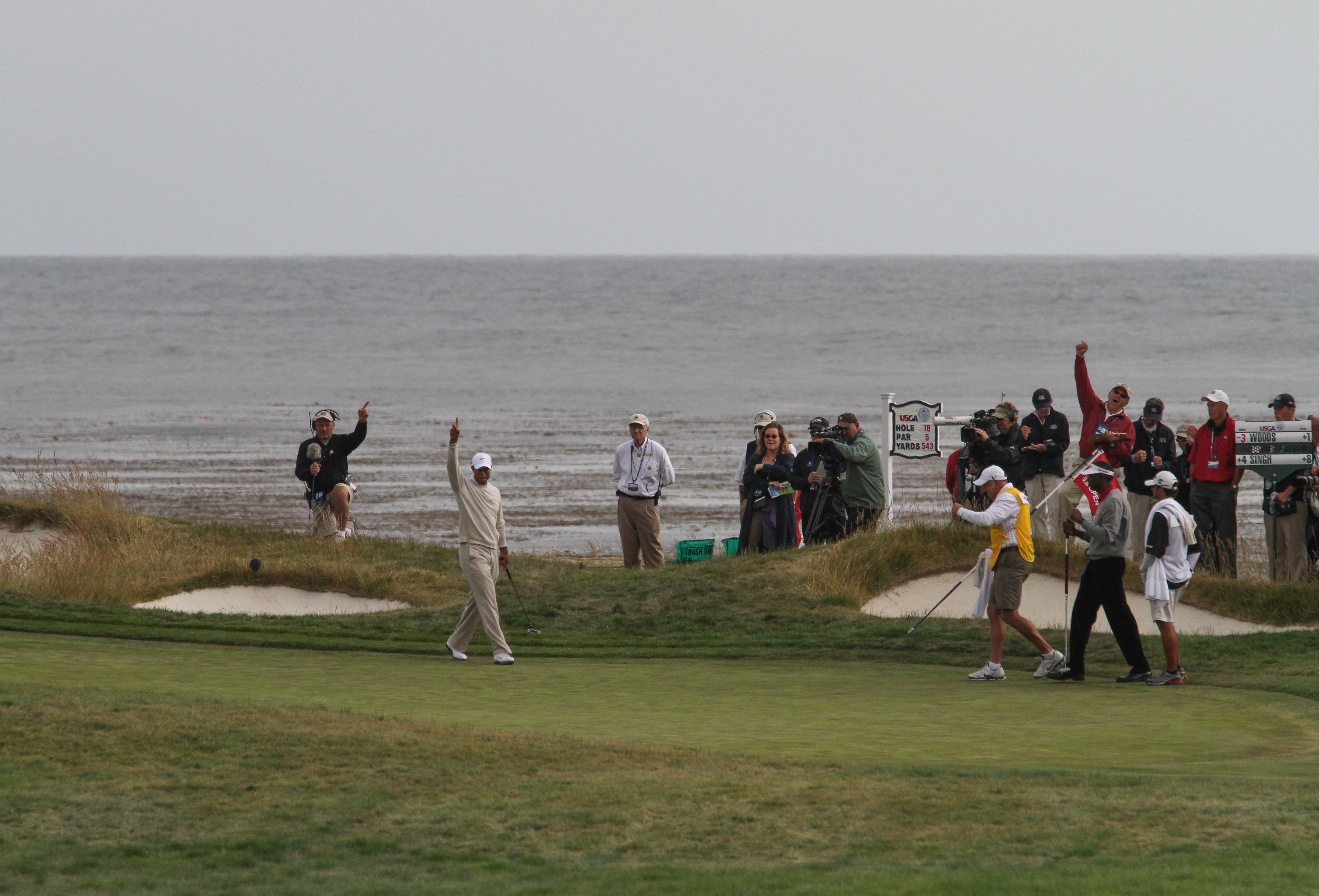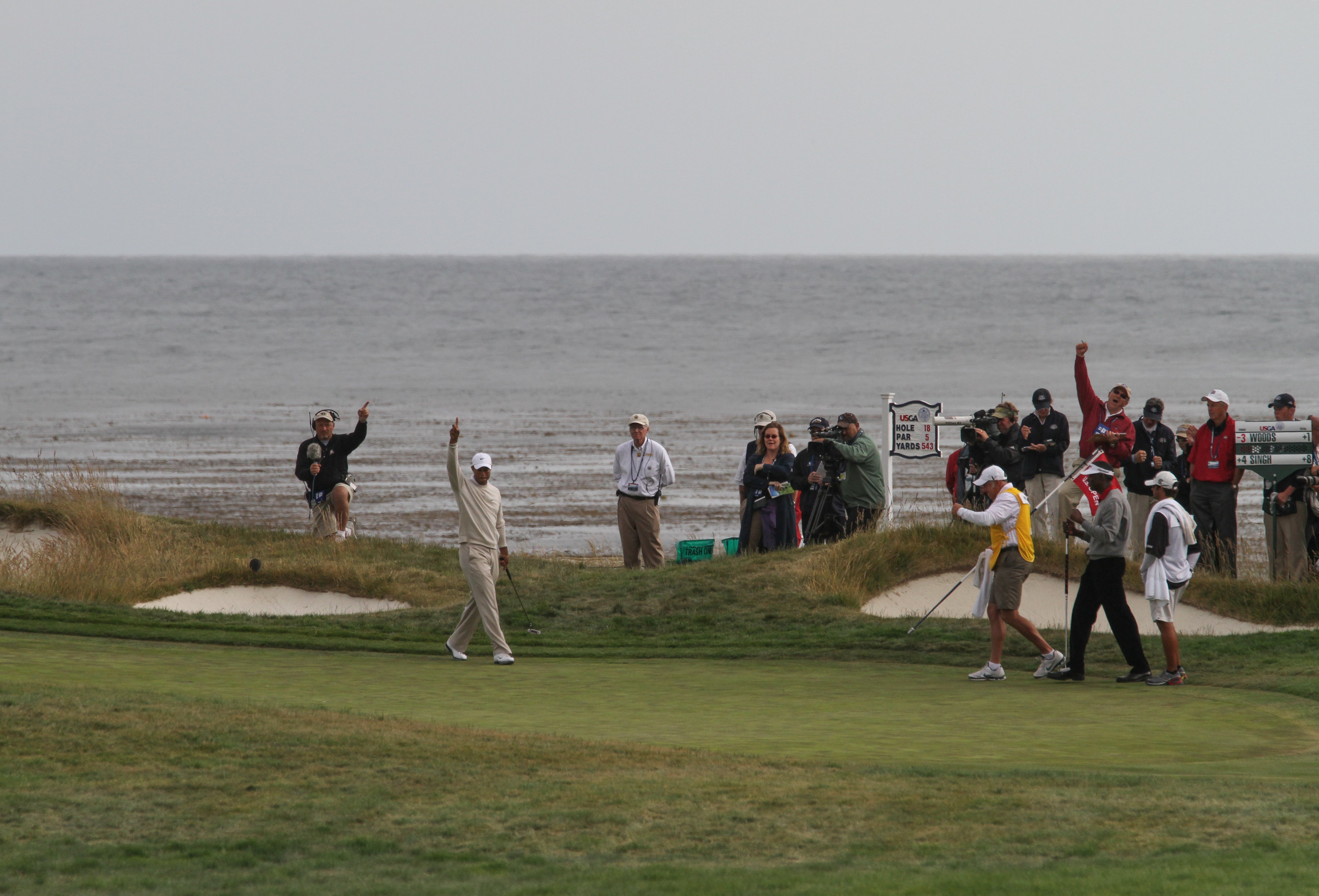 Phil Mickelson will turn 49 on Sunday of the 2019 U.S. Open. He's won every Major except this one. It's at Pebble Beach, the home of four of his PGA TOUR victories. A win would heal decades of U.S. Open heartbreak, including six runner-up finishes, a tie for fourth here in 2010, and whatever this was on the 13th green at Shinnecock. If you were to write a fairy tale ending for Mickelson, this would be it. The oldest U.S. Open winner was Hale Irwin at age 45.
Heading into this year's U.S. Open, Woods hadn't even locked up a spot in the 2019 field. His 10-year exemption for winning the 2008 U.S. Open at Torrey Pines was in danger of expiring at the end of the season. But then Woods channeled his past powers, nostalgically charging up the leaderboard at both the British Open and PGA Championships before falling just short of that elusive 15th Major. The excitement surrounding those two finishes was electric — and his win at the Tour Championship will surely fuel a full offseason of buildup.
That the 2019 U.S. Open will be played at Pebble Beach only adds to the intrigue. In 2000, Woods demolished the field in a performance for the ages. Second place was 3-over, roughly what we just saw at Shinnecock. Now imagine Koepka shooting 12-under instead of 1-over. That's what 2000 was like.
2010 was the what-if championship. Woods returned to the site of his most dominant conquest on a course that had been beefed up with bunkering and new tees, but he was also just months removed from a self-imposed sabbatical. Woods showed off some special shot-making during a sizzling Saturday 66, but faded with a closing 4-over 75 to finish three shots back.
Do Phil and Tiger have any more Pebble magic?
1. HOW WILL THE PROS PLAY PEBBLE BEACH NINE YEARS LATER?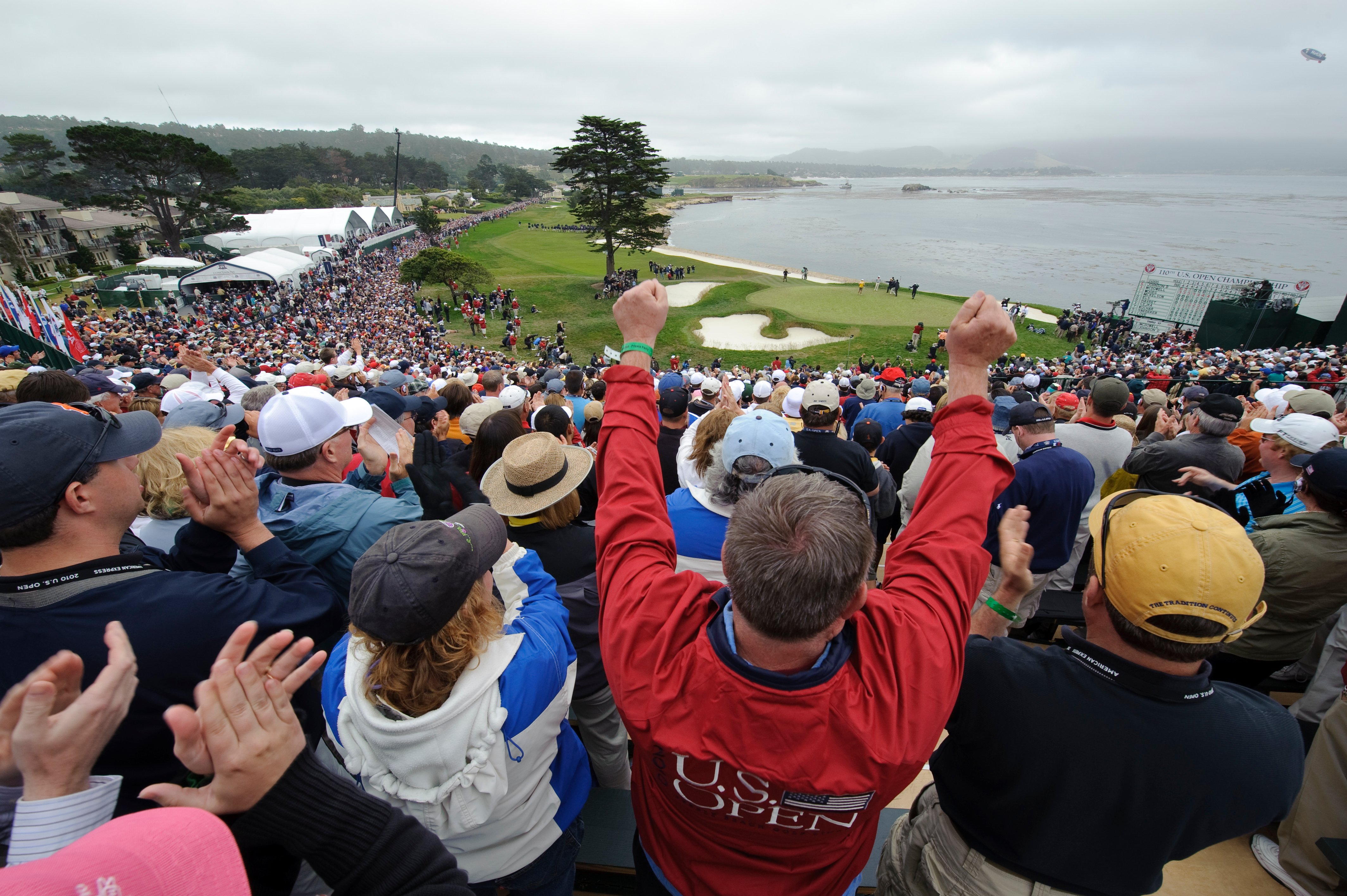 In 2010, Pebble Beach Golf Links stretched out to 7,040 yards. Since then, only Merion in 2013 has played (fractionally) shorter. In an era of U.S. Open courses approaching 8,000 yards, how will Pebble Beach present the toughest test in golf?
Pebble Beach has always relied on the smallest greens on the PGA TOUR, combined with a U.S. Open premium on hitting fairways, the intimidating Pacific Ocean, and the added wildcard of wind. The playing conditions in the summer will most certainly be firm and fast, and restorations to the ninth, 13th, 14th and 17th greens have created additional hole locations when the Stimpmeter approaches 14.
But Pebble Beach is essentially the same golf course as 2010, with the noticeable exception of an additional tee box on No. 9 that stretches the treacherous par-4 to some 530 yards, if the USGA so chooses. (The USGA did tease some interesting setup ideas at this year's U.S. Amateur that we might see again.)
Over the last two U.S. Opens, only one player has broken par — Woods. Will that be true again in 2019?
---
Facebook Conversations