Our Executive Culinary Team
---
Angela Tamura
---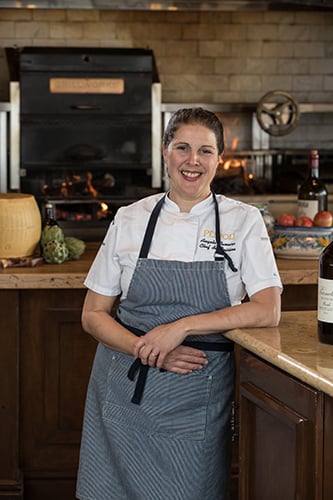 Angela Tamura is a native of New England who now calls California home. She has been cooking all her life—a requirement for a girl with an Italian mother! Angela graduated from the University of Pennsylvania before realizing in her senior year that what she really wanted to do was create good food.
As part of her education at the New England Culinary Institute in Essex, Vermont, she took two demanding internships—one at the Ritz-Carlton on Amelia Island, Florida, and one at Rialto Restaurant in Cambridge, Massachusetts. After fulfilling her school requirements, she stayed on at Rialto for another two years to continue learning from James Beard Award-winning Chef Jody Adams.
From her time at Rialto, Tamura was inspired to explore Wine Country and learn more about the ways in which food and wine come together. So she moved to Napa and took the position of Sous Chef at Bistro Don Giovanni, eventually moving up to Chef de Cuisine.
In 2001, after taking time to get married, she joined the team at ZuZu. She stayed for a year before being coaxed away to San Mateo to become Executive Chef at Central Park Bistro, then moved back to Zuzu as Executive Chef, and then made the move to Pèppoli at Pebble Beach in 2010 as Chef de Cuisine.
Angela prefers to work with local farmers, ranchers and purveyors, and to change the menu every few weeks in order to keep plates fresh and seasonal. She cooks from scratch whenever possible, making pâté, sausage and cheese, as well as desserts, pasta and bread. Angela won Chef of the Year at the Napa Valley Mustard Festival and twice was the featured chef at the James Beard House in New York.
Angela has a real love of Italian, Spanish and Latin American cuisine and is starting to explore other regions of the Mediterranean, such as Morocco and Greece, for added culinary inspiration.
Unforgettable Dining Experiences Await at Pèppoli
Located at The Inn at Spanish Bay
2700 17-Mile Drive, Pebble Beach, CA 93953