Our Executive Culinary Team
---
Angela Tamura
---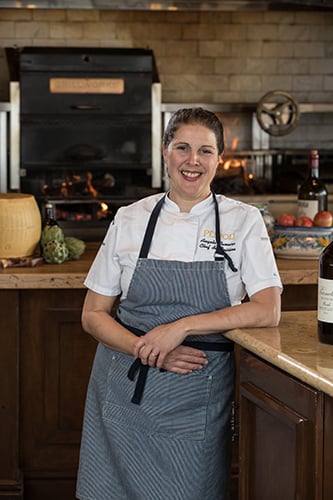 Angela Tamura is a native of New England who now calls California home. She has been cooking all her life—first learning about the kitchen from her Italian mother, who inspired her journey into the world of culinary arts. Those early years imparted a deep love for food through grand dinners, festive Christmas cookies and memorable gatherings of food and wine.
Angela graduated from the University of Pennsylvania before realizing in her senior year that what she really wanted to do was create good food.
As part of her education at the New England Culinary Institute in Essex, Vermont, she took two demanding internships—one at the Ritz-Carlton on Amelia Island, Florida and one at Rialto Restaurant in Cambridge, Massachusetts. After fulfilling her school requirements, she stayed on at Rialto for another two years to continue learning from James Beard Award-winning Chef Jody Adams.
From her time at Rialto, Tamura was inspired to explore Wine Country and learn more about the ways in which food and wine come together. So, she moved to Napa and took the position of Sous Chef at Bistro Don Giovanni, eventually moving up to Chef de Cuisine. She further honed her culinary skills as the Executive Chef at Central Park Bistro in San Mateo and as an Executive Chef and Partner at Zuzu Tapas & Wine Bar in Napa.
In 2010 Angela landed at Pebble Beach Resorts' Pèppoli and has been the leading force behind the prized Italian restaurant ever since. She prefers to work with local farmers, ranchers, and purveyors, and to change the menu every few weeks in order to keep plates fresh and seasonal. She cooks from scratch whenever possible, making pâté, sausage, and cheese, as well as desserts, pasta, and bread. Angela won Chef of the Year at the Napa Valley Mustard Festival and twice was the featured chef at the James Beard House in New York.
Angela has a real love of Italian, Spanish and Latin American cuisine and is starting to explore other regions of the Mediterranean, such as Morocco and Greece, for added culinary inspiration.
A favorite dish: Angela leans towards the combination of grilled shrimp with a warm spinach salad, dressed with house made bacon, tomato, and sherry vinaigrette, and accentuated by a shrimp aioli created from a rich shrimp shell stock. She notes, "The dish has tons of flavor, with each ingredient highlighting the next."
Unforgettable Dining Experiences Await at Pèppoli
Located at The Inn at Spanish Bay
2700 17-Mile Drive, Pebble Beach, CA 93953