Play 7 of the World's Greatest Golf Holes at Pebble Beach Resorts
Golf course rankings attempt to quantify the subjective. Panels from major publications such Golf Digest and Golf Magazine score categories to try and compare experiences, measuring everything from shot values and difficulty to design variety and memorability. (Both rankings agree that Pebble Beach Golf Links is the top public course in the U.S.)
The editors of Golf Magazine took this entertaining exercise a step further. They examined the half million golf holes in existence and identified the World's 500 Greatest.
Golf Magazine self-imposed a limit of three holes per course for their list, but Pebble Beach Resorts was still well-represented. Pebble Beach Golf Links and Spyglass Hill Golf Course each landed the maximum three holes on the list, and The Links at Spanish Bay also made the cut.
Let's take a closer look at seven of the Greatest Golf Holes in the World, all right here at Pebble Beach Resorts:
Pebble Beach Golf Links
NO. 7 — 106 YARDS, PAR-3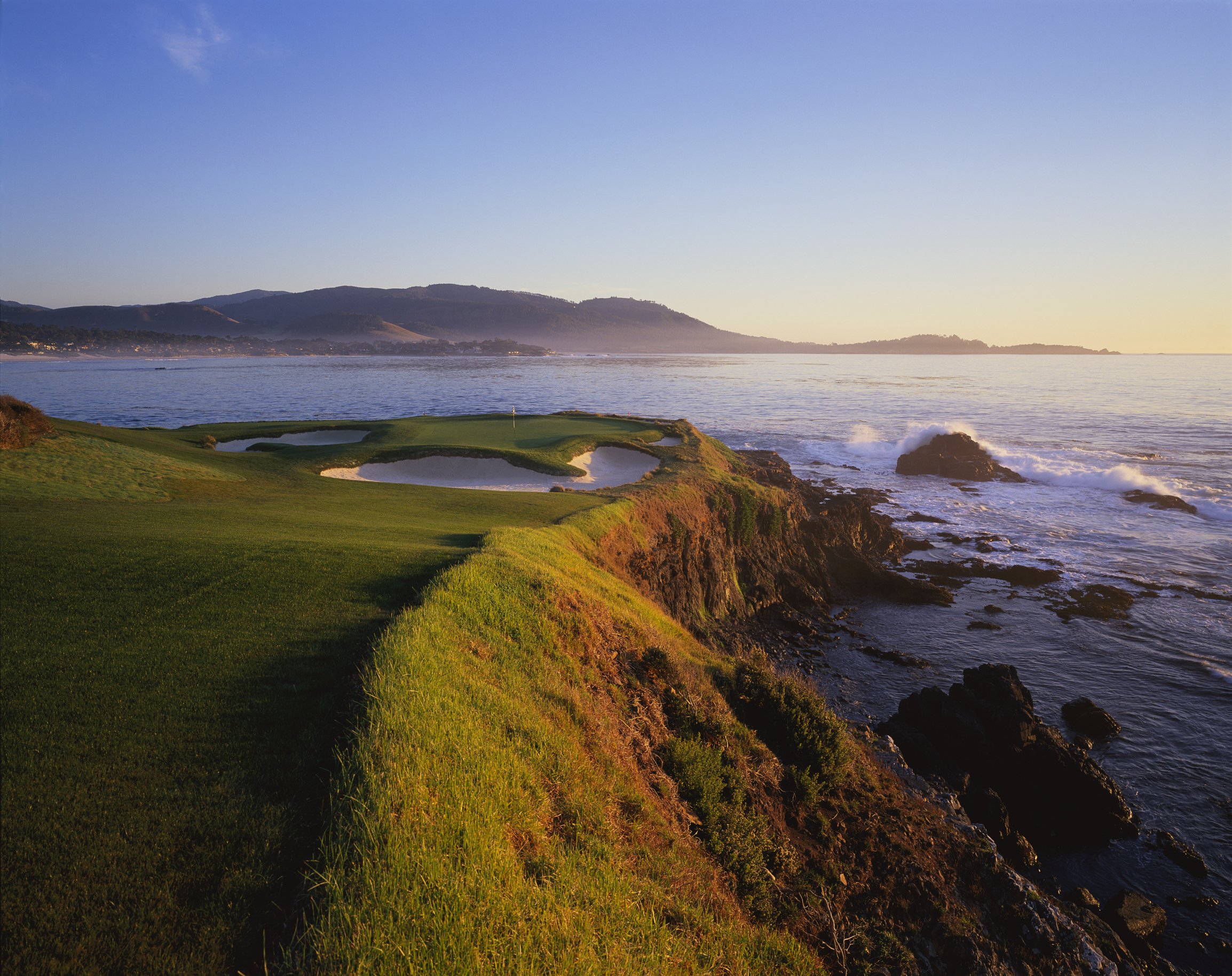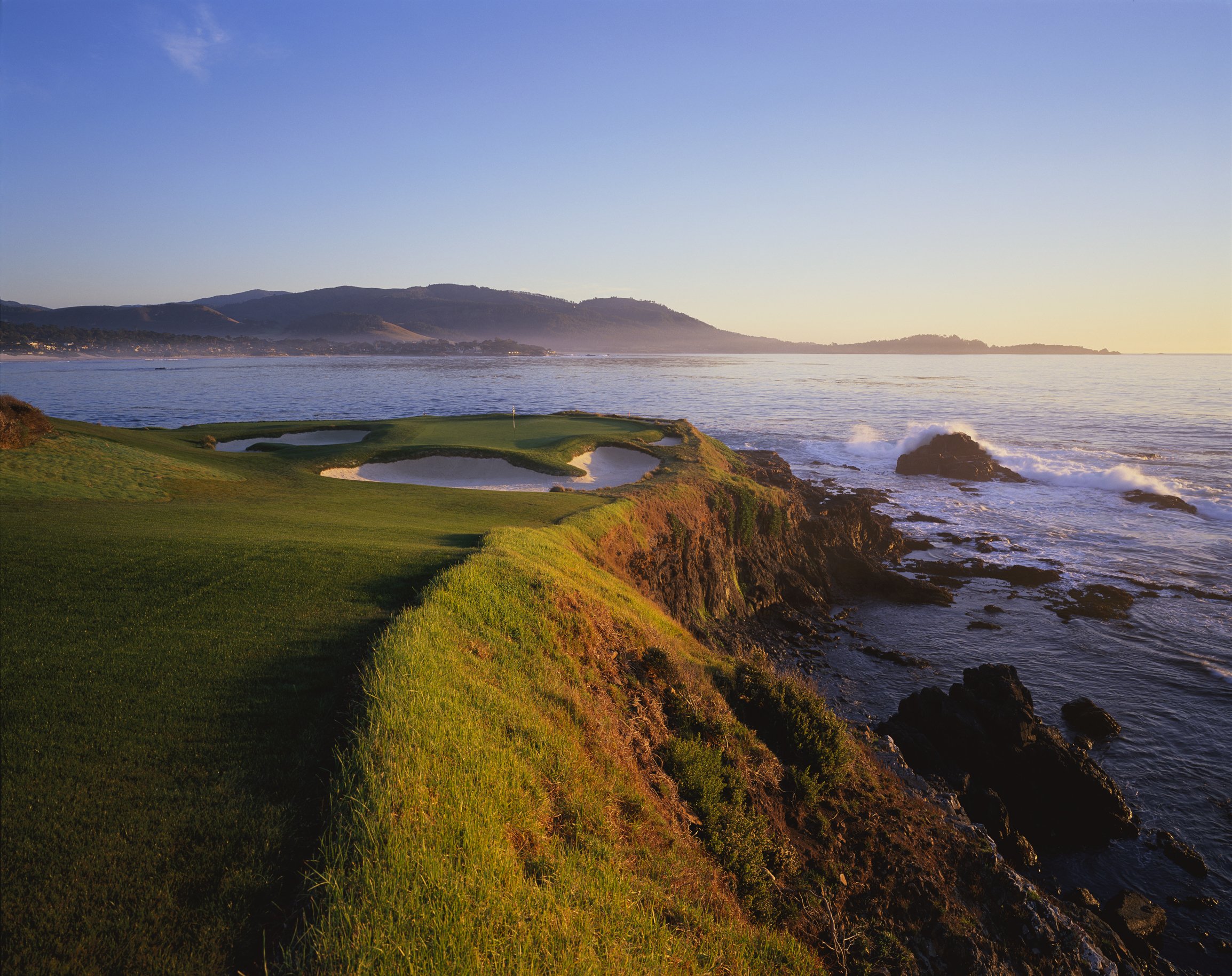 Esteemed golf course architects Pete Dye and Jack Nicklaus have admitted that they probably would have walked right past the land that has become the most famous short par-3 in all of golf. It's the shortest hole on the PGA TOUR, as well as the shortest in U.S. Open history, playing just 92 yards during the final round in 2010.
But one of the first questions posed after playing a round at Pebble Beach is, "What club did you hit into No. 7?" Sam Snead once chose to putt off the seventh tee rather than send a tee shot into the teeth of a wicked wind. (It was reported that he was the only player to make par on the hole that day.) Bel-Air pro Eddie Merrins actually aced the hole during the Bing Crosby, but needed a 3-iron to do so. Eventual champ Tom Kite famously chipped in for birdie during the final round of the 1992 U.S. Open after his 6-iron missed the green.
NO. 8 — 427 YARDS, PAR-4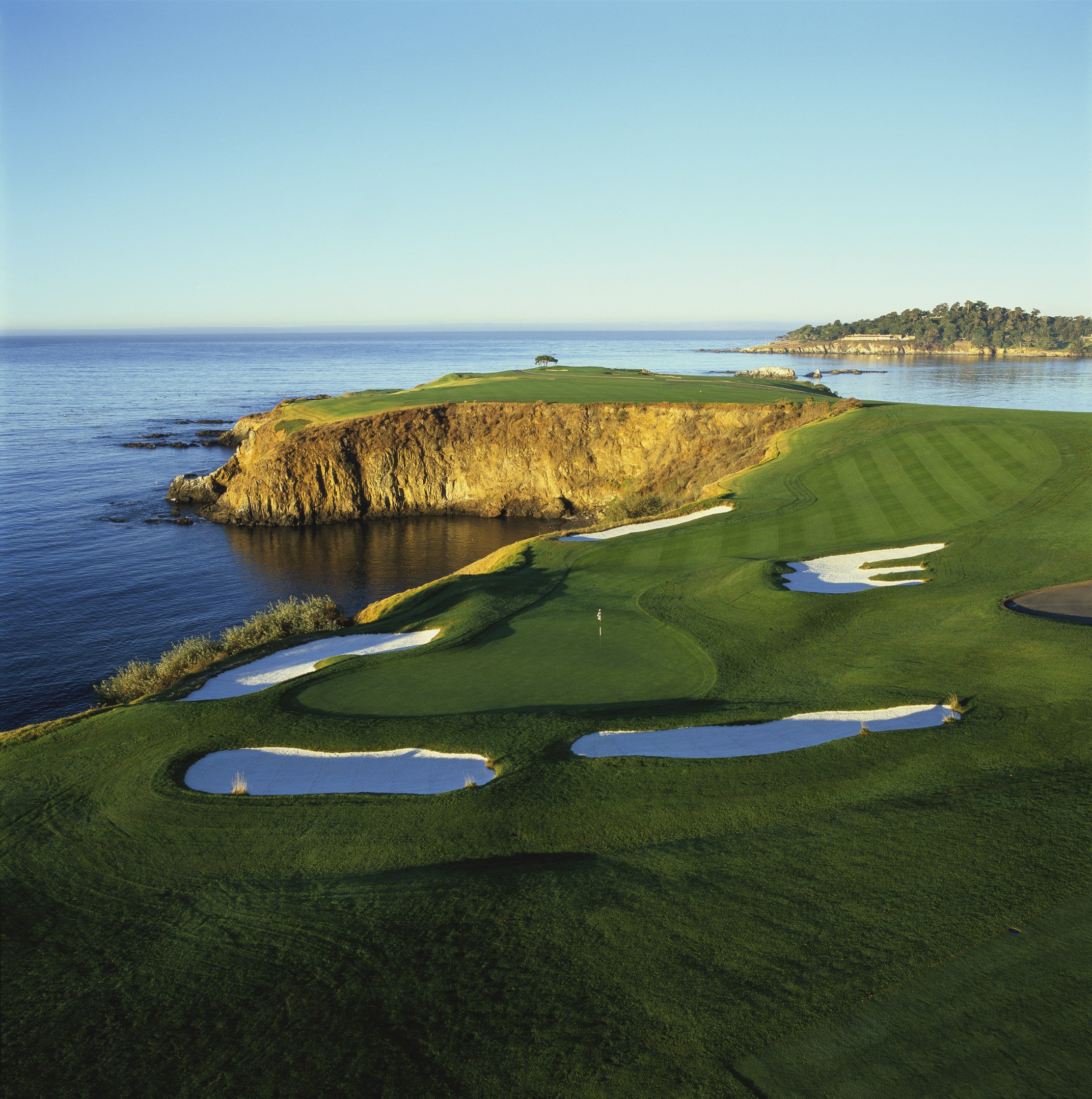 Originally conceived as a par-5 with the green safely situated back by the 9th tee boxes, No. 8 was ultimately built as a par-4 — one Nicklaus calls his favorite in all of golf. Alister MacKenzie rebuilt the green ahead of the 1929 U.S. Amateur, pushing it up against the cliff to create an iconic second shot across an 80-foot-deep chasm.
Said Tiger Woods about the heart-in-your-throat second shot: "That second shot is one of the most daunting second shots in golf. I know one of the things that (caddie) Stevie Williams and I have, you hit that second shot and you don't say a word. You don't know whether to say 'get up' or 'get down.' It's just up there forever."
NO. 18 — 543 YARDS, PAR-5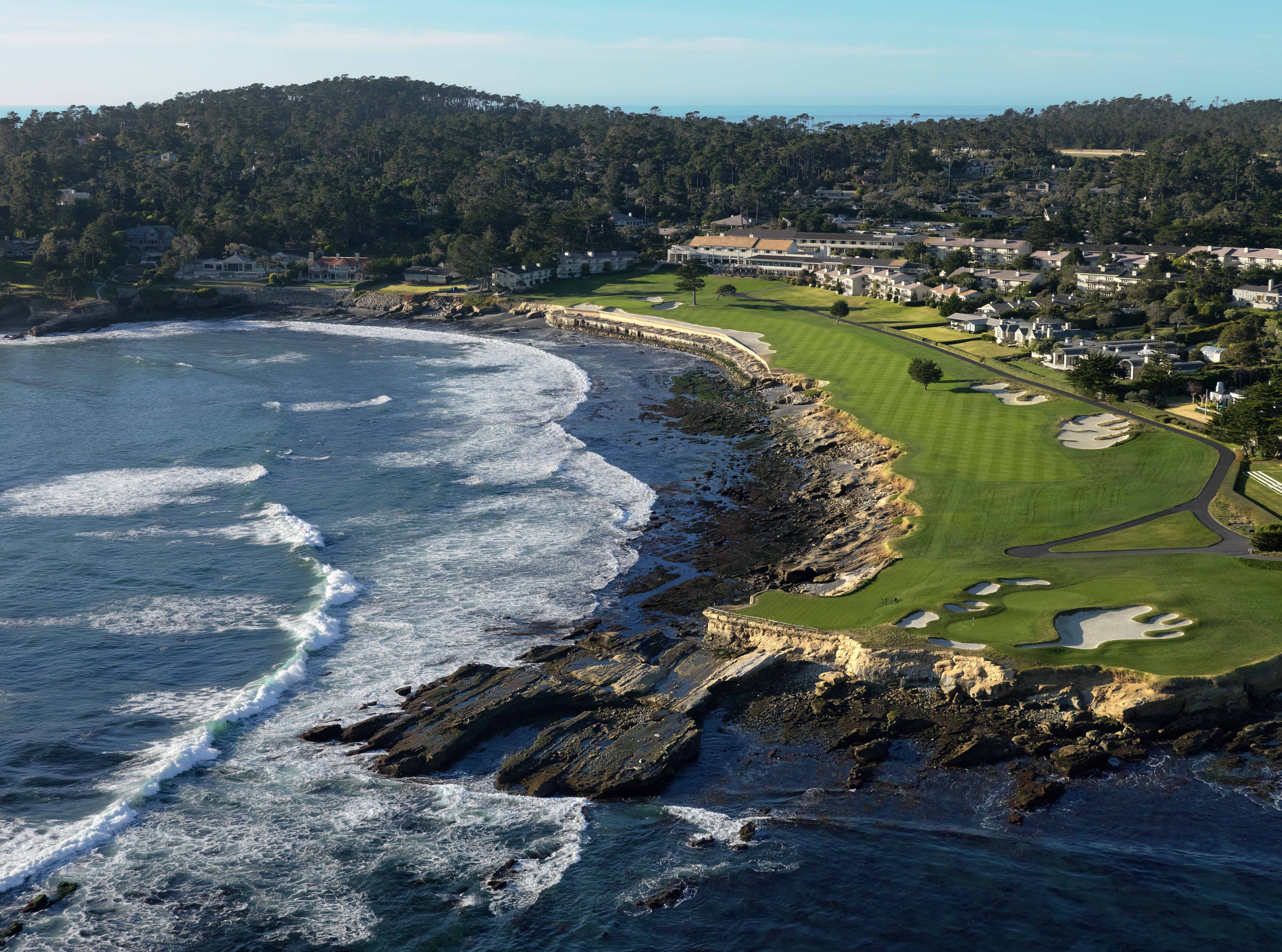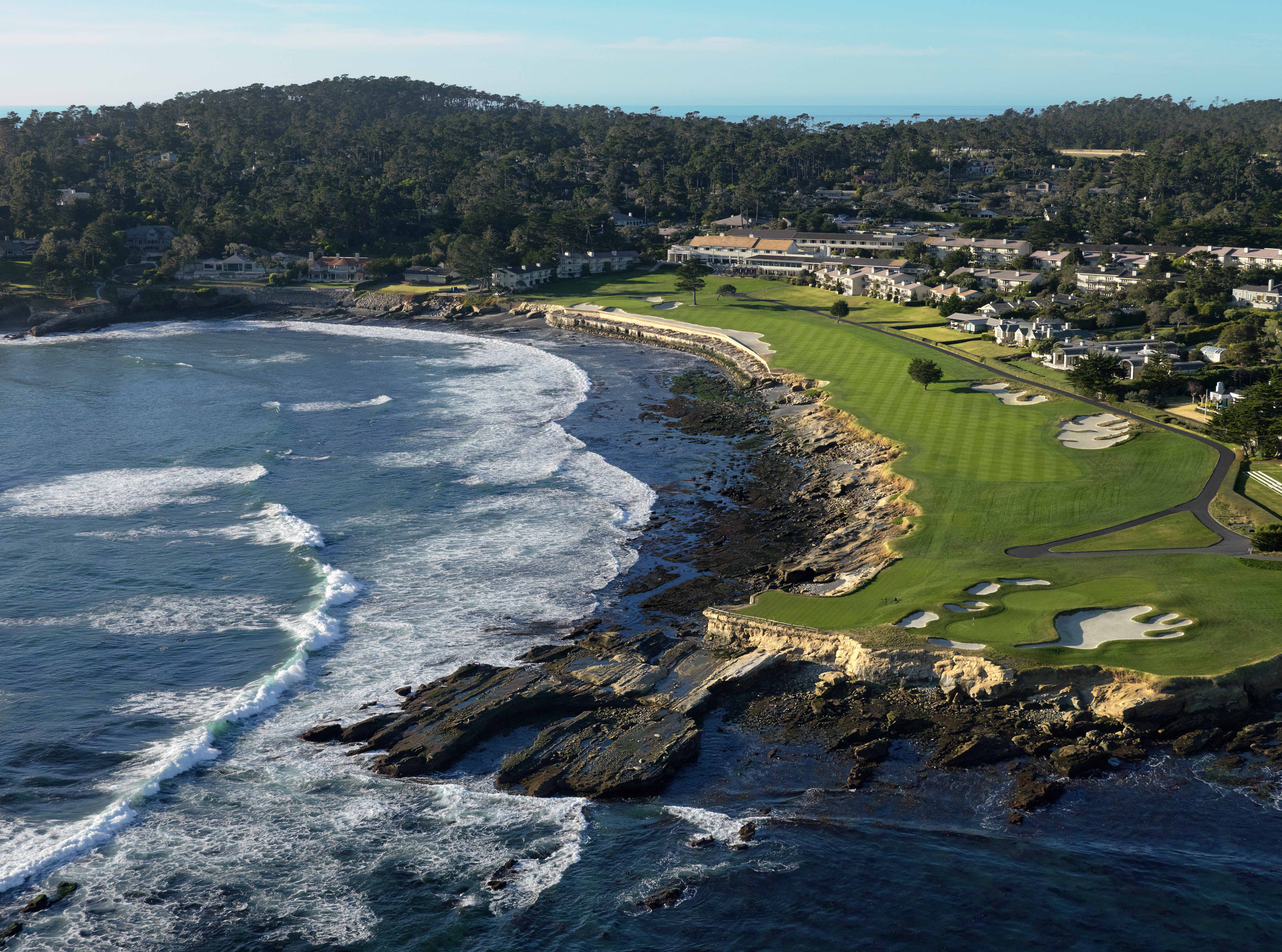 The greatest finishing hole in all of golf originally opened as a short par-4. But Herbert Fowler proposed just a year after Pebble Beach opened that No. 18 should be extended along Stillwater Cove, transforming it into the dramatic cape hole par-5 you play today. U.S. Open Champion Geoff Ogilvy is in love with the the strategy the 18th hole presents:
The most interesting aspect of the 18th at Pebble Beach is that it is actually a succession of challenging holes. It's a great and endlessly beautiful par-5 as is, of course. But after a solid drive up the middle it becomes the equivalent of a terrific short par-4. It's a fascinating birdie-three hole from, say, 330 yards out. And it's a thought-provoking birdie-two hole from 130. Which is exactly what every strategically sound par-5 should be.
Spyglass Hill Golf Course
NO. 1 — 595 YARDS, PAR-5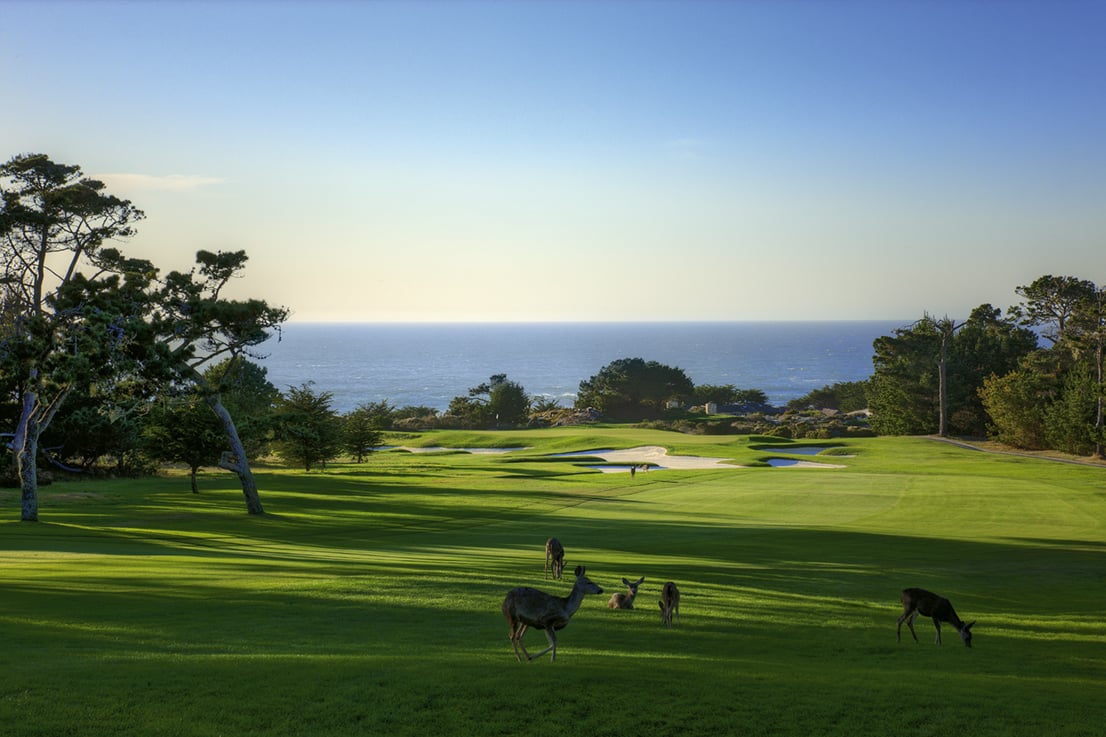 The first hole at Spyglass Hill is one of the great reveals in all of golf: after you thread your tee shot through a chute of trees and out toward the distant Monterey Bay, the downhill fairway banks hard left to unveil a green sitting above an island of bunkers, and a never-ending view of the Pacific. It's a spectacular introduction to the unique dunes-laden first five holes at Spyglass Hill.
Added former U.S. Women's Amateur Champion Jill McGill: "You go out for the first five holes and it doesn't matter what your golf game is, because you're standing there thinking to yourself, 'Seriously, is there a better place on earth than this?' "
NO. 2 — 349 YARDS, PAR-4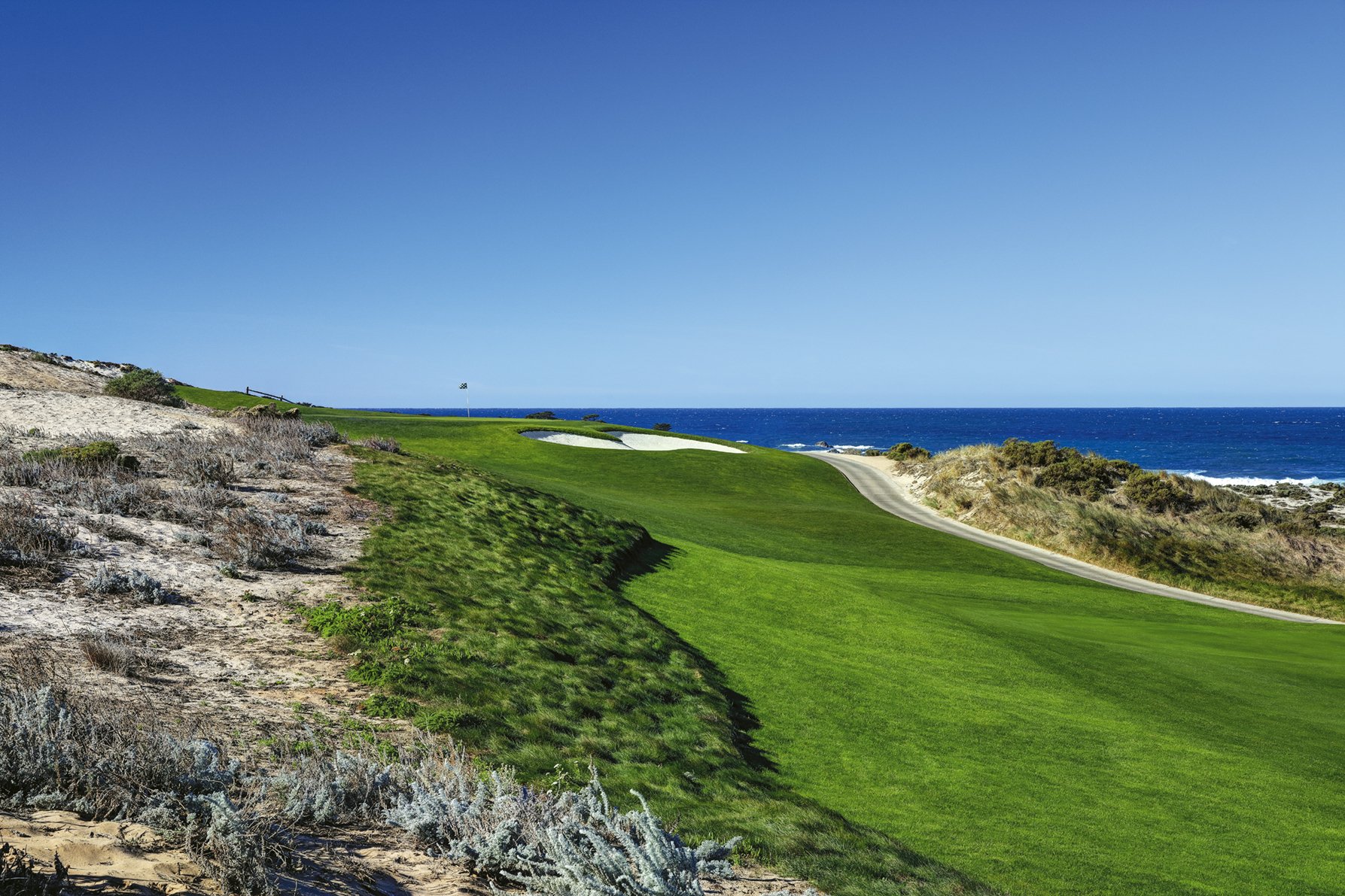 This gorgeous par-4 side-winds its way up a giant sand dune, with the second shot playing an additional 15 yards, plus whatever the wind is doing. The skinny green offers an additional challenge, as it is set diagonally into the hill, and requires a precise yardage for each line of play. But once you reach the green, enjoy one of the prettiest panoramas in Pebble Beach – Cypress Point to your left, Nos. 3-4-5 at Spyglass Hill snaking through the sand dunes below, Monterey Peninsula Country Club out in the distance, and Bird Rock straight ahead.
NO. 4 — 370 YARDS, PAR-4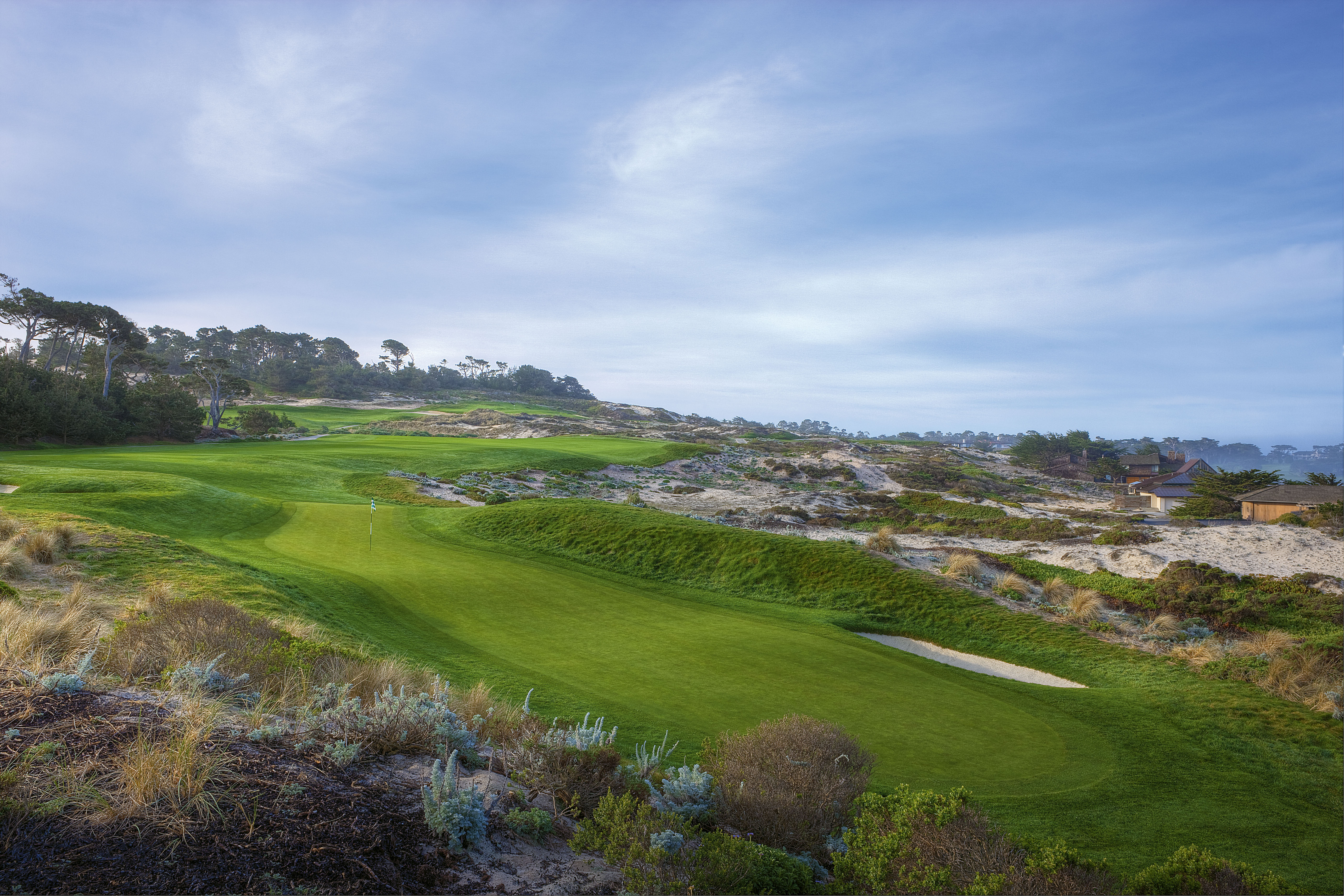 A sneak peek into Nos. 1 and 14 at Cypress Point is behind you, and the ocean is waiting for you to your left. But as amazing as those views are, the fourth green ultimately steals your attention: It's a slithering 55 yards long, and barely 30 feet wide at its most forgiving. Robert Trent Jones, Sr. — a man who worked on more than 400 golf courses in his lifetime — calls No. 4 at Spyglass Hill his favorite par 4 he's ever designed.
The Links at Spanish Bay
NO. 14 — 576 YARDS, PAR-5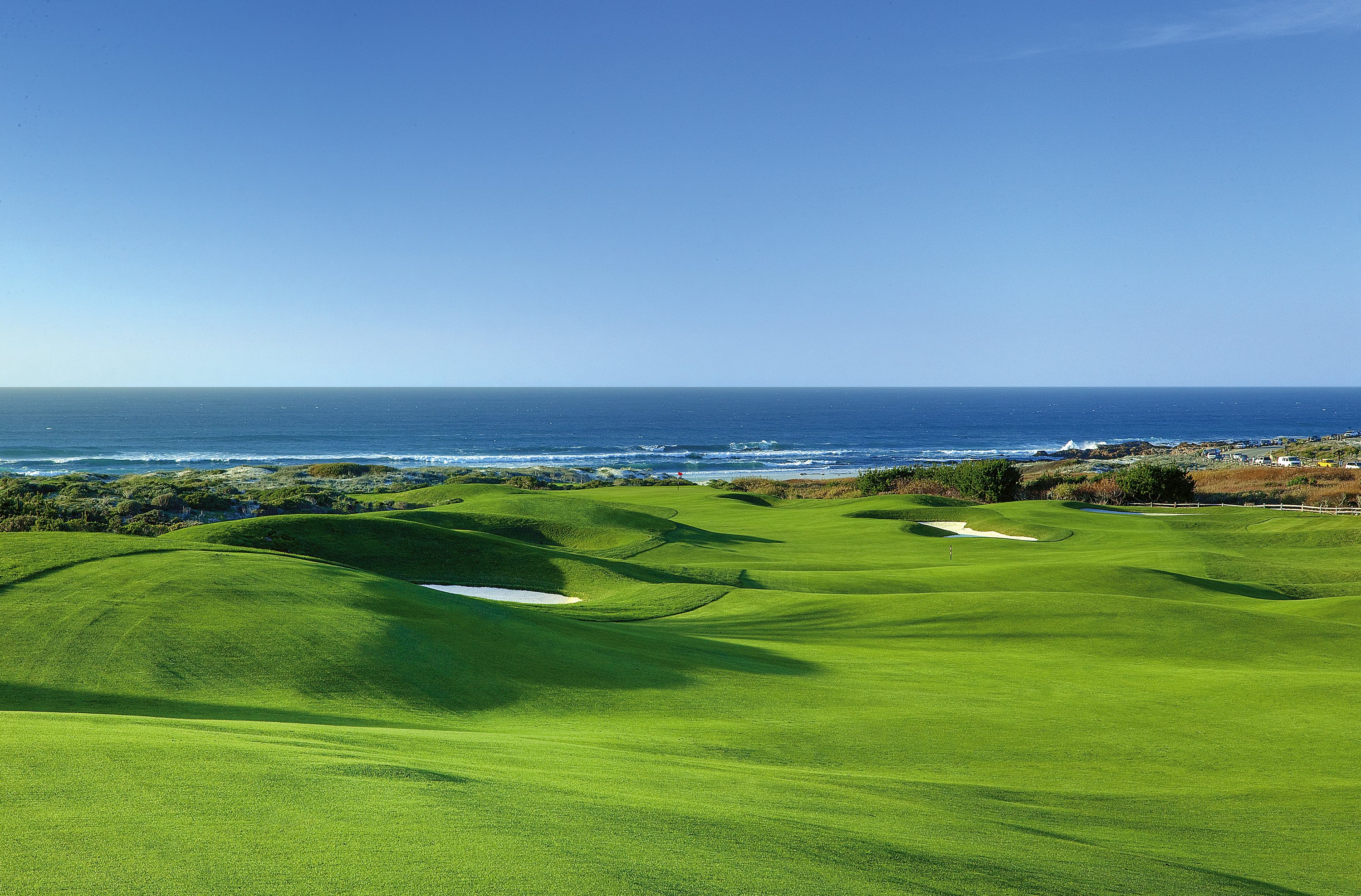 We asked our Facebook fans to vote for their favorite 14th hole at Pebble Beach Resorts, and this dramatic par-5 that flows straight to the Pacific was a tough-luck runner-up to the quiet forest setting at Spyglass Hill. But that didn't stop the editors of Golf Magazine from recognizing No. 14 at Spanish Bay as one of the greatest holes in the world.
The downhill, ocean-charging par-5 sets the stage for a spectacularly scenic finish to your round. The view is so captivating behind the 14th green and 15th tee that it's tempting to take your shoes off and wander onto the boardwalk and Spanish Bay Beach.
Agree with these choices? Any you would add?
---
Facebook Conversations
Play 7 of the World's Greatest Golf Holes at Pebble Beach Resorts