Ross Kroeker
---
Ross Kroeker is the Lead Instructor at the Pebble Beach Golf Academy and the 2019 Northern California PGA Teacher of the Year.  Using his insight and time-proven teaching skills, Ross helps his students gain immediate results. Ross was inducted into the California Golf Teachers Hall of Fame in 2019.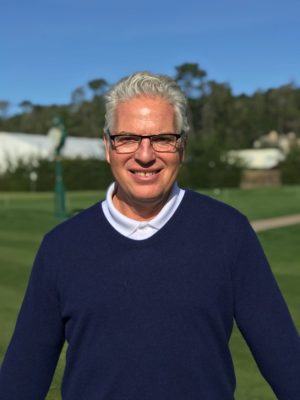 Early in his career, Ross was selected by Jim Flick to become a staff member of the acclaimed Nicklaus / Flick Golf Schools.  This school presented a collaboration between Jack Nicklaus and his teacher Jim Flick to share their passion for helping players improve. In this role, Ross developed his teaching skills working with several of the nation's top instructors including Jim Flick and Laird Small.
Ross subsequently became a Lead Instructor for the ESPN Golf Schools.  He travelled the country teaching the popular "Three Club Tour" golf program.  The focus of this program was the scoring clubs: the driver, wedges and putter.  Ross was concurrently the Director of Instruction at Harding Park Golf Course in San Francisco.
Ross is considered an expert in video analysis as one of the first users of V1 Video Software.  In 2008, Ross was a presenter at the national PGA Coaching and Teaching Summit on the effective use of video in golf instruction.
Ross has a passion for teaching students from brand new to professional players.  With his patience and insight, Ross helps players isolate the key aspects of their swing needed to make immediate corrections. As a high school coach, Ross spends a lot of time coaching on the course. His expertise helps players "take their technique to the course" by following a process and routine.
Ross is a graduate of East Central Oklahoma University where he was twice awarded Academic All-American.  In high school, he was a member of an Oklahoma State Championship team.
Testimonials

"Ross is the most patient and positive man I've ever met. He was so friendly, easy to work with and was very positive. Getting a lesson from him was like getting a boost of self-confidence for a sport I never quite understood. Golf is hard but Ross made it very easy by showing you the necessary skills to help you get into it."

- Katie Ann N.
San Francisco
Take Your Golf Game to the Next Level
Pebble Beach Golf Academy
& Practice Facility
3260 Stevenson Drive, Pebble Beach, CA 93953
Information & Reservations
Practice Facility
Membership Opportunity

Golf Digest #1 America's Greatest Public Courses