We're two months out from our sixth U.S. Open at Pebble Beach, and the storylines just keep getting better:
Can Brooks Koepka keep up his Major mojo and win a record-tying third straight U.S. Open?
Can Phil Mickelson finally break through and win his first U.S. Open, with the stars aligning at a venue where he has captured five PGA TOUR titles?
Is Tiger Woods back in hot pursuit of 18 Majors (or more?) after his monumental Masters victory? And isn't Pebble Beach — the site of his mythical 2000 U.S. Open win — the perfect course to pick off another Major?
Something to keep in mind: four of the five previous U.S. Open champions at Pebble Beach already had Pro-Am victories under their belts, with Jack Nicklaus (1972) and Tiger Woods (2000) capturing both events in the same year. The exception was McDowell in 2010, although past Pebble Beach winners Woods, Mickelson and Dustin Johnson were stalking his lead. So don't forget about Johnson, Jordan Spieth and Brandt Snedeker, or discount Paul Casey's runner-up finish to Mickelson this year.
As we count down the days until the 2019 U.S. Open (June 10-16) during our Centennial Year, we celebrate our five previous champions at Pebble Beach. Here's how they won:
1972 U.S. OPEN — JACK NICKLAUS
The scoring average during the final round was a staggering 78.8 — the highest since World War II. Nicklaus led wire-to-wire, but in howling conditions that dried out the greens, his three-shot lead wasn't secure until he hit one of the most famous shots in golf — a 1-iron on No. 17 that short-hopped the flagstick for a tap-in birdie.
"The shot I performed, I don't think I could ever do again," remembers Nicklaus. "I had a shot where the wind was howling from left to right and into my face. I didn't know if I could get it there or not. I laced a 1-iron and I was quite content to be in the front bunker."
The win was his 11th professional Major (tying Water Hagen), and 13th including his two U.S. Amateur titles (tying Bobby Jones).
Arnold Palmer finished third, but had a chance to snag a share of the lead as late as the 14th hole. The moment made television history, as ABC Sports showed a split screen of Palmer hitting his 10-putt birdie putt while Nicklaus attempted to salvage a scrambling par at No. 12.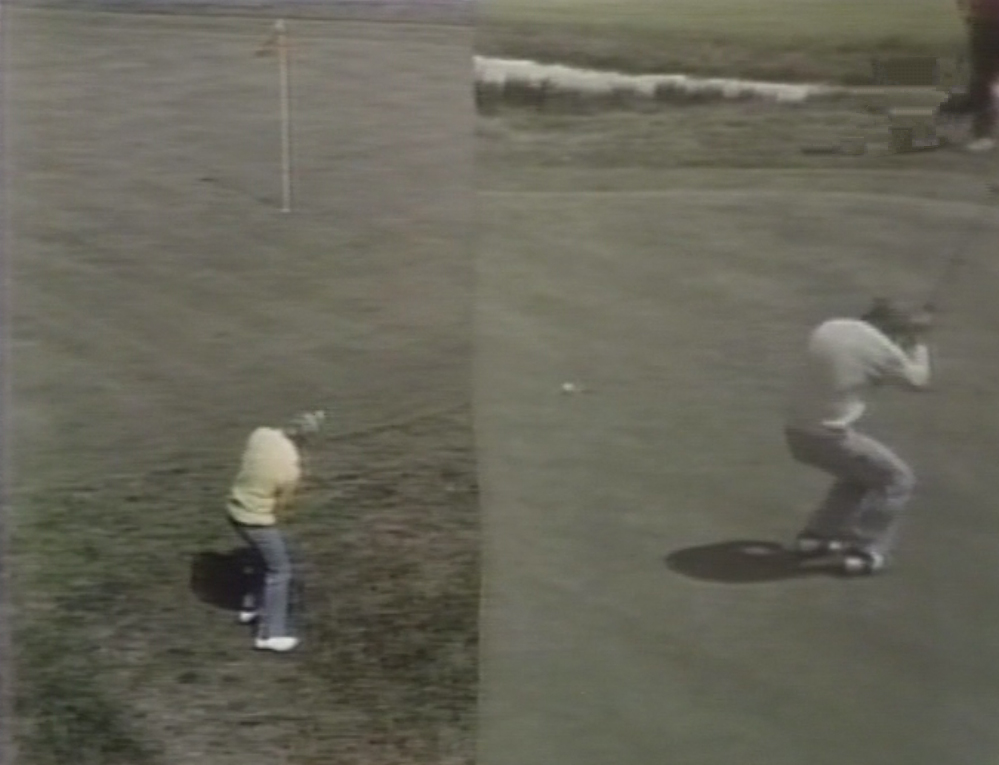 If Palmer had made his birdie and Nicklaus dropped a shot, the two would have been tied for the lead. Instead, both made par, and Palmer ultimately finished four strokes back, one behind runner-up Bruce Crampton.
"I would have loved to have won an Open at Pebble Beach, which I thought I was going to do," Palmer told Golf Digest in 2000.
1982 U.S. OPEN — TOM WATSON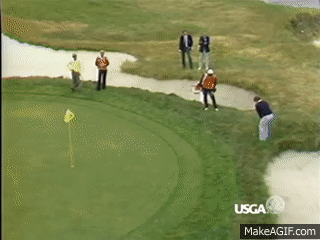 Tom Watson was tied for the final-round lead with Nicklaus as he stood over a chip-shot on No. 17 in bushy Kikuyu rough. Caddie Bruce Edwards encouraged Watson to get it close. Watson fired back, "I'm going to sink it." Watson did, and burst into an impromptu victory lap around the green.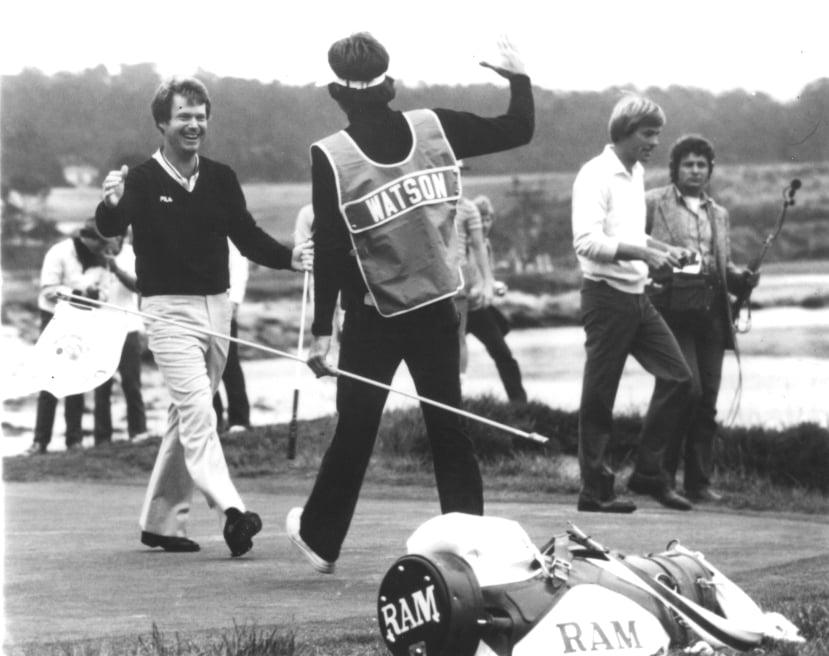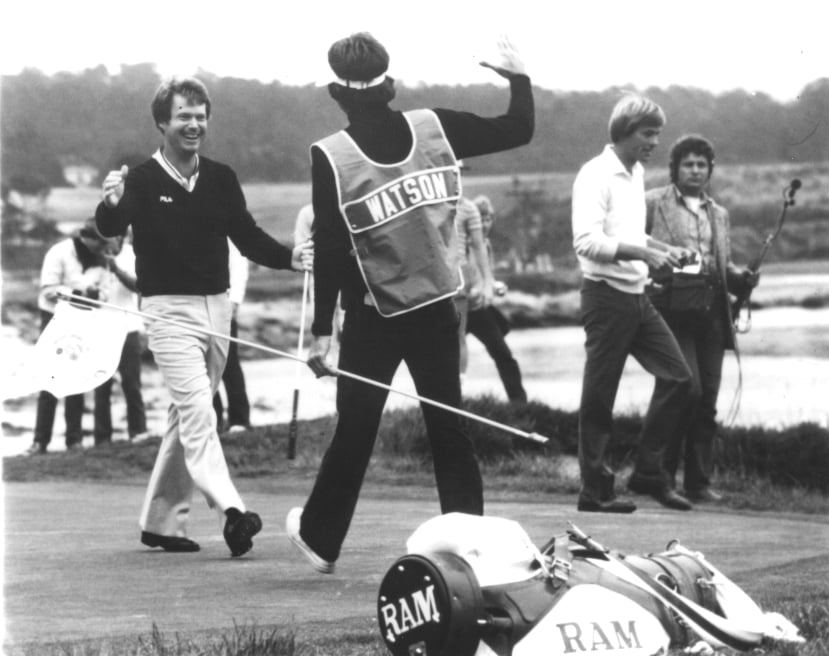 With Nicklaus already in the clubhouse, Watson only needed a par to clinch victory. But for good measure, Watson poured in a 20-foot birdie to win by two. "You're something else," Nicklaus told Watson behind the 18th green. "I'm really proud of you."
It was Watson's first U.S. Open title, robbing Nicklaus of a record fifth victory.
While the 17th hole often conjures up nostalgic Nicklaus memories, it also robbed him of two more Major victories at Pebble Beach. In the 1977 PGA Championship, Nicklaus reached the 17th hole tied for the lead, but his 3-iron missed the green, and he took a bogey to fall one shot out of an eventual playoff.
1992 U.S. OPEN — TOM KITE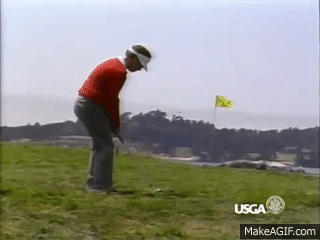 Before there was Tiger Woods at Pebble Beach, there was Gil Morgan. Through two rounds, Morgan sat at an unbelievable 9-under. "If Gil continues this level of play," said Raymond Floyd, "all records are going to be broken. But it's not likely."
Morgan reached a U.S. Open-record 12-under after three birdies in the first seven holes of his third round to take an incredible seven-shot lead, but then the wheels fell off. Morgan went 5-over his next three holes, and shot a third-round 77 to cling to a one-shot lead. Morgan was then belted by 30 mph winds in the final round and shot a closing 81.
The scoring average in the final round was 77.3, the third highest since World War II. That made Tom Kite's even-par 72, highlighted by a wind-shaped chip-in birdie on No. 7, all the more impressive. Jack Nicklaus went so far as to coronate Colin Montgomerie the U.S. Open champion on the broadcast. Montgomerie had just posted the clubhouse lead at even-par, a seemingly safe number with the leaders still playing the front nine.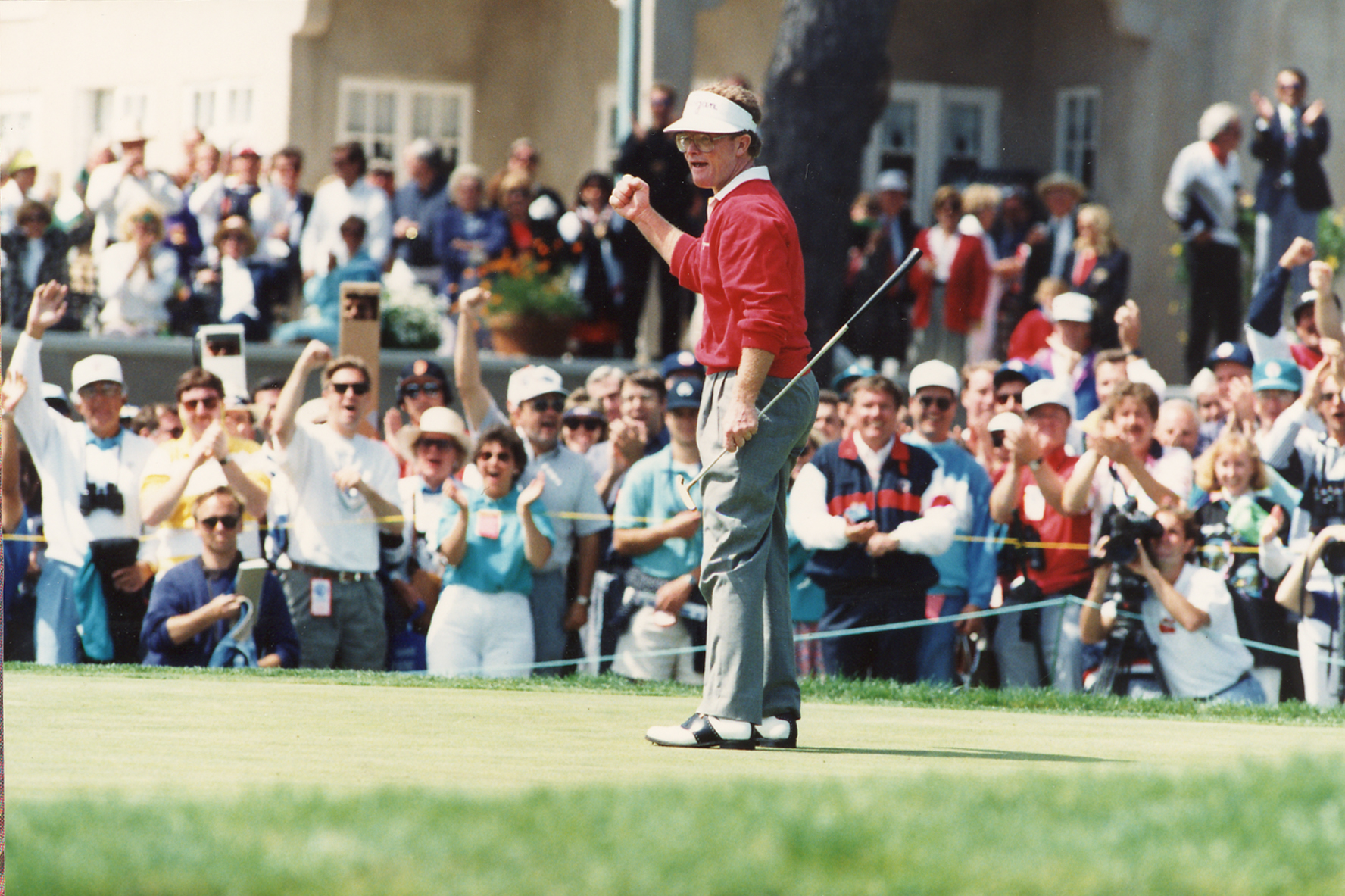 But as Montgomerie watched from the television booth, Kite sank a wind-bent pitch at No. 7 for birdie. And Montgomerie's head-holding reaction said it all. There were still many more dangerous holes remaining, but that shot symbolized the improbably great play Kite mustered up to win his first Major title. Kite's steady play gave him a four-shot lead with four holes to go, and he held on for a two-stroke windy win over to capture his first Major.
Jeff Sluman was the hard-luck runner-up, shooting one of the most underappreciated final-round scores in Major history. Sluman somehow shot a 1-under 71, but it still wasn't enough to overcome Kite's stellar play.
"It felt like Mike Tyson had hit you in the stomach," said Sluman about feeling the full force of the wind for the first time in the third fairway. "That's when we knew."
2000 U.S. OPEN — TIGER WOODS

Woods was ruthlessly dominant, tying or setting nine U.S. Open records – including the biggest lead after two rounds (six shots), three rounds (10 shots) and four rounds (15 shots). His play transcended eras, as the previous record for margin-of-victory at any Major was set during the American Civil War.
Woods did not three-putt all week, while one-putting 34 of the 72 greens. He played the first 22 holes without a bogey, as well as the final 26. He tied the all-time scoring record at a U.S. Open when nobody else in the field broke par. He also opened the tournament with a 65, the lowest score ever shot at Pebble Beach during a U.S. Open.
If any one shot magnified the difference between Woods and the mere mortals he was competing against, this strike in the second round was it: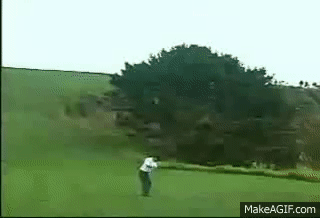 A funny footnote of this historic week featured Woods nearly running out of golf balls while completing his disjointed second round Saturday morning. Caddie Stevie Williams had failed to properly restock the bag before the restart, so when Woods uncharacteristically sniped a snap hook into the ocean on No. 18, he unknowingly reteed with his last ball. A nervous Williams even suggested that Woods should back off and hit an iron off the tee instead. If Woods had actually run out, Williams was planning to run up to the pro shop to buy more golf balls. Of course, Woods was so dialed in, he piped his second drive down the middle and made a birdie on his second ball.
The 2000 U.S. Open was also the Golden Bear's swan song. Jack Nicklaus has famously said, "If I had one more round to play, I would choose to play it at Pebble Beach." For his last U.S. Open round, Nicklaus supported that sentiment by choosing Pebble Beach, generating this iconic photo that is imitated by foursomes every day: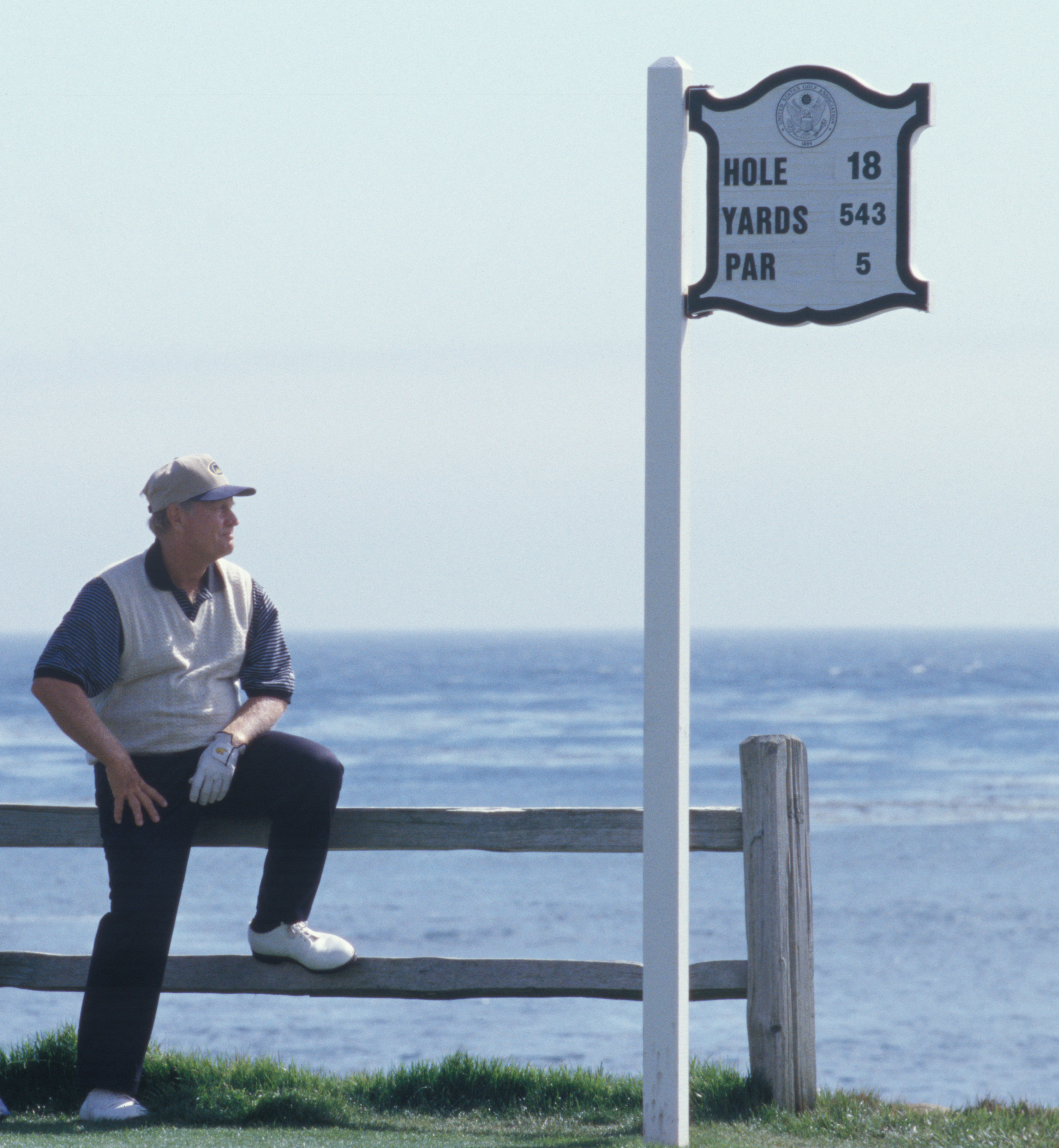 2010 U.S. OPEN — GRAEME MCDOWELL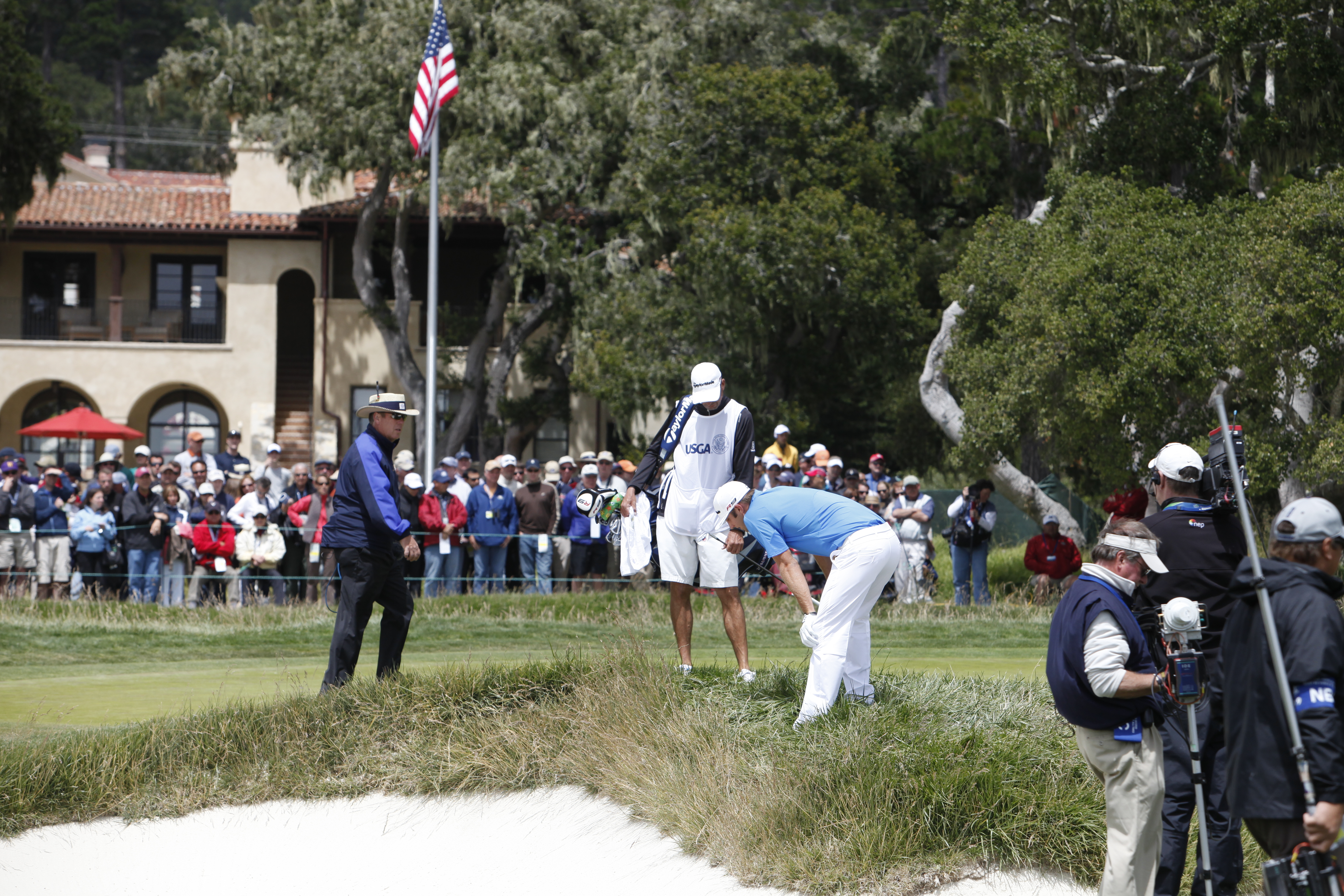 As the two-time defending champion of the AT&T Pebble Beach Pro-Am, a Dustin Johnson win seemed inevitable after three rounds of the U.S. Open. The stoic Johnson showed off his comfort level with Pebble Beach during a third-round 66 that included an eagle on No. 4, which he turned into a drivable par-4.
But Johnson's three-shot lead was completely erased just two holes into the final round when he carded a triple-bogey 7 on No. 2, low-lighted by a fanned left-handed chip. Johnson then double-bogeyed No. 3, hit his drive over the cliff on No. 4 for a bogey, and carded another bogey on No. 7. Johnson's free fall resulted in a final-round 82, the highest score by a 54-hole leader since 1911 — and one shot worse than Gil Morgan's fate in 1992. "I felt sorry for him," said eventual champion Graeme McDowell.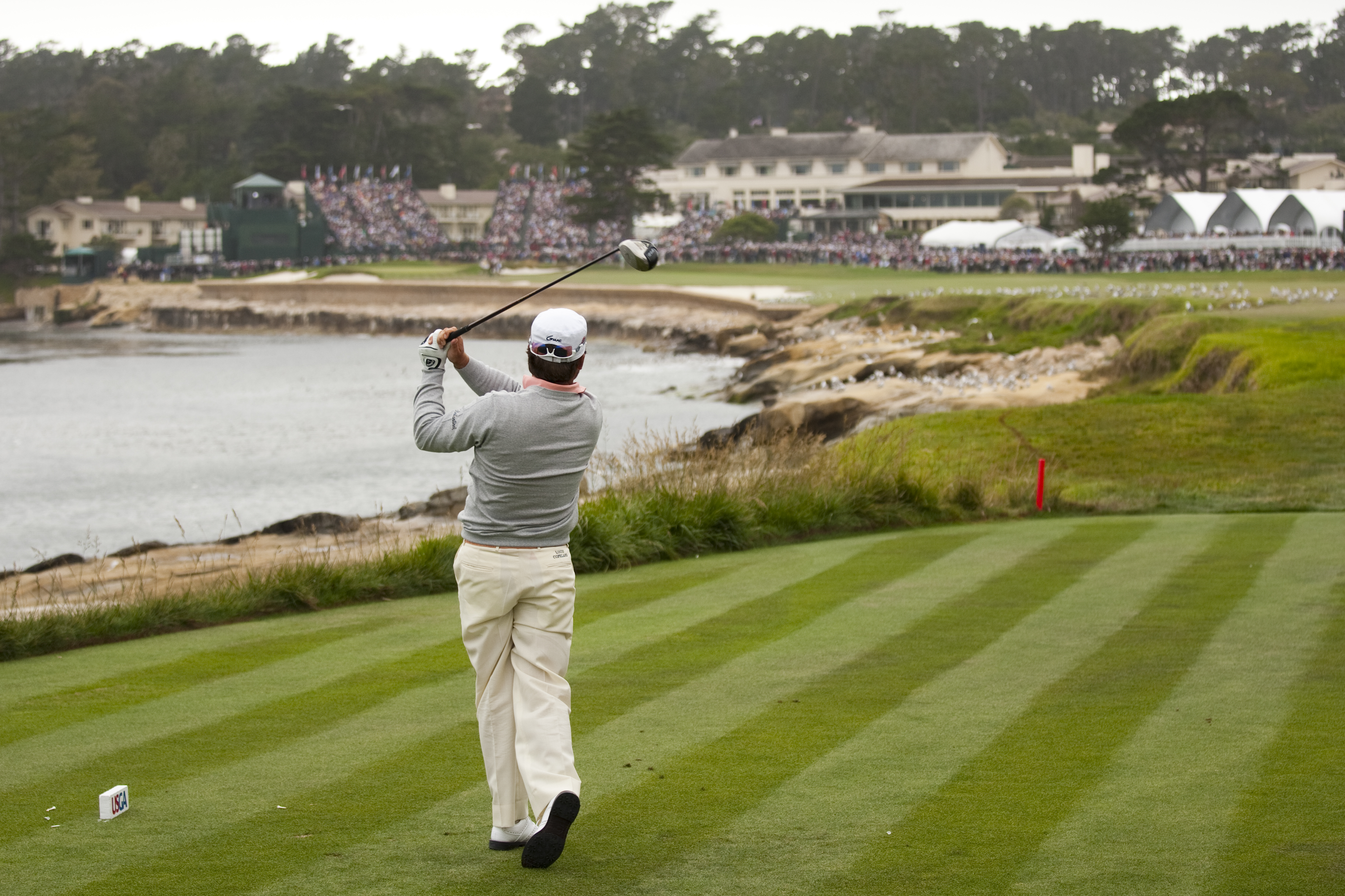 With Johnson gone, the Hall-of-Fame leaderboard included Woods, Ernie Els and Phil Mickelson.
"I think there were a number of guys that thought as soon as Dustin made a triple, it was a wide-open tournament," said Mickelson, who was even-par for the championship heading into the back nine, but came home in 3-over. "Many guys had a chance. And it made for an exciting U.S. Open."
But no player in the final two hours of tee times managed to break par on Sunday. McDowell closed with a 3-over 74 to finish at even-par, turning a three-stroke deficit into a one-shot win over unheralded Frenchman Gregory Havret. The win was McDowell's first Major, and the first U.S. Open victory by a European in 40 years.
This championship also produced perhaps the most iconic shot Woods has hit at Pebble Beach. Sitting 273 yards away and squarely behind a pair of Cypress trees in the 18th fairway, Woods sent a wild slice soaring over the Pacific Ocean before bending it back to safety and up the throat of the green. The courageous shot was capped by his seventh birdie of the day for a 5-under 66, one stroke shy of the Pebble Beach U.S. Open record he set during the first round in 2000.
When the U.S. Amateur returned to Pebble Beach in 2018, the college-aged field dedicated practice-round time to recreating this shot above all others.
---
Facebook Conversations