Laird Small
---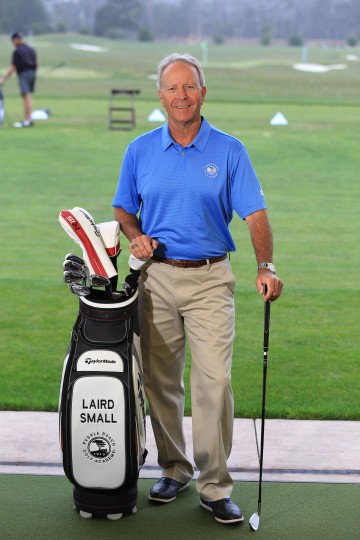 After more than 28 years of working at Pebble Beach, Laird Small is comfortable calling the famed golf resort his home. A consummate golf professional with a wealth of experience and an intrinsic love of the game, Small has served as the Director of the Pebble Beach Academy for 19 years. Prior to that, he was the Head Professional and Manager of the Spyglass Hill Golf Shop for nine years.
In 1996, Laird helped launch—and bring to national prominence—the Pebble Beach Golf Academy. In addition, he was instrumental in the development of the AT&T Pebble Beach Junior Golf Association, which hosts about 2,500 kids year-round.
Laird's many accolades include: 2003 National PGA Teacher of the Year; recognition by Golf Digest as one of the country's top 50 greatest teachers for every consecutive year since 2007; and being named one of the country's top 100 teachers by Golf Magazine—one of the most prestigious honors golf professionals can attain. He was first inducted into the list in 1995 and has been on it every year since.
A graduate of San Jose State University in Recreation and Leisure Studies, Laird is a Class A-14 teaching professional. He has completed multiple certifications with the PGA Business School, HeartMath Coaching and Titleist Performance Institute. In 2002, the PGA of America awarded him the prestigious status of Master Professional, with a Specialty Certification in Teaching and Coaching.
Laird is the author of Play Golf the Pebble Beach Way, co-author of GolfCordz the Power Source and regularly contributes articles for Golf Magazine, Golf Tips Magazine and Golf Digest. Some of his many students over the years have included Bill Gates, Tom Kite, Oprah Winfrey, Steve Young, Kirk Triplett, Warren Buffett, Bob Wolcott, Orel Hershiser, Josh Duhamel, Paul McGinley and Julius Irving.
Testimonials

"The day after I had a session on the putting stroke analyzing machine at the Pebble Beach Golf Academy, I shot in the 70s for the first time in more than 30 years!!! Thank you. Thank you. Thank you!"

- Mark H.
Los Angeles, California

Testimonials

"You are a genius. I had one of my all-time best ball striking days ever. Fifteen out of 18 greens in regulation with one of the misses over the green with a solid strike. Two over on the front with two three-putts, etc. Thanks, it is fun to play golf again."

- Andrew P.
New York, New York

Testimonials

"The improvements in my game have yielded being asked to play in some of the local tournaments in the area. So this brings the opportunity to meet some new people and play some different courses and I am so thoroughly enjoying this aspect. Thanks again for the very special time we were able to spend with you at Pebble Beach."

- Kathy S.
Portola, California
Take Your Golf Game to the Next Level
Pebble Beach Golf Academy
& Practice Facility
3260 Stevenson Drive, Pebble Beach, CA 93953
Information & Reservations
Practice Facility
Membership Opportunity

Golf Digest #1 America's Greatest Public Courses