The Greatest Shots Hit on Each Hole at Pebble Beach (Back Nine)
Bobby Jones. Jack Nicklaus. Tom Watson. Hale Irwin.
Golf's greats have created indelible shots on the back nine at Pebble Beach.
Others like Arnold Palmer, Phil Mickelson and Ernie Els had moments they'd rather forget.
For better and for worse, these are the most memorable shots hit on the back nine at Pebble Beach:
See the Most Memorable Shots on the Front Nine
NO. 10 — 446 YARDS, PAR-4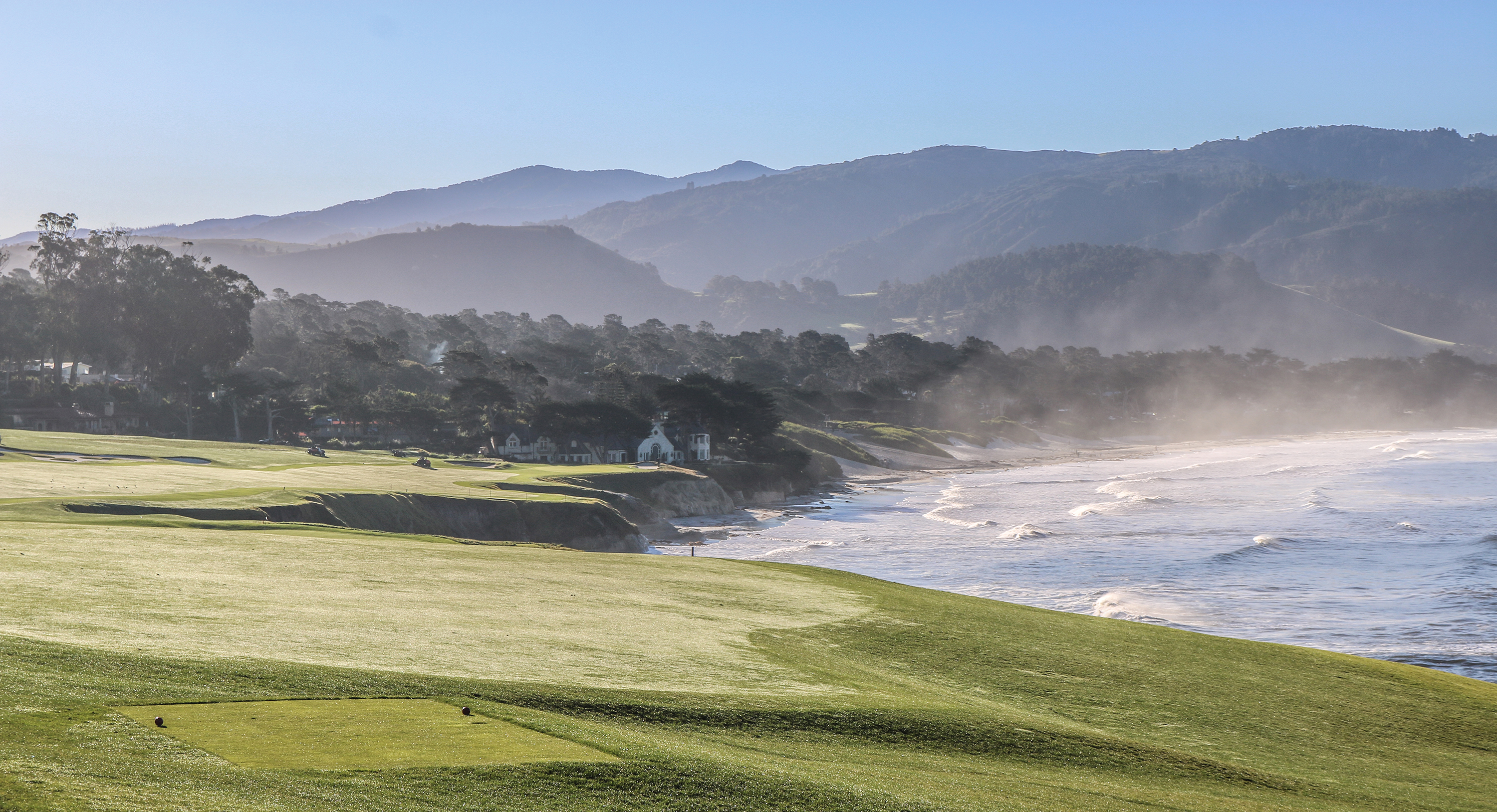 After the Grand Slam, but before the Tiger Slam, there was the Seaver Slam.
Charlie Seaver once held the Northern California, Southern California, and California State Amateur trophies simultaneously. During the 36-hole final in his 1933 California State Amateur victory at Pebble Beach, Seaver twice played his second shot from Carmel Beach on the 10th hole. Seaver managed to recover, ultimately holding on for a 2-up victory.
Jack Nicklaus similarly shook off the vaunted 10th hole during the final round of the 1972 U.S. Open, despite a double-bogey. But in the 2010 U.S. Open, the 10th landed a stunning blow to Ernie Els, who had just grabbed a piece of the lead before a double-bogey decked him. Els ultimately finished two strokes back of champion Graeme McDowell.
NO. 11 — 373 YARDS, PAR-4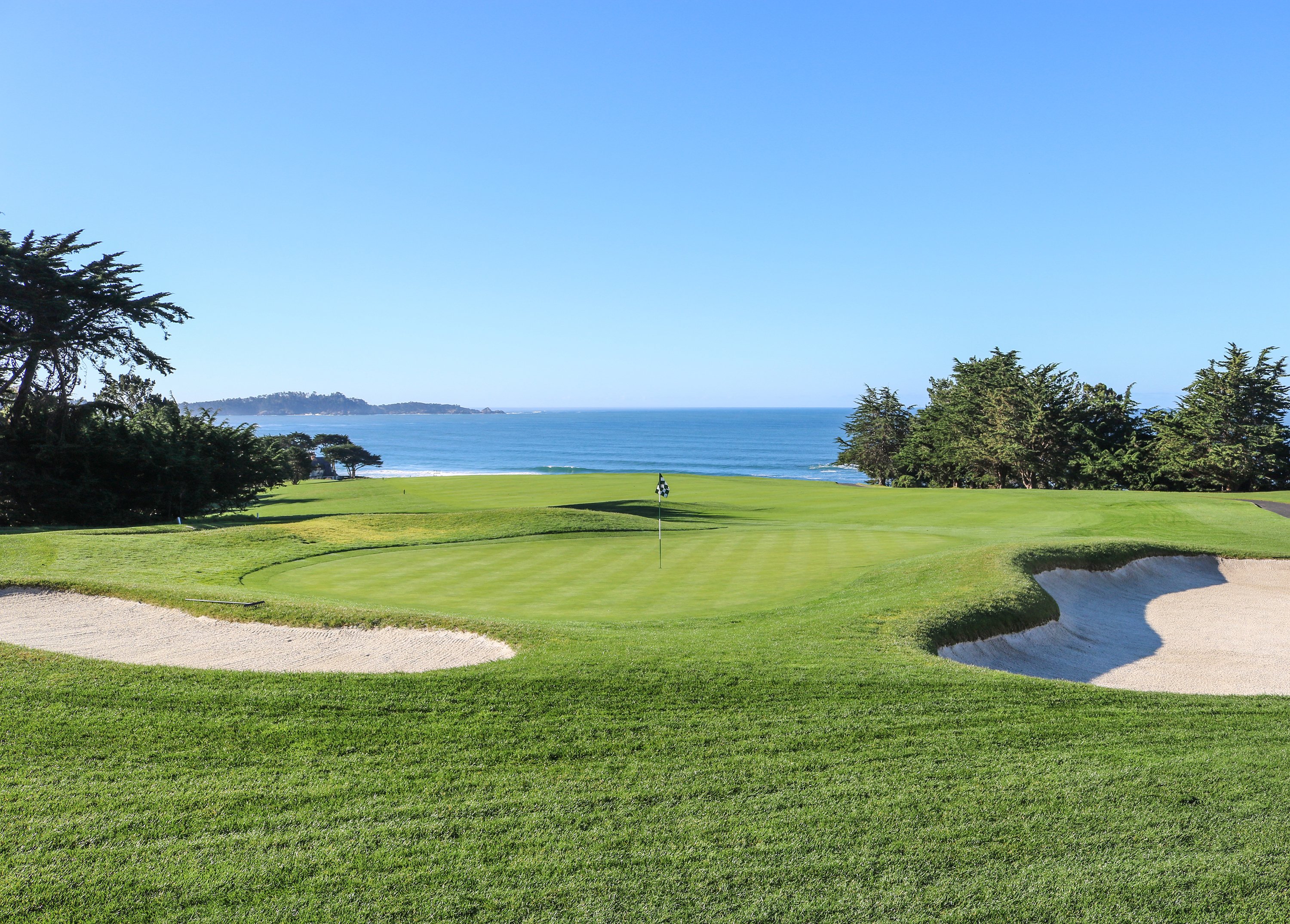 The shortest hole on the back nine is what Rocco Mediate calls "one of the most underrated on the course." That's because of a green sloped so severely from back-to-front that Mediate admits, "I'd rather be 20 feet under the hole than 5 feet above it."
Johnny Miller conquered No. 11 with a birdie in the 1968 California State Amateur, starting a string of seven straight winning holes. Miller dominated his final match to the tune of a 12-and-10 victory, tying a championship record.
NO. 12 — 201 YARDS, PAR-3
When the USGA had to pick just one shot that defined Tiger Woods' merciless 15-shot win at the 2000 U.S. Open, it settled on this no-brainer birdie putt he rolled in just after play had been suspended due to darkness. ESPN announcer Mike Tirico perfectly punctuated the moment and the performance when he exclaimed, "Good-Night!"
Jack Nicklaus also closed out his 1961 U.S. Amateur title on this hole, knocking his approach shot to 6 feet for a conceded birdie. And Tom Kite took a commanding four-shot lead in the howling final-round of the 1992 U.S. Open when he rolled in a 30-foot birdie putt of his own. As recently as 2014, this heavily bunkered hole with a green just 23 paces deep ranked as the toughest par-3 on the PGA TOUR.
NO. 13 — 403 YARDS, PAR-4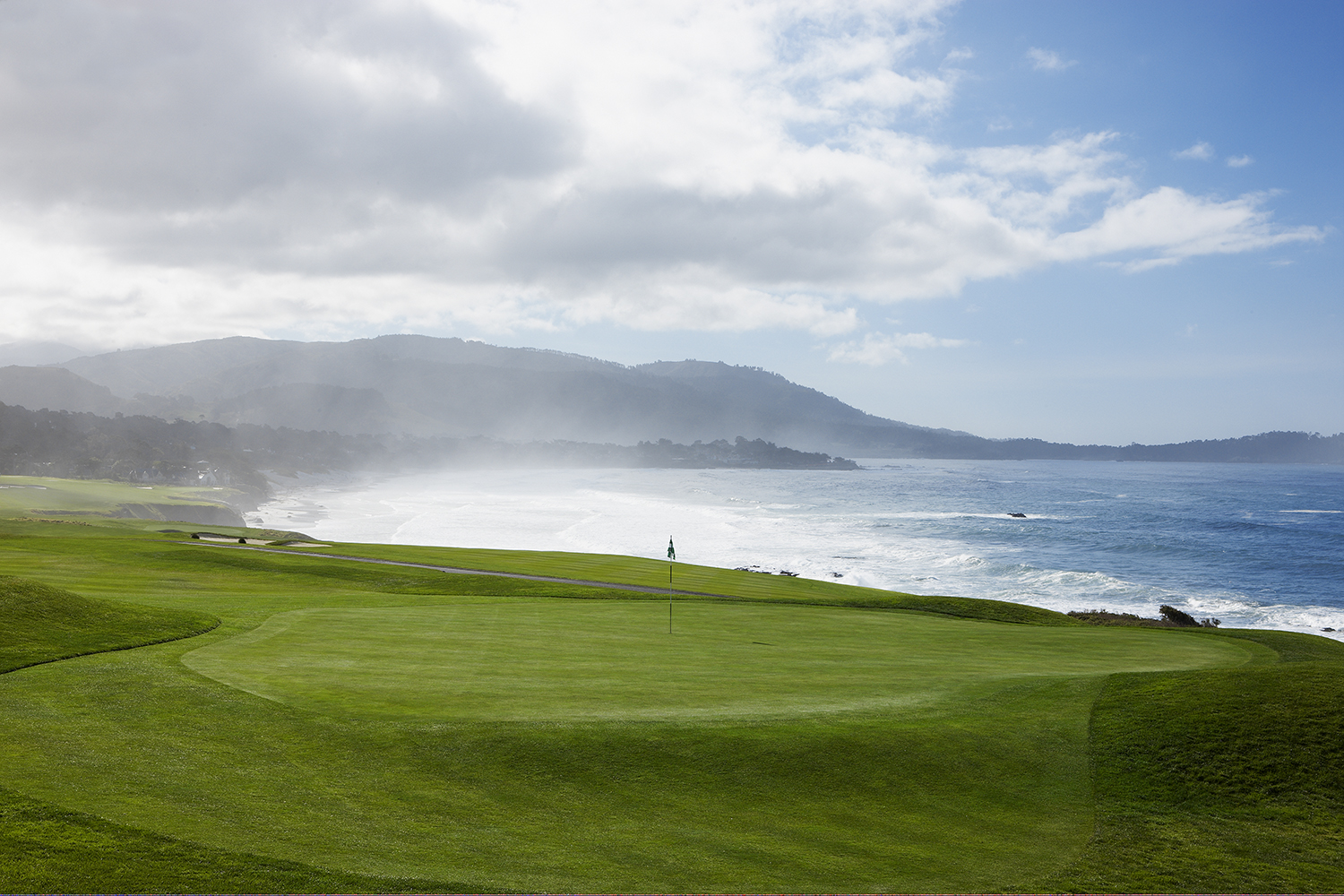 Desperately trying to stay all-square in his first-round match at the 1929 U.S. Amateur, two-time defending champion Bobby Jones was stymied by opponent Johnny Goodman. (Stymies were a part of match play until 1952.) Facing what would ordinarily be a tap-in 2-foot putt, Jones pulled out his niblick and flew a  chip shot over Goodman's ball and directly into the hole for the halve. The clutch shot ultimately was not enough for Jones, who was upset by Goodman, 1-up.
The 13th green, one of two designed by Alister MacKenzie, is perhaps the most severely sloped on the course. Work to restore it began after the 2017 AT&T Pebble Beach Pro-Am, and it will be ready in play in May.
NO. 14 — 572 YARDS, PAR-5
Can you make a triple-bogey or better here? You could sell that score to quite a few players:
Phil Mickelson once made an 11.
Arnold Palmer took a 9 while chasing Jack Nicklaus in the final round of the 1967 Bing Crosby.
Four different victims made 9s during the final round of the 2010 AT&T Pebble Beach Pro-Am, including co-leader Paul Goydos.
But it hasn't been just doom and gloom on a hole that is perennially ranked as the toughest par-5 on the PGA TOUR. Tom Watson rolled in a 35-foot birdie putt in the final round of the 1982 U.S. Open, a moment he says gave him the confidence and belief that he could beat Nicklaus.
And who could forget this final-round eagle and subsequent failed chest-bump by 2011 AT&T Pro-Am champions D.A. Points and Bill Murray?
NO. 15 — 396 YARDS, PAR-4
Before there was a pot-bunker placed in the middle of this fairway, Tiger Woods laced a drive past the swale on the 15th hole, leaving just 97 yards during the final round of the 2000 AT&T Pebble Beach Pro-Am. Woods had trailed leader Matt Gogel by seven shots with just seven holes to go, but launched a rally for the ages, fueled by this eagle-2 at the 15th hole, to close with an 8-under 64 and win his sixth straight PGA TOUR event. Four months later, Woods returned to Pebble Beach to lap the field by 15 strokes at the U.S. Open.
NO. 16 — 401 YARDS, PAR-4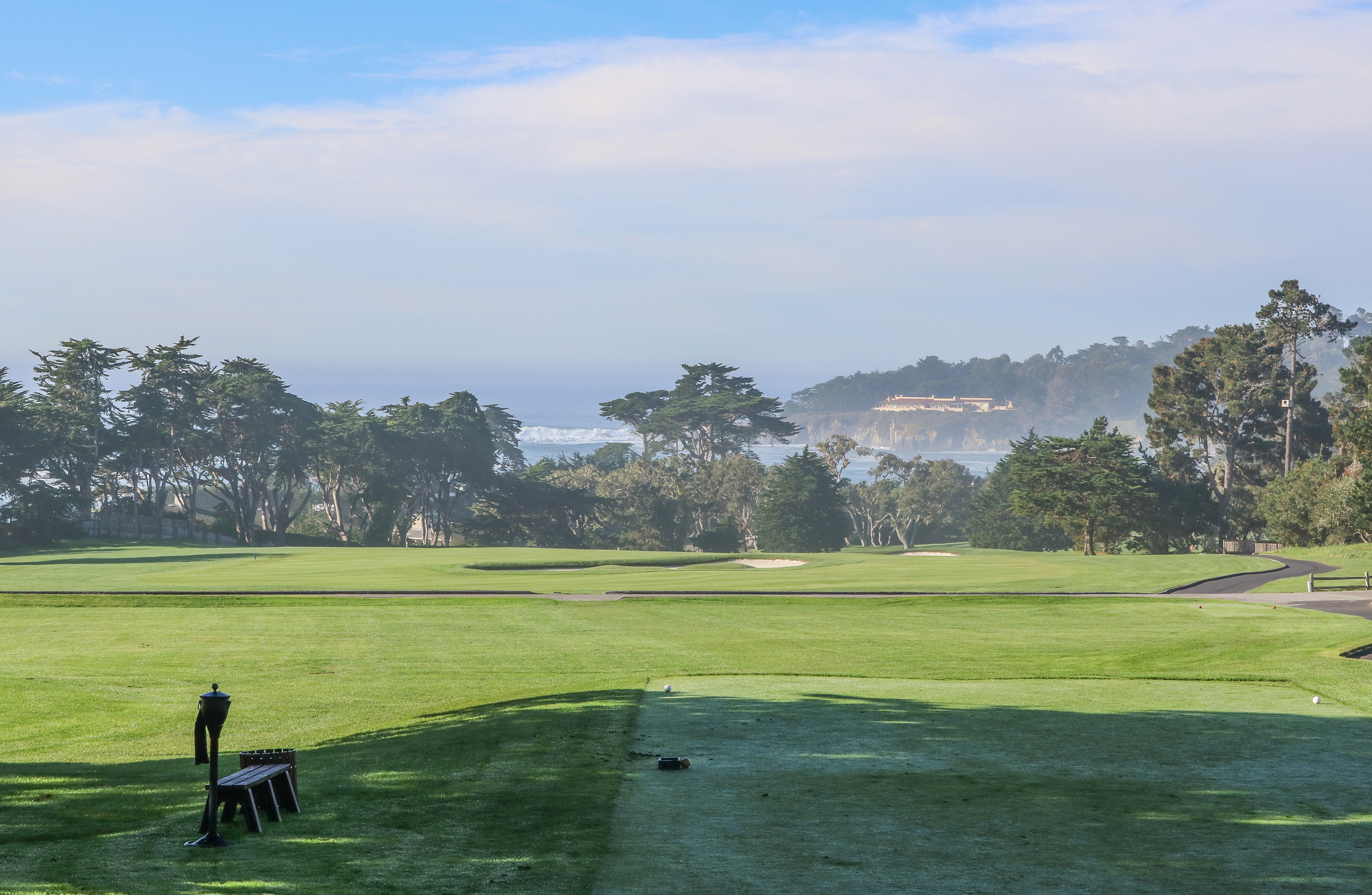 Competing in a 1984 Pro-Am playoff, Hale Irwin popped up a 3-wood that failed to travel 200 yards, landing in the fairway cross bunker. He then recovered by producing a miracle 2-iron from the sand to 9 feet for a winning birdie. This sequence followed a wild birdie on the 18th hole, which included a hooked drive that ricocheted off the rocks and back into the fairway, and a wedge that struck the flag stick to force a playoff.
As the San Francisco Chronicle summed up with a headline the next day, "Freak Shot Ties It, Great Shot Wins It."
The on-fire Wood also followed up his eagle on No. 15 by lipping out his wedge on No. 16, setting up a tap-in birdie.
NO. 17 — 177 YARDS, PAR-3
How do you choose between two of the most famous shots in U.S. Open history? They both happened here at No. 17, and they both involved Jack Nicklaus.
At the first U.S. Open that Pebble Beach hosted in 1972, Nicklaus iced the championship by striking the flag stick with a wind-shaped 1-iron for a tap-in birdie.
"The shot I performed, I don't think I could ever do again," Nicklaus said.
Ten years later, Nicklaus was in the clubhouse and tied for the final-round lead when Watson faced a delicate chip shot on No. 17. Caddie Bruce Edwards encouraged Watson to get it close. Watson responded, "Get it close? Hell, I'm going to make it." Watson called his shot, sinking the birdie chip to suddenly take the lead. He birdied No. 18 for good measure to top a heart-broken Nicklaus by two strokes.
Arnold Palmer had an infamous experience on the rocks behind No. 17, which were considered in play during the 1964 Pro-Am. Palmer eventually carded a 9.
"Looking back, it was really kind of amusing," Palmer later said in an interview. "I hit the tee shot rather poorly and it took off for the ocean. When I found it I elected to play it, but it ended being somewhat of a fiasco because the ball would wash up and then go back into the water. As it turned out, when I finished my round I headed over to the Tap Room. By the time I got there, the bartender had invented a new drink—"Palmer on the Rocks."
NO. 18 — 543 YARDS, PAR-5
If you tug your drive left on No. 18, Hale Irwin's shot might cross your mind as your ball hangs over the ocean. Irwin's quick hook during the 1984 Pro-Am was saved by a fortuitous bounce off the rocks, which returned his errant drive to the fairway. He went on to birdie the hole, and win in a playoff. The victim of that luck, runner-up Jim Nelford, is still haunted by that series of events. "I'm almost over it," said Nelford, some 32 years later.
The golf gods also smiled down on Babe Zaharias, who took advantage of a similar bounce to win an LPGA event here in 1950.
But even those events pale in comparison to what junior golfer Christopher Meyers did. After also receiving a bounce off the rocks and into the fairway, Meyers holed a 4-iron for an albatross to win the team portion of the 2014 Nature Valley First Tee Open.
And while it didn't win anything, try recreating this shot Tiger Woods hit during the 2010 U.S. Open:
See the Most Memorable Shots on the Front Nine
---
Facebook Conversations
The Greatest Shots Hit on Each Hole at Pebble Beach (Back Nine)